"When people say, 'I'm looking for a unicorn,' and I read the description, I always think 'That's Chita.' She's just one of those once-in-a-lifetime horses," said Ashley Gubich.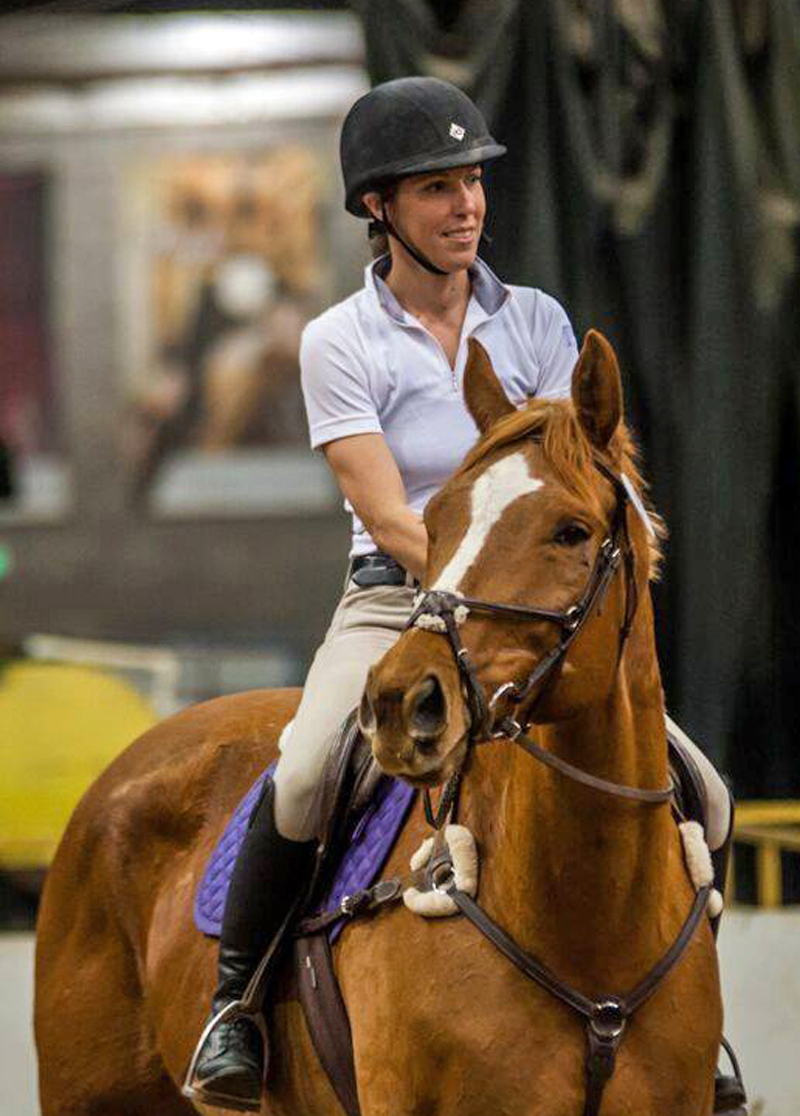 On March 12, Gubich and Churchita, a 6-year-old Thoroughbred mare (Churchhill—Slewita, Tsunami Slew) earned the title of Colorado's Most Wanted Thoroughbred at the Rocky Mountain Horse Expo.
To claim the win, "Chita" not only was ridden and jumped bridleless with Gubich aboard, but also demonstrated her ability to adapt to less experienced riders. "I had Chase, my 3-year-old son, ride her," Gubich said. "Jonathan [Horowitz], who is the announcer at Arapahoe [Park racecourse] and is on the board at CANTER and is the announcer for the Retired Racehorse Project Makeover, rides with me. He learned to ride on Chita.
"He was in the arena announcing, and I pulled him up onto her. He cantered around and did some jumps. Then we pulled the saddle off, and I jumped around. I stood on her back and walked around a bit."
For Gubich, it's Chita's cheerful willingness to go with the flow that makes her the ideal horse. It's also what made her want to compete Chita in the Most Wanted Thoroughbred competition.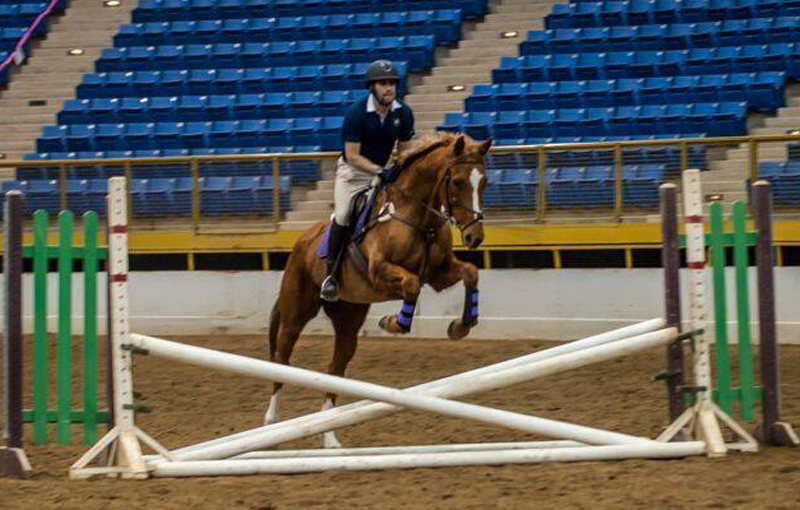 "This is one of my chances to go and play with my horse," she said. "And I really, truly believe that if you're going to do something called 'Colorado's Most Wanted Thoroughbred,' that's her. Everybody in the area knows her; people come ride with me because of her. When it comes to something fun like that, where you just go around and show off a bunch of tricks, showing the range of your horse, by definition that's what she is."
Gubich, who runs a small riding school out of her Parker, Colo., farm, uses Chita in her lesson program. "She very easily could be my upper-level horse, but I don't really actually get to ride her that much because everybody wants to ride her," she said. "There are horses who are really talented but won't tolerate someone who's a real beginner, and then you have horses that are great with beginners but aren't going to jump anything more that 18″. And she is this amazing combination where she'll tolerate the most beginner rider, and she'll tell them when they're asking wrong, but she'll never hold it against them.
"But then as soon as they ask correctly, she's like, 'Sweet, good, let's do that.' I only have three or four school horses, so if I have students who want to ride, I have to ride a greenie," Gubich continued. "I don't get to ride her much. She has all this talent, but I think it'll be a little while down the road until I can find some other horse everybody can ride. I'm still searching!"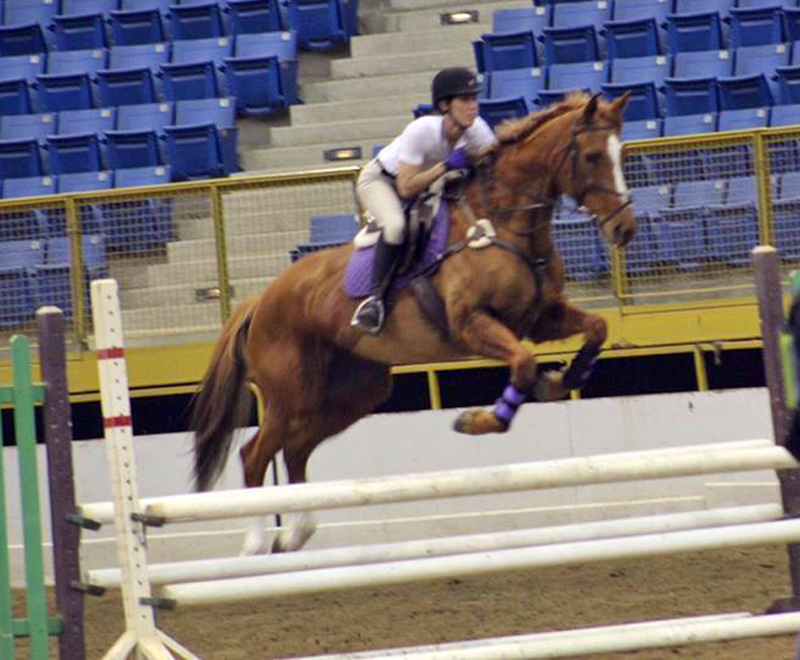 Gubich also retrains off-the-track Thoroughbreds for resale for CANTER Colorado. "That has kind of tempered my addiction of buying new horses, since I have new ones in all the time," she said.
She found Chita through the CANTER Texas program four years ago. Then 3, the mare had trained for the track but never raced. "She caught my eye. I thought she was well put together and calm," Gubich said. She bought the mare sight unseen.
"From the first day I got on her, she's been almost perfect. It took a little bit of time to get her canter organized, because she never raced," she said. "She trained a little bit, but she was very green broke when I got her. I don't even know if they'd cantered her. She knew almost nothing and was just naturally light and balanced and on the bit. By the time she was 4, she was my best school horse."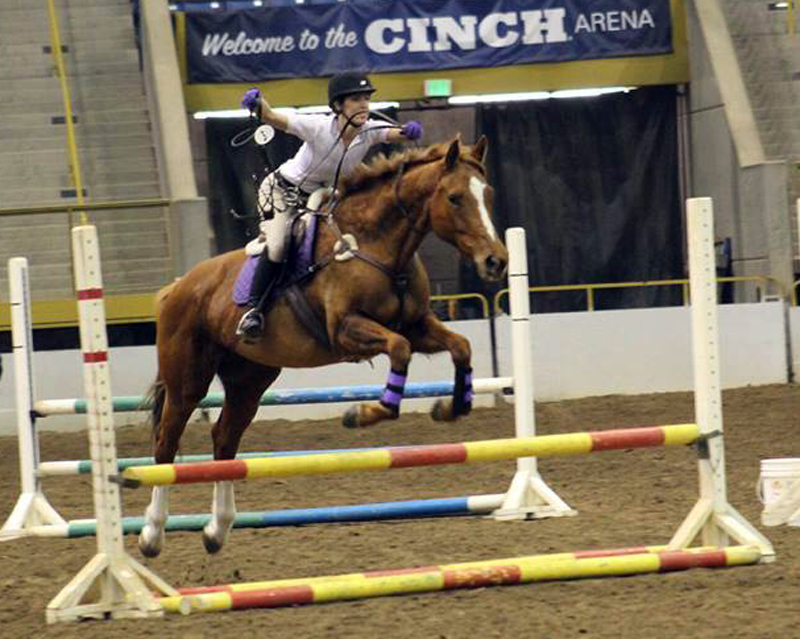 Chita very quickly earned a permanent home with Gubich and her family. "In the horse business, you kind of have to be a little bit disconnected and have the joke that everything that I own is for sale for the right price," she said. "That's true for every horse on my property except Chita. People have offered me good money for her, and I will never, ever sell her."
Gubich grew up eventing on the East Coast and found her way to Virginia as a young adult, working as a trainer. "I did everything from draft shows to the Arab circuit for many years. I worked with Chincoteague ponies, I did draft shows where I barrel-raced Clydesdales and then showed western pleasure and trail," she said.
"I tried to go across as many different disciplines as I could to get a much wider range of training tools," she continued. "When you work with lots of different disciplines, you get a much more open and varied idea of training, so if one way doesn't work, you can approach it from a different angle. I'm not a person who comes in and says, 'This is the one way to do it,' because I've learned there are 100 different ways to do it and end up with it solved."
While in Virginia, Gubich also returned to her eventing roots, competing an Arab-Saddlebred cross up to training level. But she found her niche in bringing along young horses.
In 2013, not only did Gubich get married, but she also moved across the country to Colorado. Her husband's job took them west, so she sold her horses and packed up her business. Chita was one of the first horses she found in her search to re-stock.
In 2013, Gubich also gave birth to her son, Chase, who is a full-on barn kid now, riding every horse he can and driving his electric Gator around the farm. "He sees me on a horse, he needs to sit on it and walk a lap around. He knows which horses he gets to ride," she said. And Chita is on his list of mounts—he can trot her around and even jumps piles of poles.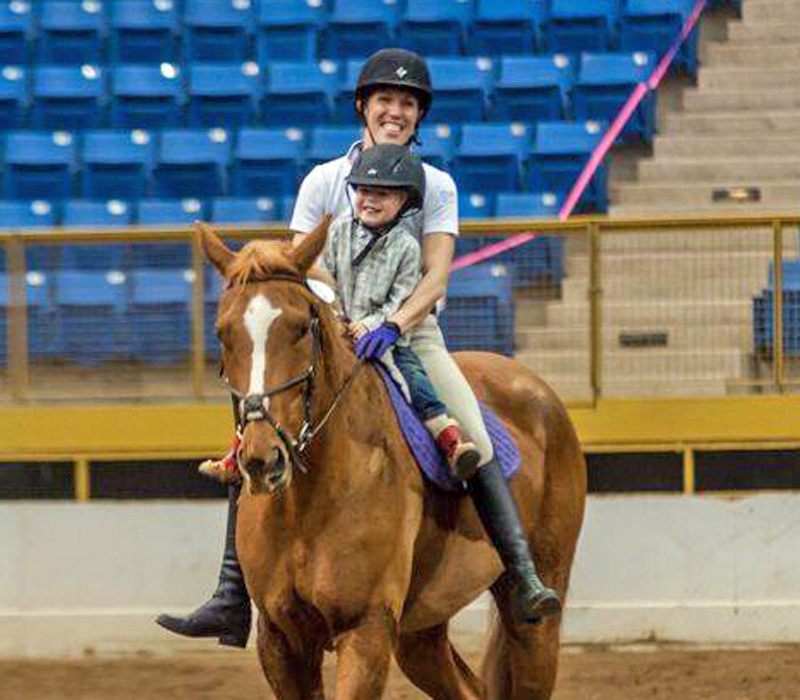 "People are always asking me why I'm not competing her because she's so awesome. She can jump 3'9″ like it's nothing," Gubich said. "But I tell them, 'Basically, she's not even my horse.' I like to think she's the people's horse. She is everybody's horse as far as I'm concerned. I'd love to just have her myself, but then so many people would miss out on the opportunity to learn from her. She's never, ever let me down. She's done everything I've ever asked of her. That's such a rare quality—to have the mind, the willingness and the ability.
"She's helped so many people—people who have never sat on a horse, people who have never cantered," Gubich continued. "She's taken people over their first jump, their first cross-country course. Almost anything you can think of, she's carried someone to do it the first time."
Save