My drive up I-95 to Maryland on the third weekend of October every year is one of my favorites, because it's time for the Dutta Corp. Fair Hill International. The leaves are changing, there's a crispness in the air, volunteers greet you with a smile, and the smell of Maryland crab cakes and fried food wafts through the air at the United States' premiere fall three-day.
There's just something special about Fair Hill, now celebrating its 27th year. I've been there for the last 13 years and have seen it through many changes—hosting a long format three-day, combined driving, the Pan American Games and the addition of a CCI**.
As a journalist, it's a joy to cover—the people are friendly, the competition is the best of the best, the photos are beautiful (even if it does tend to be cold, rainy and miserable at least one day!), and there's an intimate and casual atmosphere swirling through the grounds of the Fair Hill Natural Resources Management Area.
Since I spend so much time covering eventing for the Chronicle, I've really grown to know and enjoy the stories of many of the entries at Fair Hill this year, so I found it really hard to choose a favorite! Each rider comes to Fair Hill with a different goal—whether it's to win, finish in the top 20, jump a clear show jumping round or just complete, so there's a reason to root for just about everyone.
As usual, the entry list is stacked with newbies, veterans, green horses and old campaigners making it a stiff competition. Looking for someone to cheer on? Check out who'll be there.
We narrowed it down to these, the Chronicle editorial staff's picks!
Lindsay Berreth, Editorial Staff
Lillian Heard has been quietly building her string of horses over the last few years, and suddenly this season she has four advanced horses, something for which she's worked a long time.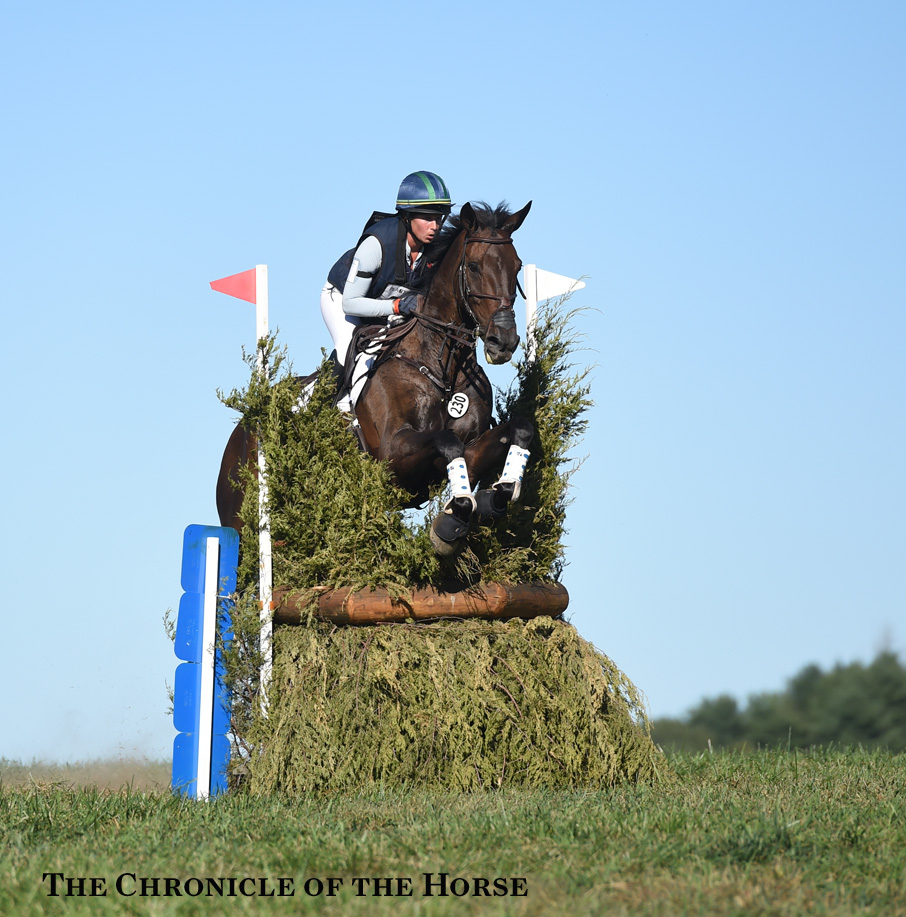 Lillian Heard and LCC Barnaby. Photo by Lindsay Berreth.
While her top horse, Share Option, is heading to the Pau CCI**** (France), she brings three consistent horses to Fair Hill in Arundel, LCC Barnaby and FYI. Lillian told me in a recent interview that even though she got the ride on Arundel from his owner Abbie Golden while she's in school, it's just as much of a challenge to forge a partnership. "Barnaby" has been quite a character as she's brought him through the levels, but now his enthusiasm for his job has made him one of her favorite rides. Lillian has also brought FYI up from the one-star level.
I admire her determination to build her string, no matter how long it took, and I admire her ability to ride four completely different horses at the top level. She's earned a chance at a great finish this weekend.
The last time Kylie Dermody competed at Fair Hill in 2011, she was winning the CCI** with Trading Aces as a relative unknown. He went on to great things with Boyd Martin and Phillip Dutton in the tack, while she moved to Ireland to hone her skills. Now she's back stateside juggling life as a new mother, but she's been putting in consistent results with her horses Sacramento, Lup The Loop and Da Vinci Code at the two-star level.
I think she's ready to make a big impression during her homecoming.
Molly Sorge, Associate Editor
Sure, it's easy to single out Kim Severson on Cooley Cross Border as a favorite for the Fair Hill CCI***. I mean, the horse has won seven events this year and was second in the two-star at Fair Hill last year. He gets ridiculously good dressage scores and is a powerhouse jumper.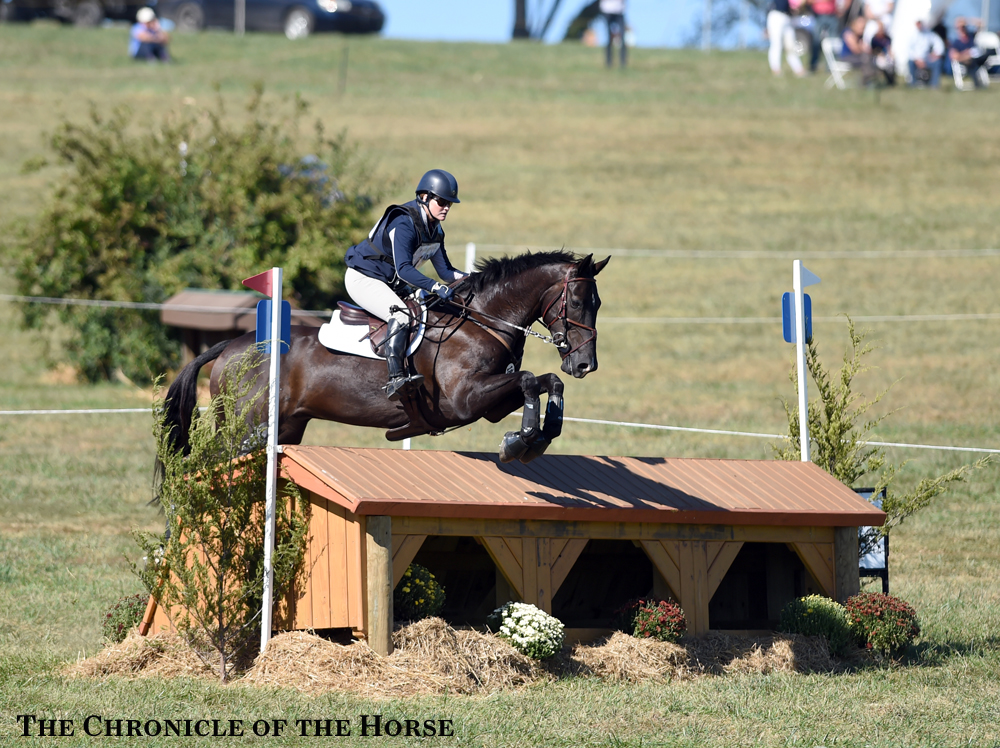 Kim Severson and Cooley Cross Border. Photo by Lindsay Berreth.
But that's not why I'd pick them as who I want to win.
I wrote a story about Kim for our 2014 Rolex Preview Issue, an in-depth profile. When I went to her farm for the interview, it was like I was visiting a friend. We sat down on overturned buckets in a simple tack room and chatted. We went and visited with muddy, scruffy horses in the fields. There was zero pretense.
In that interview, even though I'd only met Kim a few times, she was amazingly open and revealing about personal life details that go far beyond a normal Chronicle story. She was embarking on a bid for a championship team, but she wasn't afraid to tell me she had gotten a bit lost on her journey at times. It was a refreshing level of honesty for an interviewer, and as fellow human, I was touched by her simple honesty.
So often, we interview people and they project an aura of infallibility. "We won because this went right," is the party line. But these are horses, the most fickle and heartbreaking of all creatures, and we are people forging lives around their uncertainty. It's so enlightening to hear that even the heroes of our sport, the people entering Rolex Kentucky and winning over and over, have moments of doubt and weakness. It just makes us cheer for them all the much harder!
So, I'll be rooting on Kim and Cooley this weekend, and hoping she's on another ride up the rollercoaster.
Mollie Bailey, Editorial Staff
Somewhere inside every rider is that pony-crazy kid who fell in love with the sport in the first place. That's the part of me that especially appeals to my pick for the two-star competition, superpony Forrest Nymph and Sinead Halpin.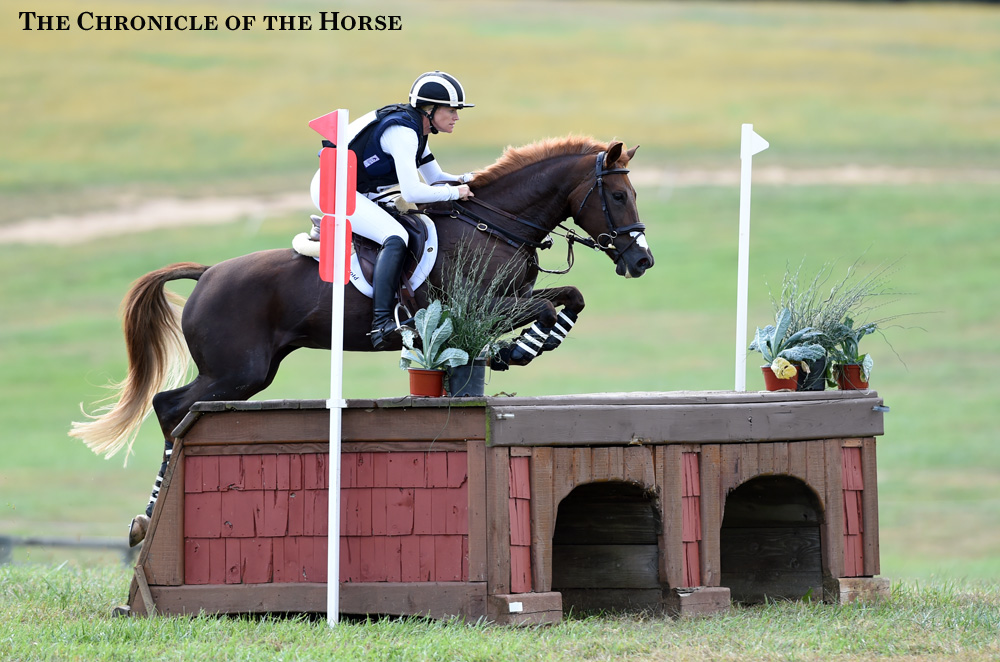 Sinead Halpin and super-pony Forrest Nymph. Photo by Lindsay Berreth.
This will be her first go at the CCI** level since last year, and I can't wait to see them bounding around the cross-country course. The New Forest Pony looks like she has plenty of pony 'tude on course, and a springy rubber-ball jump. It's been a bit of an experiment for Halpin to take on the chestnut mare and bring her along, and I can't wait to see how they've progressed.
Sara Lieser, Managing Editor
This is going to be the first year in I-can't-remember-how-long that I won't be attending Fair Hill in person. My first child was born on Oct. 12, and I'm fairly certain neither he nor I are going to be ready for that kind of outing just yet!
However, I'll be following along at home via the Internet and anxiously texting everyone I know who is there as it happens.
This year I'm especially excited for Hillary Irwin and her two two-star mounts: Bit Of Irish and Danehill Sunset. Hillary paid her dues as a working student for Sharon White, and she went out on her own a few years ago, mostly making her own horses from off-the-track Thoroughbreds. She's the ultimate young professional and believes in every horse in her barn, no matter how difficult or unlikely.
"Irish" is a homebred who came to Hillary as a 3-year-old and was supposed to be for sale. But Hillary never gave up on Irish, and now this feisty little mare is headed for Fair Hill. Her other horse, "Doby," is one I've coveted since she got him. I asked her off-handedly one fall if she had any prospects for sale, and she told me she had a new OTTB in from Herringswell Stables and Graham Motion, and she probably should sell him. But she never did, and I doubt she ever will! My fingers are firmly crossed for Hillary that she has excellent rounds aboard both her mounts.
I'll also be cheering for Sara Kozumplik Murphy and her entries. Full disclosure: Sara is my trainer and a good friend to me. She's one of the nicest people you'll ever meet, and she adores her horses and loves to bring them along from babies. She's been off the radar a bit as she's built her string for the past few years, and that hard work is finally paying off.

Sara Kozumplik Murphy and Delta Queen. Photo by Lindsay Berreth.
Catchascatchcan ("Catch") did his first advanced this spring, finished eighth in his first CCI*** at Bromont (Quebec), and is just continuing to get more solid at the level. Then there's her cross-country machine Fly Me Courageous, or "Ziglet." This OTTB's dressage continues to be his weakness, but it's more competitive with every outing, and I believe his strength in the jumping phases could easily put him in the ribbons.
Beth Honcharski, Ad Production Manager
It's impossible for me to be completely unbiased about this year's Fair Hill picks. My choice will have to be my very good friend Allie Sacksen on Sparrow's Nio.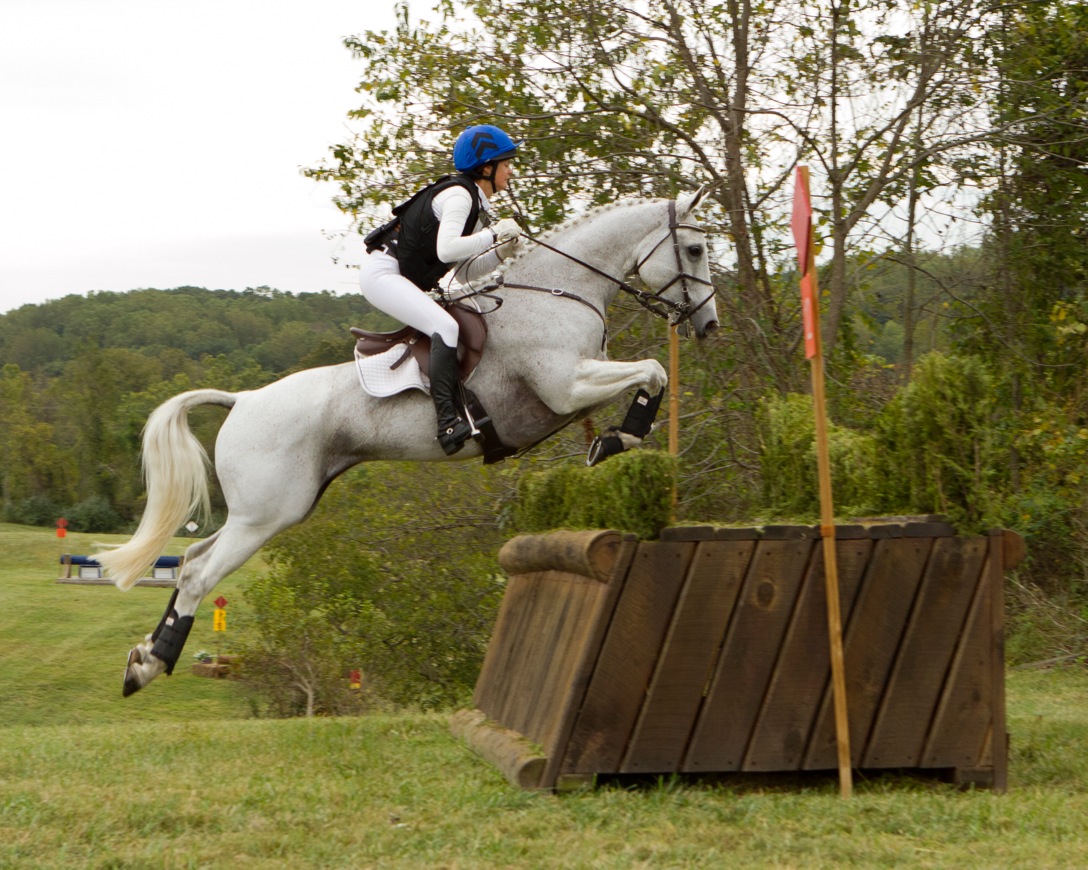 Allie Sacksen and Sparrow's Nio. Photo by Beth Honcharski.
After successfully navigating their first CCI**** this year at Rolex, Allie has spent the summer really focusing on Nio's dressage and show jumping, so I'd hope to see some big improvements in those phases. Nio has always been a cross-country machine, and Fair Hill is his home turf, so I expect him to move up through the leaderboard quite a bit on Saturday and be in good position to end in the top five on Sunday.
Kimberly Loushin, Editorial Staff
I've been lucky enough to ride with Sara Kozumplik Murphy for the past few months, so I'll be rooting for her with her two three-star horses Fly Me Courageous and Catchascatchcan.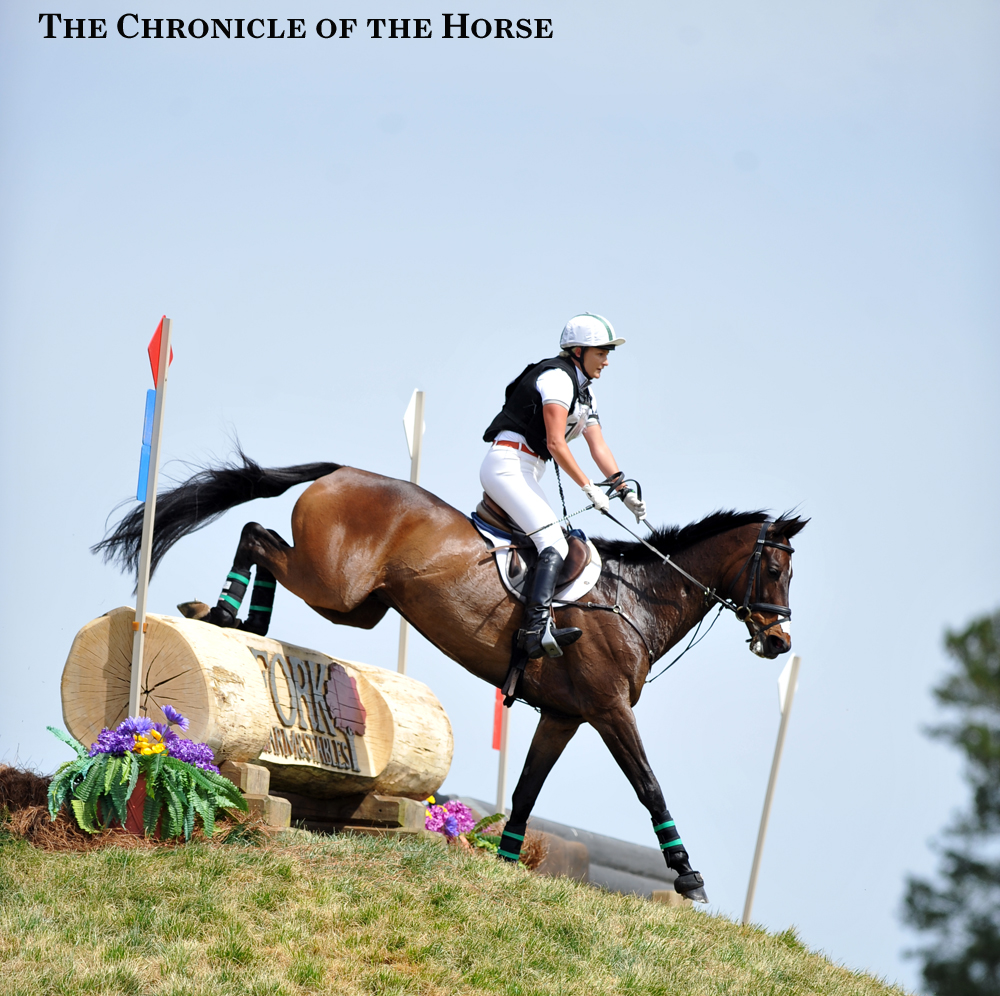 Sara Kozumplik Murphy and Fly Me Courageous. Photo by Lindsay Berreth.
I've ridden with a lot of great trainers over the years, but Sara is one of my favorites. She's very sympathic to the horse and always keeps their well-being in mind. I always like rooting for people who inspire me to be more effective and look out for the horse, so Sara will always have my support.
Need to keep tabs on all the action? You can follow along with the Chronicle all weekend here. Also, "like" the COTH Facebook page to see all the updates.