My drive up I-95 to Maryland on the third weekend of October every year is one of my favorites, because it's time for the Dutta Corp. Fair Hill International.
The leaves are changing, there's a crispness in the air, volunteers greet you with a smile, and the smell of Maryland crab cakes and fried food wafts through the air at the United States' premiere fall three-day.
There's just something special about Fair Hill, now celebrating its 26th year. I've been for the last 12 years and have seen it through many changes—hosting a long format three-day, combined driving, the Pan American Games and the addition of a CCI**.
As a journalist, it's a joy to cover—the people are friendly, the competition is the best of the best, the photos are beautiful (even if it does tend to be cold, rainy and miserable at least one day!) and there's an intimate and casual atmosphere swirling through the grounds of the Fair Hill Natural Resources Management Area.
Since I spend so much time covering eventing for the Chronicle, I've really grown to know and enjoy the stories of many of the entries at Fair Hill this year, so I found it really hard to choose a favorite!
Each rider comes to Fair Hill with a different goal—whether it's to win, finish in the top 20, jump a clear show jumping round or just complete, so there's a reason to root for just about everyone.
There's a huge field of over 120 riders in the CCI** and nearly 60 in the CCI*** this year, and as usual, the entry list is stacked with newbies, veterans, green horses and old campaigners making it a stiff competition.
But we had to narrow it down, so here are the Chronicle editorial staff's picks!
Jonathan Holling and DHI Zatopek B. Photo by Lindsay Berreth.
I'm going to pick Jonathan Holling and his two three-star rides, DHI Zatopek B and Proper Timing, as my favorites for the three-star.
Jon has had some bad luck recently when his longtime partner and 2012 Volvo Bromont CCI*** (Quebec) winner Downtown Harrison came back to competition after an injury, only to reinjure himself. Jon made the decision to retire him to the lower levels, but he's got two nice horses in "Zak" and "PT".
Zak has had some cross-country issues this spring, but Jon recently rebounded with a few good results and PT retired on cross-country at Fair Hill last year, so I'm crossing my fingers for a good result for him this weekend—he's due for a big win.
I admire Jon, both as a rider and a proponent of the sport. Having interviewed so many eventers in my time at the Chronicle, those that really stick out to me are the ones that are honest about their faults, genuine in their love of their horses and their sport, and willing to speak out on issues and offer solutions.
Jon has been on several committees and task forces over the years, is candid about many issues and puts his money where his mouth is to support the undersubscribed advanced division at the Nutrena/U.S. Eventing Association American Eventing Championships (Texas) for the last two years.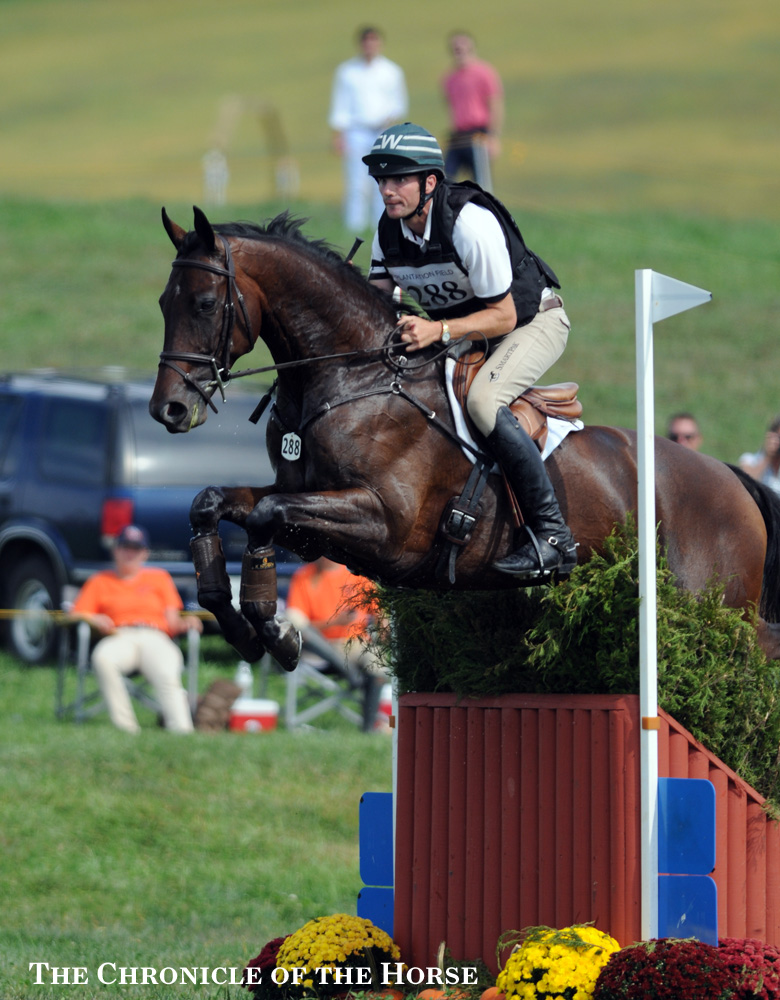 Ryan Wood and Fernhill Classic. Photo by Lindsay Berreth.
In the two-star, I'm going with Ryan Wood on any of his entries—Fernhill Classic, McLovin or D-Day Vant Plantanenhof.
I wrote an in-depth profile on Ryan earlier this year for the magazine and enjoyed learning the story of how he came from Australia, lost the rides on two of his top horses due to injury and sale, and has been building up a string ever since.
I admired the fact that he actually enjoys the process of bringing along young horses from beginner novice and has a plan for a pipeline for each one to come up through the levels. That's paying off now with Fernhill Classic, who's been bouncing between advanced and intermediate this year. Because Ryan is so methodical and careful about his horse's preparation and confidence, I'm guessing that's why the horse is entered in the two-star, which should pose no problem for either of them.
Lisa Slade – Editorial Staff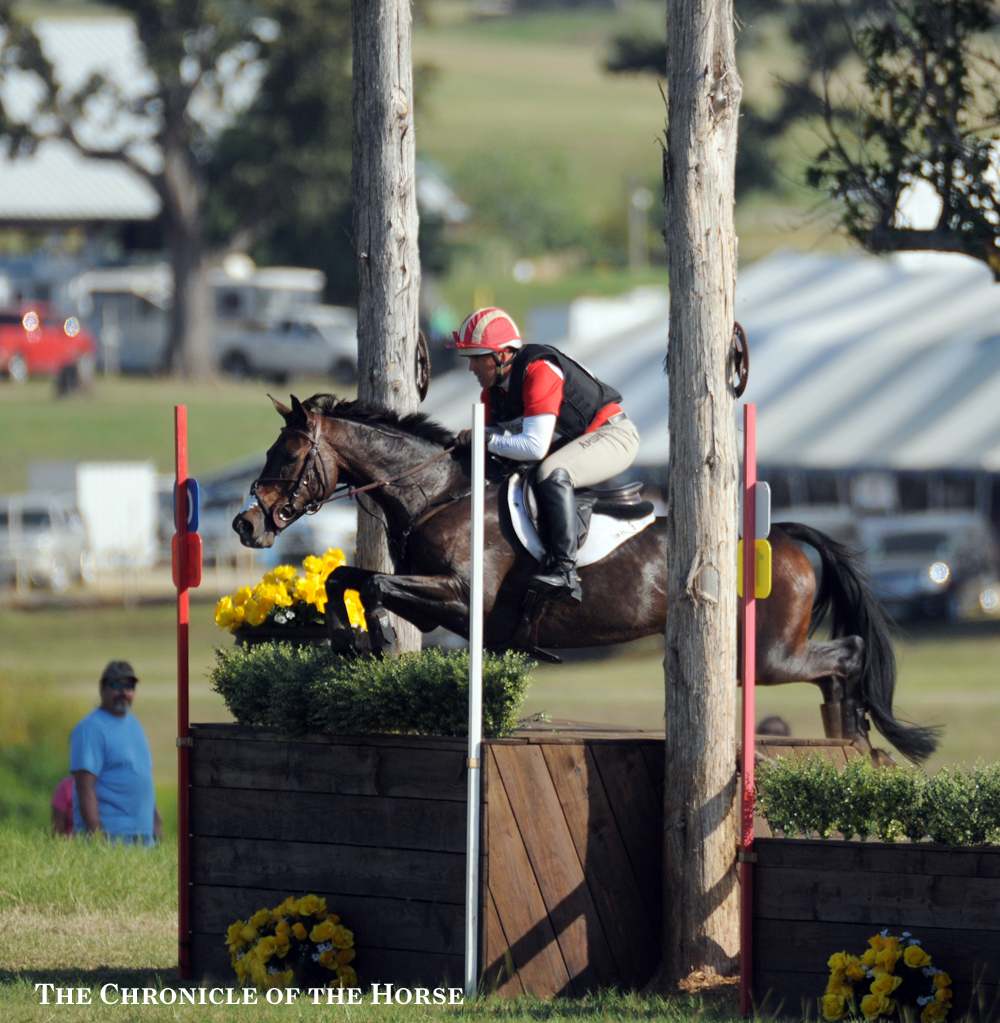 Buck Davidson and Petite Flower. Photo by Lindsay Berreth.
To say Buck Davidson is your favorite event rider is like saying Peyton Manning is your favorite quarterback. Yeah, everyone likes Peyton. He's really good. Everyone knows he's good. His team is probably going to win—unless we're talking about last season's Super Bowl, and I don't want to talk about last season's Super Bowl—so you're not really sticking your neck out to make that statement.
But despite the obviousness of saying that Buck Davidson is an extraordinary event rider, with tons of wins to back up that statement, he remains my One To Root For pretty much every time. He's candid. He's honest. He's friendly. I believe he puts his horses first. Despite the incredible number of horses he rides and competes at every event, he seems to understand and have a relationship with all of them. He's fun to watch simply because he is so skilled—and you have to marvel at the sheer level of fitness it takes to ride that many horses.
So I root for Buck, on whatever he rides (though I'm partial to mares, so I'd love to see Petite Flower take the CCI*** title) for the same reason I root for Peyton Manning—because he's good.
Kimberly Loushin – Editorial Intern
Libby Head and Sir Rockstar. Photo by Lindsay Berreth.
I'm pretty sure Libby Head never expected to have accomplished so much with Sir Rockstar when she bought him. "Rocky" wasn't an easy off-the-track Thoroughbred, something I can definitely relate to, but Libby's made strides with him and they ran their first Rolex this April where they finished 19th.
She was hoping they'd make it to the Pau CCI**** (France) this year, but since she didn't have the funds to travel abroad, they've rerouted to Fair Hill, and I'm sure Libby will be looking to prove something.
Plus, I always enjoy rooting for a young person in this sport, and it doesn't hurt that Libby attended my alma mater, The University of Georgia. Go Dawgs!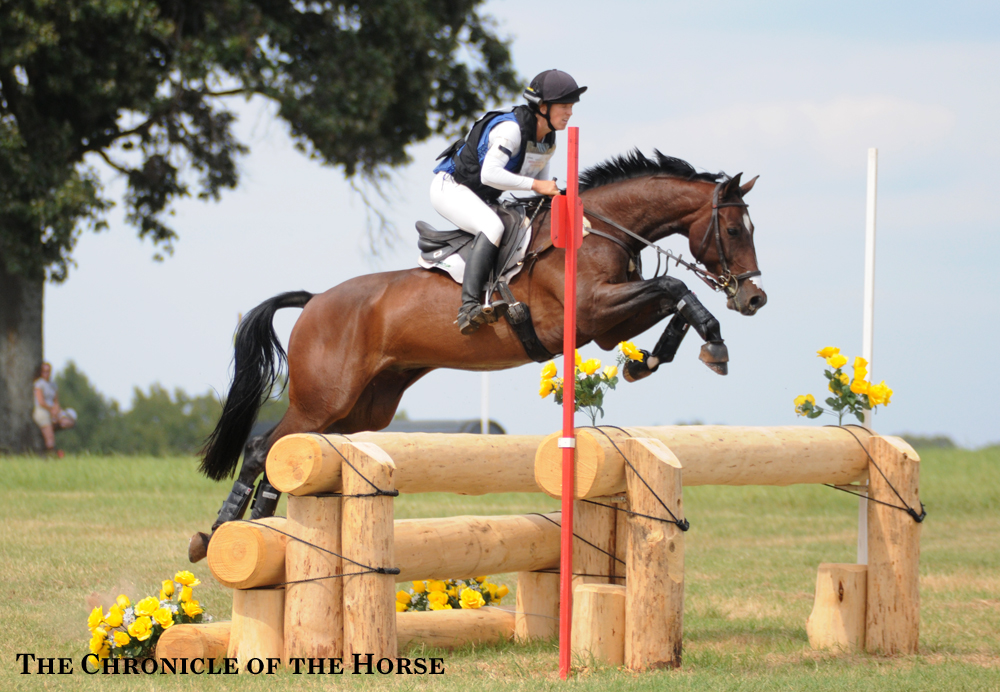 Elisa Wallace and Corteo. Photo by Lindsay Berreth.
If Elisa Wallace is on the start list you can guarantee that I'm going to be rooting for her. I'll be sure to be checking results constantly to see how she and Corteo fair in the two-star. I first came across Elisa online after she'd won the Mustang Million with Fledge. We passed the video along to everyone in the barn and pretty soon I found myself deep in her website reading her blog about retraining Mustangs.
It's hard not to be amazed by somebody that makes such quick progress with these horses. Have I mentioned that she was taking one of her newer mustangs on bareback/bridles trail rides within a week? I love what she's doing for the breed and was super excited when she took her second mustang Rune to a USEA Young Horse Series competition.
Kat Netzler – Senior Editor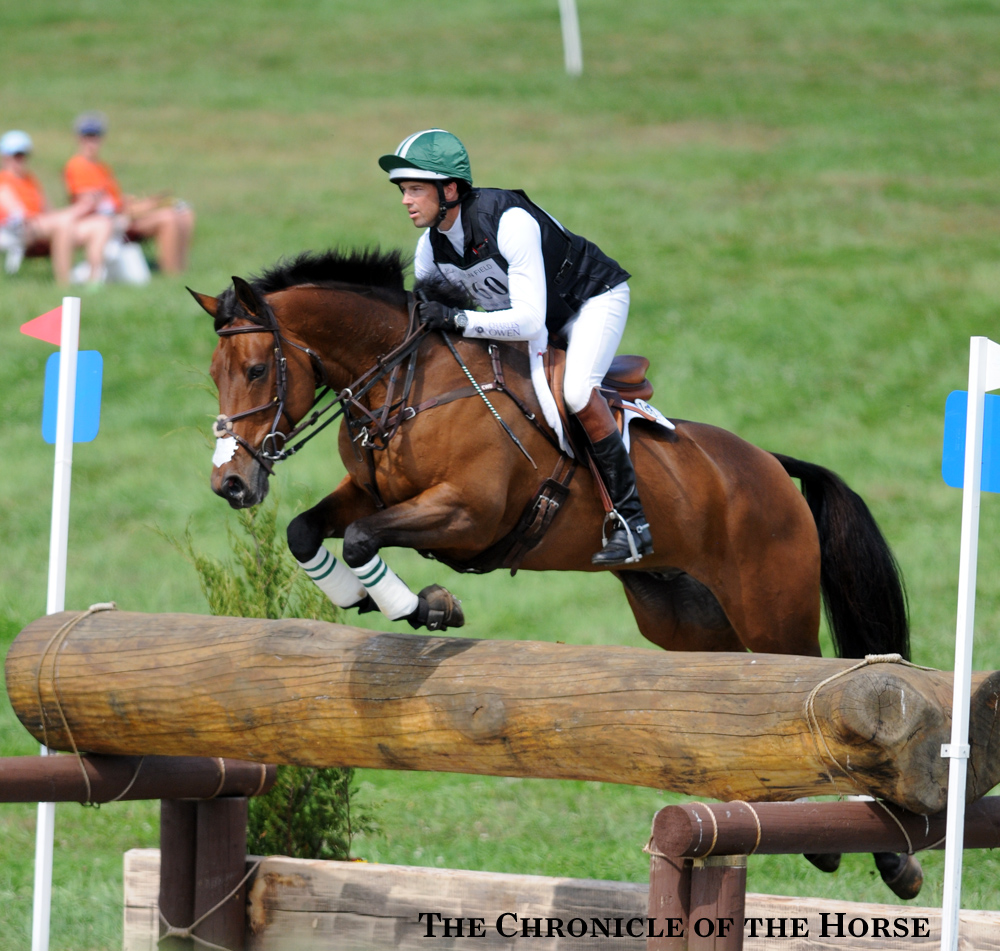 Will Coleman and OBOS O'Reilly. Photo by Lindsay Berreth.
I have to go with the underdogs. Except "underdogs" isn't really the right word at all for riders like Jennie Brannigan and Will Coleman. They'd be best—if not terribly succinctly—described as as "dogs who are perpetually leading the hunt but inexplicably denied the fox every. Single. Time."
Jennie and Will are two of the most innately talented and promising riders of our younger generation, and the incredibly bad—and at times quite tragic—luck they've both endured in recent years is hard to even believe. They are both so far overdue for a big break.
Jennie, who lost her incredible partner Cooper after he was injured at Fair Hill in 2009, has written about how emotional it is to return to the venue every year. And I'm sure this weekend will be no different with Cambalda, who's presented his own set of challenges and fallen victim to far more than his fair share of flukes. But it's hard to argue that anyone deserves to close out their season with a big CCI*** win more than Jennie does.
And then there's Will, who in April grieved the sudden death of his top horse, Conair, and simultaneously endured his own injury and said goodbye to his chance at a spot on the Land Rover U.S. Team for the WEG—and a chance at redemption for his disappointing finish at the 2012 London Olympic Games. In his mount for this weekend, OBOS O'Reilly, Will does at least have a proven winner. They topped the Bromont CCI*** (Quebec) together in 2013, so perhaps my dogs-and-foxes metaphor above doesn't apply to him, strictly speaking. But injuries for both have kept them out of the action until this fall, and a win here could really put them back on track for what I'm baffled Will hasn't pulled off already—a top four-star finish—and the Olympics in 2016.
I'll be cheering hard for these two incredibly persevering riders and hoping their dogged devotion to the sport finally boosts one of them to "lucky dog" status this weekend.
Sara Lieser – Managing Editor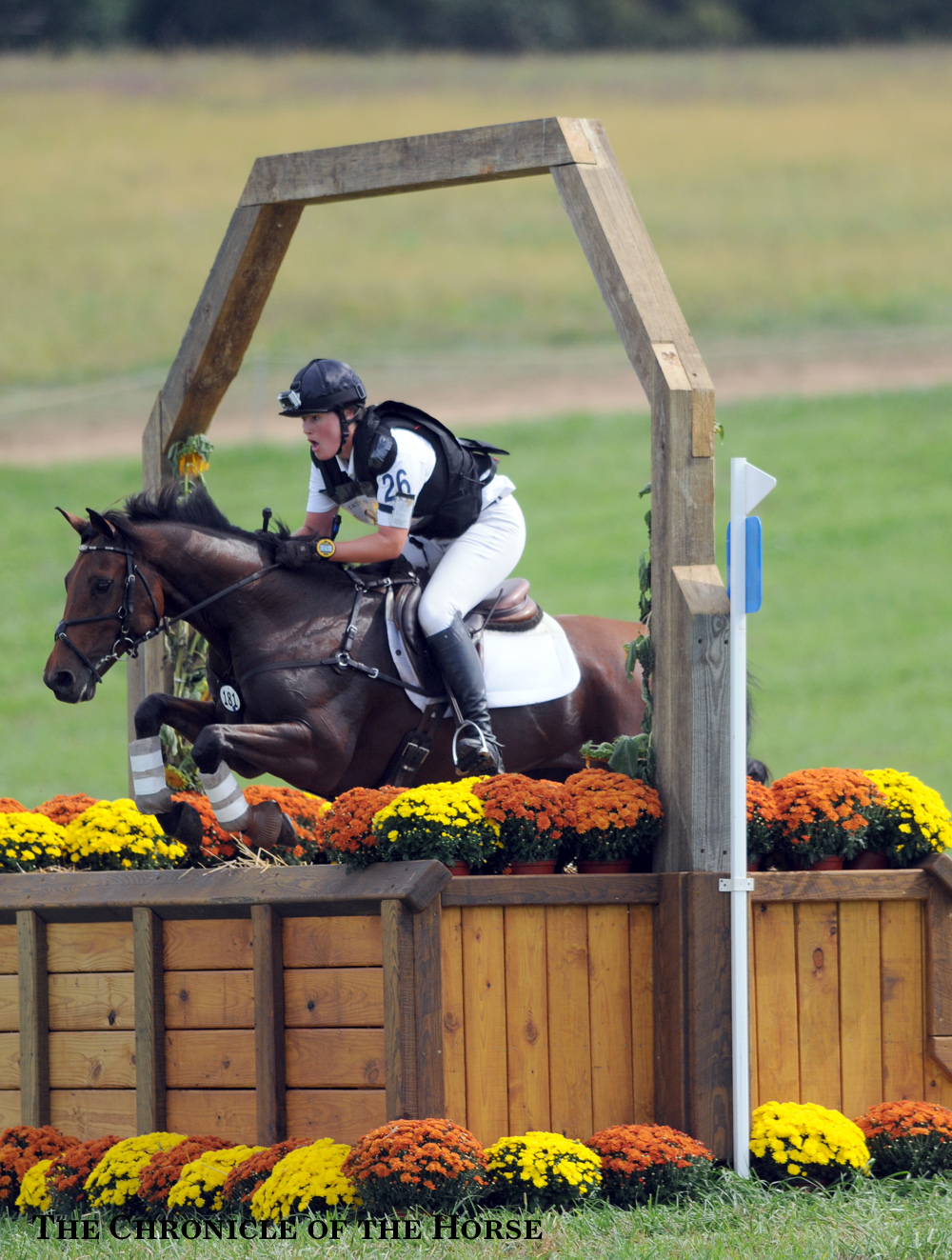 Maya Black and Doesn't Play Fair. Photo by Lindsay Berreth.
Fair Hill is one of those events I'd go to even if I wasn't "working" because so many of my friends and role models will be riding there. Choosing the competitors I'll be rooting for the hardest wasn't easy, but I did manage to narrow the field to three in the three-star.
I think Maya Black has a good shot at finishing in the top five with Doesn't Play Fair. Certainly their record is impressive—they finished first in the Plantation Field CIC*** (Pa.) in September and fifth at the Jaguar Land Rover Bromont CCI*** (Quebec) in June. I'd add that neither one had competed at the advanced level until this spring!
But Maya's also a personal favorite. I remember interviewing her in 2008 when she was a complete unknown from Washington State and had just surprised everyone by winning the CCI** at Jersey Fresh (N.J.) at age 20. Since then I've gotten to know Maya better, and she's an amazing rider and humble human being. I'm so glad she decided to return to the East Coast this year, and I believe she's one of the great talents for U.S. eventing's future.
Next on my list is Tim Bourke with his own Luckaun Quality. Last year Bourke and "Obie" made a huge move up the leaderboard at Fair Hill to finish in eighth on his dressage score. Just 9 years old, Obie was on track to finish well at Rolex Kentucky this spring when a breathing issue caught up to him a few fences from home on cross-country. That's now been resolved, and while dressage will never be Obie's favorite phase, that's coming along too. Tim, who rides for Ireland and is Sharon White's assistant trainer, is one of the nicest guys you'll meet in the sport, and he always has a kind and encouraging word when you need one. He's also got a wicked sense of humor. His wife, Marley Stone, will be riding Kilrodan Ambassador, her own precocious Irish horse (he's just 7), in the two-star, and for any other couple I'd suggest stabling at opposite ends of the barn. But I know these two will be awesome support for each other, and I'll be cheering hard for both of them.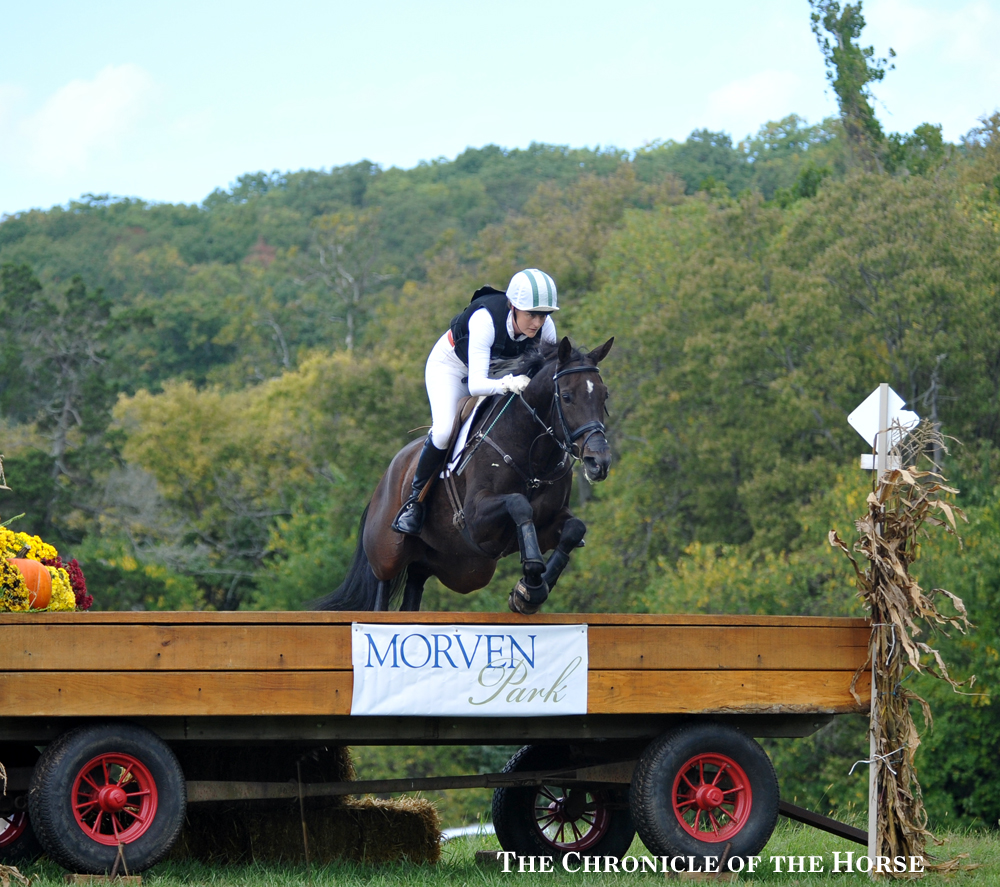 Sara Kozumplik-Murphy and Fly Me Courageous. Photo by Lindsay Berreth.
The last on my list truly is a sentimental favorite. Sara Kozumplik-Murphy has taken me on as a personal project and patiently coached me through good times and bad. She'll be riding Fly Me Courageous in his first CCI***. This pair isn't ready to win here yet, as Sara and "Ziggy" just started competing together at Millbrook (N.Y.) at the end of July. He was formerly owned and competed by her student, Debbie Foote, who decided to focus on show jumping instead. Sara and Ziggy have now done two intermediate horse trials and two CIC***s, and while Ziggy is a fantastic jumper, his dressage is still a work in progress. But this 9-year-old off-the-track Thoroughbred is as game as they come, and I have my fingers crossed that Sara achieves her goal of getting him qualified for Rolex Kentucky next spring.
Haley Burton – Editorial Staff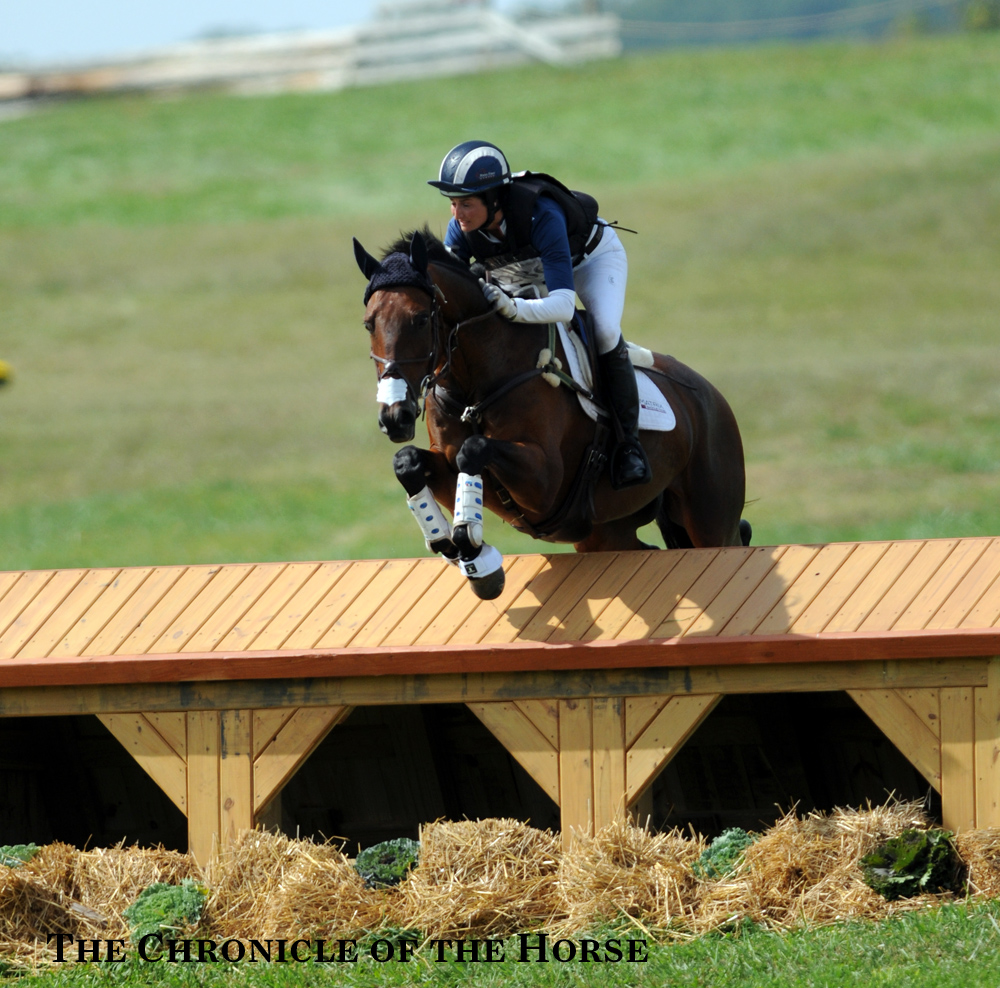 Jennie Brannigan and Cambalda. Photo by Lindsay Berreth.
I have to admit, besides the Alltech FEI World Equestrian Games (France), this former eventer hasn't been following the sport as closely as I would like this year, since I usually report on hunter/jumper shows for the Chronicle—though recently I've gotten my feet wet covering dressage. So, while my desk-mate, the author of this article, keeps me informed about the goings-on from one event to the next and I have a pretty good idea of the popular favorites to win the competition, I've decided to lean more toward the 'sentimental' side of things for my pick.
After reading (and re-reading) Jennie Brannigan's latest Chronicle blog, I can't help but root for her and Cambalda in the CCI***, and Henry in the CCI**. Sure, she's had some setbacks this year as she's stepped out on her own to build her business, but that's what makes her journey in the sport so utterly relatable. She's had to step back and re-evaluate her reasons for continuing to pour money, time and energy into this crazy sport. But she's come out the other side with a reinvigorated passion for her animals, and a strengthened drive to succeed. Sometimes a bit of reflection is all we really need to keep pushing forward in our goals, and I'm excited to see what Jennie and her horses have in store for us at Fair Hill this year. Good luck, Jennie!
Mollie Bailey – Editorial Staff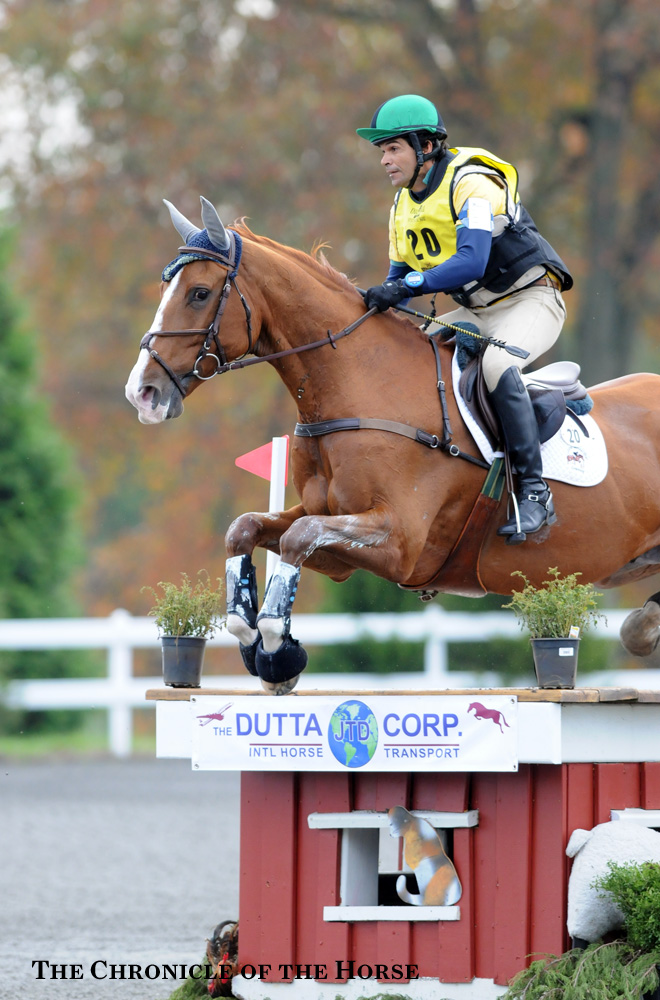 Nilson Moreira da Silva and Muggle. Photo by Sara Lieser.
I'm pretty clumsy myself, so there's a special place in my heart for an accident-prone horse like Muggle. A few months after winning the U.S. Eventing Association Future Event Horse Championship as a 3-year-old, he broke his coffin bone, and three years later managed a truly rare injury, a fractured and displaced rib that called for surgery to heal. And just when that was nearly in the rearview mirror, he managed to injure his suspensory while handwalking. (You can read an in-depth Horse Care story about Muggle's story in the Sept. 29 issue of The Chronicle of the Horse magazine.) He's been back in action for the last year or so, and I'm knocking wood for a great weekend for him and Nilson Moreira da Silva in the three-star.
Don't miss a minute of the Dutta Corp. Fair Hill CCIs—stay informed on all the news, behind-the-scenes stories and stunning photos with the Chronicle's dedicated Fair Hill CCI page of online coverage. And make sure to read even more details in the Nov. 3 issue of the print magazine The Chronicle of the Horse. You might know who won, but we tell you why and how they won.