Christian Simonson of Ventura, California, received the U.S. Equestrian Team Foundation's 2023 Lionel Guerrand-Hermès Trophy at a special ceremony during the USET Foundation's Gold Medal Club Reception held on Jan. 22 in Wellington, Florida.
Each year, the Lionel Guerrand-Hermès Trophy is awarded to a junior or young rider in an Olympic discipline who exemplifies the team's ideals of sportsmanship and horsemanship.
Simonson, 20, who has amassed an impressive list of accolades as a young rider, joins an elite group of equestrians that have successfully represented the U.S. on an international level.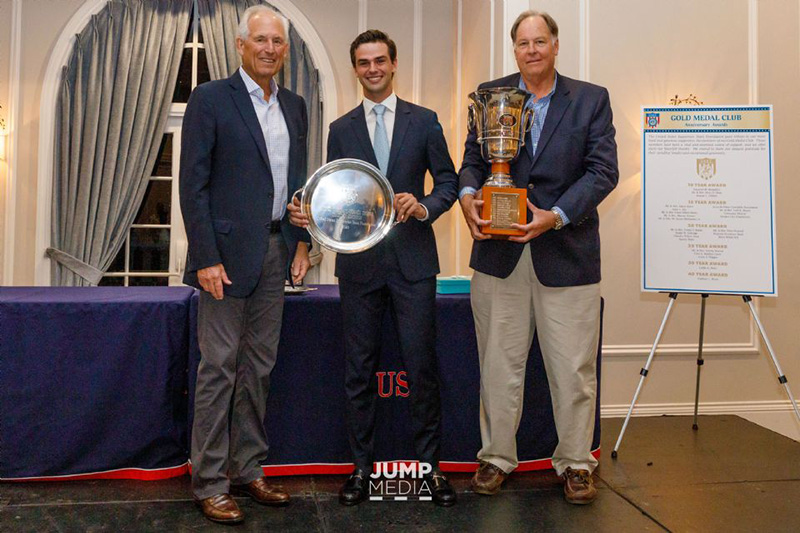 "It is truly an honor to receive the Lionel Guerrand-Hermès Trophy and join an esteemed group of athletes that have been recognized for sportsmanship and horsemanship," Simonson said. "I sincerely want to thank those around me including my trainer Adrienne Lyle and fellow rider Katie Duerrhammer. They are incredible role models that demonstrate what horsemanship truly means. Without them, this would not be possible. I plan to uphold the ideals of the USET Foundation and continue the journey of learning from both human and horse."
Taking advantage of the U.S. Equestrian Federation High Performance Pathway, Simonson competed at the 2017 and 2018 North American Youth Championships, earning the team gold medal and individual silver medal in the Junior division in 2017 and the team silver medal in the Young Rider division in 2018. Simonson also earned U.S. Dressage Federation bronze and silver medals in 2017.
In 2021, he won triple gold in the Young Rider division at NAYC (Michigan) riding Zeaball Diawind, and he was also selected to represent the U.S. at the Future Champions Nations Cup in Hagen, Germany, where the team took home bronze. In 2022, Simonson and Son Of A Lady had a third-placed podium finish in the Young Rider freestyle at CHIO Aachen in Germany.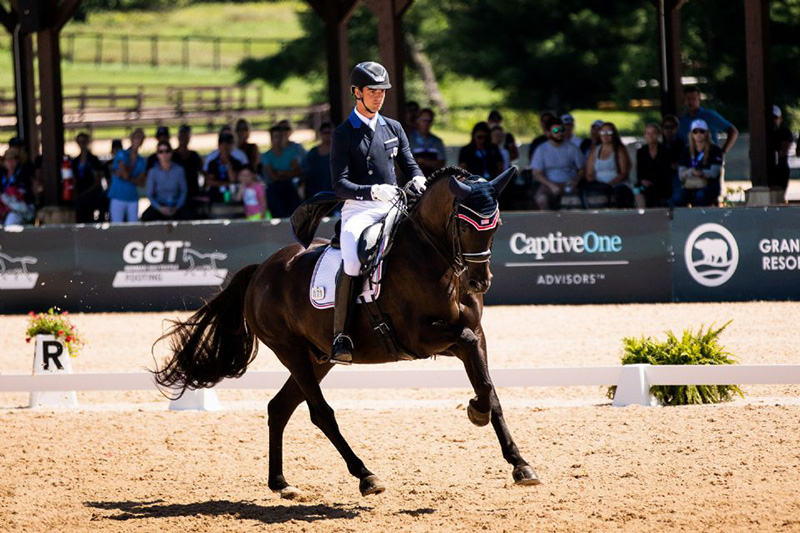 Simonson credits the formative opportunities offered along USEF's High Performance Pathway for helping him progress and find success as a young rider.
"My journey along the High Performance Pathway has been extremely worthwhile," he said. "These initiatives implemented by the USET Foundation, USEF and Discover Dressage, including the European tour and NAYC, have provided me with invaluable experiences.
"Team experiences are rare in our sport," he continued. "These opportunities have shown me how vital it is to develop strong and supportive team dynamics in order to succeed on the international stage against the best in the world. These events have prepared me to represent my country, hopefully at the highest level. Without the USET Foundation's initial support, this wouldn't be possible."
Simonson recently made the transition to the professional ranks and looks forward to showing in the FEI Young Rider and small tour divisions this winter at the Adequan Global Dressage Festival in Wellington, Florida. In the near term, he hopes to be selected for team outings in Europe as well as make his debut in the Under-25 division with his new mount Harmony's Duval. Longer term, Simonson is focused on learning as much as possible with the goal of one day competing on senior teams at major venues such as the FEI World Cup Finals and the Olympic Games.
The Lionel Guerrand-Hermès Award was established in 1983 by Patrick Guerrand-Hermès in memory of his son, Lionel, an Olympic hopeful trained by U.S. Eventing Coach, Jack LeGoff, who was tragically killed in an automobile accident at age 18. A perpetual trophy designed by Patrick Guerrand-Hermès is inscribed annually with the winner's name and permanently displayed at the USET Foundation's headquarters in Gladstone, New Jersey.