North Salem, N.Y.—Aug. 3
Four days before the start of the Adequan FEI North American Youth Championships, Rachel Long and her grandmother and trainer extraordinaire Debbi Long made the 60-hour journey from Horseshoe Bend, Idaho, to upstate New York. In the trailer attached was Pampa Helada (Canturano—Pampa Frutilla, Quidam Du Revel), the 9-year-old Chilean Warmblood mare Rachel helped to break 5 years ago in Chile.
"I rode her as a 4-year-old when I was working in Chile," said Long, 18. "She was really spooky when I was riding her [back then], and she was basically a disaster," said Rachel. "She was not the horse you looked forward to riding at the end of the day. So I had all those things in the back of my mind when I first got on her to try her again three years later, [but] they were pretty much all gone. Knowing where she came from and knowing where she is now makes it so much cooler and more meaningful in the end."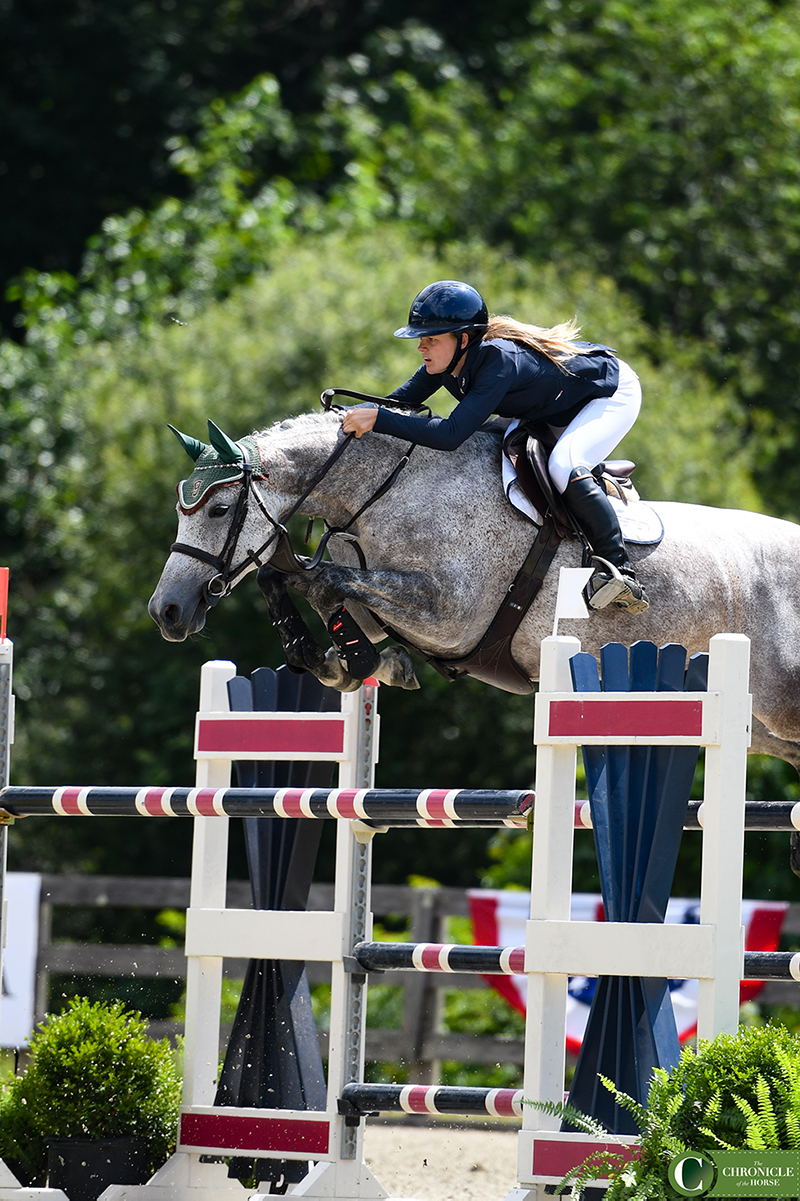 Rachel comes from a family of professional kayakers, and they own the Idaho-based Cascade Raft and Kayak company. Cascade Raft and Kayak makes adventure trips to Chile, where, in addition to Arizona, the Long family spends the winter. In Chile, Rachel worked as a working student under show jumper Christian Santis, where she met Pampa Helada.
Pampa Helada was imported to the United States in April 2018. The mare had only competed in three classes when Rachel began riding her at the 1.20-meter level, and they won their first competition together in the  Golden Gate Classic's 1.30-meter Junior/ AO (Woodside, California) that July.
After spending the winter at the Arizona Winter Festival in February of this year, Rachel set her sights on attending the NAYC.
"We kind of started at the beginning of the year, we made it a goal," said Long. "We did the HITS winter circuit in Arizona and we got our certificates there and we were like, 'OK, we'll see if we're ready,' because I have a young horse. And then we were showing up at [The Woodside Spring Classic (Woodside, California)] in May, and I won the [$25,000 Woodside Spring Classic Grand Prix] there, which is my first regional-standard win. That's when we kind of said, 'OK, we're ready. We can commit and go.' "
Rachel is representing Zone 9 in the junior show jumping individual division, and she finished eighth in Round 1 of the junior team and individual competition on Thursday. She'll close out the competition on Sunday in the junior individual final.
"This is my first time here at young riders, so it was definitely a big thing coming," said Rachel. "My mare jumped really well, and we ended up clean in 8th place, so I was super happy with that."