Lake Placid, N.Y.—July 2  
Jimmy Torano rode Chiara Blue Diamond to victory in the $75,000 Devoucoux Richard M. Feldman Grand Prix of Lake Placid.
Six of 26 entries qualified for the jump-off over the 16-effort first-round course designed by Michel Vaillancourt. Torano was the first to return for the eight-effort tiebreaker and he rode the 12-year-old, Oldenburg mare owned by Missy Clark to a clean ride in 38.97 seconds—at time no other rider could match.
After Amber Harte missed his time with a clean ride in 39.60 seconds on Austria 2, two riders—David Raposa on S&L Sage and Francois LaMontagne on Chanel Du Calvaire—tried leaving out a stride to the last fence. The strategy helped them both beat Torano's time, but both dropped a rail at that last fence for 4 faults.
"The last line was a bit of an option and we thought about doing seven [strides] but I didn't think you could leave the jump up doing seven," Torano explained. "I did eight and those who tried seven had the rail down, so it worked in my favor."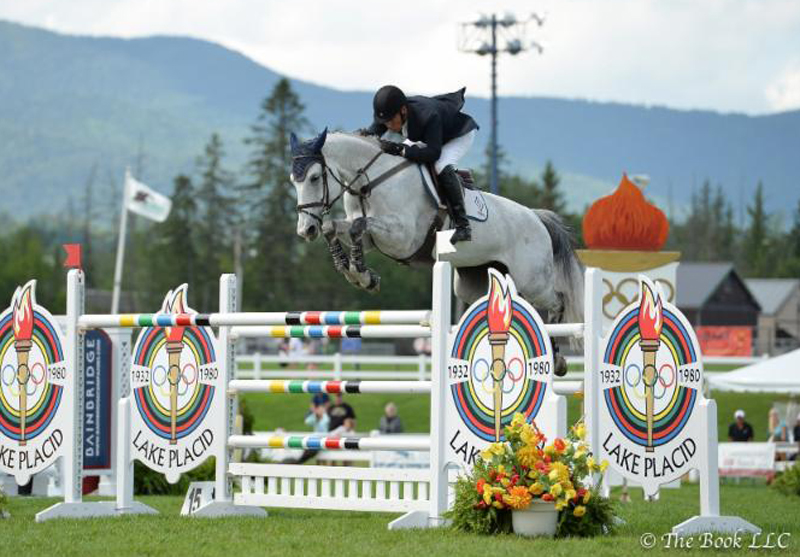 After Raposa, winner of the class in 1990 on Shady Lady, scored 4 faults on Iliona, it came down to Laura Chapot, who had snatched a win away from Torano on the last ride in Friday's $30,000 Prevost Jumper Classic. Riding hard to the first fence, Chapot and Thornhill Kate had it down, ending the drama and giving Torano his first grand prix win in Lake Placid since he won the I Love New York Grand Prix on Aguila in 2005.
"It's never over when you have Laura Chapot going behind you," Torano said. "She's a very fast rider and she beat me on Friday going dead last so that was in the back of my mind. When she came in I thought, 'Oh here we go again,' but this time it didn't work out for her and fortunately it did for me."
With the only other clean round in the jump-off, Harte and Austria 2 placed second while third went to LaMontagne. Raposa was fourth on S&L Sage and sixth on Iliona with Chapot taking fifth.
See full results of the $75,000 Devoucoux Richard M. Feldman Grand Prix of Lake Placid.