Four years ago or so, I found myself on assignment for The Chronicle of the Horse and, as a result, having to do one of my least favorite things: hunt through a crowded lorry park at an event, looking for a truck in a sea of nearly identical trucks, hopefully—and then hopelessly—watching my texts bounce back as I attempted to navigate the lack of signal and get some clues as to my final destination and avoid welcoming myself into … totally the wrong vehicle.
I was on the lookout for New Zealand's Jonelle Price and, more specifically, her excellent mare Classic Moet, who, by that point in time, already had established herself as arguably the fastest horse the sport has ever seen. The assignment—to go "Behind the Stall Door" with the mare—offered a rare chance to get to know the mare beyond her competitive achievements and distill what I found into a story that would help her fans around the world know her better, too.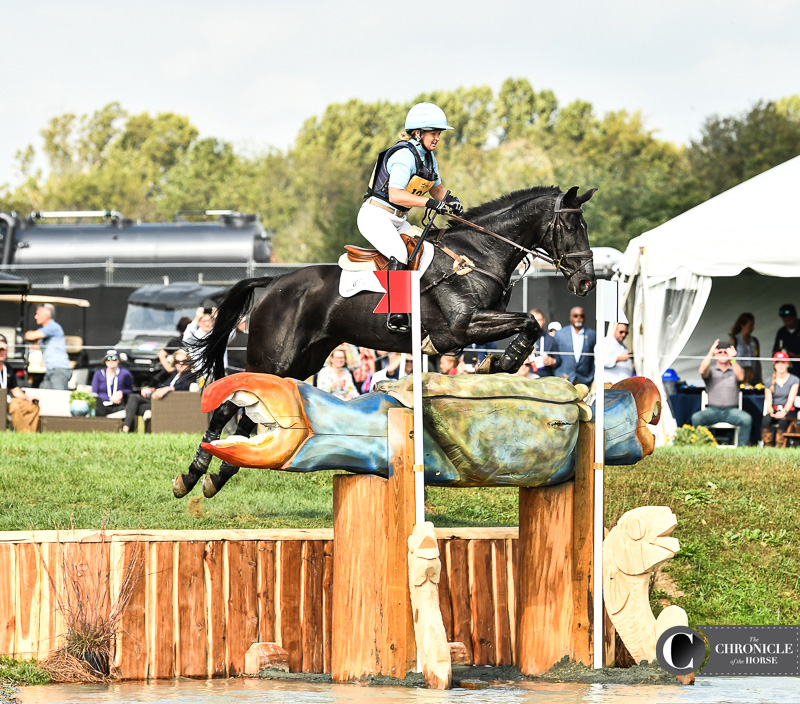 In the end, it was "Molly's" surplus of character that brought my fruitless search to a close. As I nipped between two enormous lorries, dodging Jack Russells and wheelbarrows and the kind of feral herds of children that only seem to be bred by professional event riders, I spotted a small, unassuming black horse, totally untethered and happily grazing on the verge of the estate's driveway. Despite the cameras slung over my shoulder, I hurried towards her, prepared to save the day and corral the (admittedly very unfussed) loose beast.
"Oh, don't worry about her; this is what she does."
Jonelle Price's distinctively clipped Kiwi voice floated out of a nearby lorry—finally! I'd found her!—where she was busying herself with one of the millions of little jobs that make up a day at an event.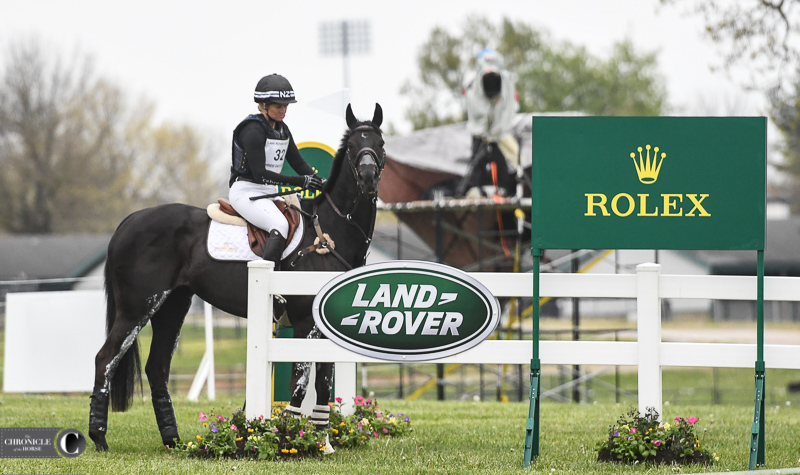 The whole atmosphere was one of total unflappability, from rider, groom Lucy Miles, and soon-to-be-Badminton-winner alike. And why not? The world truly was their oyster and Molly, a British Sport Horse (Classic—Gamston Bubbles, Bohemond) who was probably too small and too "ordinary" and too long to be anyone's idea of an obvious champion, was a very unique kind of pearl.
My first impressions of Molly couldn't have been further from the polished, primped ideal that most of us probably have in mind when we think of top-level competition horses. She wasn't under lock and key—obviously, since she was happily loose-grazing in the lorry park at Belton International Horse Trials (England), just a few weeks before going on to win the 2018 Badminton Horse Trials—and she wasn't plaited and oiled to within an inch of her life. That, Jonelle and Lucy told me, is because the scrappy mare isn't particularly keen on any of that sort of nonsense. Instead, she just likes to be left alone to get on with it until the fun stuff—the run and jump stuff—begins.
Watch their winning cross-country round from the 2018 Badminton Horse Trials:
That, of course, is where Classic Moet shone—and where her absence will be so conspicuous now that Jonelle has made the call to retire her from competition after a successful final season as a 19-year-old. In her 10 five-star appearances, Molly never had a cross-country jumping penalty and accumulated just 6 time penalties in all. And in the three five-stars where she didn't make the time, no one else did either. Molly turned in the fastest cross-country round at each of those events, too.
The greatest horses in the sport, the ones that stick in the forefront of our conscious and make us feel something beyond the pure and simple adrenaline of great sport, are the horses a little bit like Molly. They're the ones who aren't obvious; who aren't conventional. They're the ones who make us all see a bit of potential greatness in ourselves. If they can break down the barricades, why can't we?
For me, as a journalist, these horses are the lifeblood of what I do. You get into a job like mine—one that requires endless travel and plenty of unsociable working hours—because you love horses in a singular and universal sort of way. But the after-effect of all that horsing around (forgive me) is that it jades you a bit. After a while, it takes something really special, something truly once-in-a-generation, to make you stop typing and just watch.
Molly was that horse, and not just for the ease with which she nipped around the world's toughest courses, making the time look like a training exercise. It's fitting that her final run, this year's Land Rover Burghley Horse Trials, saw her cross the finish as the only horse to make the time all day, despite Jonelle's watch malfunctioning at the start of the course. Molly and Jonelle's speed was about feel, about rhythm, and about a very rare kind of boldness, forged from years of trust in in one another.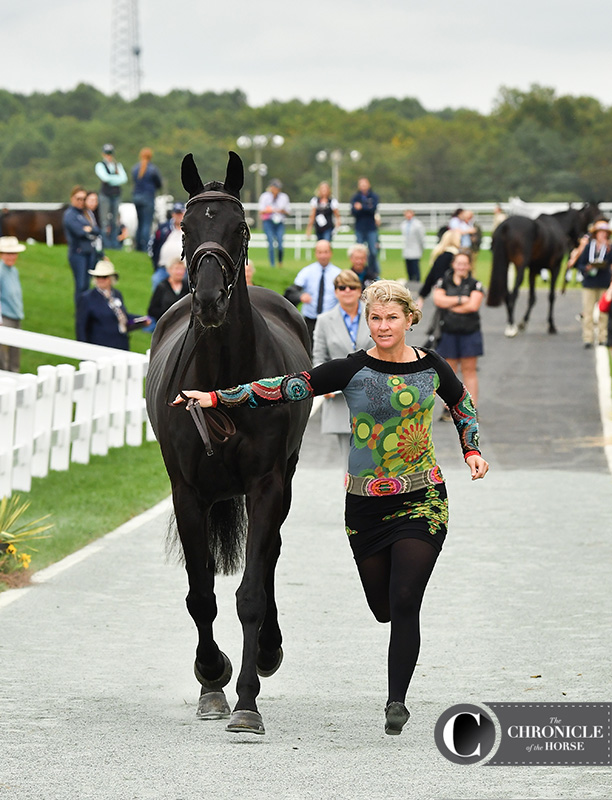 But it's not just that that makes our years of career overlap so special to me. In a funny way, it's about what these special little mares say for the very notion of womanhood. That you can be female without traditional femininity; that you can be a cover star without matching some arbitrary standard of beauty. You can be a thing of raw power and opinions with one extraordinary skill to your name, and that's enough to take on the world. And, if you want to, you can find a way to have it all: sporting success; babies (Molly's had several via surrogate mares); the sweet life in a field in Wiltshire. Or you can give the bits that don't appeal to you a miss, and still be a full and complete and untouchable woman.
Molly wasn't really a dressage horse, nor was she a particularly reliable show jumper—the day she won Badminton in 2018, she delivered her first international clear in four years—but we don't look at her as any less of a competitor for it. Instead, we celebrate that she's so good at what she's good at that the rest doesn't really matter. And that, for me, is heartening. May we all be unclipped from the lead rope and left to do our own thing, and may we all be celebrated for being just as much as we want to be. I'll raise a glass to that.