Kalispell, Mont.—July 21
When Frankie Thieriot Stutes set out on the Rebecca Farm CCI*** cross-country course, she knew a few of her friendships were on the line.
"I kept hearing Tamie Smith in the back of my head, and she's like, 'If you ride bad, I'm not going to be your friend anymore'—her and Heather [Morris]," said Stutes, laughing.
But Stutes didn't have anything to worry about. Her round with Chatwin earned them just 1.2 time penalties—a world away from "riding bad."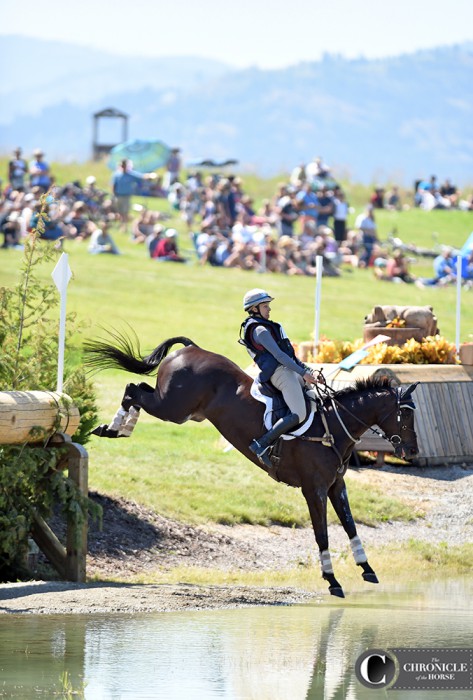 "He's a magician on cross-country, that horse," she said. "He's unreal. When you stand up to gallop him, it is like nothing I've ever encountered, and my old advanced horse was so fast. He just has this gear box that I can't even explain. I never kicked a single time; he's just so fast in his gallop. At Bromont [CCI***, in Quebec], he was a little easier to ride there because there's terrain initially. He's kind of really good the last three minutes because he's settled in a little. My first two minutes weren't looking ideal, but we kind of got it together after the back and settled in. He's just so fun to ride. I'm so lucky to get to sit on him."
Stutes is riding on a score of 28.1 penalties, and East Coast rider Caroline Martin is sitting second with 35.3 penalties on Islandwood Captain Jack.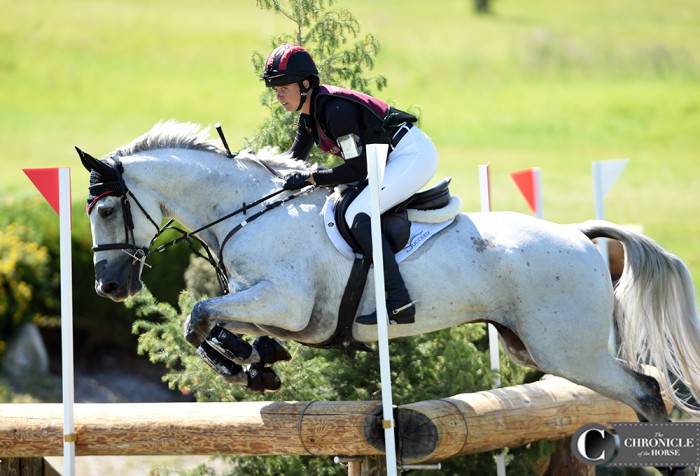 Martin had one of only two double-clear trips today. Eight of the 10 starters finished with just time; Jennifer McFall retired High Times after one stop at the coffin late on course, and Maya Black retired Mowgli after two stops at fence 22B. There weren't any falls of horses or riders in either the CCI*** or CIC***.
"I'm glad I made the trek out here," said Martin. "His last show was Great Meadow International, and he had the Monday after that off, Tuesday he went hacking, and Wednesday he did a little canter set and then left. It's not the most normal way of getting to a show, but it's good practice for him especially since he's a 9-year-old. Hopefully he'll be a horse who'll head to Europe and do some competitions there, so I thought this would be good for his education."
Martin's been riding her horse since he was a 4-year-old, and Stutes has also enjoyed a lengthy partnership with Chatwin. Stutes rode the gelding in his first CIC* in 2014, moving steadily up the levels and picking up plenty of wins along the way. Stutes took time off to have her two children, and Smith took over the ride on Chatwin while she was out of the saddle. Today one of her sons, Drake, was helping out in the vet box after cross-country.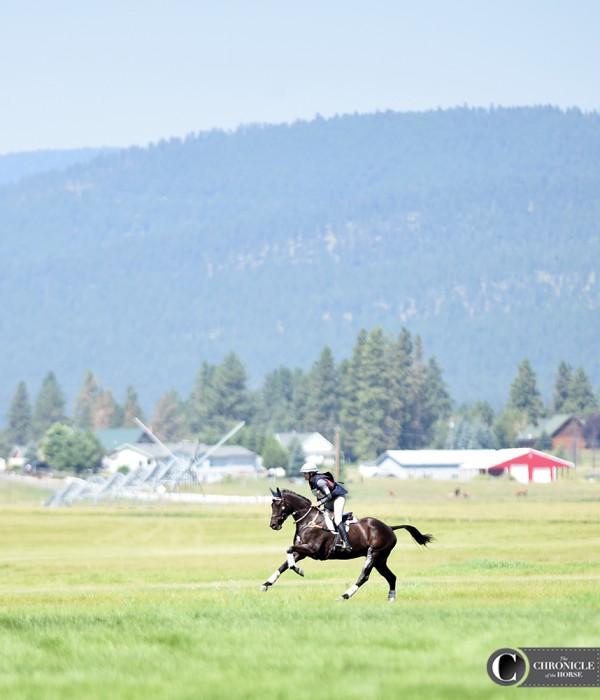 "I think when you become a mom, it puts everything into perspective," she said. "You can have the greatest day ever, but it's even better to have your kids in the box, and they can see how excited you are and see you're safe. It's put a lot into perspective for me. If it goes great that's awesome, and if it doesn't there are things that matter a lot more than one ride. I've been trying to take in the moments this week and have a great time."
In the CIC***, Smith moved up into the lead on Fleeceworks Royal thanks to her speedy clear; they earned 4.4 time penalties, which was the second-fastest trip of the day. Canada's Hawley Bennett-Awad and Jollybo moved into second with 3.2 time, and dressage leaders Chris Talley and Sandro's Star dropped to third after picking up 11.6 time.
"She was super," said Smith. "She's young and a little bit full of herself, and it's been a struggle since she was 3 to get her to respect the jumps. This year really turned a corner, and I've been working on my cross-country riding with Phillip [Dutton]—trying not to pull on the reins—and it's really paid off because she was brilliant.
"The CIC is just really hard to make the time because of all the twisty, turning stuff. I improved on her time from last year. I couldn't have gone any faster, but she was super rideable and just read all the jumps. I couldn't have asked her to be better."
In this year's CIC***, six of the 12 starters finished without jumping penalties. There were two retirements (Helen Bouscaren on Ebay  and Katherine Rivera on Royal Lufttanzer) and one elimination (Andrea Nielsen on LC O'Shawnisee). Jordan Linstedt withdrew Revitavet Capato, third after dressage, before the cross-country phase.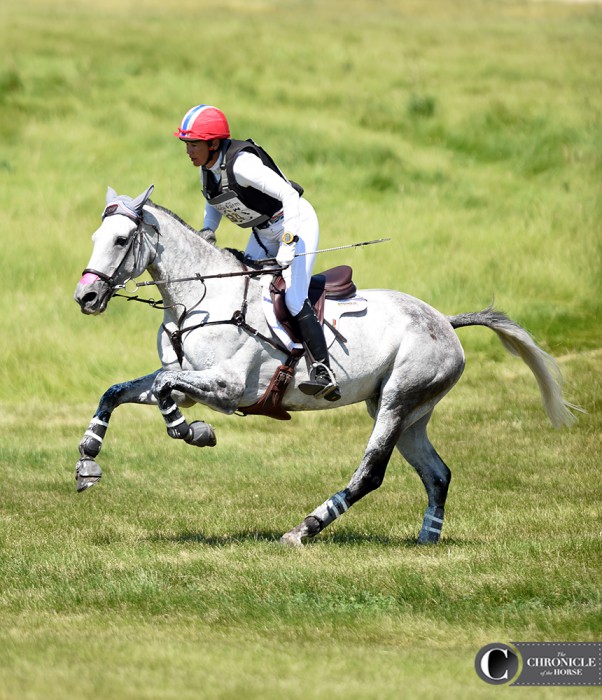 Bennett-Awad set out with the intention of impressing the Canadian selectors for the FEI World Equestrian Games in North Carolina this fall.
"Basically I had to jump around clean and fast to prove 'Jolly' and I are still good to go," she said. "She didn't put a foot wrong. I think it was one of the best rides I've ever had on her. I didn't try and make the time in the first few minutes because I thought the footing was a little hard, but she's just naturally so fast. Everyone was so worried about the coffin, but she came around the corner to the coffin, and it was like a little grid exercise. She was all sassy in the cool-out, trying to strike at us, and she never does that. I don't know what she thought that was, but she finished like King Kong, and that's the best feeling in the world."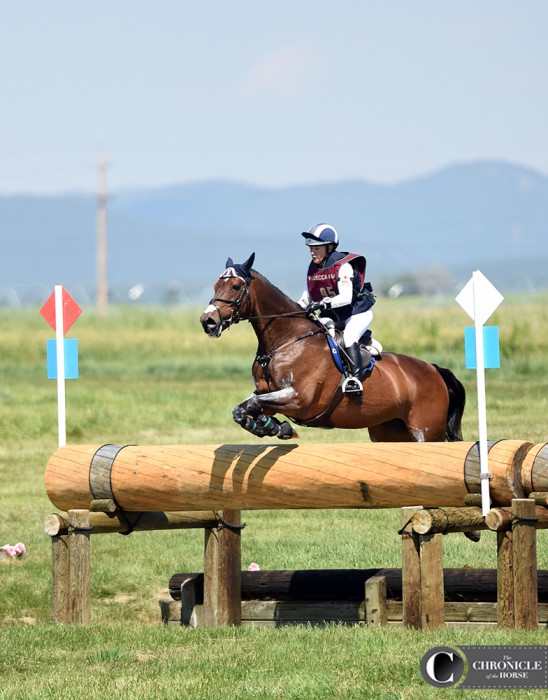 See full results or read all of the Chronicle's 2018 Rebecca Farm coverage.