Las Vegas, Nev. —Nov. 18  
The old adage claims that "What happens in Vegas, stays in Vegas," but it will be hard to keep secret the talent of Richard Spooner's new equine star, Chatinus.
Spooner piloted the 10-year-old Hanoverian to the gelding's first World Cup qualifier victory in the $100,000 Longines FEI Las Vegas World Cup qualifier.
"I'm just very optimistic for the future with this horse. It's just absolutely blowing my mind!" Spooner said after the win.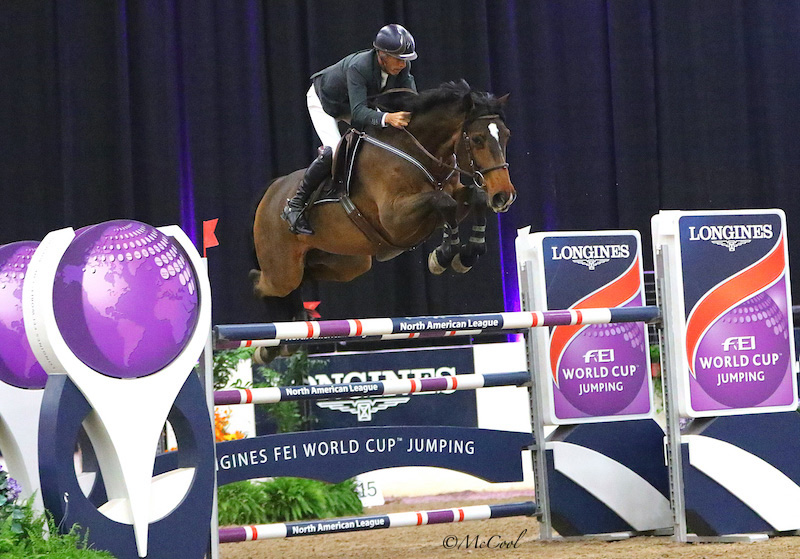 (For more about Chatinus and Spooner's new partnership, read the Nov. 27 & Dec. 4 issue of The Chronicle of the Horse.)
The crowd had seen rails, refusals and unexpected dismounts in Round 1 action before the 21st to go, Alison Robitaille, delivered the first clear round aboard Bertram & Diana Firestone's Serise Du Bidou, an 11-year old chestnut mare.
Soon afterward, Spooner completed a clear round on Chatinus. One other pair matched the clear round efforts, Karrie Rufer aboard Morning Star Sporthorses, LLC's Georgie D'Auvrav EC.
Oscar Soberon's jump-off course allowed the riders to execute long gallops, a few bending lines, and one combination. First to go, Robitaille demonstrated another well ridden clear round, setting the bar for the two riders to follow. Spooner's strategy, and his mount's big stride, wowed the audience as he stopped the clock 3 seconds faster than Robitaille. After having a rail, Rufer retired knowing she would be third.
Spooner said he was surprised that his time was so much faster. "I was fortunate enough to watch Alison's jump-off round, and I felt optimistic that I could beat her time if I carried a bit more of a gallop from the second fence to the third fence. After that, I was able to coast a little through the remainder of the jump-off course," he said.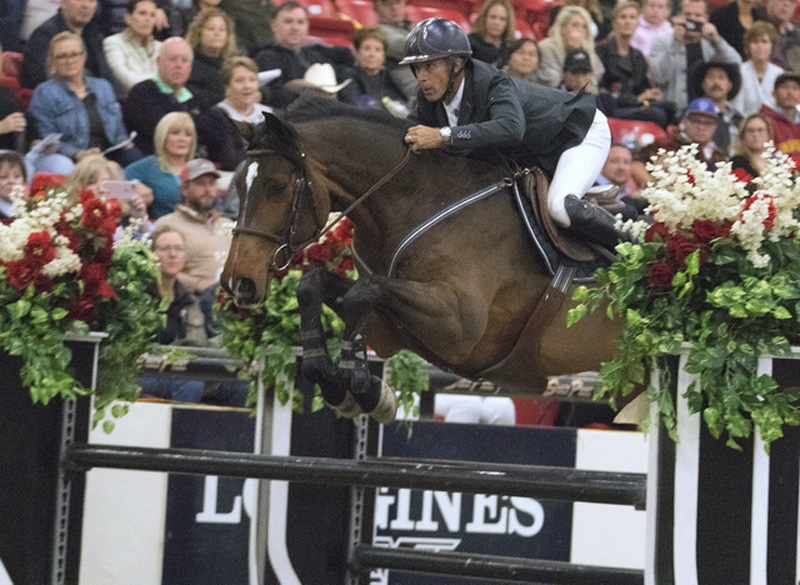 Spooner now sits atop the standings of the West Coast sub-league of the Longines FEI World Cup™ Jumping North American League with 58 points. "For me, it's unfamiliar ground to have a horse that just kind of goes in the ring and is just like an ATM machine at this point," Spooner said of Chatinus, whom he has only had since the summer. Chatinus also posted top-five finishes in California World Cup qualifiers at Sacramento and Del Mar this season.
Spooner is looking forward to the potential of competing in Paris at the Longines FEI World Cup™ Jumping Final in April, but having competed at the World Cup Final many times over the years, he knows the competition is quite challenging.
"Chatinus and I are a very new partnership; we don't really know each other yet," Spooner said. "He impresses me every day, and I've had great success on him since the beginning of our partnership. He and I still have some work to do and some more improvements to make."
After several top placings at Longines FEI World Cup™ Jumping events this season, Robitaille leads the North American Eastern Sub-League. Returning to the international scene after having a family, she set the bar high with a goal to earn an invite to the Final. With her results in Las Vegas, it seems she may be on the path to join a host of top competitors in Paris next April.
The next event on the North American League will take place in Guadalajara, Mexico, on Jan. 28.
See full results from the $100,000 Longines FEI Las Vegas World Cup qualifier.