Lexington, Ky.—May 5
Graduating from college, getting your first "big kid" job, moving up to the open level at IHSA—this period of IHSA riders' lives is all about growing up.
But IHSA National Championships open over fences national champion Chase Boggio didn't forget where he came from when he trotted into the Alltech Arena for the work-off, moving up from second place to snag the championship. One of the first people he accepted congratulations from was his childhood trainer Christina Schlusemeyer.
"Everything in his life is going forward, and then I get a call," Schlusemeyer said. "'Can you please say you're not judging and please come to this? 'This is my last college riding experience,' he says. 'I've never ridden in the Caccione Cup, can you please come?' "
Boggio's Tufts IHSA team just barely missed qualifying for Nationals after losing a tie-breaking match up at regionals, so he came to Lexington to represent his college as an individual.
"Our coach at home wasn't able to be here so Christina came. I started riding with her when I was on medium ponies," Boggio said with a laugh, recalling a time Schlusemeyer was coaching him on a naughty pony who stood up and spun three times with him at the Capital Challenge horse show before he was excused. Luckily, there were no such flashbacks at this outing.
"When I became an amateur we took a little bit of a break because she was going to pursue judging, but we've always been really good friends," Boggio said.
Schlusemeyer got show organizer Dave Burton to let her off the hook for judging and hopped a plane to Lexington, Ky., to cheer Boggio on all the way to the championship.
"Last year in the team over-fences classes, I went in first and had a mistake in the test, so I dropped down to third," Boggio said. "So this year I came prepared for it and it really, really means a lot. I'm so excited."
Schlusemeyer gives a lot of credit to the IHSA program for nurturing and highlighting riders like Boggio and giving them opportunities to hone their skills without a big pocketbook.
"I'm very a big fan of all these programs," Schlusemeyer said (referring to both collegiate level programs like IHSA and high school/middle school level organizations like the Interscholastic Equestrian Association.
"Think if there's a Margie Goldstein, or now with Chase, that might not ever have ever learned how to post without affordable programs like this," Schlusemeyer said. "Because they're affordable, it gives you a chance to see if there are those hidden talented people. It's so much more democratic."
"Plus there are another probably thousand people who are just going to have a wonderful time with horses," Schlusemeyer continued. "People who never thought they could afford it, or it would have never been on their radar to try, so I love that."
Caroline Norton Snags Team Novice Over Fences Championship
The way announcers read off the IHSA class results is nerve-wracking—starting with honorable mentions in no particular order, he then starts at 10th place, ticking riders off until only two are left standing in the middle of the Alltech Arena.
Caroline Norton was one of those two riders—guaranteed at least a reserve national championship at this point, she joked with her fellow last lady standing, Caitlin Doocy. Then they called Doocy's number, and Norton knew she had won, and she flashed the biggest grin back at the in-gate.
"I can't stop smiling, but my face is shaking," Norton said after the award ceremony. "It's great, I graduate in nine days now, so I wouldn't want to end my senior year any other way; this is just the icing on the cake."
Norton had the enviable position of drawing Chop Chop, a horse from Cazenovia College (N.Y.) who is as rideable as he is photogenic (see below).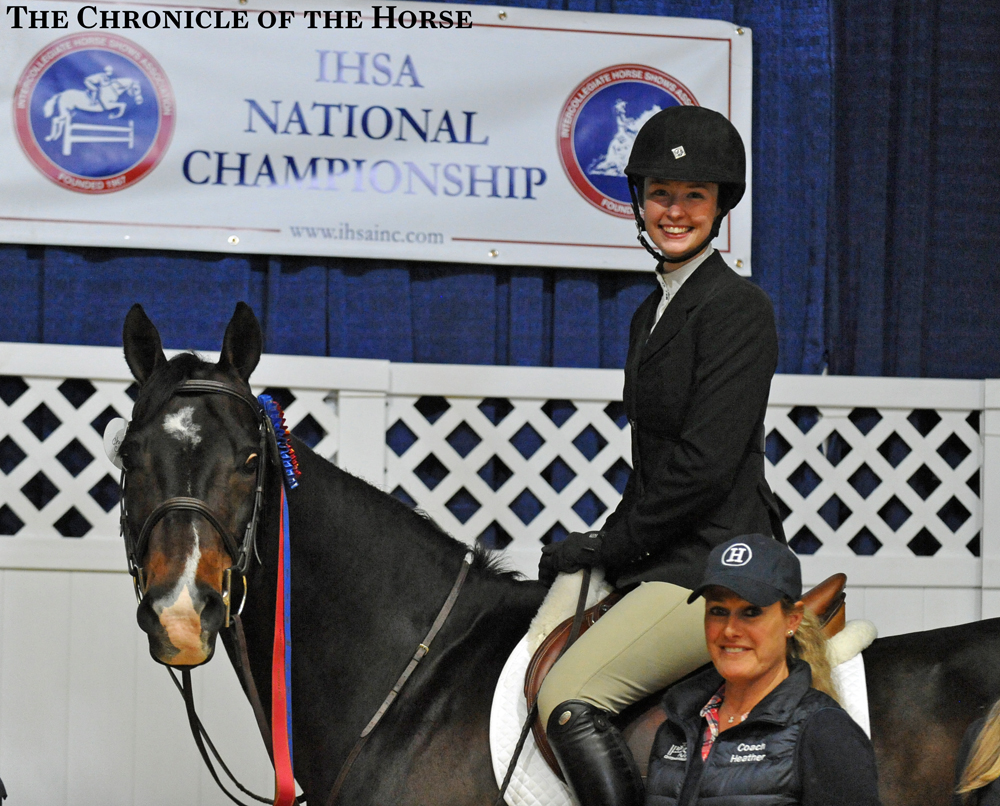 The very photogenic Chop Chop posing for a picture with Caroline Norton and coach Heather Clark. Photo by Ann Glavan
"I'm beyond ecstatic that I was able to draw him; I've heard such great things," Norton said. "My friends have drawn him before and have great sucsess, and the fact that I get to for my last IHSA show was great."
Norton's victory will earn her team, Centenary College (N.J.) the lion's share of the points in the class, giving them a leg up in the team standings early on.
Morgan Sollenberger of Emory and Henry College (Va.), took the individual novice over fences championship. Rachel McConnell from Miami University of Ohio took the intermediate equitation on the flat title. Erin Deans from Michigan State Univeristy won the walk-trot-canter equitation title. Meredith Denny of SCAD took the novice equitation on the flat title, and with Quinn Lowkowsky of SCAD taking the team novice title. Dakota Decuffa of the Univeristy of Kentucky took the intermediate team equitation on the flat title, and Alexandra Smallwood of Santa Clara University, Ca., took the intermediate equitation over fences title. Jesse Fortier of St. Lawrence Univeristy took the open equitation on the flat title.
CLICK to see more great photos, including fun candids, from the IHSA National Championships.
Find complete results of the IHSA National Championships.