Tik, this is a letter to yourself. Read it in 10 years.
I'm curious. Have you had kids? Do you still have Remarkable?
Do you look back and think, "God, what have I done with my life?"
Yes, I will be naive compared to you. I don't own property or an Audi, but I married a woman who gets me. And there are horses that nicker and poke their noses out to greet me each morning. So it's pretty good.
I have goals in my life that are important. The Young Event Horse competitions just finished. Next year: the Olympics. Constantly bringing in 2- and 3-year-old horses to start. Also finding the next Top Horse, finding a way to pay for him, growing my business, and finally the Thoroughbred Makeover with Remarkable 54 this weekend. How many of those things do you remember at age 43? Do they seem as important to you as they do to me?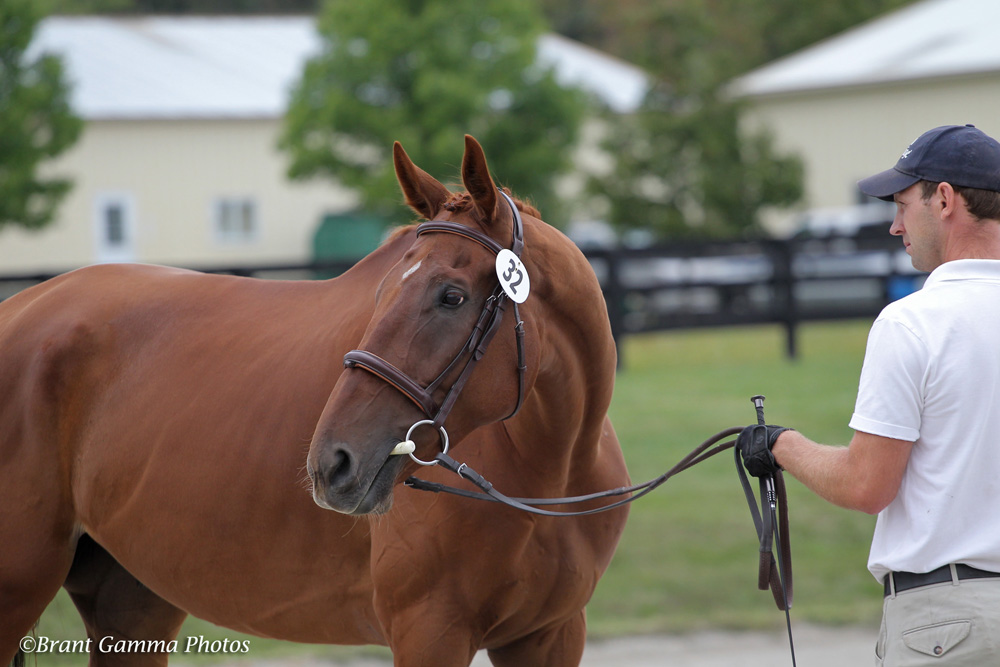 Tik and Remarkable 54. Photo by Brant Gamma
Have you found balance between competing at the upper levels and the joy of creating relationships with younger horses?
Please tell me you are still competing at some level. Remember there are two kinds of athletes. Some say: "What a relief! Thank goodness that is over." Others shout: "Yes! YIPEE! I am in my element. Now. Here. If only this moment could slow down so I could be here longer."
The type of athlete is unrelated to their chances of winning. I have seen both types win and lose. But that second feeling… Wow! It is a feeling that cannot be bought.
Tik, do you remember the 2007 Pan American Games in Brazil? You stood on the edge of that swaying bridge leading to achievement. You boldly stepped out…
But it was not to be. You finished 13th, and you felt a deep emptiness. But there was also relief. An end to the bubbling pressure that was pushing against your chest.
The next spring, in 2008, you tried to make the Olympic team. You were at a World Cup in Mexico City when you broke your clavicle. You were riding a horse that jumped the way Lance Armstrong shows remorse. The horse hit the jump with his front legs, and you both met the ground like lead tumbleweed.
So you retired from modern pentathlon. You gave up. You quit. But isn't there a time when it is better to cut and run?
You decided to travel and work for a year.
In Germany you rode big German warmbloods during the day and studied Bonhoeffer at night:
"In normal life we hardly realize how much more we receive than we give, and life cannot be rich without such gratitude. It is so easy to overestimate the importance of our own achievements compared with what we owe to the help of others."
You were lonely, but alive. You went for walks at night. You found a cemetery blanketed in snow where each grave was lit with a single candle.
You were fired from that first job for not being a good enough rider. So you got a second job nearby. For Ingrid Klimke. You learnt that bad things may not happen for a reason, but if you persevere at least your odds of improvement are better.
Later with David and Karen O'Connor the hours were less, but you still worked hard. You were told: "This might be your calling." Here you found in horses that second feeling: The feeling that seeps through your muscles into your soul, and you feel whole in yourself, but at the same time knowing your place in something greater.
It is the way Jonathan Livingston felt after he climbed high above the earth and then hurtled down through the sky, moving a single feather at the edge of each wingtip to navigate.
Remember Loving, Texas? It was a cattle and buffalo ranch—a maze of oaks and mesquite. A land of deer, turtles, wild hogs and tiny oil rigs.
Remember Bruce Logan? Bruce was the first person you met who somehow tried to treat horses and people the same way. Don't forget about that and what you learnt from it.
After that you moved to the East Coast. Tik, do you still live and love here but think of Vancouver as home? I hope so. Or do I?
If you won with Remarkable 54 I hope you gave him a vacation. I hope you took one too. I hope you kept him, even if you didn't win. He is one of those horses where time disappears when you are with him. Simply vanishes…
So I hope you thanked him; thanked everybody who helped you; thanked everybody who voted for you.
One more thing: If you are reading this aloud to Sinead in 2025, look back together for a minute and thank a few of the horses and people that helped you. And maybe tell Sinead you used to have more hair under that helmet; does she remember?
The Retired Racehorse Project is putting on the Thoroughbred Makeover competition for the second year in a row. You can vote for Tik Maynard and Remarkable for the 2015 Thoroughbred Ambassador Award here: www.retiredracehorseproject.org/2015-ambassador-award.
Tik Maynard grew up in Vancouver, Canada. He's the son of a grand prix show jumper and a Grand Prix dressage rider. He competed in Pony Club games as a child and went to the Pan American Games and World Championships in modern pentathlon. After spending three years as a working student all over the world for some of the sport's biggest names, he now focuses on eventing and natural horsemanship. He's based in New Jersey along with his wife, four-star eventer Sinead Halpin, who also blogs for the Chronicle.

Tik blogged for the Chronicle from 2009 to 2011; you can find those entries here.