Laura Chapot rode Thornhill Kate to victory in the $100,000 Great American Insurance Group Grand Prix at the I Love New York Horse Show, the second week of the 49th annual Lake Placid Horse Shows (New York).
Seven of 36 entries reached the jump-off by riding clean over the 13-jump, 16-effort first-round course designed by Michel Vaillancourt. Three of the seven then went clean over the eight-fence jump-off course with Amber Harte on Cafino and Chloe Field on Tess De Jalesnes opening the jump-off with clean rides.
Riding her 13-year-old, Irish Sport Horse mare, Chapot was fourth to try the jump-off, and she moved into the lead with a time of 38.99 seconds. The last rider to try to beat Chapot was two-time Olympic gold medalist and 2017 Longines FEI World Cup champion, McLain Ward. He wound up with two rails down for eight faults on his young horse, Upsilon De La Liniere, giving Chapot her fifth grand prix win in Lake Placid.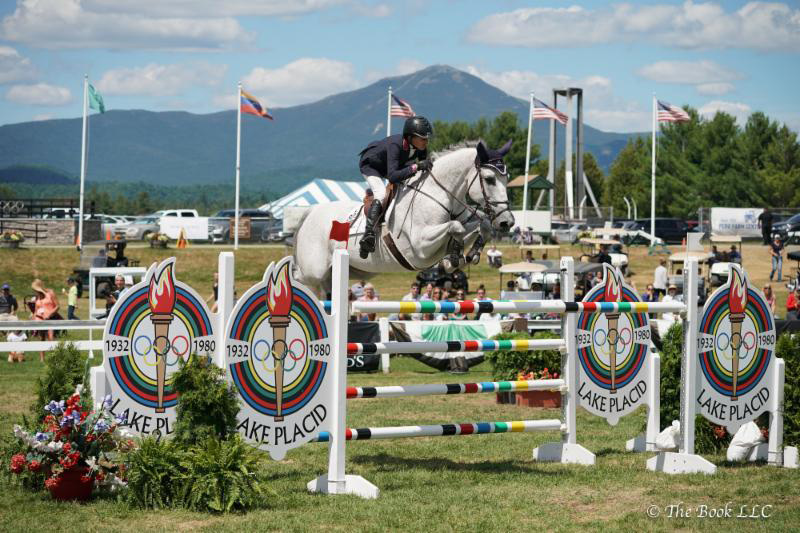 "Kate is a naturally fast horse," Chapot said. "She's very careful, and she's a real trier. With her, I don't have to always press, press, press at every jump; I can just rely on her natural quickness and let her do the job.
"Of all the grand prix I compete in throughout the year, I want to win in Lake Placid the most," Chapot continued. "I have been up here every summer of my life and the people in this town are so incredibly nice that it just means so much to me to win here."
Harte, first to go in the jump-off, took home second place aboard Cafino with a time of 39.75 seconds. Field and Tess De Jalesnes were third with a time of 46.97 seconds. Ilan Bluman of Colombia was fourth with four jump-off faults in 43.40 seconds on EAX Run Run LS.
Chapot's win also earned her the Richard and Diana Feldman Trophy as the rider with the most prize money in Lake Placid's two grand prix events. It's the third time she has won the award, having won previously in 2014 and 2016.
Exclusive Scores Repeat USHJA International Hunter Derby Victory
Exclusive, owned by Isalou, Inc. and shown by Jimmy Torano, won the USHJA International Hunter Derby on July 8.
Exclusive received a two-round total of 374.5 points from the two judging panels of Rachel Kennedy, Joe Dotoli, Julie Winkel and Tom Brennan to win Lake Placid's culminating hunter competition. After the first round, Exclusive had been sitting second to LaFitte De Muze, owned by Cheryl Olsten and shown by Amanda Steege, but an impressive score of 197 in Round 2 outscored LaFitte De Muze by five points to give Exclusive the win for the second straight year, making it three years in a row for Torano.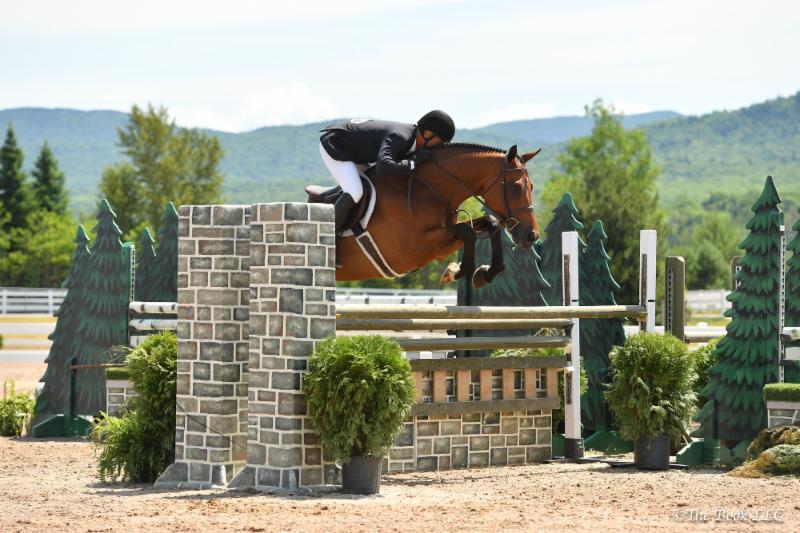 "This is a horse that actually does the 3'3″ amateur-owners and hasn't jumped over 3'3″ since we did this class last year," said Torano. "He's been doing the amateurs with Daryl Portela who owns him, and we just decided to do this derby yesterday. He came out and jumped really well. He was great in the handy, and he was neat everywhere, and luckily they gave us the nine bonus points. It was just a great ride."
Steege was equally happy with her horse who finished with a two-round score of 370 after receiving the highest base score in both rounds. "LaFitte is just learning how to do the derby, and I didn't want to push him," she said. "I chose to do just one of the high options because jumping 3'9″ is already something new for him. I'd rather be patient and bring him along slowly as he's going to be something really special."