Name: Whitney Barnard
Age: 38
Occupation: Assistant managing director of education, U.S. Hunter Jumper Association
If you mounted Alan A Day's Work blindfolded and rode him on the flat, you would assume he was a horse. He rides like a horse; he feels like a horse. Only when you took the blindfold off to see "Alan's" extra-long ears or hear his occasional bray would you realize he's a mule, a hybrid between a mare and a male donkey.
"They really are capable of doing all the same thing horses can do. They can jump; they can drive, do in-hand work; they can do trail obstacles, all the same things," said Barnard, Alan's owner.  "People who are skeptical of mules aren't exposed to them enough—or at all—and probably don't understand that they are more like horses than people think."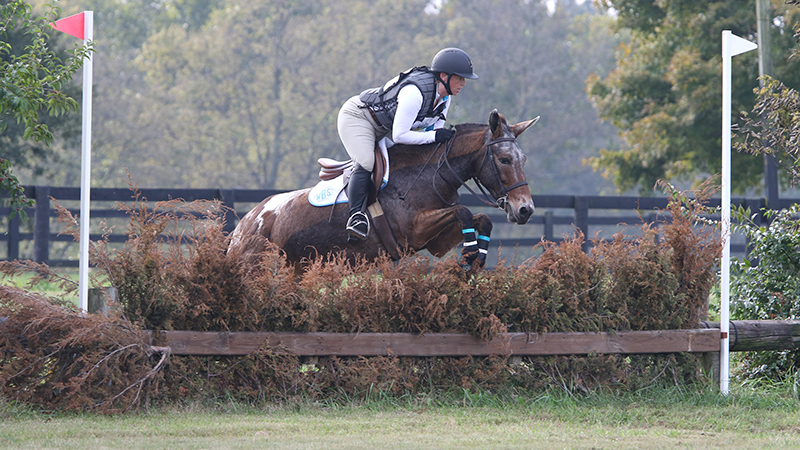 A lifelong horsewoman, Barnard's relationship with Alan has turned her into an advocate for the inclusion of mules in horse sports. Mules are allowed in U.S. Equestrian Federation-recognized dressage, western dressage, endurance and combined driving, but not in eventing or hunter/jumper competition, she said. She would like to see that change.
Barnard has owned Alan, a 13-year-old, 13.3-hand Appaloosa pony mule , for nine years, and in that time has grown familiar with the stigmas and stereotypes attached to them. Some people believe that mules aren't as capable as horses in the hunter/jumper sphere, while others believe that having them at competitions will scare the horses.
"I feed Alan; I get his feet done; he sees the vet; he sees the farrier," Barnard added. "I ride him; I use the same tack. All the things I would do with my personal horse I do with him, so the only thing that's different as far as competition or riding is his ears and his bray."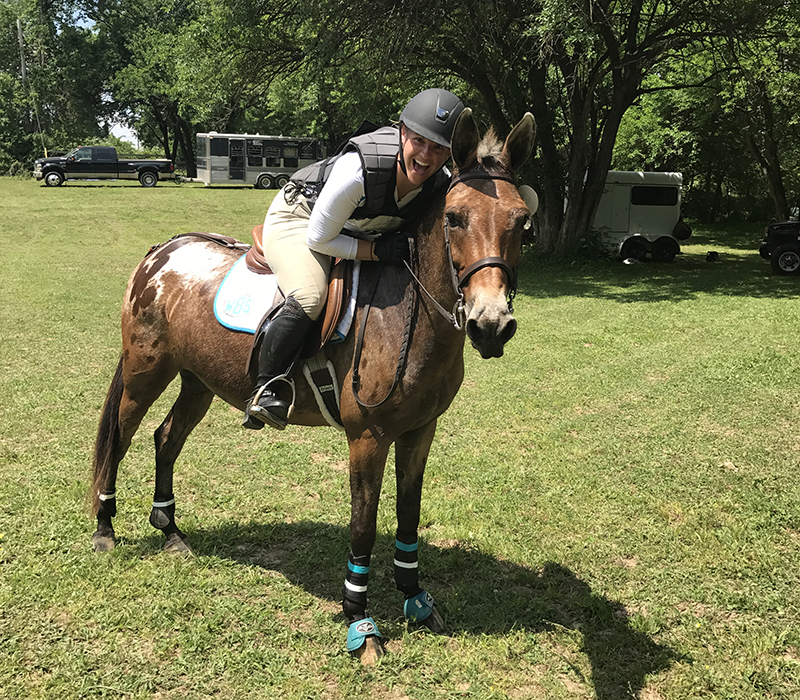 "The more exposure mules can get, the more people will see and accept them," Barnard said. To that end, she set up an Instagram account for Alan, @muleatahorseshow, to share his adventures in  horse sports.
"I think the biggest reason that organizations don't allow mules is that they don't understand them or how similar they are. They think that they have an unfair advantage compared to a horse, and I don't think that," she added.
Barnard occasionally meets people who have heard of "coon jumping," where mules are jumped, in-hand, from a standstill in a puissance-type competition (the current world record is 5'8″) and think that is the way the animals always jump.
"While that's kind of the case, nobody rides their mule right up to a jump and jumps it from a standstill as a hunter or jumper," she said.
Barnard lives in Lexington, Kentucky, where she events Alan in unrecognized competitions at the beginner novice level and hopes to move up to novice this year.
She hopes mules soon will have more opportunities to show off their skills in the hunter/jumper rings, following a USHJA's Board of Directors ruling in December 2020—still awaiting USEF approval—which would allow them to compete in jumper divisions. (While Barnard serves as an ambassador for mules in competitive horse sports, as an employee of USHJA, she limits her involvement in any rule proposals to avoid an appearance of conflict of interest.)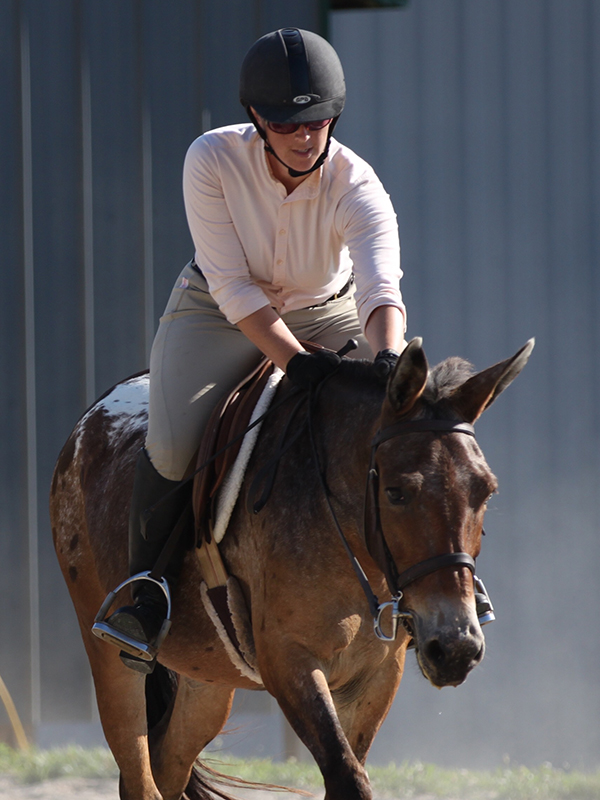 Barnard grew up riding dressage and jumpers in Columbus, Ohio. She was introduced to colt-breaking as a young adult and developed an interest in producing  young horses. Her interest in mules first developed in 2012, when she saw a mule competing with rider Lori Montgomery at an obstacle event.
"She was competing him, and he was the coolest thing," Barnard said. "I contacted her to find out more information about him and mules, and she was basically saying that she had done mules for eons and they're really cool, and I could probably do just about anything with a mule if I wanted to."
Montgomery introduced Barnard to a friend who had mules to sell, which is how she learned about Alan.
"He was very—I wouldn't call him feral, but he wasn't broke at all," Barnard said. "He mostly just led and that was it. I had to learn how to do the whole mule training on my own with some help of internet videos."
"Everything takes a little bit longer when you're breaking in a mule because they think a little different than horses," she added. "Horses are more reactionary, and mules think about what they need to do, so you almost have to convince them that what you want to do is safe, that what you want to do is in their best interest, and that what you want to do isn't going to hurt them. When it becomes their idea, they're more inclined to do what you ask."
Barnard started Alan's training with poles and cross rails. They schooled over jumps and courses as he progressed, with the focus being on getting him to understand "safe-jumping."
"When we would go places, we would try to pop over a little wall, things like that, and admittedly, he is more cautious," Barnard said. "I can't say whether it's a mule thing or an Alan thing. Sometimes, if you don't school him or warm him up before, and you just throw him the big stuff, he's going to stop and look at it because he's wary of what it is or what his job is."
Whether at home or at a competition, Barnard always eases Alan into jumping with a cross-rail, then a low vertical, and builds from there.
"Usually, by that time, he's got the confidence and he's like, 'OK, we're going to do this,' and then he's more willing to jump the jumps," she said. "Once we're galloping across the field and he's done two or three, his confidence is pretty good, and he's willing to jump anything, height-appropriately anyway. He is a bit of a challenge, but I think that's just a personality thing, not necessarily just a breed thing."
No longer a green 4-year-old, Alan has grown into a fun partner for Barnard. She's also purchased Ruth, a coming-2-year-old mule filly.
"She had a really kind eye, and she was already 14.2 hands, so I knew she was going to be a little bit bigger than Alan. I wanted a new project, and it was the right price at the right time," she said.
As she discusses her love of mules and tries to break down species-based stereotypes and misconceptions, Barnard hopes that others will fall in love with them, too.
"They say that mules form a very strong bond with their owner, so I feel like I can ask Alan to jump anything, and he would probably try," Barnard said. "We always try new things, and he's generally pretty willing, even if he's worried. People ask me a lot of questions about him to get to know him and want to meet him because they don't see mules out very often. I think it's super cool that he's able to be an ambassador for the mule breed and species."