Wellington, Fla.—Mar. 10
Had all gone as planned, Daniel Bluman and Ladriano Z wouldn't have competed in Saturday night's $391,000 Douglas Elliman Grand Prix, held at the Winter Equestrian Festival in Wellington, Florida.
Their initial schedule saw them gearing up for the April 11-13 leg of the Longines Global Champions Tour in Mexico City (Mexico), but issues relating to quarantine gave Bluman another opportunity to compete the 11-year-old Zangersheide gelding in Wellington.
"I found out about quarantine restrictions for Mexico and then to go to Europe, so then at the end, I said, 'OK, if I'm not going to go to Mexico then maybe we can jump one more five-star week here," Bluman said.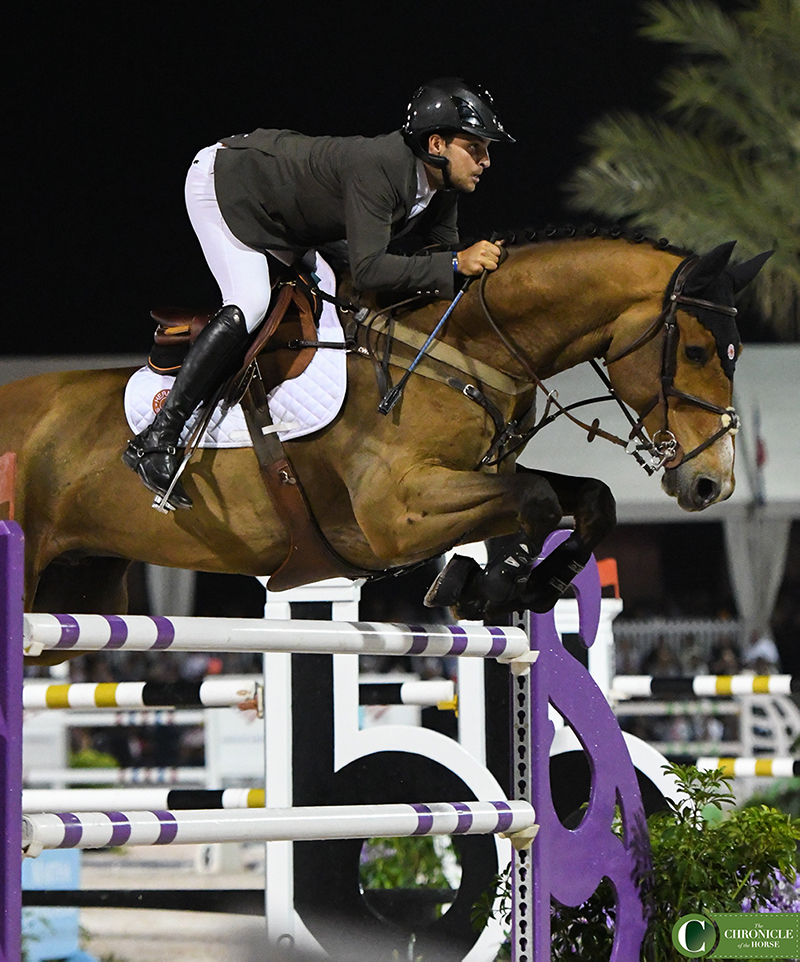 Thirty-nine starters took to the Saturday Night Lights track, with Bluman and Ladriano being one of five to return for the jump-off.  As the last in the order, they delivered the winning ride in 37.143 seconds.
"Ladriano is in great form, so I really haven't been having to do very much," said Bluman. "He feels fresh—actually too fresh if I tell you the truth. I was a little worried because he almost bucked me off on Thursday. I worked him a little bit harder today before coming here and he still nearly bucked me off and almost ran over a guy in the warm-up area, so he's a bit too fresh.
"I didn't have to do much," he added, "I'm just trying to be a better rider for him, get him more rideable and just figure out how to put him in the right spot. Because if I put him in the right spot the horse is going to make the jump; he's a phenomenal horse, they don't get any better than him. I have to get better so we can continue to win classes like this."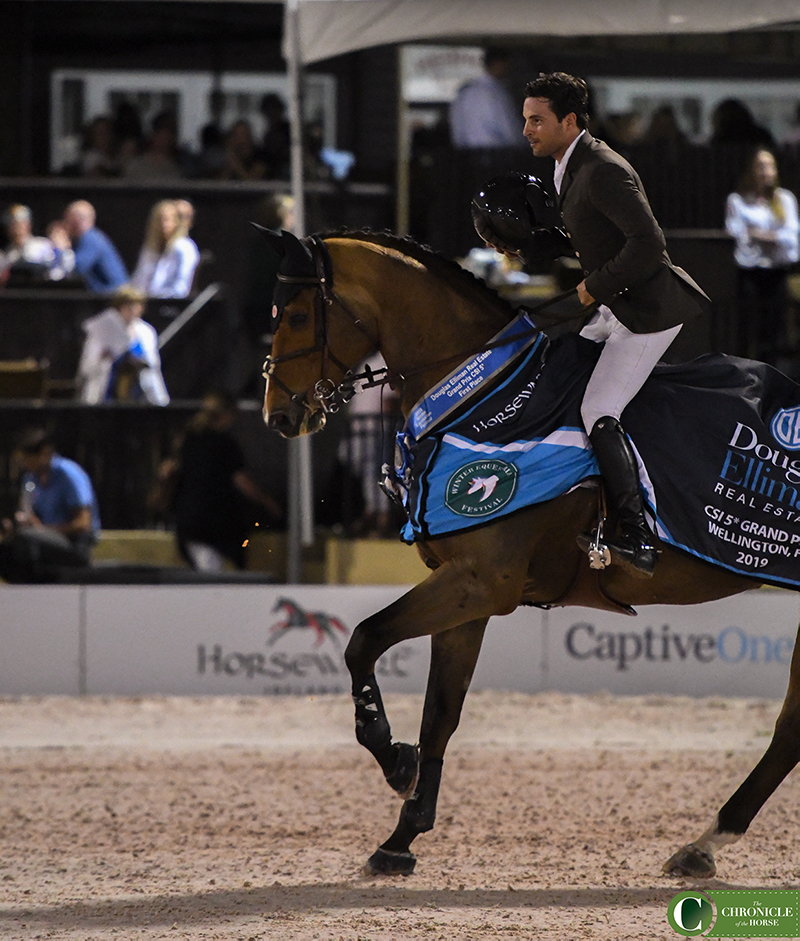 In the jump-off, Alex Granato and Carlchen W set fire to the track with their speedy time of 37.096 seconds. While it proved to be the fastest time of the night, a dropped rail saw them finish fourth in the standings.
Japan's Karen Polle—who won this class two years ago aboard With Wings—set the time to beat at 37.58 seconds aboard Sari, the 11-year-old Selle Francais mare. Their time would hold up against Beezie Madden and the 13-year-old SLS stallion Breitling LS, who finished third.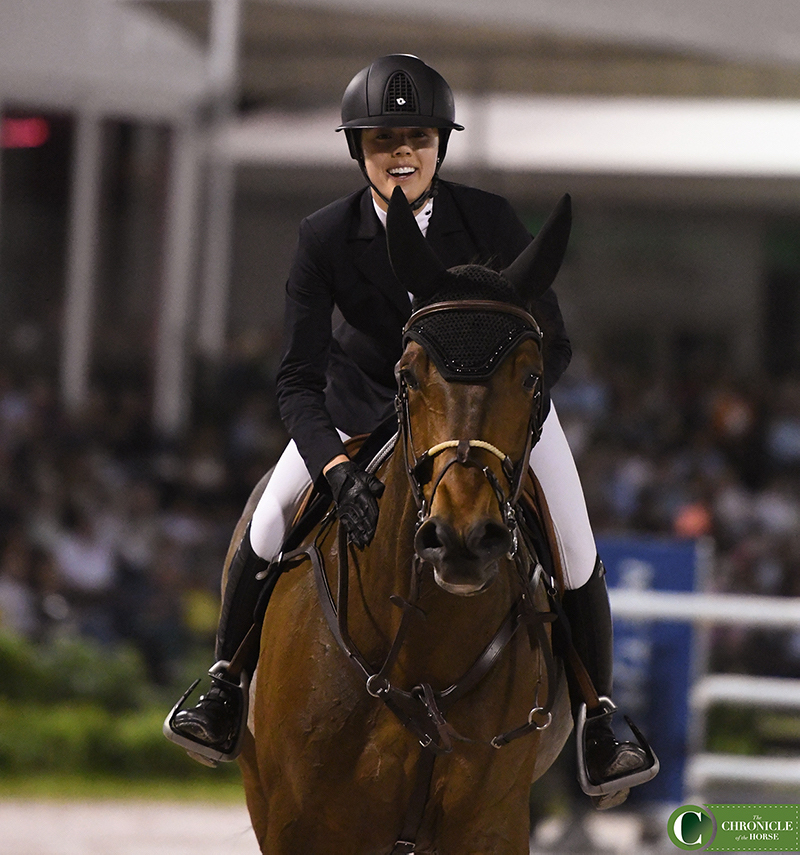 "I'm so thrilled with her," said Polle. "We're a relatively new partnership. I got her about a little over a year ago now, but we only started doing grand prix [classes] this past September. I've just been working on figuring her out, but she's been so consistent here."
Madden, who plans on taking Breitling to the Longines FEI World Cup Jumping Final in Gothenburg, Sweden, used the grand prix as his final preparation ahead of the April event.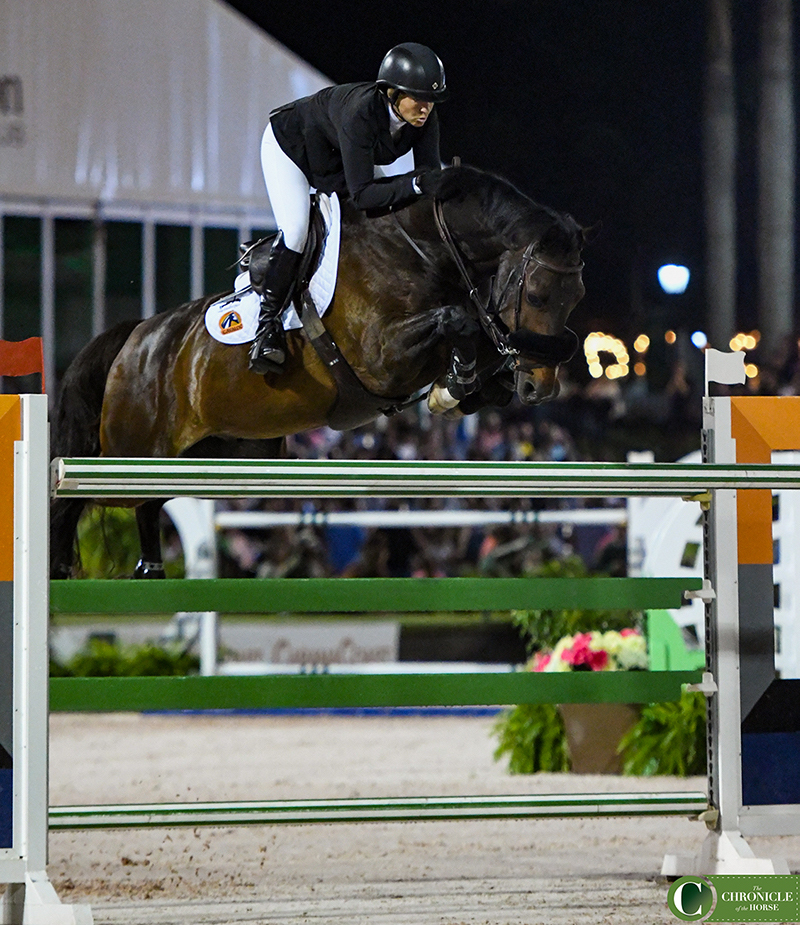 "I think he could have jumped another round or two tonight," said Madden. "I was really thrilled with his performance; I thought the first round he was excellent. In the jump-off, I think I was right on it.
"When I flew across the middle and jumped that vertical so fast I thought I should take a little care to the double," she added. "I kind of throttled down a little too much, but I couldn't be happier with the way the night went. This is his last prep before the World Cup, so I think we're good to go."

---