When Marion Kimball Riese and Freckles made their final halt and salute in training level, test 1, on Saturday, they joined an exclusive club.
Riese, 83, and Freckles, 22, became members of The Dressage Foundation Century Club, which recognizes North American horse-and-rider combinations whose combined age totals 100 years or more. Their test, which earned a score of 67 percent, also earned Riese high-point adult amateur at the May Dressage Derby at Christiane Noelting Dressage Center in Vacaville, California.
"Christiane suggested this, and I said, 'Great; it sounds like a terrific idea to me,' " said Riese, of Napa, California. "With all the stuff that's gone on and how the world's turned upside down, this seems like a great, positive thing to do."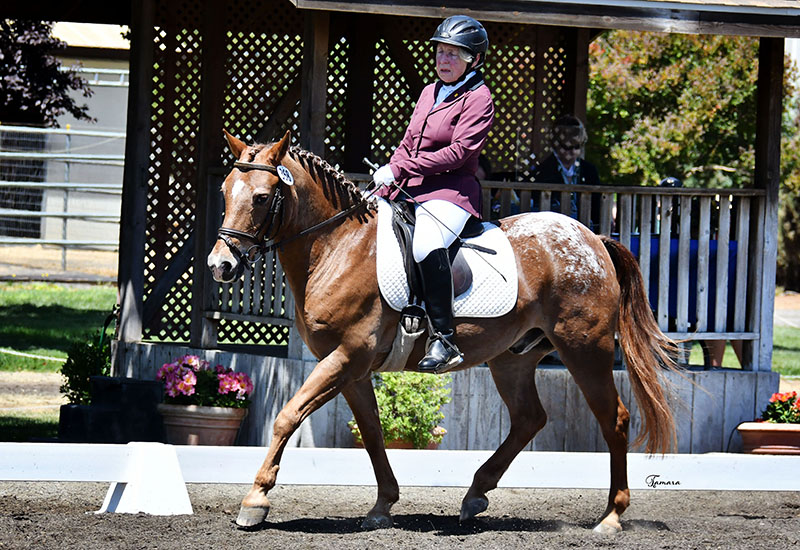 The Century Club was established 25 years ago to celebrate pairs like Riese and Freckles and has inducted almost 500 horse-and-rider pairs. Riese was the 12th rider—and third octogenarian—inducted this year.
Riese has trained with Noelting for about seven years and owns a Hanoverian mare, Romina C (Rotspon—Delain, Deniro), bred by Noelting, who competes at third level with Noelting's working student. But that's not who she rode last weekend. Romina may know all the fancy third-level movements, but she wasn't up to this weekend's task because, at 9, she was too young for the job.
Instead, Riese partnered with Freckles, Noelting's 22-year-old school pony (who himself is no slouch and trained through second level), for Saturday's big ride. The two practiced together for several weeks leading up to the show to get to know each other and make their test just right.
"He's a pony; he's very different from my horse, but I enjoyed the challenge," she said. "He can do everything, and if you're paying attention, he's right there."
Paying attention, however, is the thing Riese said has gotten more challenging about riding as she has aged.
"For me, I feel like I have to think a bit harder," she said. "I have to make myself think, and think with some consistency, to get myself to concentrate. You do think about the different parts of your body and adjusting them all the time—it's a lot of little things—so I need to talk to myself, tell myself to stay right there and fix all these little things."
As long as she can keep her brain in the game, though, the octogenarian is proud to say her body is right there to follow through.
"I'm in tremendous shape," she said. "I used to do Feldenkrais once a week—and I'd still do it, but everything was shut down so nobody could do all that—so I've just been riding. And I just had my physical and went over all my stuff: My weight is good, my muscle tone is good, my brain needs a little work; everyone at my age worries a little about dementia. … But all my doctors, they're just amazed. Nobody says anything because I'm in really good shape. There's nothing to say stop, so I'm just going to keep going."
Riese got her introduction to horses growing up in Rhode Island, where she and all her cousins would bundle onto her grandfather's plow horse together, but it wasn't until she retired from her job as an elementary school teacher in her 50s that she actually bought her first horse.
"I remember thinking as I grew up, 'Someday down the road, when I'm retired, and I can put the time in, I'm going to go back and learn to ride,' " she said.
She did that, and more: After retirement, she also played tournament tennis and sang with the Utah Opera.
"I've always been pretty well-balanced between body and mind," she says, noting that wasn't an easy thing to do, growing up in a time when women weren't widely encouraged to play sports. "I just think we just weren't put together here to do stuff only out of our heads. We need to do things with our muscles to keep all our body parts talking to each other."
One of the ways she has kept her body parts talking to each other for the past quarter-century is through horseback riding. She dabbled in all kinds of English riding, she said, but focused on dressage because finding trainers for that sport was easier to do in most places.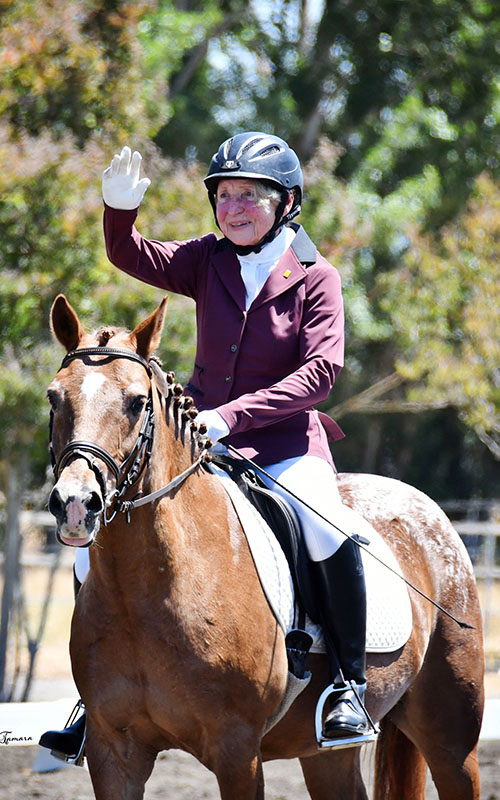 She has been riding with Noelting for about six years now, Noelting said, first with a horse she since has retired, then buying Romina as a 5-year-old to have Noelting bring along.
While Noelting's student has competed the mare successfully at third level, Riese did her first introductory class with Romina before the pandemic hit.
Riese usually rides about four times a week.
"The main thing we work on is having fun," Noelting said of training her, "because there are days, when it is warmer here, that she doesn't have the stamina to hold up for a half-hour or 45-minute lesson.
"She is so positive; she's a very fun spirit, and when I say, 'This is great,' she stops and says, 'That's it, I'm going to quit on that!' You wish sometimes other riders would be that positive," Noelting added.
As for her Century Club ride on Freckles, Riese was thrilled with the experience and the joy it seemed to bring not only to her but to everyone watching.
"The whole thing was overwhelming. It went very well, and you could just feel the lift up for everybody. I really enjoyed all of that," she said, adding that having the test go well was great, too. "The big thing was I got three 8s, and I got high point for the show. For me, at 83, I grew a foot and a half!"
Riese doesn't see it as a capstone on her riding career, however. It's just a next step. She is focused on continuing to improve and already looking forward to getting back in the ring again with Romina.
"That [show] went really, really well, and we've been working since then to get me up to another level, so my thought has been to stick with it and keep going till I achieve something," Riese said.