Thermal, Calif.—Nov. 12
Neither John French nor his mount Center Court are strangers to the derby field, and their experience paid off big on Saturday evening.
The pair wrapped up their 2016 show season with a blue ribbon, besting the field of 24 competitors to win the $50,000 USHJA International Hunter Derby at Week 2 of the National Sunshine Series at HITS Desert Horse Park.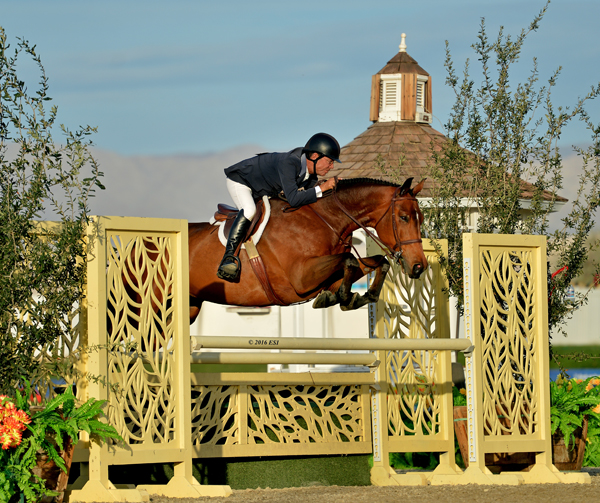 John French on Center Court. Photo by ESI Photography
Center Court, owned by Hiller Farms, LLC in Menlo Park, Calif., was the sixth horse to navigate the 13-fence classic round. The 6-year old bay Holsteiner gelding jumped all four high options and earned a score of 178 from the two judging panels. The score held throughout the first round of competition, giving French an advantage heading into the handy round.
Because of his lead going into the handy round, French didn't feel the need to push the envelope during their second trip. "I didn't feel it was necessary to do all the high options. I just thought I'd play it a little bit safe, but show off his handiness and make it a really pretty, smooth round," he said.
While French only chose one out of four possible high options in the handy round, Center Court's tidy track and scopey jump earned him a second round score of 196. "He has a nice slow jump so it's easy to turn him," explained French. "He spends a lot of time in the air so it's easy for me to make the turns on the back side of the fence."
Fellow hunter veteran Hope Glynn took a different approach with Lake Of Stars, a 7-year old grey Holsteiner gelding owned by Sabrina Hellman. She did not take any high options in the first round but still earned 175 points. However, in the handy round she piloted Lake of Stars over three of the high options. With bonus points for those options as well as a handiness bonus, the pair scored 182 in the handy round to finish second overall with a combined total of 357.
While it's no surprise to see French and Glynn take top spots in the derby ring, several newer faces put in great performances to round out the top five.
Ultimately finishing only 1/4 of a point behind Lake Of Stars and Hope Glynn, Lulavani and Sami Milo took the third-place ribbon. The 6-year old bay Dutch warmblood mare is owned by Cavallo Stables in Newcastle, Calif., where Milo is owner and trainer.
Lulavani competed mainly in the jumper division in 2015, and added hunters to her resume in 2016. The pair have already won four USHJA National Derbies and made their USHJA International Derby debut in July.
Jenni McAllister and LEGIS Venice are not strangers to big West Coast classes, but they are most often found in the grand prix ring, and they won the Grand Prix de Santa Fe (N.M.) in August. The 11-year old grey Holsteiner mare owned by LEGISequine.com began competing in hunter derbies just this year. McAllister piloted LEGIS Venice over every possible high option in both rounds on Saturday, and finished in fourth place overall.
Matador and Jamie Sailor took the fifth place spot with an impressive handy performance. The pair was in ninth place after Round 1 but a daring inside track in the handy round earned them an impressive 193 points and boosted them into the top five. The 8-year old grey warmblood gelding is owned by Taylor Cusumano of Malibu, Calif.
See full results of the $50,000 USHJA International Hunter Derby.