Devon, Pa.—May 25 
Winning a grand championship at the Devon Horse Show is an achievement riders work their whole careers for, but Taylor Cawley managed it her first time out. The 11-year-old rider piloted Benjamin Buttons to the small pony hunter championship and grand pony hunter title this weekend after winning three classes and placing sixth in two others. Maddie Tosh rode Betsee Parker's Love Me Tender to the reserve title.
The judges also selected Cawley as the Best Child Rider on a Pony for her efforts.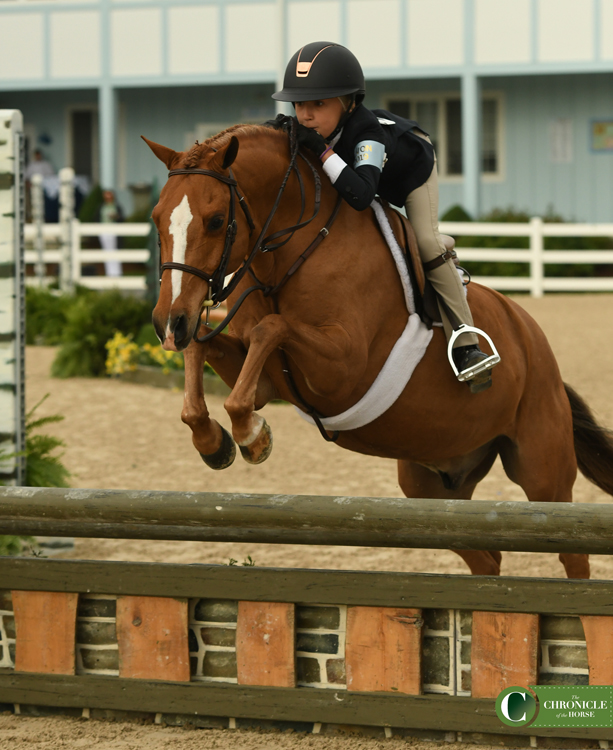 "This pony I've had a little bit of history with," said Cawley of the 13-year-old Welsh pony cross (Sugarbrook Blue Pacific—Catalina). "I rode him with Charlie Moorcroft, my trainer, a while ago. Now Alexa Karet owns him, and I'm very fortunate that I'm able to ride him again, and I got to show him at Devon, so it's really paid off."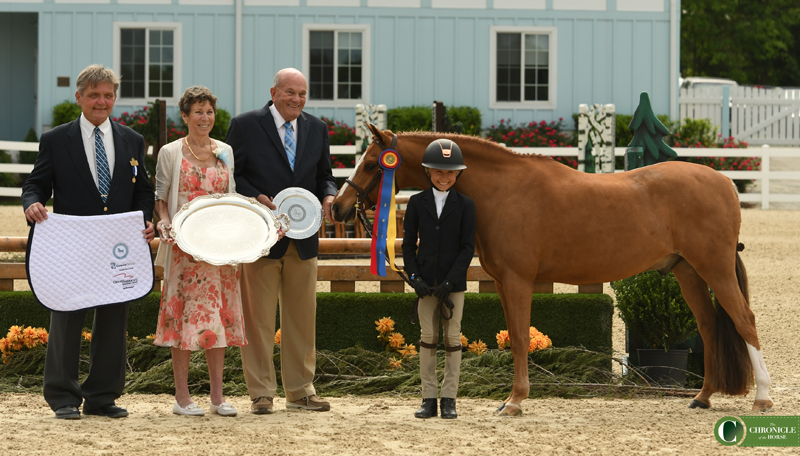 Yesterday Cawley won the small pony conformation hunter class and the under saddle, and she headed into the final stakes knowing that it counted for a lot.
"I was nervous going into the stake knowing I had to do well," she said. "I was extra scared because I went early in the order, and there's lots of really good riders in there. But I'm glad I was here with all my friends, and everyone had a good time."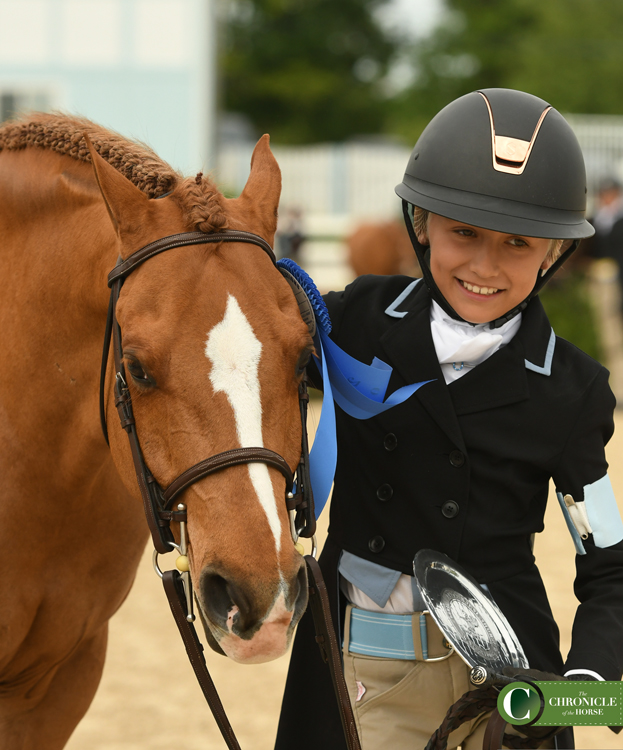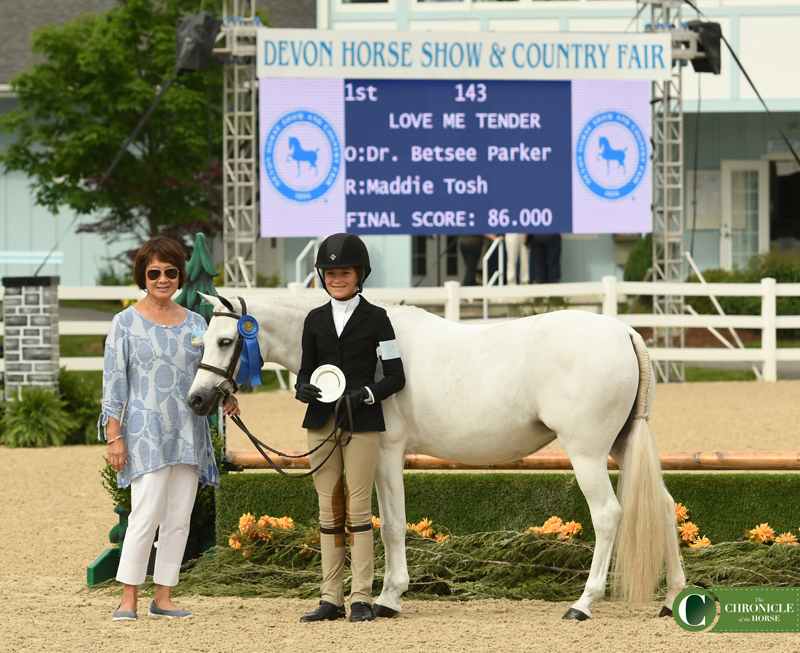 Mitchell Robinson and Tom Wright train Crawley on Benjamin Buttons.
"Taylor is a sponge; that's the best way to explain her really," said Wright. "She loves the horses and the ponies foremost, as she probably should coming from her parents [trainers Molly Ashe Cawley and Chris Cawley]."
Taylor said that her parents also give her tips when it comes to the horses.
"My mom is here with me today," she said. "She's probably hiding in the barn. She gets very nervous when I go in the ring."
Astro Boy Shoots To The Top
While Karet cheered for her best friend Taylor for winning in the small division, she joined the ringmaster center ring herself to pick up the championship in the medium pony division aboard Astro Boy. EMC Entourage and Alexa Lignelli earned the reserve title.
"We tried him a few years ago at Capital Challenge [Maryland]," recalled Karet, 13. "His owner Robin Greenwood is our close friend. She said that we should try him, and I knew I loved him right away. He always helps me find distances and he's always there to snuggle when I have a bad day. And he's just the sweetest pony ever."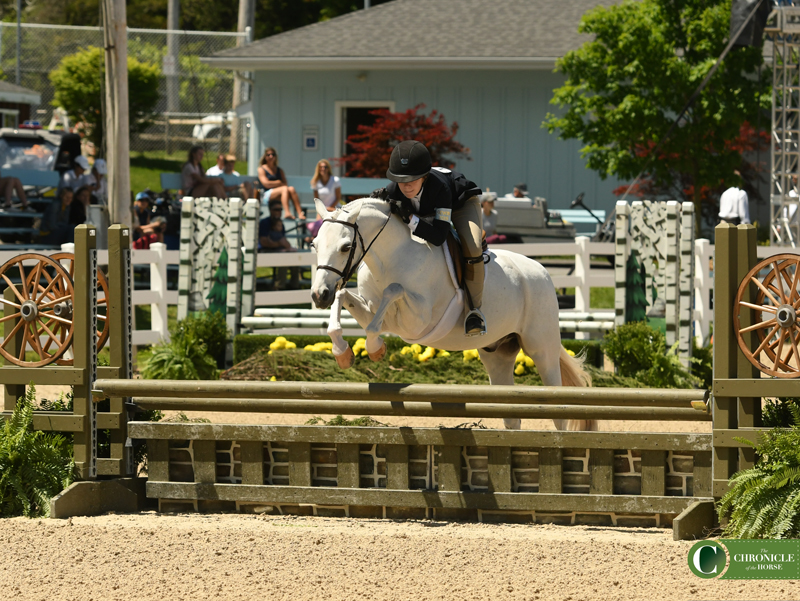 Karet won both over fences classes yesterday and claimed second in today's stake class to take the title. She said Astro Boy, a 13-year-old Welsh pony (Cwrtycadno Iosefe—Cennen Arian), can tell the difference between a championship show and every other weekend.
"At the big shows he's really smart, and he can tell, so he's more energetic," she said. "At the calmer shows and the everyday shows he's more relaxed, so you have to ride him with more energy and more consistency. And here you just have to float with it, you have to tell him but be gentle about it."
A Winning Catch Ride
Samantha Takacs didn't have an awfully long time to get to know Brighton before coming to Devon as she just paired up with him last week.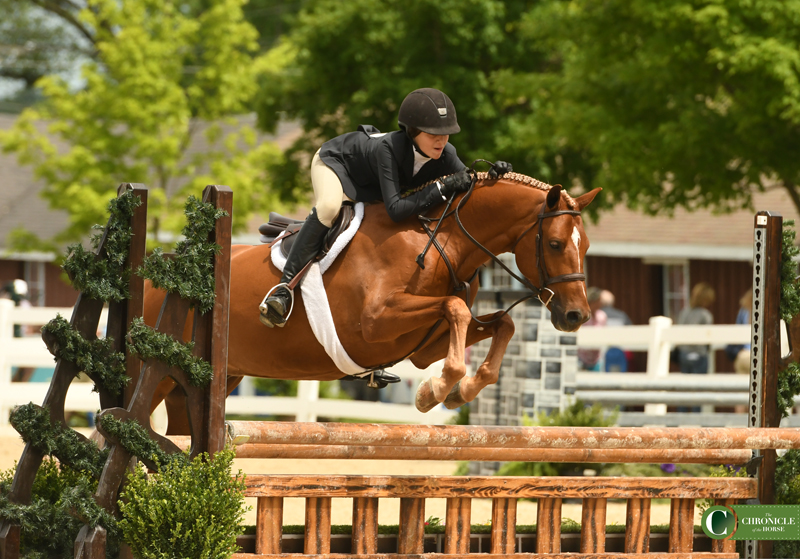 "My friend Ellie and the Sadrian family just bought him [from Kat Fuqua,] and unfortunately she couldn't show him at this show, but I got to show him at Kentucky, and he's so much fun," she said of the 10-year-old Dutch Sport Pony (Charivari—Clara). "I've always watched him and thought how amazing he is and I was so happy I got to ride him."
Takacs picked up two red ribbons over fences and a blue under saddle to win the championship over Storyteller and Caroline Signorino.
"Chris and Dave Belford from New Hope help me," she said. "I was really focusing on keeping him straight because sometimes he's a little wiggly, but he's perfect other than that."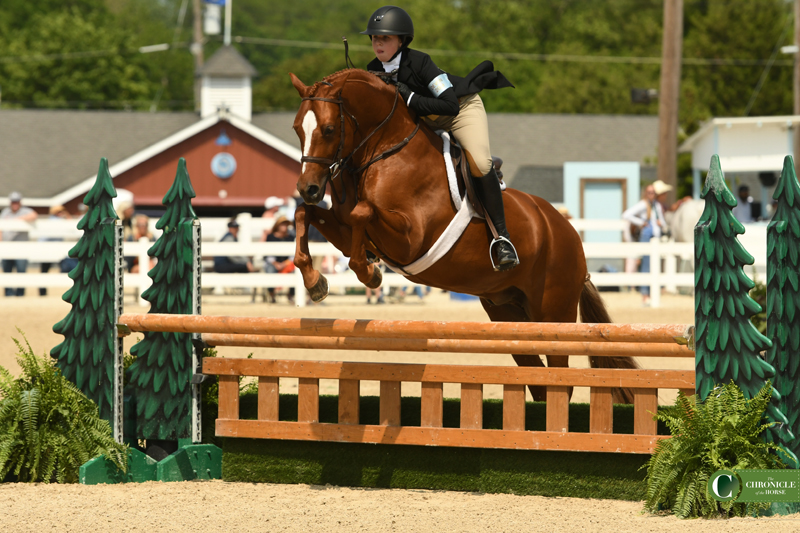 Takacs is used to catch riding ponies, and she's grateful for all the opportunities she's received.
"Sometimes I have to get on right before the class, and it's a little hard to get to know the pony in the schooling area," said Takacs, 14. "But it's fun; I like it."
The Chronicle will be on site all week bringing you beautiful photos, daily reports and more. Don't forget to pick up a copy of the June 17 issue for more in-depth stories from the winners. 
Important Links: Devon Horse Show website / Order of go and results / The complete schedule of classes and exhibitions / Live streaming / All of the Chronicle's coverage