As Scott Stewart rounded the corner to the second single oxer in the high performance stake class held Jan. 20, during Week 2 of the Winter Equestrian Festival in Wellington, Florida, he had a good feeling.
Ever since he started riding Gochman Sport Horse LLC's Catch Me, he thought the 14-year-old Holsteiner gelding (Casiro I—Wonne I) was capable of getting that perfect 100. "Snoopy" had come close before, scoring in the high 90s in the past, but he's always been a little bit short.
"Coming through the turn to the last oxer I was like, 'This really feels like he could do it,' " said Stewart. "I didn't want to jinx myself, but then he jumped the last line really well, and of course you never know. I was hoping for it and thinking it could possibly happen, and then when it took a while for them to score, I was like, 'Well, either it is or it's not.' "
Judges Linda Andrisani and Mike Rosser couldn't find fault, and 100 flashed up on the scoreboard.
"It was pretty surreal for sure," said Stewart. "Yesterday's course really suited him because it had a single oxer on both leads, so I could really gallop. He was in a great frame of mind. It's always in the back of my mind with that horse that I'm trying to get to that number. And for sure yesterday it was in the back of my mind to try to do it."
Watch Catch Me's winning round, courtesy of WEF:
Owner Becky Gochman had planned to be in Florida to watch Snoopy compete, but engine trouble meant her plane made an unexpected stop in Virginia and delayed her arrival. At first she was disappointed to be late, but then her phone notifications blew up.
"I got a whole bunch of texts telling me what was happening," she said. "People sent me snapshots of the round and score. A surprising number of people took photos with their phones; it was really exciting to see it that way."
The score meant even more since Snoopy nearly died last year. In early 2020, he presented signs of choke, but when they treated him, the symptoms didn't subside. Further diagnostics revealed the culprit was an impaction that was stuck to the top of his stomach, and it required surgery.
"The odds aren't very good, but they didn't have a choice," said Stewart.
The surgery took place at the University of Florida's Large Animal Hospital, and veterinarians gave him a 50-50 shot of recovery. Once Snoopy was cleared to resume work, Stewart said it didn't take long before he was back to form.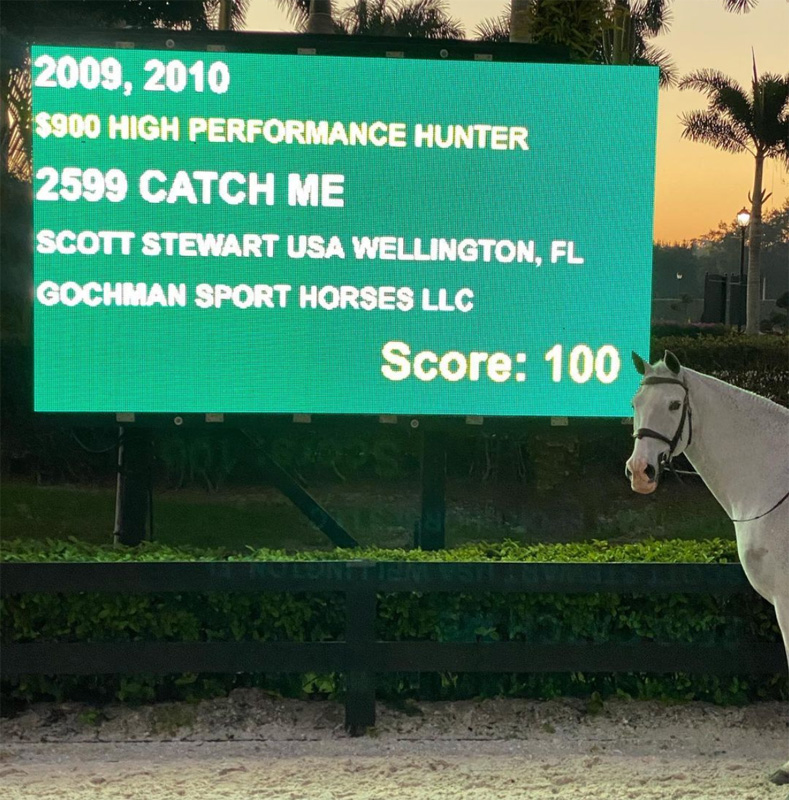 Due to COVID-19, Snoopy only showed twice in 2020 at HITS Saugerties (New York) with Gochman before getting back in the ring with Stewart for WEF Premier in early January.
"Coming back, he feels better than ever," said Stewart. "He's 14 this year, but he actually feels stronger, better and scopier than he ever did. He certainly is the easiest horse ever to ride. It's just beautiful to ride. He feels great. I'm certainly glad he got the 100. He doesn't need me to show him too much. It's nice that Becky lets him do the high performance once in a while just to do it, but he certainly doesn't need to do it that often."