After a children's hunter title last year, this determined 13-year-old plans to make her junior hunter debut in Florida.
Even though she's only 13, Alexandra Carlton has competed at HITS Ocala (Fla.) more than plenty of riders twice her age.
This year, the 2008 season, will mark the 10th year that Carlton treks from Madison, Conn., to Ocala. She started in the leadline division when she was 4 and has competed every year since then.
And last season Carlton had her best circuit yet, clinching the children's pony, 12-17, grand circuit championship aboard Float Your Boat and the children's hunter, 14 and under, grand circuit championship with Chanel #5.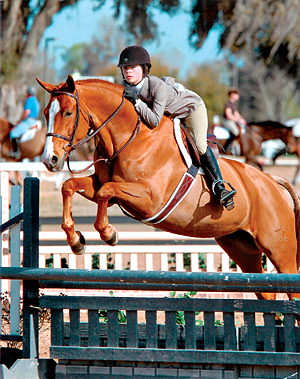 The daughter of avid amateur hunter rider Bernadette Keyes, Carlton more or less grew up on the horse show circuit.
By the time she was 7 she spent her winters in Ocala competing in the short stirrup division under the guidance of Michael Kirby.
Trainer Brianna Davis moved from Colorado to Keyes' Cedar Brook Farm in 2004, just as Carlton started getting serious in the small pony ring with Farnley Darien.
In 2007, Keyes retired from showing to focus on supporting her daughter's blossoming equestrian career. "My mom is still around all the time," said Carlton. "She owns the barn and she comes to almost every show and helps tack up or whatever needs to get done. But she gets nervous watching me ride."
Carlton's success in Ocala ushered a banner year for the eighth grader. She dominated the children's hunter divisions, picking up tricolors at the HITS Saugerties (N.Y.) shows, the New York Horse and Pony, the Grand Fall Classic (Conn.) and the Shoreline Classic (Conn.) aboard Chanel #5 and Lalique.
But one of the most impressive parts of Carlton's success lies in the rapport that she strikes up with younger horses.
She began competing the then 5-year-old Lalique in the children's hunter division after the mare had contested her first few shows ever with Davis in the pre-greens. Despite the Mecklenburg mare's inexperience, the pair proved consistent winners all season.
"She's such a quiet, patient rider that she does really well with the young, green ones," said Davis. "She gets along with all sorts of horses—they all really like her."
Carlton bid farewell to last year's grand circuit champions in order to graduate to the small junior hunters this year with Lalique and Cadeau. Cadeau is a 7-year-old gelding fresh out of the pre-green ranks
as well.
"He's a different ride for me," said Carlton. "He has a bit of a motor, and when he starts going fast, my first instinct is to pull back, which doesn't work. But I'm working it out."
Plenty of young riders pilot green mounts around a hunter course, but most of them would rather contest their first 3'6″ equitation classes aboard a seasoned old-timer. Not Carlton. This fall she debuted in the big equitation classes aboard "Turtle," a 15.3-hand gelding who just turned 7.
"Sometimes he's dragging me, and sometimes I need my spurs and a crop," said Carlton. "But he is just so much fun."
She took her decision to step up a level seriously.
"Last year we sat down and discussed moving up to the juniors after a year in the children's if all went well," said Carlton. "This year I decided that I really want to be good at this. The move to the juniors is a big leap from the children's, and I knew it would take a lot of work."
Understanding the challenge, she has been pushing herself during the off-season to prepare for the tougher competition. As Davis hiked up the jumps during lessons, Carlton honed her equitation skills with plenty of self-imposed torture.
"I'll ride with a stick behind my elbows to fix my back, and I hack a lot without stirrups," said Carlton. "We work really hard at home, so that when we get the shows I just have to worry about what we've worked on at home. It works out great when she just reminds me of what we already worked on."
Carlton's efforts have already started to pay off this fall. She won her first USEF Talent Search Medal at the Westbrook Hunt Club (Conn.) and competed at the New England Equitation Championship for the first time last October.
"Alex is a really motivated kid," said Davis. "Every second she's not doing schoolwork, she's at the barn."
That self-discipline enables Carlton to maintain a straight A average despite a busy show schedule. After a lesson, Carlton squeezes in a few minutes of homework while her horse dries in his stall with a
cooler on.
"My teachers understand how dedicated I am to this," said Carlton. "They give me work ahead of time when I go to Florida, and it's never a problem for me to find the time to get everything done."
Carlton is looking forward to seeing her hard work pay off with a successful circuit down in Florida. "I love Ocala, it's always been a good show for me," she said. "There's just a different atmosphere there. But the best part is just getting out of the cold."
Mollie Bailey