Marlborough, Wiltshire, England—July 9
French rider Thomas Carlile rewrote the Event Rider Masters history books at the St. James's Place Barbury International Horse Trials, to win the £50,000 third leg of the 2017 series.
Riding the 9-year-old Anglo Arabian stallion Upsilon, Carlile became the first rider in the series to lead an ERM leg across all three phases. On Day 1, they delivered a stunning dressage test, scoring a remarkable mark of 30.8, the lowest ever seen across the entire series and a personal best for the combination.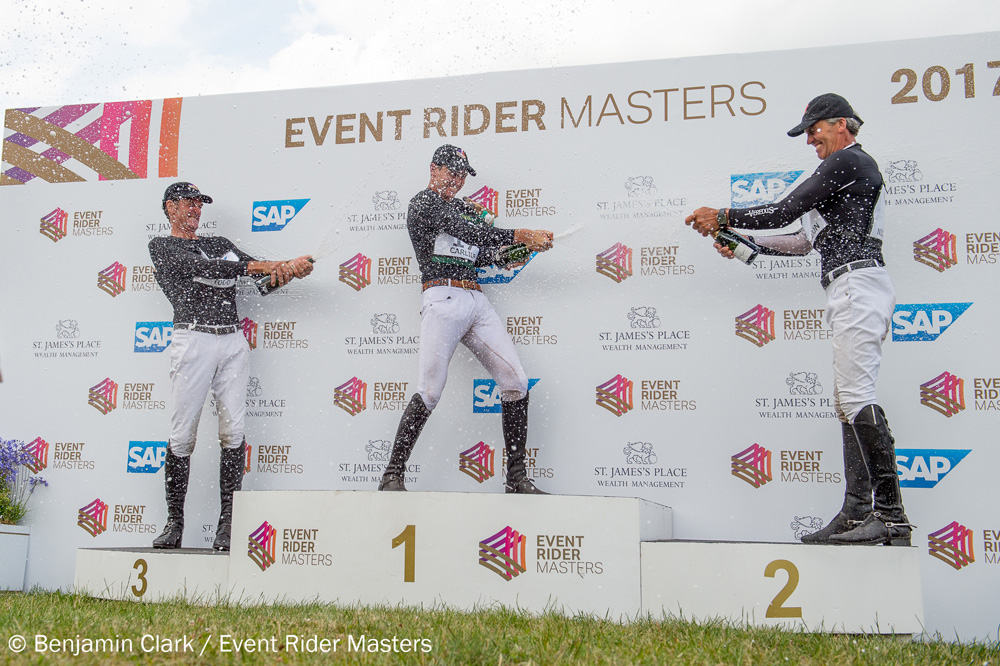 Then, following a faultless show jumping performance on Day 2, the combination set the Barbury crowd alight with a superlative jumping round on the cross-country. Carlile added just 1.6 time penalties to his dressage score and scooped the £16,000 first prize. The result was an all-time record finishing score in the ERM series of 32.4.
"All my words go to Upsilon, he is superb" said Carlile, reflecting on his outstanding ERM win. "I just sit on him and let him get on with his business, and he has risen to the occasion this weekend.  He's a class act and is certainly on form and hopefully there is a still lot more to come from him".
Carlile also joins 2016 ERM champion Oliver Townend as the only rider in the entire series to have topped the podium twice.  His Barbury win positions Carlile at the top of the overall 2017 ERM series scoreboard with 56 points.  Sarah Cohen of Great Britain is in second with 51 points and Andrew Nicholson is lying third with 50 points.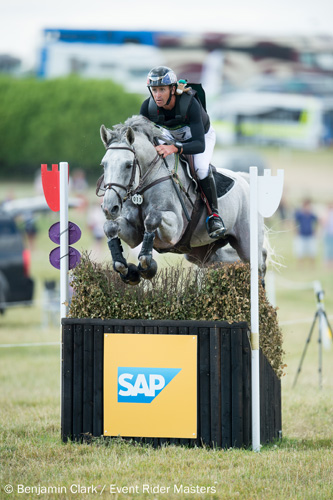 New Zealand's Nicholson, riding last year's Leg 3 winner Nereo, was unable to catch the French combination. Nicholson jumped clear in the show jumping but added one-time fault, then delivered another masterclass on the cross country, but 5.6 time penalties meant he had to settle for second place, finishing on a score of 41.5.   Although visibly delighted, this ended the New Zealander's five-year reign at his local event at this level.
Nicholson, paid tribute to his horse Nereo saying, "Nereo did a wonderful job.  We stayed in a nice rhythm on cross-country as I felt Thomas and Upsilon had a strong lead, so didn't want to scorch around trying to catch them. I expected them to deliver, and they did.  My fellow is a wonderful horse, and we know each other very well.  I am delighted for him and all his connections".
Former double Olympic champion Sir Mark Todd celebrated his first ERM podium finish, taking third place.  A win or placing in the series has eluded Todd to date, but his ride Leonidas II was foot perfect in both the show jumping and cross-country, finishing on a score of 42.3.
"It's gone very well this weekend.  I have been fighting ERM demons in previous legs, but it's all come together today.  Barbury is one of the most beautiful eventing venues in the world, and it's a great to be part of the series and finally get on the podium!"
The only rider to complete the Barbury cross-country inside the optimum time was ERM debutant Sidney Dufresne of France riding Tresor Mail, who secured fourth place for France. The pair blazed around the course, becoming the only combination in the competition on their dressage score of 43.3.
U.S. rider Hannah Sue Burnett, competing in her first ERM class, placed 10th with RF Demeter, adding 10.8 time penalties on cross-country. Lauren Kieffer and D.A. Duras finished 15th.
The Event Rider Masters continues next weekend in France, at Haras de Jardy for the fourth leg of the 2017 series.
For full results, click here.