The highlight of the Kentucky Spring Classic took place on May 18 with the $134,000 Mary Rena Murphy Grand Prix CSI3*. Hosted in the Rolex Stadium at the Kentucky Horse Park, top horse-and-rider combinations took to the ring hoping to walk away with the week's highest honors and prize money. After 40 athletes tried their hand, it was Alex Granato and Page Tredennick's Carlchen W who excelled with clean and quick rounds to take the night's victory.
The course, designed by Kelvin Bywater, featured a total of 16 efforts, and five athletes produced clear rounds. The first clear round of the night was produced by Ivan Christiansen and his own Olivia Z, who were ninth in Saturday's order of go. Following their standard, Ali Wolff and John Wolff's Quirie 2 were next, coming in under the adjusted time-allowed of 76 seconds with zero jumping faults. Following the halfway drag break, three more athletes would add their names to the jump-off including Karl Cook, Andrew Welles and Granato.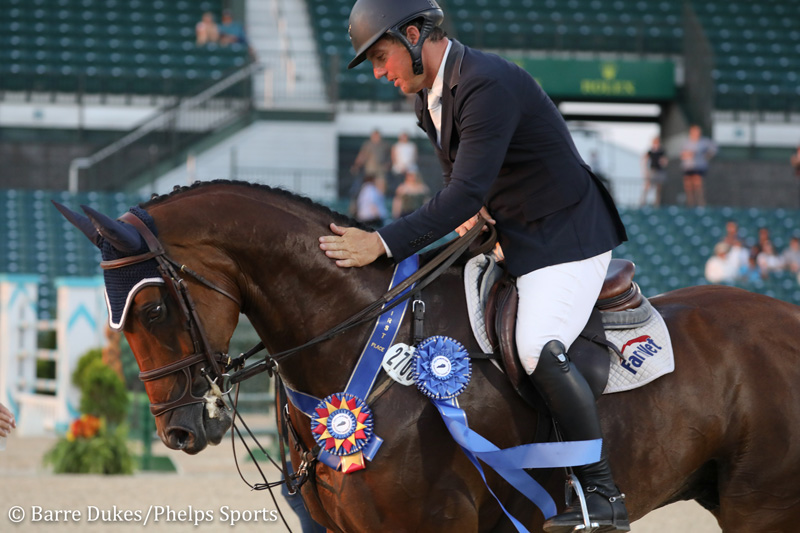 Christiansen took to the ring first and once again set the pace with a clear round and a swift time of 49.08 seconds. Entering the ring next, 29-year-old Wolff would best Christiansen's time by two tenths of a second but fell victim to an unlucky rail. After Cook and Welles both tried their hands at the course, dropping various rails, Granato and his partner of five years, Carlchen W, entered the ring as last to go. The 11-year-old Mecklenberg gelding is a crowd favorite in jump-offs, thanks to his incredible speed and careful style. The pair stopped the clocks at an impressive 46.26 seconds, almost three seconds faster than Christiansen.
"He's so naturally fast, and I'm really lucky with that in a jump-off," Granato said. "This is really is the best he has felt in a jump-off. He had a great circuit, but this is the smoothest, most consistent jump-off that he has had in a while. I changed the tack a little bit this week. We used a little bit different type of noseband, and I felt like his reaction to my timing was better through the corners, so it really made him a lot faster than I was really even planning to be which was nice because then I could let off a little pressure down the last line and not take too much risk.
"He jumped [fence] one to two so well, and I wanted to be sure to get away from [fence] two quickly so that I could be a little bit patient into the double [combination] off of a long gallop," he continued. "Into a vertical-oxer double [combinations], he is sometimes a little more focused on the oxer, so I wanted to give him enough time to balance there. He rode great, and it came up just right for us tonight, and it felt really good. After that I just tried to stay real efficient and quick without being too greedy."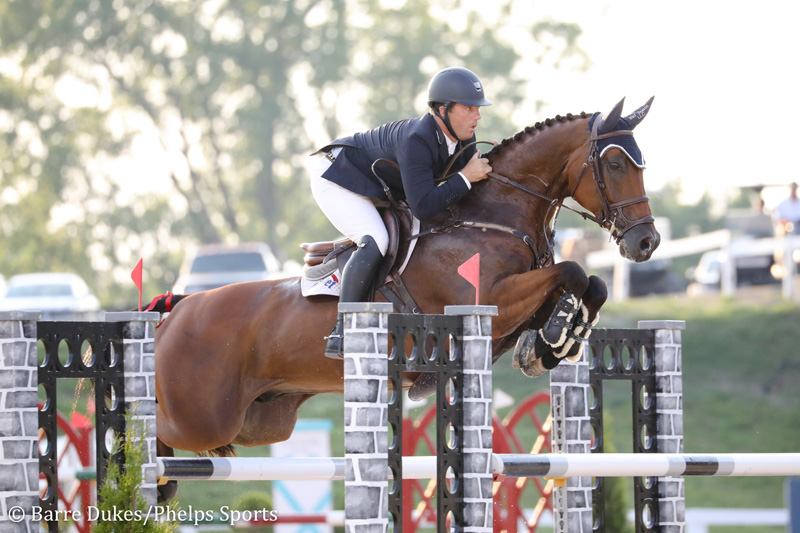 Granato and Carlchen W have proved to be fierce competitors together for a number of years, especially gaining notable placings during the 2019 season in Wellington, Florida. The pair dominated at the CP Palm Beach Masters Winter Classic CSI4*-W, hosted at Deeridge Farms (Florida), by winning both the $71,200 Suncast Palm Beach Masters World Cup Qualifier and $208,200 Longines FEI Jumping World Cup Wellington CSI4*-W. Carlchen W will help Granato keep a busy schedule through the remainder of the year, traveling to the Upperville Colt & Horse Show in Virginia, in addition to representing the United States in Falsterbo (Sweden) and Hickstead (England) this summer.
"He's been amazing," Granato said. "We've been together for five and a half years so we have a really fun partnership and we've gotten to know each other really well. He's coming off of a great winter. We haven't done much the past seven weeks. We went to Mexico for the Nations Cup where he actually didn't feel in his best health because the travel was a little hard on him. We're using this to gear up for our spring circuit. He's back to feeling himself, and he's really happy."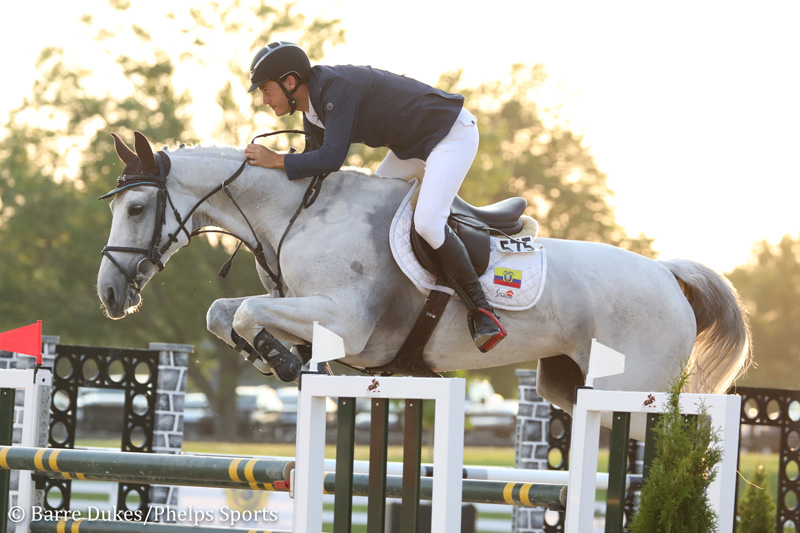 Finishing the challenging class in second place would be Christiansen and Olivia Z. Representing Ecuador, Christiansen and Oliva Z, have recently placed in the top ten at CSI1* events in Quito, Ecuador, in January, 2019. Olivia Z, a 10-year-old grey mare, is a promising partner for Christiansen as they look to future competitions together.
Wolff and Quirie 2, a 12-year-old Warmblood ultimately ended the night in third place. Prior to the Kentucky Spring Classic, Wolff and her longtime partner Casall found themselves in the top three on multiple occasions during the Kentucky Spring Horse Show, including the $36,000 Hagyard Lexington Classic and the $134,000 Kentucky Spring Grand Prix CSI3*. Wolff and Quirie 2 have been partnered together since 2015, with placings up to the CSI5* level.