Del Mar, Calif.—April 9  
Another enthusiastic crowd welcomed Carl Hester on the second day of his symposium at the Del Mar Arena , and he and his celebrated wit were ready for the seven horse-and-rider combinations that ranged from 4-year-olds to Grand Prix competitors.
Read all about Day 1 of the symposium here.
Niki Clarke, who rode in Charlotte Dujardin's clinic—also presented by SH Productions—in October, brought Jennifer Mason's 9-year old Oldenburg gelding Quincy (Quaterback—Breanna, Brentano II) for her session with Hester in Del Mar. The pair placed third in the Markel/USEF Developing Horse Prix St. Georges National Championship last year and has been scoring in the 70s in the small tour this season.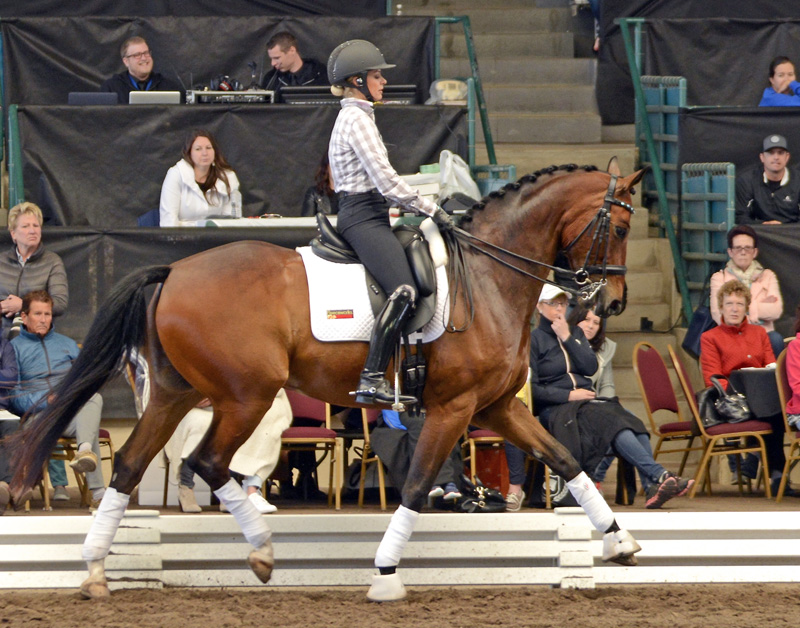 Hester turned his attention to getting the horse to take more weight and develop the strength needed for collection, and as the pair circled at canter, he asked Clarke to try cantering on the spot. "Your legs say 'Canter,' and your hands say 'Walk.'"
In tempi changes, Hester said, the rider sets the pace, not the horse. "The trick with changes is that he fits in with you."
As they schooled their one-tempis, Hester urged, "Think that you're on Valegro. That was really good. [Quincy's] not a big mover, but he does good changes, especially when you don't sit like the Christmas fairy."
He also teased Clarke about her accuracy. "We don't write down the letters for you to do your own thing. This isn't a freestyle!"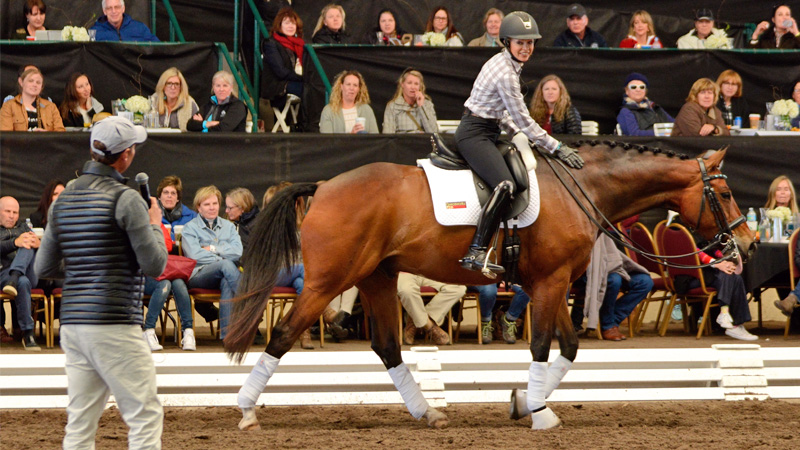 Clarke was grateful that Hester pushed her to ride more boldly. "I've been riding in the CDIs at the small tour all year and have been focused on keeping everything tidy, so it was nice to go out and ride a little stronger. What Carl allowed everyone to see is that this is about learning; it's not about being perfect and having everything be exactly right.
"Carl is so entertaining, and I think he knew I was a good sport and that he could have fun, and that's really what we're supposed to be doing anyway, isn't it?"
Clarke, who left a successful eventing career in 2004 to train in the Netherlands with Bert Rutten, worked for Kathleen Raine and David Wightman before launching her own business, Dressage Unlimited. She was joined by a cheering section from home in Temecula, Calif., that included her husband, farrier and stunt rider Lyn Clarke, and the couple's 5-year-old son, Colton, as well as Quincy's owner Mason, who's also the gelding's breeder.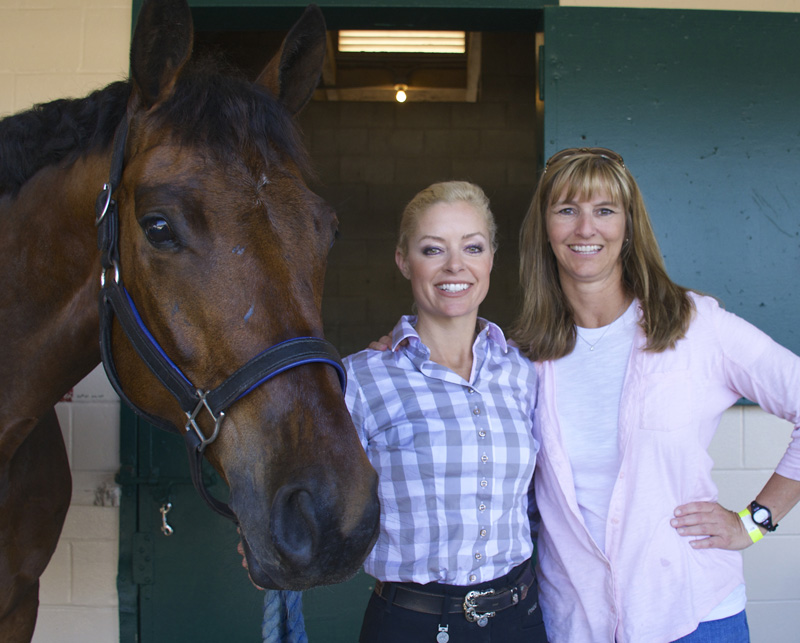 "Niki and Quincy are beautiful together," Mason said. "They have the exact same personality—they're both kind of silly, but they also have a super work ethic."
In 2004 Mason purchased Quincy's dam, the Hanoverian mare Breanna, in partnership with Raine and bred her first horse a year later via embryo transfer. "I bred Quincy as well as his sister Finesse. I have Quincy's younger brother who is 4, and now I have a 10-month-old foal who is Breanna's grandson."
Describing herself as an amateur breeder, Mason added, "I think it's great for us as riders to have home-grown horses. We should have a good breeding program here in America as opposed to everyone going to Europe to buy their horses."
Mason, who has 8- and 9-year-old daughters, and Clarke have also bonded over their shared experience of being working mothers.
"It's hard to do this at the top levels and be a mom," said Clarke. "And it helps that Jen appreciates that."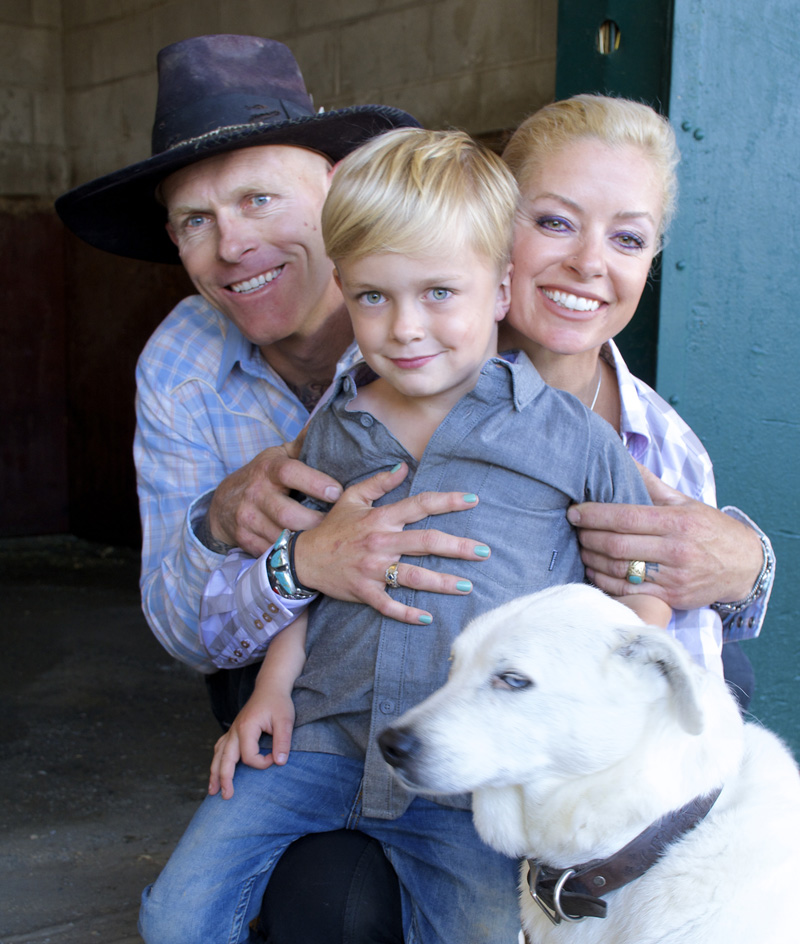 "We jump rope at the barn and play dinosaurs," laughed Mason. "It's very much a family affair."
Doing And Teaching
After the sessions concluded, Hester talked about the responsibility that comes with teaching. At home, he does once-a-month presentations that focus on horses from novice to Grand Prix. Last year he went to Australia, where he did a symposium for a crowd of 2,500.
"I find it quite daunting, just the responsibility of it," he said. "You have to be a really strong character to do it. Everybody says, 'Well you compete, you put yourself out there in public,' but I compete because I love competing. I don't compete because I want to be out there telling everyone how to do it. I'm lucky that people ask me to do these things."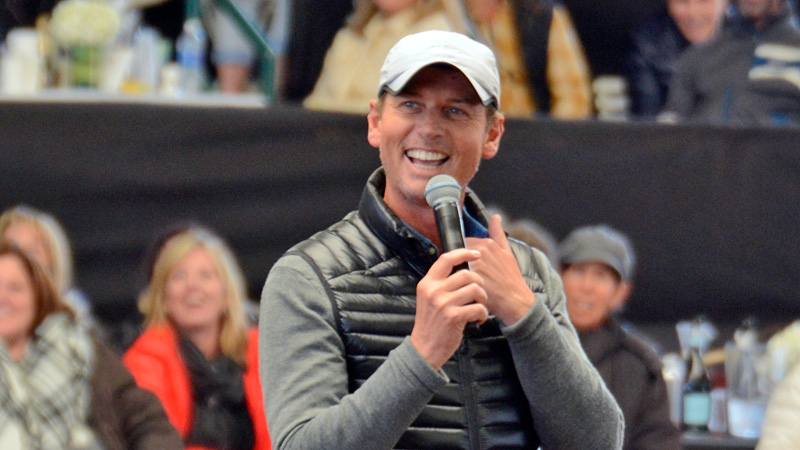 His first job was riding for Dr. Wilfried Bechtolsheimer. "When I left I was 23 or 24, and I'd never done any teaching. I said, 'Oh my God, what am I going to do? I'm going to have to learn to teach.' " The first thing he learned, he said, was to "speak with clarity and confidence, even if you don't know what you're doing.
"It's now nearly 30 years later, and now I actually feel I know what I'm talking about because I've done it."