Del Mar, Calif.—April 8  
The five-time British Olympian's charm and expertise take center stage at the West Coast Dressage Convention IV.
Carl Hester admitted feeling a bit nervous before Day 1 of his Southern California symposium held April 8-9 in Del Mar, Calif. Produced by SH Productions, the event followed last fall's successful Southern California clinic headlined by Hester's student-turned-teammate, Charlotte Dujardin.
To the amusement of the more than 1,300 spectators gathered around the arena, Hester explained that to distract himself, "I actually had to watch Aliens on the telly this morning."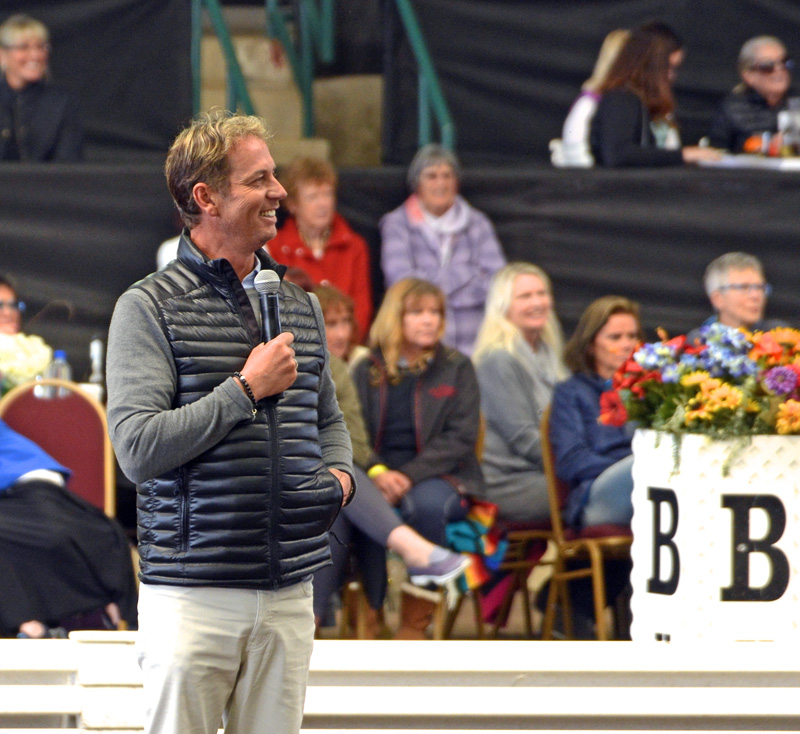 Trainer Lehua Custer went one better. She was so excited and anxious about the opportunity to ride FJ Ramzes with the Olympic gold and silver medalist that she tossed and turned the night before. By 4:45 a.m. she'd given up all hopes of trying to sleep and headed to the barn. "I didn't know what else to do," she said. "Ramzes wasn't even awake yet!"
The chance to ride with Hester was a dream come true. "I've been a fan for so many years. I even named our barn cat 'Carl Hester.'"
But once in the ring, her nerves disappeared and Ramzes, a 7-year-old Dutch Warmblood gelding (Juventus—J Rambiance, Rampal) who is owned by amateur rider Wendy Sasser, displayed a preternatural poise and presence that immediately got Hester's attention. "He's a very impressive horse," he told Custer.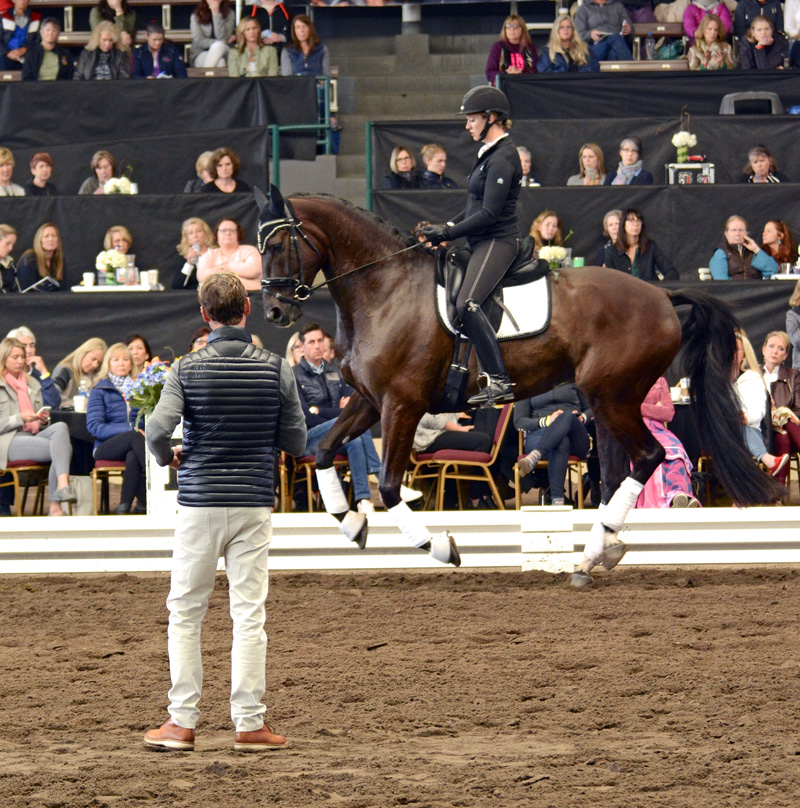 There are horses of all shapes and sizes in dressage, he added, "so if you're lucky enough to find a strong horse like this one, great." He also praised the gelding's natural balance, the sensitivity in his mouth, and the pair's connection.
Early in the session, Hester zeroed in on position, asking Custer to engage her core by "bringing your belly button to your spine.
"It's always interesting to watch riders from the back," he said. "You're looking for straightness, where the horse is falling out and which way they're falling." Like most horses, Ramzes has a tendency to fall to the right, so he advised Custer to ride with her inside leg and not just turn the horse's neck. With the horse cantering left, he asked her to bring her right shoulder forward and keep her left elbow and hand down, to help her achieve "a two-rein contact." In the corners, he said, doing renvers gets the rider to use their inside leg while encouraging the horse to sit. "This makes him place the hind leg under his center of gravity and not to the inside."
Riders, Hester emphasized, must always think about keeping the rhythm in their corners. "Why is this important? Because everything in a test comes out of the corner."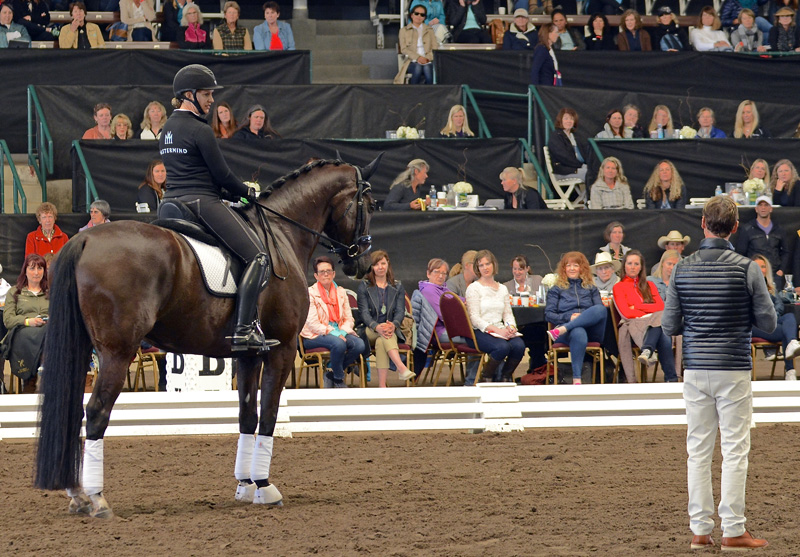 Bred by Cornell University's Equine Park program in New York and found via an online video, Ramzes was bought as a yearling by Sasser because of his potential as "a good amateur-friendly horse." After shipping him to California, she and Custer, her trainer at the Los Angeles Equestrian Center, sent him to Hilda Gurney's Keenridge Farm to grow and mature.
Grow he did. "His sire was 16.2 and his dam was 16.2, and he was supposed to be 16.2," said Sasser. By the age of 3, he was already 17.2 and now stands 17.3 hands.
"I wanted a horse that would be competitive in the amateur classes here in Southern California," Sasser continued. "But I ended up with so much more. He was not this fancy when I looked at his video—he had three good gaits. The stronger he got under Lehua, the fancier he got."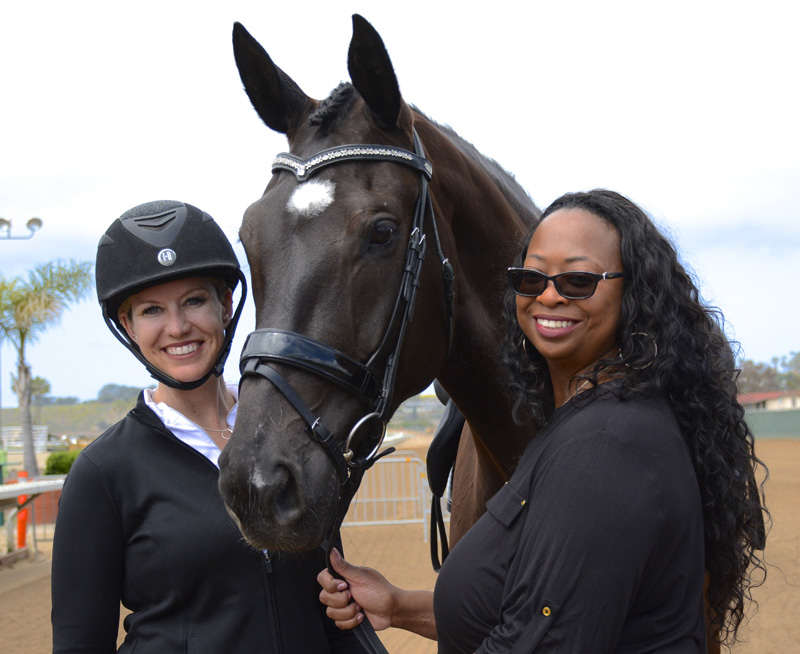 In 2014, Custer and Ramzes were invited to ride with then-USEF Young Horse coach Scott Hassler in the USDF Sport Horse Prospect Development Program. A year later they rode in a California Dressage Society symposium with Lilo Fore and Judy Harvey. As the accolades began streaming in, Custer saw the horse's power and willingness only increase.
"His trot is very regular, but it can become an extreme trot," she said. She worried that Sasser would have difficulty managing that power at training level. But Sasser encouraged Custer to keep going and to show him at second level. The pair ended the 2016 season with a score of 74.02 percent to win the USDF Region 7 open second level championship. They also won the CDS open 6-year-old futurity.
Custer, a Hawaii native who was Gurney's assistant for nearly 10 years, said Ramzes is different than any horse she's ever ridden. "I feel a bigger responsibility to do right by him because he never says no. If I add leg, he gives me piaffe. I'll tell Wendy, 'I had to spend time not training Ramzes today.' "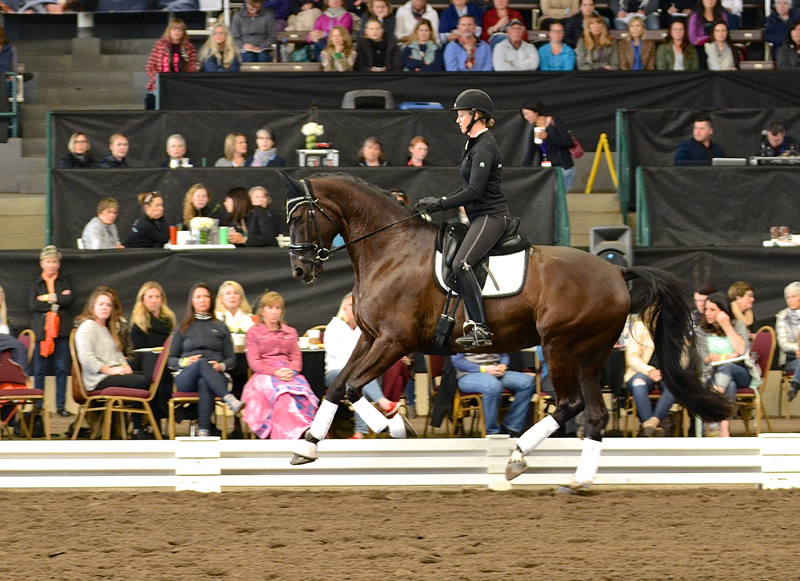 Thinking strategically about his future, three months ago she and Ramzes began trailering out to Moorpark to train with Gurney, who was on hand to watch her ride with Hester.
Custer said she came out of their session with a wealth of information, she said, ticking off the points she'll take home with her. "Making my position a priority and thinking about the motor—where's the hind leg and what's it doing? Carl stays true to the training scale and works his way up. Repeat the exercises, but don't badger the horse. If the canter-to-walk isn't going to be a 10, maybe it's not going to be a 10 today, so don't go to the point of no return."
She also praised Hester's ability to connect with horse and rider. "Carl and I spent maybe two minutes talking, but he got my personality and how to connect with me immediately. I was shaking and nervous before the ride, but I got in there and didn't even notice the crowd," she said.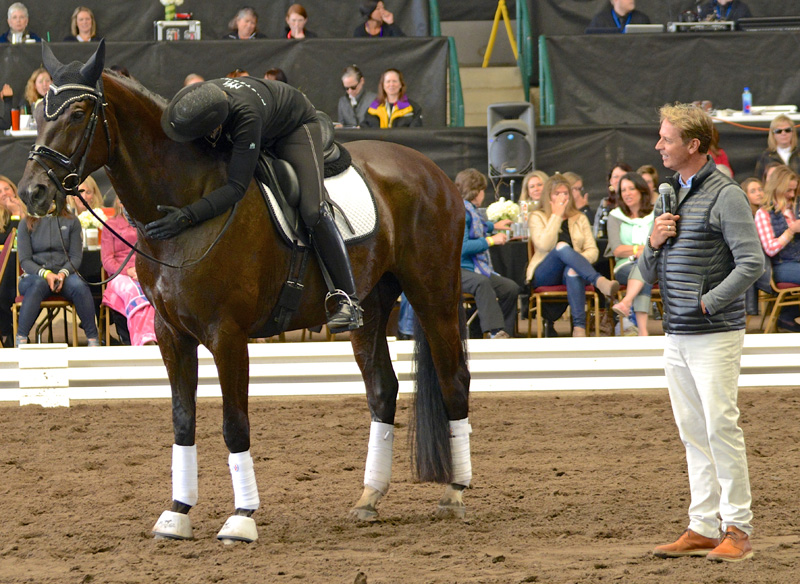 Sasser struggled to hold back her tears during the session. "I've sunk a lot of time and money into this horse so that he can be the best he can be," she explained. "It's important to me that he be trained correctly. I never want to be concerned about someone overriding him."
For now, she's content to put her own riding plans on hold and watch her horse blossom under Custer. They've formed a syndicate to continue to develop the horse as an FEI prospect. "This year I'm going to focus on training," Custer explained. "With Hilda's support, I feel we can achieve his potential, even if that means I have to eat macaroni and cheese so that we can afford it!"
What Makes a Grand Prix Rider?
Near the end of his session with Custer, Hester said he'd be glad to have a horse like Ramzes in his yard. "He's got Grand Prix all over him," he told an obviously thrilled Custer. Then with a flash of his celebrated humor, he smiled and added, "I said the horse."
Asked later about the qualities that riders at the very top of the sport share, he recounted when Charlotte Dujardin began riding with him when she was just a teenager. "If I told her, 'I'm not here tomorrow because I have to go and teach all day,' she'd say, 'What time?' I'd tell her I'd be leaving at 7 in the morning, and she'd say, 'I'll have a lesson at 6 then.'
"It's that 'suction,' that desire to pull the information out of you, the wanting to do it, the learning capacity, and then of course it's the people who can develop what you're saying into doing."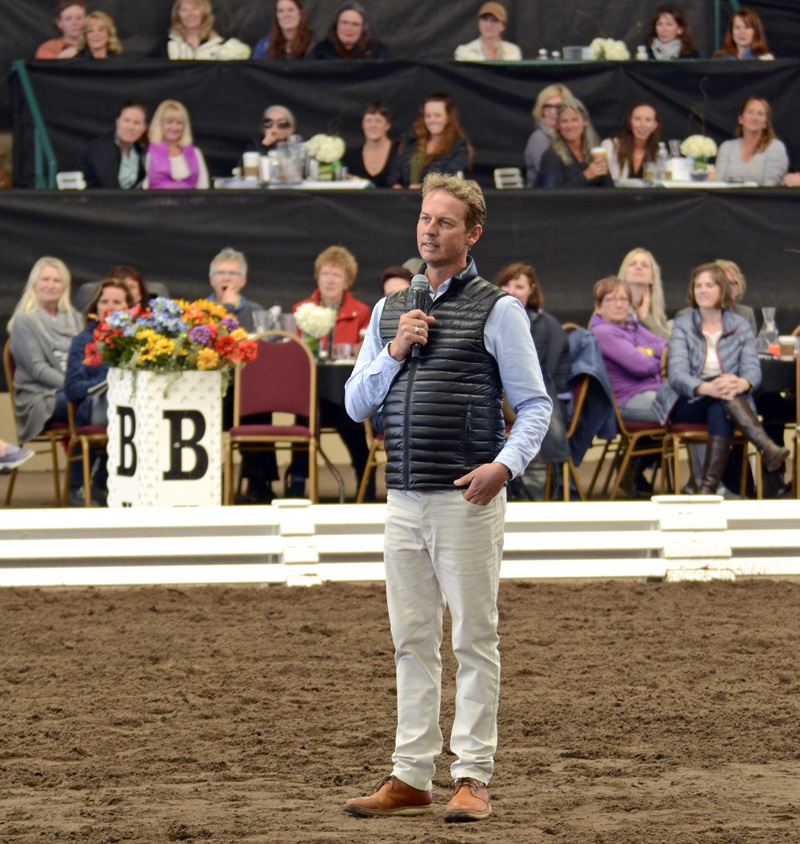 Echoing what he'd said over the course of the day, he cautioned that riders must accept where their horses are at any given point in training. "You can't make a perfect passage the first time you do it, but you will probably make it in two years' time. There must be an acceptance of the horse's abilities each time you ride it," Hester said.
Top riders, he emphasized, must also be fit. "Everybody struggles with an independent seat, but the independent seat is what separates the best riders, because they can then communicate their aids in a more refined way."
A strong core is key. "You don't have to be born with it, but you can learn it," Hester said. "I cannot possibly imagine that I was born with it because I'm not from a horsey family. But I was born on an island where we didn't have saddles, and for the first few years of my life we were just riding horses bareback, galloping around, jumping hedges. It must have given me eight years head start from a point of balance, because I was a balanced rider by the time I was 16, although I'd never ridden in a saddle."
To develop core strength, Hester said he recommends exercising off the horse with a fitness or stability ball. Mounted, it's all about riding without stirrups. "It's not supposed to be a punishment," he emphasized. "Because I think people see it as a punishment, they don't do it."
But for riders who can't yet drop their stirrups in trot without "banging about on the horse's back," he advised learning the independent seat without stirrups at canter. "That will help you bring it through to the trot."