Kenny Wheeler's best young horse at Devon (Pa.) returns to the ring for more accolades.
There seems to be no end to Capital Hill winning in the breeding divisions. Topping the 2-year-old colts and geldings, other than Thoroughbred classes last year, Kenny Wheeler returned with the 3-year-old, taking home the best young horse title at the Upperville Colt and Horse Show, June 8, in Upperville, Va.
Capital Hill (Nob Hill—Pardon Me Mister) has a serious record of achievements. He was named the best young horse at Devon in 2007 and 2008, following a long line of Wheeler's breeding winners from Cismont Manor Farm, Keswick, Va.
Of the elegant bay gelding, Wheeler simply stated, "He's just a beautiful colt. It's great to win at such a prestigious show."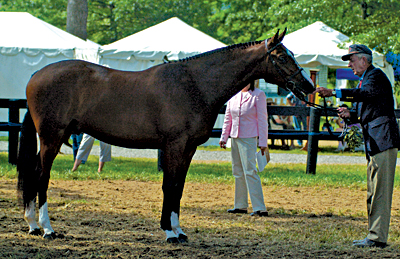 Capital Hill not only won the 3-year-old, other than Thoroughbred class, but he also took the other than Thoroughbred championship, a step up from last year's reserve championship.
Wheeler also won the other than Thoroughbred, get of sire class with the get of Nob Hill, an American Warmblood owned by Nokomis Farm. Nob Hill stands at Acorn Hill Farm in Madison, Va.
Sedoma (Matave Moon—Check Out That Flag) took top honors for Wheeler in the 2-year-old Thoroughbred colts and geldings class and the reserve championship.
Wheeler doesn't show as much now, but mused, "We'll definitely be going on to Warrenton [Va., for the Sallie B. Wheeler/USEF National Hunter Breeding Championship] after this."
Another veteran breeder, John W. Kelly Jr., added more titles to his name at Upperville. A third generation breeder based in Middleburg, Va., Kelly won the Thoroughbred breeding championship with Foxy's Magic Gift and retired the Cismont Manor Challenge Trophy.
"I think this makes the fifth trophy we've retired here," Kelly said. "We've had a long line of winners."
Foxy's Magic Gift (Absolut—Autumn's Magic Fox) is trained and handled by another breeding division regular, Oliver Brown. Former huntsman of the Rappahannock Hunt, Brown devotes his time to young horses at Hunters Haven Farm, Reva, Va., and has stood many winners on the line.
"We've been with Oliver several years. The babies just seem to click with him," said Barbara Kennedy, owner of Autumn's Magic Fox. "He's got quite a connection with them; they're a good team."
Brown was also awarded the leading handler award for the eighth time in his impressive career.
Kennedy is continually pleased with the results from her mare and Absolut, owned by Pat Dodson, Clemmons, N.C. "There aren't that many hunter Thoroughbreds out there for breeding anymore; the gene pool is getting small. It's hard to find a performance stallion," she said. "And Absolut is getting a little bit older now."
As for Kelly's winning colt, Kennedy continued, "His personality is super. He's absolutely one of the best we've ever had. He's easy to work with. Once the lesson is taught the lesson is learned with him."
Kennedy and Kelly plan to show at Warrenton as well. Since Foxy's Magic Gift was the reserve best young horse at Devon and Upperville, both times behind Capital Hill, Kennedy sees it as another chance to come out ahead of Wheeler.
"Warrenton is super big. There'll be a lot going on," said Kennedy. "The Sallie B. Wheeler award is given there, and Kenny has won it about every year. So he's the guy to beat once again!"
Bill Schaub's impulse to buy Countess K off the Internet turned out to be a successful investment. Purchasing the filly a year ago from Pam Volpone of Volterra Farm, West Chester, Pa., Schaub didn't see Countess K until she arrived at Devon this year.
"I bought her but told Pam to keep her at the farm," he said. "It was really just a gut instinct when I saw her picture online."
Countess K (Popeye K—Vanity) didn't show before Devon, which impressed Schaub even more. "She's so smart, she hadn't even been off the farm before that show and she was really good. She freaked out a little, but then she immediately came back."
When Schaub led her into the ring to stand on the line, however, the filly acted like a true professional. Even with the commotion from the foals outside the ring, Countess K went to the top of the class to win the other than Thoroughbred yearling fillies.
Volpone's former filly is her first by Popeye K, the 2004 USEF Horse of the Year and 2006 The Chronicle of the Horse Show Hunter of the Year. "We wanted a little more substance. She's come out with a very pretty head and is a lot like her father," Volpone said.
Countess K has already shown natural ability for the show ring as well. Before Upperville, Schaub caught her jumping out of her paddock and he remarked, "She's a good jumper! And she swaps her leads."
Volpone plans to breed to Popeye K again due to strong results seen in Countess K. Her mare, Vanity, is only 6 years old, so she plans to have many more years producing foals to show on the line.
Schaub, of Over The Hill Farm in Sanford, Fla., is new to the breeding divisions. A prominent trainer of junior and amateur riders, Schaub said Countess K marks his first adventure in showing as a breeding handler.
He joked, "I love mares, and I love this one. Besides, isn't this what you're supposed to do when you get older, show horses on the line?"
Beth Johnson