South Gloucestershire, England—May 3
Ros Canter, the penultimate rider into the arena at the end of the first day of dressage at the Mitsubishi Motors Badminton Horse Trials, put in a polished, personal best performance to leap into the lead with Allstar B, her partner of six years.
The British pair, who finished fifth here last year, scored 23.9. They earned several 9s, including for Canter's riding.
"He's very consistent in this phase and really laps up the atmosphere," said Canter, who was part of the gold medal-winning team at last year's FEI European Eventing Championships (Poland). "He has the most amazing mind, and he allows me to ride him in a way that creates a lovely picture for people to look at. I work very closely with Ian Woodhead, who trains me, and 2 ½ weeks ago I sent him a video of me riding through the test on Allstar B and asked him what he thought. He told me it looked brilliant and that I shouldn't practice it any more. It made me nervous not spending all last week going through the movements, but Ian was right; so long as I have Allstar B in the right uphill balance, the fancy bits look after themselves."
The 2016 winners, Germany's Michael Jung and Biosthetique Sam FBW, put in their usual workmanlike, mistake-free performance to score 24.7 and lie second.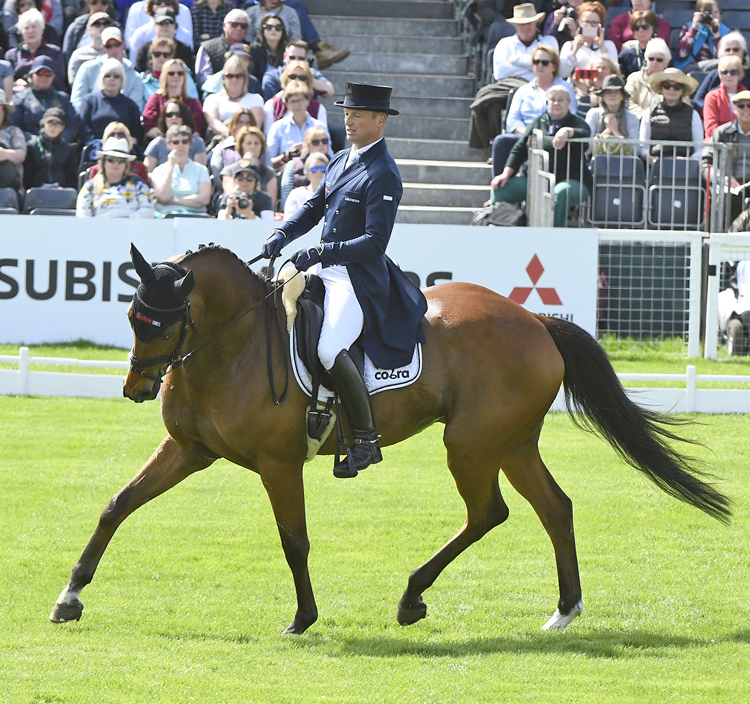 "He doesn't like soft ground for dressage, but he knows me, I know him, and we both know what to do," said Jung, who had already indicated before today that this would be Sam's final Badminton.
Making it a truly international line-up, Japan's Yoshi Oiwa and The Duke Of Cavan, the final pair to canter down the centerline this afternoon, scored 24.9 to take third.
Oiwa, for whom this is a third Badminton, explained that his test preparation today had not quite gone to plan as The Duke Of Cavan was chased by a dog in the park at lunchtime.
"It upset him a bit, and I thought he would be tense in the dressage, but he was actually very quiet," said Oiwa, who credited his "scary German trainer," Dirk Schrade, with whom he has been based for the last nine years, for his performance.
"If I don't do what Dirk tells me he gets upset," joked Oiwa.
The only U.S. rider to compete today, Lauren Kieffer on her 2016 Olympic partner Veronica, went into fourth place on 25.0.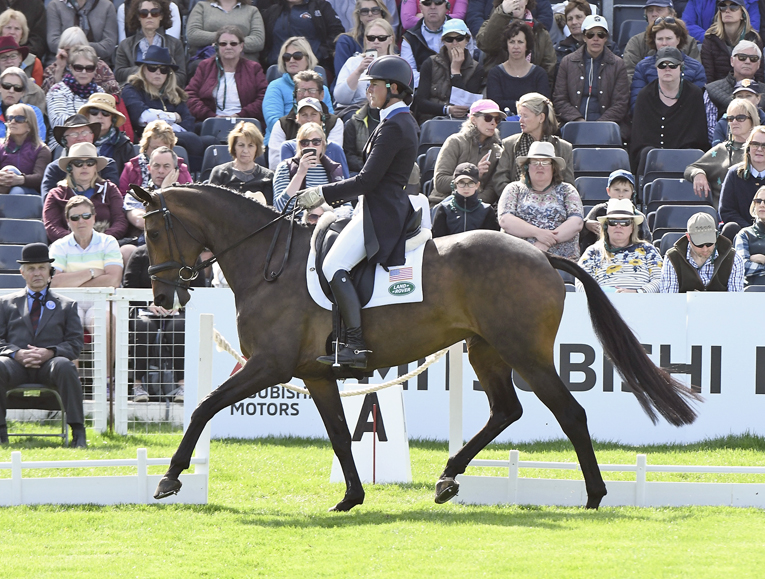 "I'm tickled with her," said Kieffer. "She's such a professional and it's her second time here. I want to go out and attack the course here this year. I wanted another shot at it."
Consistent rain has wreaked havoc on the British eventing season this spring, as many events had to cancel, and riders weren't able to do their fitness work. However, sunny skies have returned for Badminton, so while the dressage warm-up was a bit boggy, the ground should be much improved for cross-country day.
"It's a proper challenging test," said Kieffer of Eric Winter's course. "I think it will be interesting to see how much the footing holds them or doesn't. If it stays like this we may end up with perfect footing, but everybody is anxious it's going to be really muddy. We'll just see what we've got. She's a tough mare who's done a lot. I'm looking forward to it."
Canada's Selena O'Hanlon also put in a stellar dressage test with Foxwood High to sit eighth. Oliver Townend, who is in contention for the Rolex Grand Slam after his win at the Land Rover Kentucky CCI**** last weekend, finished in seventh on his first ride, Cooley SRS, on 25.9. He'll ride his Land Rover Burghley CCI**** winner Ballaghmor Class at 4:36 p.m. tomorrow (British Summer Time).
First into the arena tomorrow will be Britain's Izzy Taylor and Perfect Stranger at 9:30 a.m. Other U.S. riders competing include Madline Backus on P.S. Arianna (2:16 p.m.) and Will Coleman on OBOS O'Reilly (2:48 p.m.).
Get full results on the Mitsubishi Motors Badminton website.