Children's and Pre-Junior competitors took to the podium for the first time during team competition Thursday at the Gotham North FEI North American Youth Championships for Jumping in Traverse City, Michigan.
Canada took the top spot on the first podium of the day, claiming gold in the Children's team competition for teammates Taylor Wood, Livia Martin, Tristan Tobin, and Mathilde Candele. In the Pre-Junior division, the team of Campbell Brown (Fayetteville, Arkansas), Ava Le (Flower Mound, Texas), Avery Griffin (Austin, Texas), and Kaylee Rayner (Houston, Texas) claimed gold for Zone 7.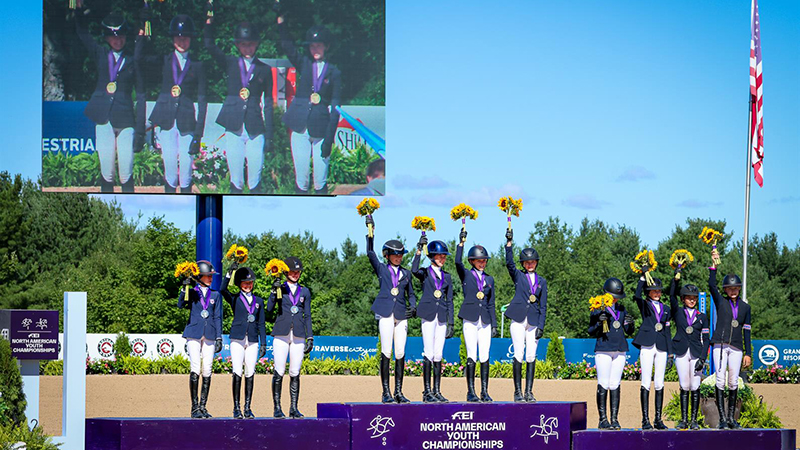 Gotham North FEI NAYC Children's Team Competition
The Children's division was first in the ring for team competition Thursday over a track designed by Brazil's Anderson Lima. Four teams were tied on a fault-free score coming into the day, but that narrowed to just two teams—Zone 2 and Canada—tied on zero faults after all riders had jumped once. That tie held as the teams jumped yet again, leading to a tie at the top for the gold medal.
As riders took to the gold medal jump-off, Canadian riders brought their A-game, piloting to three clear-round efforts and securing the gold medal. Zone 2 took the silver medal, with a small but mighty team of three riders, Tarin Kiely (Rumson, New Jersey), Emma Brody (New York City) and Rylynn Conway (Fair Haven, New Jersey).
"I got him at the beginning of January," Candele said of her mount, Disco de Pleville, who she rode to the quickest jump-off time of any competitor. "We've been trying to figure each other out. We started in the low juniors at WEF, and from there we've just tried to get sturdy on him because he's my first horse. He was so good. We've been working on our jump-offs recently, so he was turning amazing, and he was going forward right away."
At the conclusion of Round 2, Zone 10 and Zone 4 both sat on 4 faults, forcing another jump-off for bronze. Zone 10 produced the faster jump-off and secured the bronze for team members Shylee Elimelech (Calabasas, California) Chloe Kuang (Las Vegas), Scarlett Wallis (Watsonville, California) and Lilah Nakatani (Temecula, California).
Children's competitors now gear up for Saturday's Children's individual final.
Pre-Junior Team Competition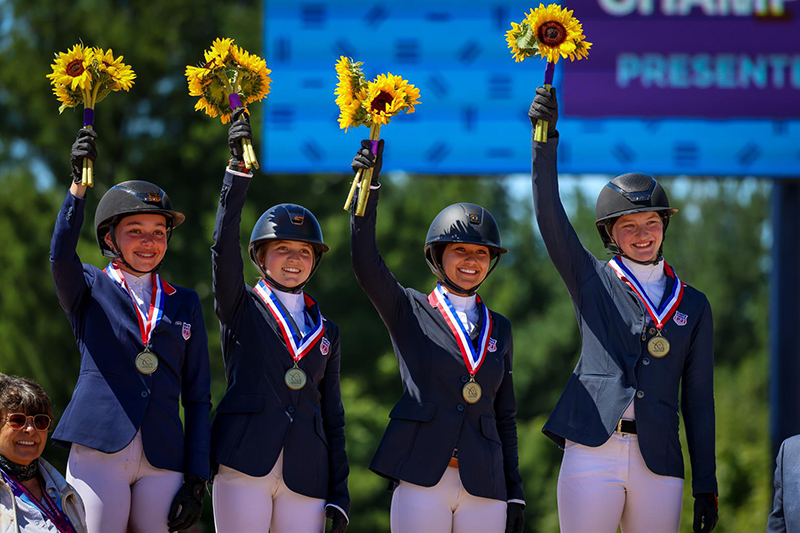 Returning for the second year to Traverse City and the NAYC, the Pre-Junior category included five teams. Zone 7 held the lead before the day's competition got underway, and held off stiff competition from a mixed Zone 1/3/6 team to take the gold.
"It's definitely stressful to go in first because if you make an error you rely on your team for the rest of the round," Brown said about being Zone 7's leadoff rider. "And when I had the one down in the first class I was disappointed with my riding. In the second class, though, it really pays off when you help the team. It feels so good."
The combined team from Zones 1/3/6, consisting of Campbell Hudkins (Farmington, Connecticut), Taylor Landstrom (Excelsior, Minnesota), Riley McKesson (Lake Lure, North Carolina) and Addy Wingate (Maclean, Virginia) claimed silver medal. Zone 10, consisting of Emmeline Adamick (San Francisco, California), Amanda Paul (Menlo Park, California), Cameron Trimino (Newport Beach, California) and Leila Diab (San Francisco), took bronze.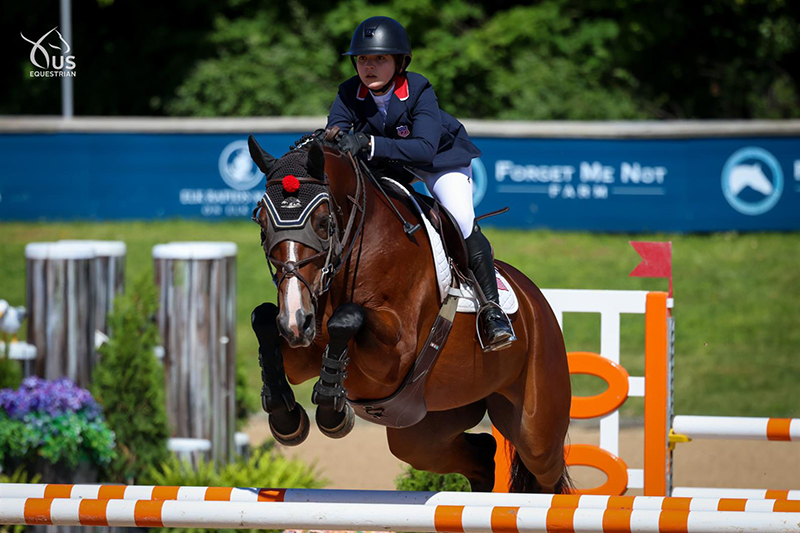 After winning Wednesday's Pre-Junior first individual qualifier, coupled with a fault-free finish Thursday afternoon, Diab currently sits in the leading position heading into Saturday's Pre-Junior final.
"I was really nervous going in for the first round because starting on zero we have everything to lose," she said. "But once I started going around, I got into the swing of things and got so much more comfortable and at ease. And [Quind] is a really great horse. I'm really quite proud of him."
Competition continues Friday with the Junior and Young Rider team competitions.
Korotkin, White Top Young Rider And Junior Qualifiers 
Nearly 70 junior and young rider athletes competed for the first time during the 2022 Gotham North FEI North American Youth Championships for Jumping on Thursday afternoon to take top honors in the first qualifiers and set their respective teams up for success. Tanner Korotkin (USA Zone 4) came nearly last in the order in the $10,000 Young Rider First Competition and sped into the lead aboard Ideal. Earlier in the day, Della White (USA Zone 10) captured the win in the $5,000 Junior First Competition aboard Giggs. One of the first pairs on course, they were too quick to be caught.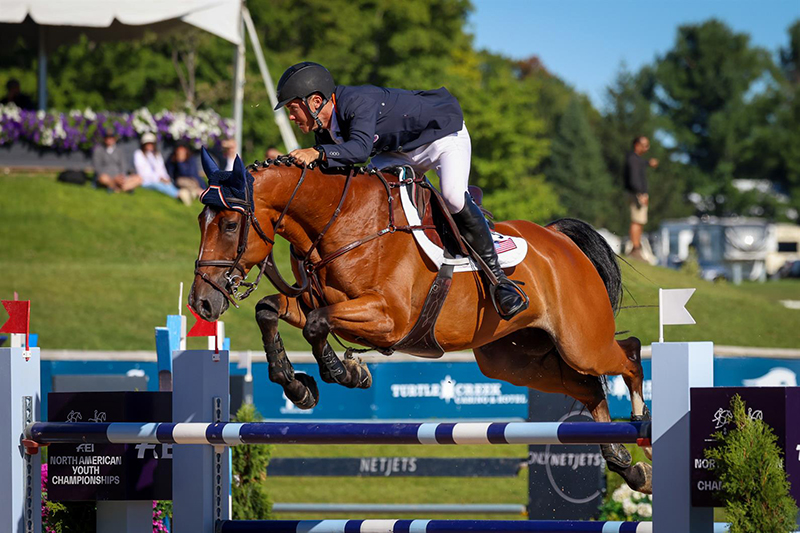 Fresh off his 21st birthday, Korotkin carried strategy into his winning round, knowing the leader at the time, Sam Walker of Canada, set a very fast time to beat.
"There are a lot of good riders here," Korotkin said. "I know I have a very competitive horse, but I didn't want to be too far behind some of the top ones because I knew they could easily go the rest of the way without touching a fence. Once I saw Sam go in, I knew he was the main one I was looking out for, so I decided to put the wheels on a little bit more than I was planning to, and I got lucky in a few spots."
Though he came out lucky as the winner today, Korotkin said, "There's a lot more jumping to be done this week so [Walker] could easily overtake me."
After acquiring the ride aboard Ideal from his trainer Shane Sweetnam, Korotkin has won up to the CSI5* level with the 10-year-old Swedish Warmblood gelding, owned by Castlewood Farm Inc. and Sandalwood Farms.
"Win or lose, there are always things to improve upon, and he's very good about teaching me," Korotkin continued.
Heading into team competition for the $40,000 Young Rider Team Final, Zone 5/7 holds the lead on a total of 5.68 penalties.
On the Junior side, White secured the top score. As the ninth pair in the order, she piloted her own 11-year-old Dutch Warmblood stallion to the fastest time of the day, leaving the rest of the competitors to catch her, which no one did.
"It took a lot [to get here]," White commented on qualifying for NAYC. "The trials are very competitive, and I was very lucky to make it because there are a lot of good riders."
Both Korotkin and White sit on 0 penalties going into Day 2 of NAYC competition. White and her Zone 10 teammates hold down the lead for the Junior division on 6.04 penalties prior to the $35,000 Junior Team Final on Friday.
The competition is being live-streamed on USEF Network, and the full schedule and results are available here.