Wellington, Fla.—March 23
On paper, the U.S. Nations Cup team had a significant advantage going into the CDIO competition this week at the Adequan Global Dressage Festival. First off, the event was in their home country, so pulling from a deep bench was not an issue. Second, the team fielded four big tour pairs, a big advantage in this mixed team competition where nations have the option to pick small tour pairs to count toward their team score, but each big tour pair gets an addition 1.5 percent added to their raw score.
In comparison, the team from Canada was not nearly as comfortably situated. They had two big tour pairs, Megan Lane and Caravella and Jill Irving on Degas 12, but they also had two small tour pairs who would not get the benefit of the additional 1.5 percent: the husband-and-wife duo Tina and Jaimey Irwin on Laurencio and Donegal V.
Dressage competitions aren't won on paper though; they're won in the ring. The Canadian riders produced the best team score they could without the bonus points, and when the chips fell and the U.S. riders made some costly mistakes and had an elimination, it was the bright red maple leaf flying above the stars and stripes.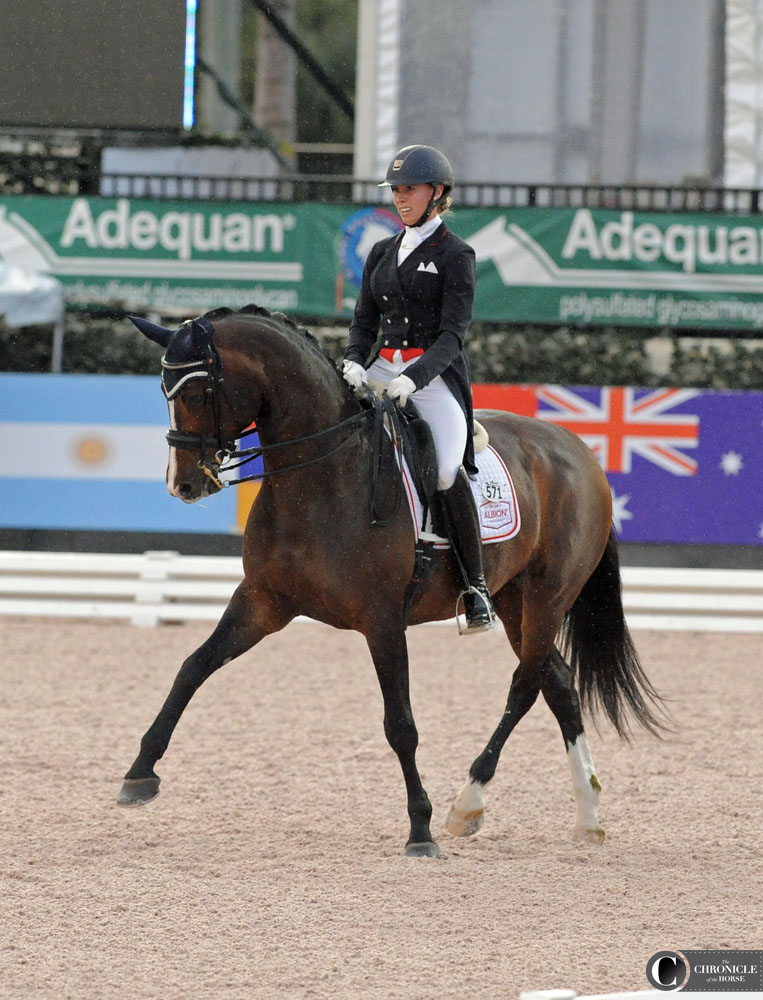 "I was thrilled; I'm still shaking," said Canadian anchor rider Megan Lane. "I'm really happy with [my mare] and I think she's in a good spot."
Tina Irwin notched the high scores for team Canada in the Prix St. Georges test on Day 1 aboard Laurencio and came back on the second day to ride to a 73.23 percent in the Intermediaire I. She gives her horse all the credit for their success.
"I have to say I'm very lucky to have a horse like Laurencio, he's pretty special," Tina said. "To have such amazing rideability and talent, and the temperament to go with it, it's just quite easy to ride him. He does a great job, and I kind of just sit on top and steer him around. He's an amazing horse."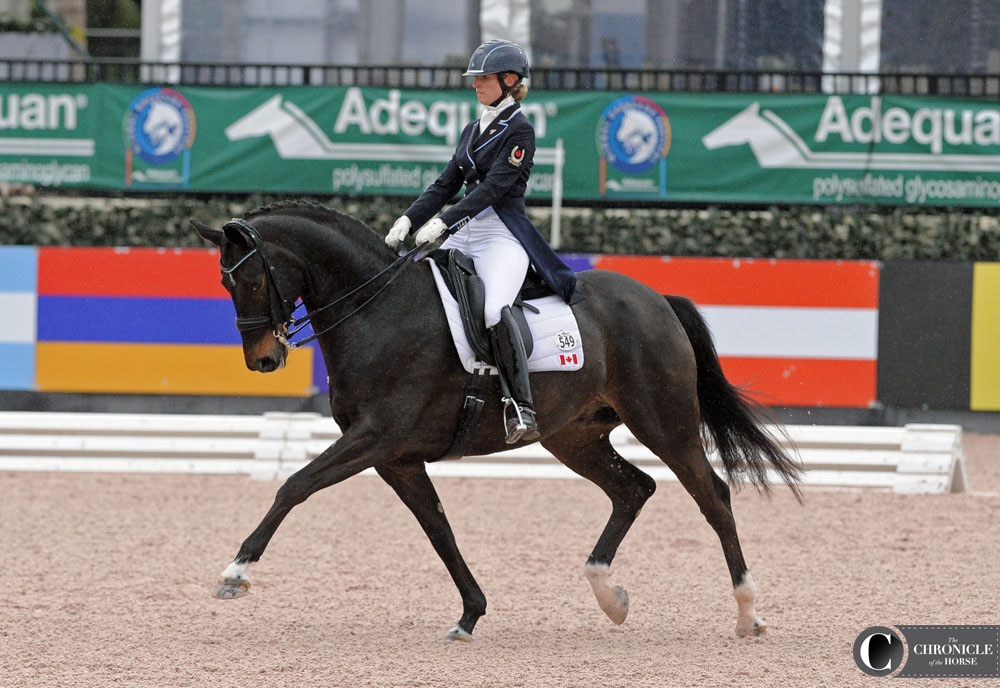 Jaimey Irwin aboard Donegal V were the drop score for the team, riding to a 69.26 percent in their Intermediaire I test. The day prior they notched a 72.92 percent at Prix St. Georges, but rain and windy weather conditions got the best of them Thursday.
"He's been doing extremely well this year, I'm very, very happy with his progress," Jaimey said. "He had a super test except for the halt at the beginning. He gets a little bit excited, and today the wind came and the tent was flapping and that got him really excited, so he wasn't quite with me today but he did still try, and gives me a really nice feeling for the future."
Jill Irving and Degas 12 rounded out the four-man team, locking in scores in the Grand Prix of 69.58 percent before the added bonus points.
"I want to thank my teammates. We did our job, and that was the goal," Irving said. "I like riding under pressure, but I only focus on what I have to do in the ring and Degas was ready to step up and he did his job."
The U.S. team of Shelly Francis and Doktor, Lisa Wilcox and Galant, Olivia and Lonoir, and Tuny Page and Woodstock took second. Page was eliminated at the bit check following her test on the first day of the Nations Cup when blood was found, and the same day Francis went off course. Francis, Wilcox and Olivia returned for Day 2 to lock in scores of 70.45, 69.68 and 71.58 percent (respectively, and before bonus points), finishing less than 4 points behind Canada's team total. The team from Spain took a distant third more than 30 points behind the U.S. team.
LaGoy-Weltz had the highest individual score in the Grand Prix Special at 71.58 percent before the bonus points, and was quick to thank organizers for the opportunity to have a CDIO in Wellington.
"For all of us riders I think that a good friendly competition pushes us all to be better and provides us all an opportunity to develop and move on and develop more depth," Olivia said. "It's such a great group of people we have here in Wellington in general so it's really fun to get to come together with your country mates and create that team and be in a pressure situation and get to practice those things, because otherwise you're only doing that when you get to  [World Equestrian Games] or an Olympics or a [Pan American Games]. We all could use the mileage, so I think that's it's a huge, huge benefit and we're all incredibly grateful to the organizers for making it happen."
Click here for full results from the class, and check back with the Chronicle for more from Nations Cup week at the Adequan Global Dressage Festival. Also make sure to read the April 17 issue of The Chronicle of the Horse for more in-depth coverage.