"Will he make an upper-level eventer?"
It started like many threads on the Chronicle discussion forums start—with a link to a set of photos of a scruffy, recently off-the-track Thoroughbred and a request for input on a horse's conformation and possible suitability for a career in eventing.
The answers varied. Some winced at the horse's lack of condition. Some liked his build beneath the long hair.
"I like him. His angles and proportions are good. Looks like his neck is set on a tad low, but other than that, he should turn into a swan with a little basic care," was one answer.
Another poster said: "I like his basic structure. He needs a super big upgrade in living conditions. I would have a vet look at his back carefully as noted above. However, some horses get that dip when they are underweight/have muscle wasting so it could just be body score."
And another went into more detail: "He's nicely uphill, has a good shoulder, and I like the way his neck ties in. Sweet face, possibly some jewelry in the left front pastern but could be lighting. I don't love his hind legs or croup (a bit base narrow and he's weak up top and through the stifle), but as noted, there's a lack of groceries. He does appear fairly open in his hind angles, but his rump is positioned away from the camera at a slight angle in the conformation shot and I'm wondering if that's causing a misleading view. Would want to see from straight on, and regardless, would want to see him move if I was shopping for myself."
The general assumption was that the plain bay had a lot going for him structurally, but that only time would tell if his temperament and mind were suited for a career in eventing. (You can read the whole thread here…)
The big reveal, after two pages of comments? The photos were of a 4-year-old Donner, a horse who has now completed four four-stars and represented the United States at the 2014 Alltech FEI World Equestrian Games (France).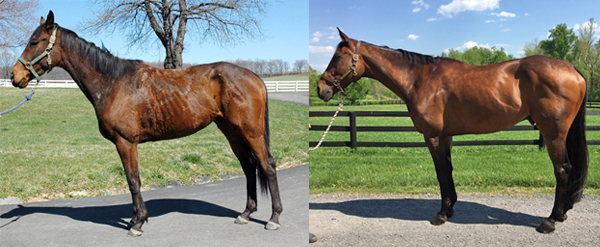 Donner in 2007 and in 2015.
Yes, he turned into an upper level eventer quite successfully!
First Impressions
COTH forums poster Siobhan DeLancey had looked at Donner—then known by his Jockey Club name of Smart Gorky (Gorky Park—Smart Jane, Smarten)—when he was gangly 4-year-old, fresh off the track after six starts and living in a field at Dresden Farm in Middleburg, Va., where he was bred. She snapped the photos when she went to try him one day in March 2007; she also tried his half-brother, who she eventually bought after passing on Donner.
"He'd done nothing at the track and they basically pulled his shoes and chucked him out into a field. He looked like a typical Thoroughbred in the spring, ready for the new grass. He didn't look as rough in person as he does in the photo," DeLancey said, noting that while Donner then looked as if he needed to put on weight, he was well cared for and healthy.
"I went and rode them both twice and at first I liked Donner better. They were very similar—both athletic and quick and catlike. They were both what the Dresden barn manager called "the dorky Gorkys." I knew they had a little quirkiness to them. But it was a personality thing; I just liked the other horse a bit better. It just comes down to which head you'd like to see over the stall door in the morning, and it was the other horse for me."
DeLancey took home the other gelding, Rudy, and amateur rider Stephanie Gorman bought Donner soon after. But by 2008 Donner was on the market again. Gorman's trainer, Tiffany Catledge, had taken him to a few beginner novice events and he was looking for a new home. "He just didn't end up being what Stephanie needed. He's kind of an eight-day-a-week ride, but she knew he was a great horse," Symansky said.
"I was told he was a "very athletic type but a little special in his brain,' so he was going to need the right rider to bring him along. When I first saw him, he was all legs—very tall and narrow. He's broadened a bit and filled out since then. He was in good condition when Stephanie had him, a little undermuscled but a beautiful horse," she continued.
Symansky couldn't find any major conformation flaws in Donner when she first looked at him. "Looking at his body type, I just though he was nicely put together. He didn't have much of a neck and he was quite long in his back. If I were to complain about anything, it would be that he was very narrow, especially behind," she said. "I didn't love his angles in his hind end; I thought he looked weak behind, which honestly through the years is what I've struggled with the most with him. It's taken me until really the last two years to really get him strong behind. You can see from his conformation that he's a little weak through his pelvis."
| | |
| --- | --- |
| | |
| Donner's hind end in 2007 | Donner's hind end in 2015 |
By 2011, Symansky and Donner had worn the Stars and Stripes the first time, helping the U.S. team take gold at the Pan American Games. They then placed fifth in the Rolex Kentucky CCI**** and completed the Pau CCI**** (France) in 2013. This year, they were 12th at Rolex Kentucky in Donner's fourth four-star.
You can read all about Donner's development in Symansky's Chronicle blog entry "Nothing Runs Like A Deer."
Symansky noted that she wouldn't have bought Donner just off the photos of him at age 4. "There's nothing in the photos that would have made me turn him down just off conformation, but I think I would have needed to see him in person for sure. His structure is the same now, but his body is so different now; it's unbelievable," she said.
"I looked at the photos quickly, and if I hadn't known it was him, I don't know that I would have looked close enough to realize it. I can see him in the eye—even though his eye now is much more wild than it was then! And his ear cocked to the side and the goofy look definitely looks like Donner to me. I sent the picture to my vet and said 'What do you think about this horse?' and she didn't recognize him right away either. She asked for a closer look at his feet and said, 'I think he needs some groceries,' " Symansky said.
You Never Know
Symansky noted that even though she'd developed multiple horses to the advanced level, ever she doesn't look at 4-year-old off-the-track prospects with "upper level horse" in mind.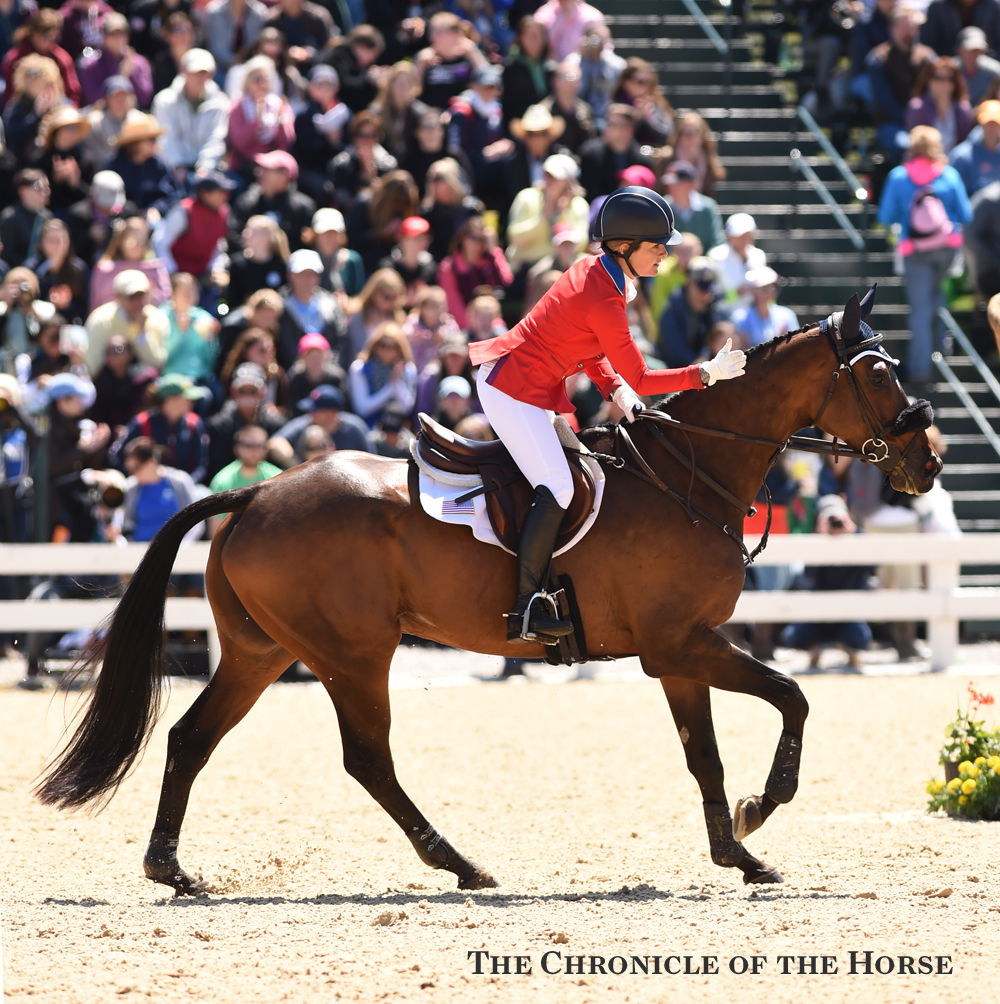 Donner and Symansky at the 2015 Rolex Kentucky CCI****
Photo by Mollie Bailey
"To really, truly be an upper level prospect, you don't know until you've had some time working with the horse and see what its brain is like," she said. "Some horses can have strikes against them for conformation flaws, but it's amazing what some horses will work through if they have the heart and figure out how to make it work for them. Then there are others that are so beautifully put together but don't have the desire or you can't keep them sound for whatever reason. When I look at a horse, I don't look to think 'This is going to be my advanced prospect,' I look and think, 'That's a nice type, let's see what he can do.' I try to buy something that's well put together and that I think I could do something with, whether that's compete it or sell it.
"When I got Donner, I knew it was a bit of a gamble because I knew he didn't have a great brain, but I knew he was a lovely type and very athletic so I thought I could sell him to someone experienced enough to like him if he wasn't going to be an upper level horse for me," Symansky continued.
Lots of people love looking at photos of young, green prospects and dreaming of what they might become. When Donner began to be a star, DeLancey was tickled when she realized that she had seen him in the very beginning.
"I've always been a conformation student and enjoyed looking at horses at the track or at sales. I think that's how you hone your eye," she said. "To follow up on them later is just fun to see what they ended up doing."
Given Donner's success, she thought it would be fun to post his 4-year-old photos on the COTH discussion forums and get people to comment on them. So often, the question of a horse's potential isn't actually answered, but in Donner's case, it was, definitively.
"I never would have thought that Donner had that quality, that determination, to get him as far as he's gone. But I think that speaks to the partnership Lynn has with him," DeLancey said. "He clearly needed someone to believe in him, who he could trust to take him around. I think a lot of what makes his greatness is the partnership they have."
And does DeLancey wonder "what if" about saying no to buying Donner? "No regrets," she said. "Lynn has the horse of a lifetime and I certainly would not have had the ability to do what she's done with him."
You can read all of Lynn Symansky's blogs for the Chronicle here…