It was a quiet affair, just a few people and a horse headed up to the ring to show during the Gulf Coast Sunshine Classic V (Miss.). It was just a 1.00-meter training jumper class. There weren't any headlines being made or big checks handed out.
But for Camille Maynard, it was a big step and an emotional return.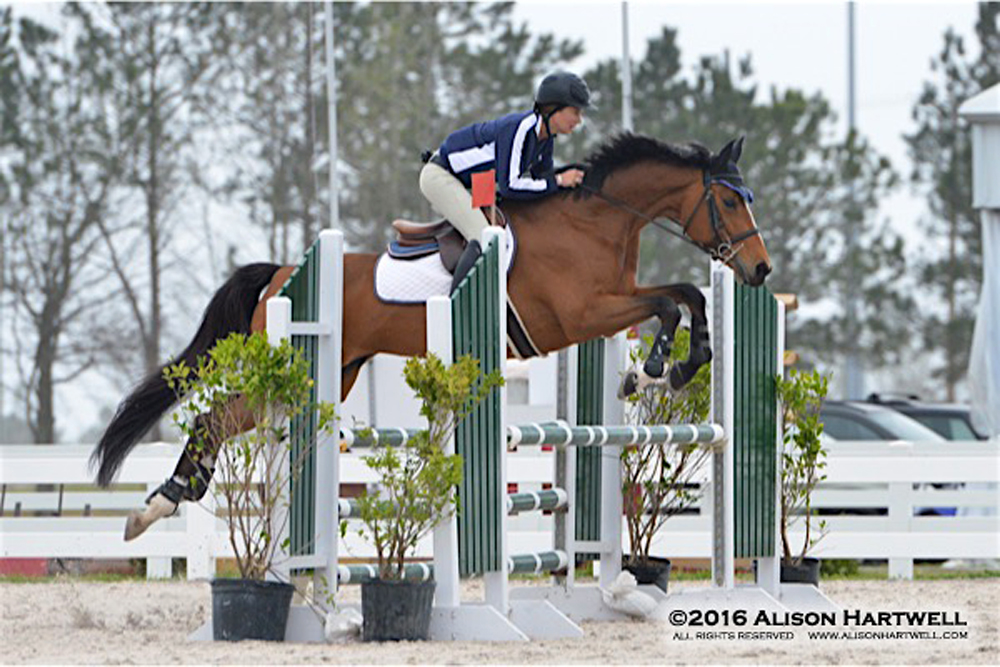 Camille Maynard showing Bambooczuled in the Gulf Coast Sunshine Classic V. Photo by Alison Hartwell
Just five months ago, Maynard, 27, was as far from a show ring as possible, lying in a hospital bed at the University of Florida with multiple serious injuries as a result of a car accident. Gulf Coast was Maynard's first show since then, and an important part of her recovery process.
"I was so happy—it felt normal," said Maynard, who works with her boyfriend Tim Maddrix running their Maddrix Stables out of Birmingham, Ala., of showing again as she rode Caroline Michele Dugas' mare Bambooczuled in two classes. "It was like another good forward step."
Maynard grew up in Cincinnati, Ohio, and found her love of horses as a young child when she encountered them at a summer camp.
She then began taking lessons with Maria Kneipp out of her Kneipp Farm in Cincinnati. While Maynard never owned a horse during her junior years, she acted as a catch rider for Kneipp, riding whatever was available—mostly jumpers and occasionally dabbling in the hunter and equitation rings.
Then, while Maynard was studying environmental science at the University of North Carolina at Chapel Hill, she joined their Intercollegiate Horse Show Association team. After graduation, she felt the pull back to the horses, and she returned to Kneipp's barn and began working as an assistant trainer.
Maynard got the chance to advance her professional riding skills further when a 5-year-old jumper she had been riding for Kneipp was shown by grand prix rider Aaron Vale. She went to his Thinkslikeahorse farm in Williston, Fla., for a week before she was offered a position with him as rider and assistant trainer in December of 2013.
"I always said when I went to work for Aaron, I was going to grad school," Maynard said with a laugh. "So hopefully I was getting my advanced degree in this world.
"At his place we had a lot of horses in training, so I rode probably 10 horses a day," she continued. "I got to watch him work with his horses that he rode and have him help me work with the horses that I rode and to see so many different ways of doing things or fixing certain problems for them."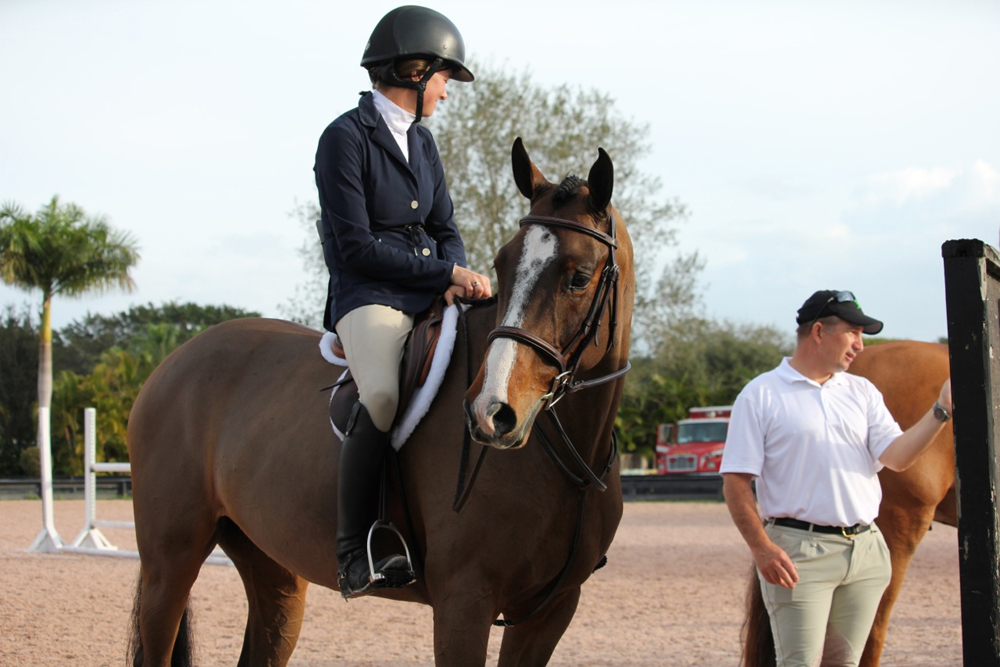 Camille Maynard (left) during her days working for Aaron Vale (right). Photo courtesy of Camille Maynard
She was just considering striking out on her own with Maddrix last fall when her plans came to a halt. A friend was driving her home from a barbeque one night in early November and the pair crashed into a dead tree, leaving Maynard with no memory of how the incident occurred. Her friend survived the crash with a broken ankle.
Maynard was kept sedated for several days to make sure there was no brain damage before addressing her broken femur, bone chip, and facial injuries. Doctors inserted a rod into her right femur, two pins in her knee, and a pin in her hip. She also suffered the loss of two teeth because doctors had to remove part of her jawbone due to damage; she now wears removable dentures until she can get a bone graft.
While the accident was obviously a shock for Maynard, what was most surprising was the outpouring of support and condolences she received.
"It was terrible, but the coolest part was that I heard from so many people in the horse world from all around the country," remembered Maynard. "Not only people who were in Ocala but also tons of people who were not in Ocala sent me cards and one lady sent me this huge thing of food. I had just woken up so I couldn't even really eat but she wanted my room to be full of food so that all the people in the hospital would come and want to be in my room.
"The horse show world is so big and so small too," she continued. "From so many parts of the country people were calling and texting and sending things—it was just neat that you have this huge family that you don't even think about or that you take for granted."
Maynard was able to walk around in the saddle at the beginning of the new year, and by February she was able to walk without crutches and began the difficult process of building back her muscle mass through riding and physical therapy, all the while trying to keep a good mindset.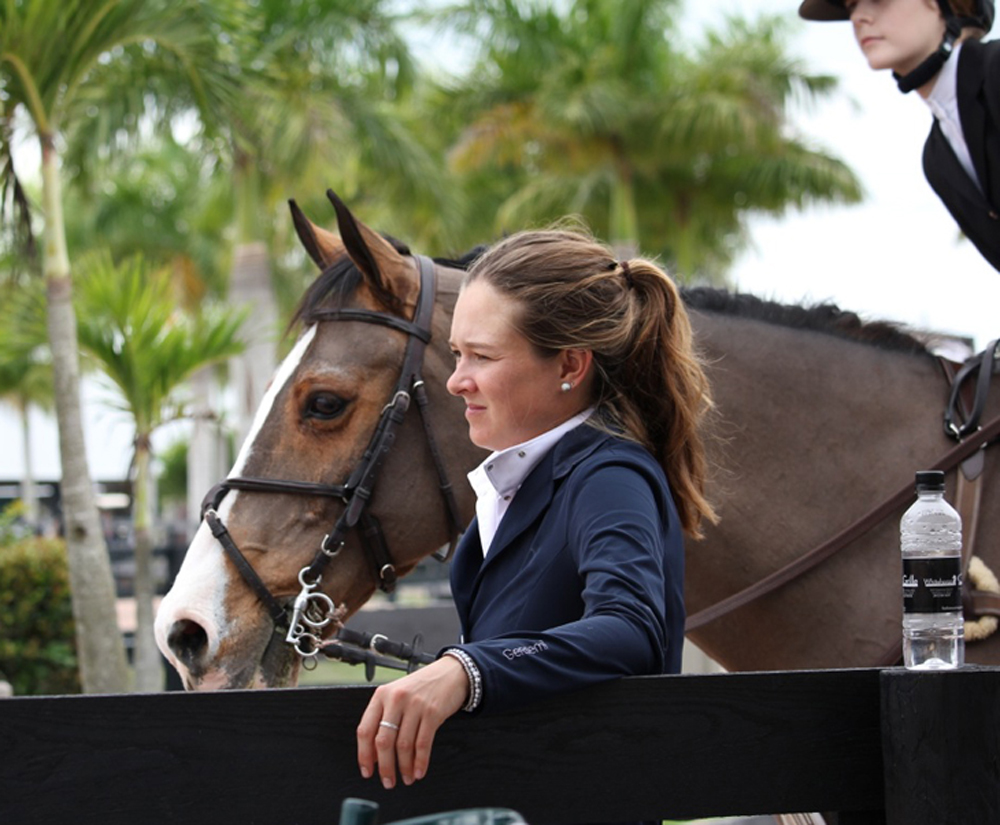 Camille Maynard was glad to get back to the in-gate. Photo courtesy of Camille Maynard
"I'm lucky because most of my life I've been a pretty positive person. I still look lame when I walk but it's getting better every day," Maynard joked. "I've got a great physical therapist that I've been going to and I really think riding—it has to help, its all about building muscle and that's what physical therapy is."
Her road to recovery and back to the show ring has not always been easy and Maynard admitted that staying positive became a bit strained early on.
"Through this I haven't always been the most positive. I've struggled a little bit, but I have so many good people around me," she said. "I've got friends everywhere and people are always calling to check on me. If you feel like you're kind of surrounded by all that love, you have to just stay positive."
This outpouring of support allowed Maynard to look to the future and make the leap to start her business venture with Maddrix, which they started at the beginning of 2016. She and Maddrix are looking forward to establishing a sales program, and Maynard is excited to teach, but still has an eye out for her own professional riding.
"I'm right now trying to put the pieces together. I have to get back to normal obviously first—but I'm hoping to find a horse or two for myself to continue my own personal career.
"In the end I'm really lucky," she continued. "I think that's just how you have to think about things like that."
Make sure to check out coverage of the Gulf Coast circuit, with hunter circuit champions included, in the April 4 issue of The Chronicle of the Horse.