Wildfires in California have devastated the state, destroying homes and stables, and forcing the evacuation of people and their horses.
As of Tuesday morning, Oct. 10, the California Statewide Fire Summary reported 17 large wildfires began in one 24-hour period  and have already burned over 115,000 acres, killing 15 people and destroying 1,500 homes in Northern and Southern California. October is typically the worst month for wildfires in the state, and the report cites wind and dry conditions as contributing factors to the severity of the situation. A state of emergency has been declared in Napa, Sonoma, Yuba, Butte, Lake, Nevada and Orange Counties.
Hunter professional Hope Glynn was forced to evacuate her stable in Petaluma, Calif., in Sonoma County. There are 27,000 acres burning in Sonoma County and neighboring Napa County as of Tuesday morning.
"Our horses are safe, but it's scary in California right now," Glynn said. "Our farm was on a mandatory evacuation Monday; we could see the flames coming over the top of the hill. I talked to my daughter, and she was in tears scared because she could see the flames as we were getting the horses out. But luckily it didn't come over."
Hope's ex-husband and business partner Ned Glynn was first aware something wasn't right when he woke to the smell of smoke early Monday morning.
"It's a little crazy because everyone has cell phones now," said Hope. "It used to be the firefighters would send out an alert to everyone's home phones, and you would get a call that you're in a mandatory evacuation area, but now you don't get that because people don't have home phones. He woke up and turned on the news and saw what was happening and then woke up several people and called the local fire department. They said, 'You need to evacuate,' so they then right away started evacuating everything."
Ned moved their Sonoma Valley Stables horses to the Circle Oak Equine veterinary facility in Petaluma before coordinating with the rest of the horse community to put their horse trailers to use evacuating other horses in need.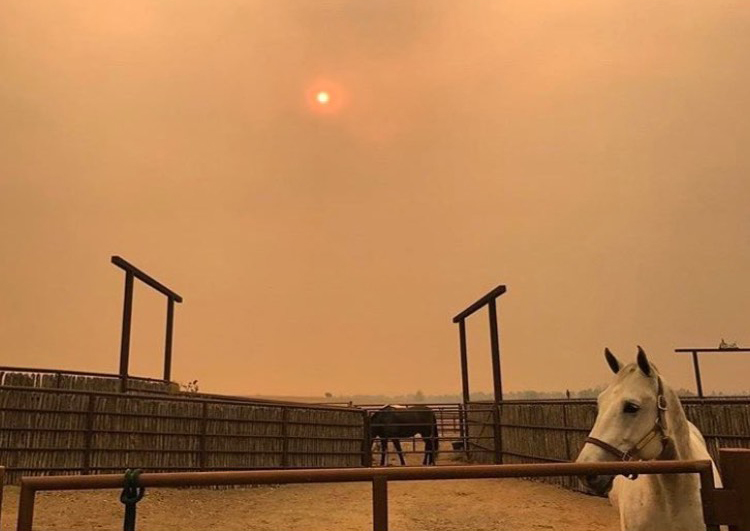 "The horse community in general, we woke up and knew there was a problem, and there was a group text of about 14 barns right away, and everyone that had a trailer went into action to help anyone they could," Hope said. "Ned yesterday evacuated dressage barns, hunter/jumper barns, event barns, miniature horses, I mean you name it they were getting it."
"We had different barns that were ready to take horses in within 10 minutes. We were just dropping horses, and they were taking over care of those horses so we could keep driving," Ned said. "It was remarkable how much we got done in a short period of time."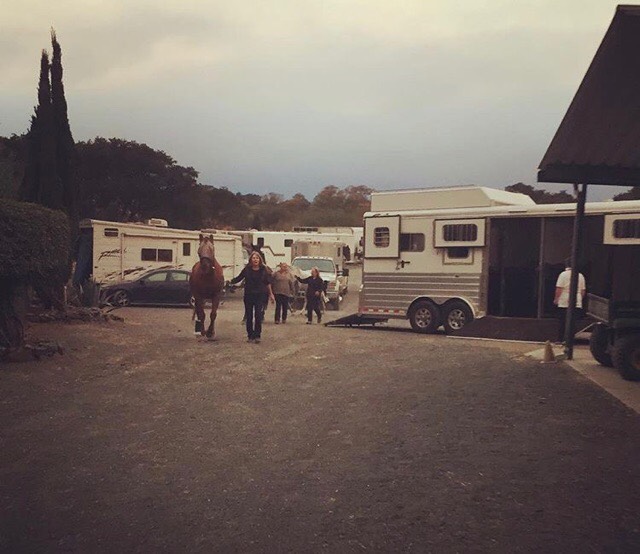 The Sonoma County Fairgrounds and the Sonoma County Horse Park opened to accept evacuated horses, and the Sonoma County Horse Council is coordinating efforts to match available facilities with horses in need.
As of Tuesday morning, Sonoma County switched from mandatory to a voluntary evacuation zone, but some people and horses have no facility left. In Southern California, Sarah Lockman's Orange County facility caught fire and burnt down. Lockman, a dressage trainer, and her staff were walking horses down the road to a nearby parking lot where they could load and evacuate all 50 horses on the farm before it caught fire.
"The winds were blowing like 25 miles an hour, and when I told the trailers that were on standby to come get us, they had shut down all the freeways," Lockman said. "So it was me, two assistants and a client, and we were literally running down the street with a horse in each hand to the local grocery store across the main road, and trailers came to get us.
"We were just running horses down the street and seeing these people in business suits just walking to work," she continued. "We're going, 'Hey, can we hand you a horse?' They've probably never handled a horse, but it didn't matter at that point. We got the trailers there, and the horses loaded, and 20 minutes later they were evacuating the grocery store."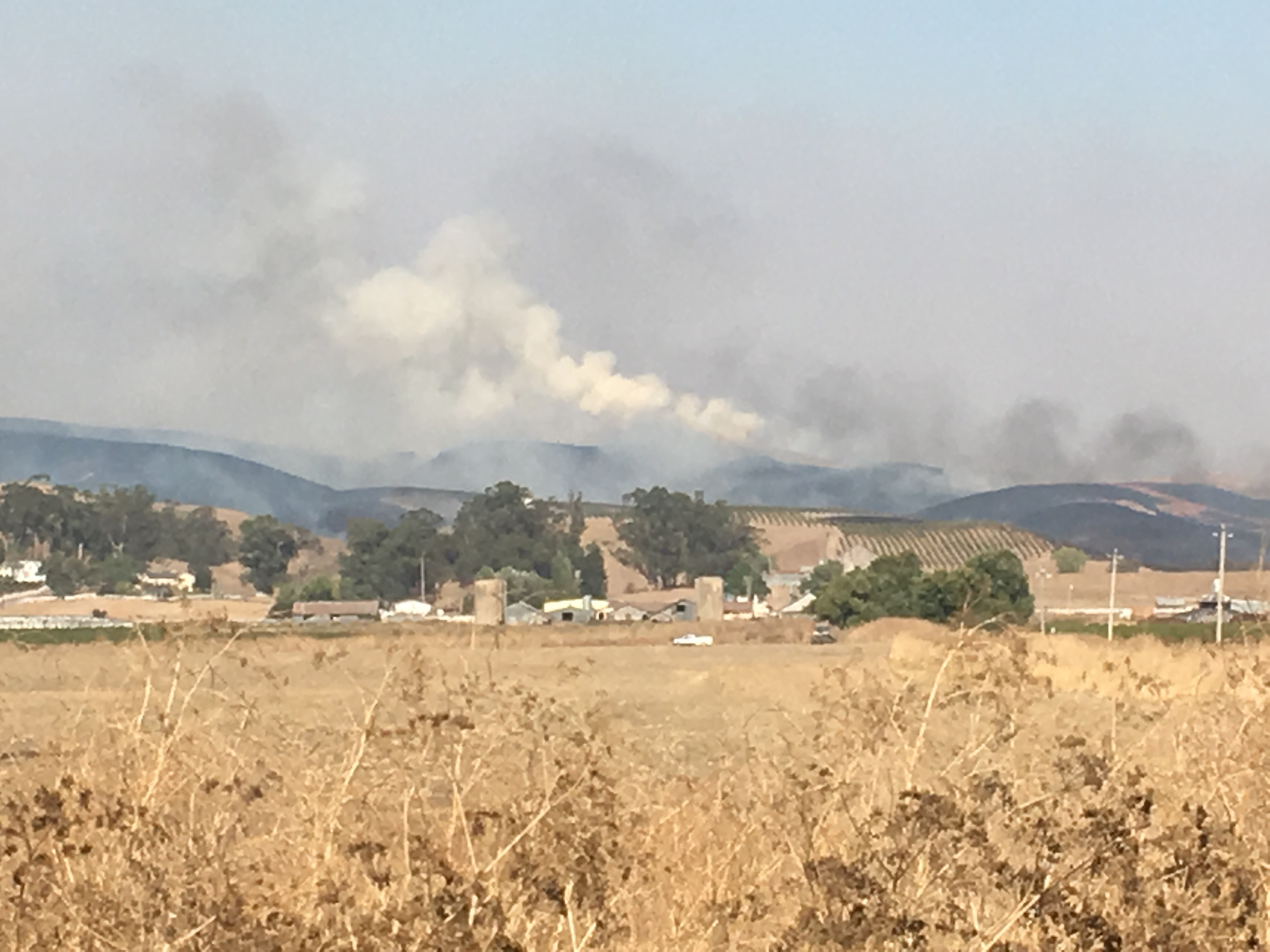 All 50 horses escaped unscathed, though they can't return to their original farm.
"Steffen and Shannon Peters called and offered to have us stay at their place; it's amazing how the horse community comes together," Lockman said.
"I was watching our barn burn down on the news. It was insane," she added. "But the most important thing the horses are out and healthy, and no one got injured. Barns can be rebuilt."
Not all animals were so lucky to escape the blaze. In Bakersfield, Calif., local news reported at least 23 trail horses died when corrals near Riverview Park in Oildale, Calif., caught fire.
"There are a lot of people who have lost their facility and their house, and it's going to continue to get worse before it gets better," Hope said. "I think anybody who wants to get involved, I encourage them to. I encourage anyone who can help with either time or money. It's money that's going toward keeping horses fed and on clean bedding right now."
As of Tuesday afternoon, there were no other reports of horses perishing in the fires.
People wishing to help those affected can donate to North Valley Animal Disaster Group, which is aiding in small and large animal rescue efforts, the U.C. Davis Veterinary Emergency Response Team and the Sonoma County Animal Services disaster relief fund. People in the area can also donate hay, shavings or time to care for horses at the Sonoma County Fairgrounds. In addition, Hope recommended donating to the Red Cross, which assists with animal rescue.
The Chronicle will continue to update this post as more information becomes available.
Save