Harrisburg, Pa., Oct. 21
For Ariana Snowdon, just attending the Pennsylvania National fulfilled a lifelong dream. The fact that her horse, C. Quito, scored the regular conformation championship after a long trek from Jackson Hole, Wyo., simply served as the icing on the cake.
"I've never been to Indoors, but I've always dreamed about it," said Snowdon, who owns the horse with her mother Margot Snowdon. "But we said, 'We have this amazing horse, let's see what we can do.' "
That gamble, coupled with great riding by Jessie Lang, proved worth the plane tickets when C. Quito jumped to blue in three over fences classes to score the tricolor. Hunt Tosh rode Showcase Ltd.'s Tasty to reserve.
The gray may be a stallion (Parco—Quita van het Eetseveld, Latano), but according to Ariana he doesn't act like it. Between classes at Weslyan University (Conn.) she campaigned him lightly in the amateur-owner division, and Margot took a few turns in the adult amateur ring on the California and Colorado circuits.
"He's so mellow," said Ariana. "He'll get turned out next to other horses, we don't longe him, we don't stuff his ears—he's really a gentleman. He's a little bit of a show off. He knows when he's being watched, and he just starts strutting."
One of C. Quito's specialties has been the handy classes, and he topped that regular conformation class here, and finished a strong second two days ago in the working handy hunter class. Lang has campaigned him in a few USHJA International Hunter Derbies and plans to continue in that vein.
Along with his work in the show ring, the Snowdons have started promoting him as a breeding stallion, with a dozen mares in foal now and his first baby on the ground.
C. Quito will continue his East Coast tour with a stop at the Washington International (D.C).
Cruising On Up
John French's green conformation partner may have been a catch ride, but it wasn't an unfamiliar mount. He reunited with his former partner Cruise at Harrisburg to help the West Coast sweep today's conformation titles.
French sold the horse to Archie Cox's customer Jessica Singer a year ago, and normally Teddi Jo Mellencamp serves as his jockey. But when Mellencamp stayed in California this season, Cox recruited French to take over the ride.
"I hadn't ridden him for quite awhile, and I didn't jump him until yesterday," said French, San Jose, Calif. "He went right in there and won the first class. I guess sometimes it's better this way!"
According to French, the bright lights and bright jumps helped to perk up the normally mellow gelding. Despite that blue, French might be most impressed with his second-placed model ribbon.
"He's very pretty, but you never know when you bring a horse from out west that hasn't gone head to head against these horses," he said. "They really liked him as a conformation horse, and that was nice to see."
As much as French likes the gray, he originally passed on the horse the first time he tried him while shopping in Great Britain. But when he went on the search for a mount stateside, he sat on the horse again, liked him, then realized it was the same animal.
Amazingly, that's not his only tricolor winner with that type of story. Small Kiss, who's owned by Iwasaki & Reilly, tied for the reserve 3'3" pre-green championship at the Pennsylvania National with pre-green stakes winner Crown Royal, owned by Carolyn Devan and ridden by Chris Wynn.
French tried Small Kiss in Europe and immediately set out to buy him. Midway through the process the agent backed out, and French assumed he'd been outbid or the owner had changed his mind.
But a month later he went to a small barn in Los Angeles and low and behold, out trotted Small Kiss, who'd eventually been sold to that trainer thanks to a friendship with the agent.
French had a hand in that division's champion as well. He campaigned Small Collection, also owned by Iwasaki & Reilly, throughout the end of the year, while Kelley Farmer catch rode him to the pre-green title at Harrisburg. Both pre-green mounts were on the waiting list for Harrisburg, and after Small Collection topped the future hunter division at Capital Challenge (Md.), French decided to get Small Kiss in first. An eleventh hour opening gave Small Collection an in, but by then French's riding dance card was full, so he recruited Farmer to take over the ride.
"Kelley's an amazing rider and she did a wonderful job," said French.

Harrisburg Happenings
Despite the strong showings in the conformation rings, the biggest star at the horse show eclipsed today's champions. Betsee's Parker's Lone Star secured his second consecutive grand hunter title with Tosh aboard, after winning 46 points en route to the regular working hunter title.
The low amateur-owner division, making its Harrisburg debut along with the 3'3" pregreen division, kicked off today with Devon (Pa.) champion Enticing winning an over fences class with Susan Kelly, and Natalie Allen riding Val D'Isere to the top of the handy. Those riders wrap up tomorrow with an under saddle and a final over fences trip.
Amateur-owners took a turn in the jumper ring as well, with the final rider, Daniel Cooper and Kosta, posting an efficient clear to take the title in the speed class. Those riders will finish tomorrow with the $15,000 Show Jumping Hall Of Fame Amateur-Owner Jumper Classic.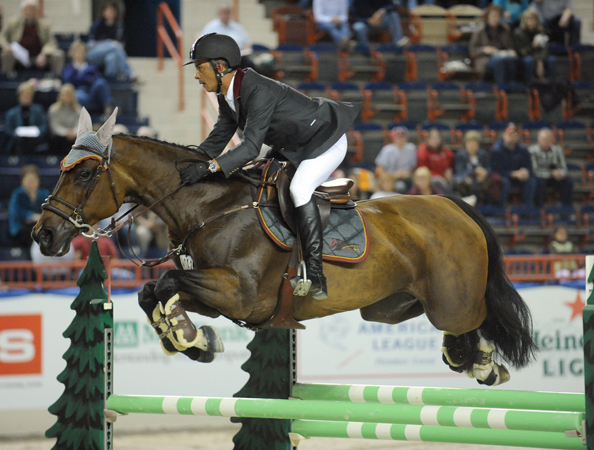 Half a dozen riders fresh from the Alltech/FEI World Equestrian Games (Ky.) were among the star-studded crowd of grand prix riders who arrived in Pennsylvania to jump for a Harrisburg audience. One of those WEG competitors, Pablo Barrios, topped the $30,000 Pennsylvania Big Jump on G&C Quick Star 11 after a six-horse jump-off, with Beezie Madden and Coral Reef Via Volo earning second and an appreciative Candice King riding Toronto to third. The riders are gearing up for the $75,000 Prix de Penn National CSI-W on Saturday night to earn some early FEI World Cup points.
Full results are available thanks to Ryegate.com, and we have lots more news from the professional divisions and from junior weekend.
Are you an equitation fan? Did you miss the Pessoa/USEF Medal Finals? Check out our round-by-round coverage and discussion with photos and course maps by clicking on the green button. There's a quick recap as well.