The Australian Chris Burton made a statement late in the day on Day 2 of dressage at the Mitsubishi Motors Badminton CCI****, vaulting into the lead with a mark of 32.9 on Graf Liberty.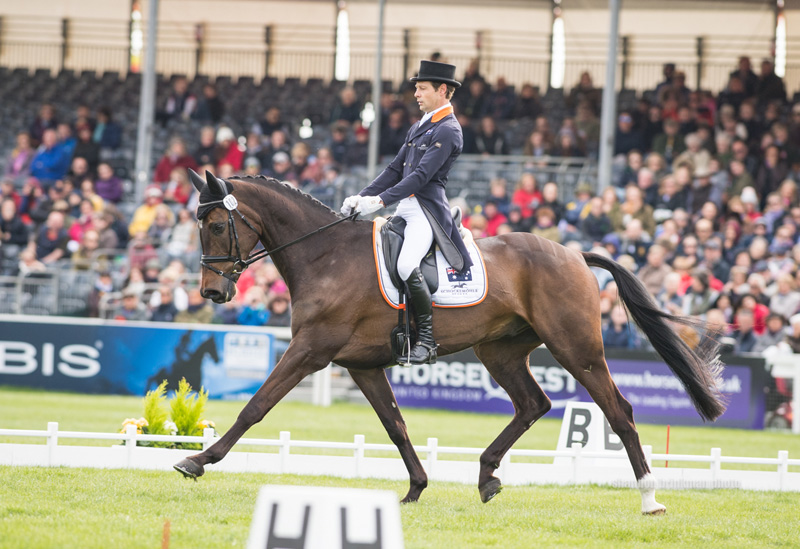 For U.S. fans, Lauren Kieffer put herself right into the mix ending up tied for fifth after her test with Veronica (38.0). The other U.S. rider to ride dressage on Friday, Elisa Wallace on Simply Priceless, is in 58th with a 53.2.
Thursday's U.S. riders (read more about Thursday's action) got shuffled down the pack a bit, with Hannah Sue Burnett and Harbour Pilot ending up in a tie for 20th after dressage, Lynn Symansky and Donner going into a tie for 27th, Kieffer on Landmark's Monte Carlo ending up in 45th and Katherine Coleman right behind Wallace in 59th.
Burton, who won the Burghley CCI**** (England) in the fall of 2016 on Noblis 18, set himself ahead of the pack with Graf Liberty, a 12-year-old Irish Sport Horse who was fourth at the Luhmühlen CCI**** (Germany) in 2015.
"He was just fantastic. He's always been a good horse but he makes me work for it, and today he just followed me so beautifully," Burton said. "One of his owners reminded me that he's always done a good test when he's in a big competition, so I'm absolutely stoked. I do know he's got a good test in him, but he always gives me grief at the little events and the one-day events."
Thursday's dressage leader, the Frenchman Thibaut Vallette, dropped into seventh place as Ingrid Klimke of Germany rode Horseware Hale Bob to a 36.4 for second place and Jonty Evans of Ireland stepped into third with Cooley Rorke's Drift (37.2).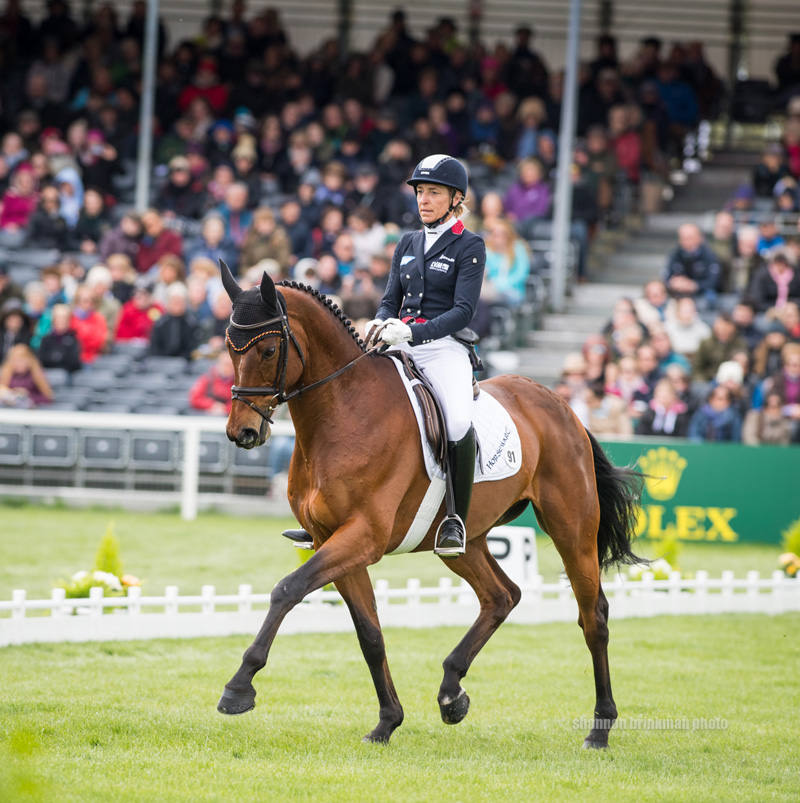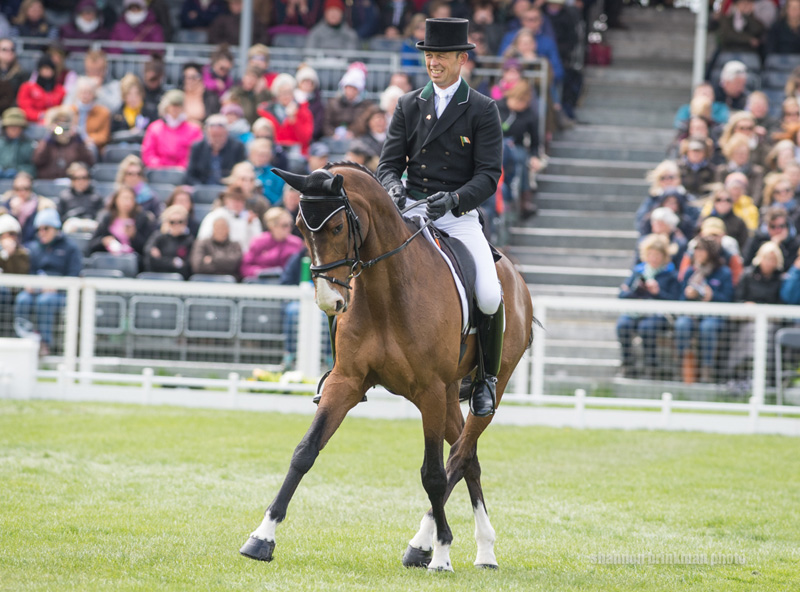 Kieffer was thrilled with Veronica's test, which was their first to score in the 30s. "I think that bested our previous best score by four points," she said. "We're thrilled with it. She's 15 now but she's never felt better in her body. She's like a fine wine.
"She was so good in there—I thought I was just going to have to keep a lid on it because she's been wild all week, but she's such a professional, she knows her job and put her head down and knuckled down to it," Kieffer said.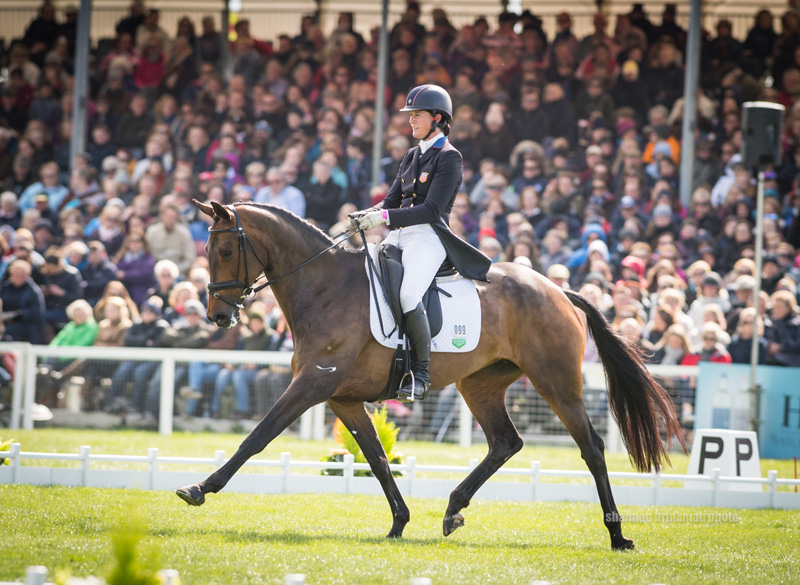 Wallace said the windy weather got to the off-the-track Thoroughbred Simply Priceless a bit in their test. "Well, he normally loves the atmosphere, but the wind spooked him a bit and he got a little frazzled," she said. "Once you get that tension at first, you are always working to get them relaxed. But he tried really hard. He was a very good boy.
"It's awe-inspiring to be here at Badminton," Wallace said. "As my friend Lissa Green always says, it puts the 'O' in the 'wow'. He felt good going round the ring [before the test] but the crowd being so close—we don't have that anywhere else. It was windy so we just had to keep our focus. He struggles with tension on a general basis, but allowing you to still ride them, that's hard for full Thoroughbreds in this sport."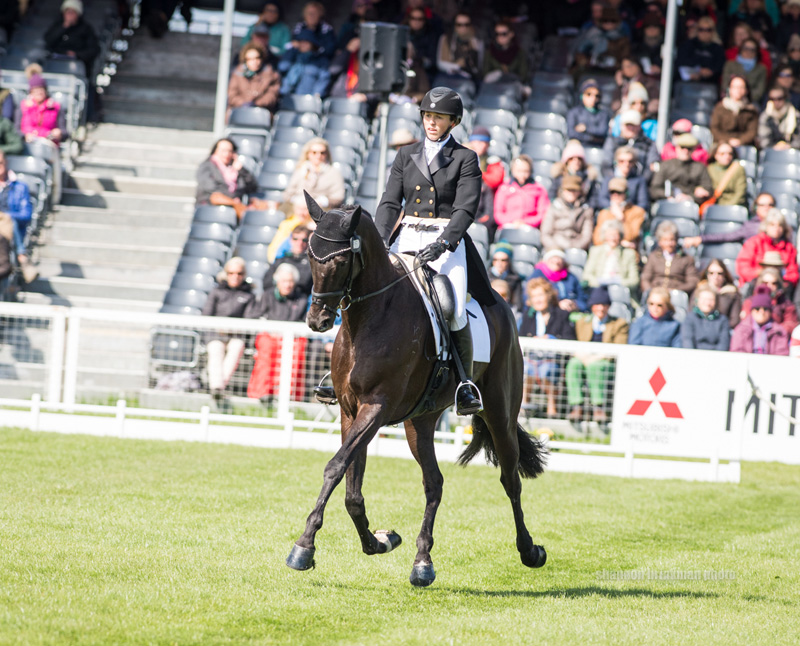 The cross-country, which most have characterized as "big and bold" runs from 11:30 a.m. to 4:54 p.m. (6:30 a.m. ET to 11:54 a.m. ET). U.S. rider Lauren Kieffer is first out of the box with Landmark's Monte Carlo at 11:30 a.m. (6:30 a.m. ET). Other U.S. riders go:
Hannah Sue Burnett/Harbour Pilot – 12:06 p.m. (7:06 a.m. ET)
Katherine Coleman/Longwood – 1:36 p.m. (8:36 a.m. ET)
Lynn Symansky/Donner – 1:58 p.m. (8:58 a.m. ET)
Elisa Wallace/Simply Priceless – 2:30 p.m. (9:30 a.m. ET)
Lauren Kieffer/Veronica – 4:22 p.m. (11:22 a.m. ET)
IMPORTANT LINKS: