Tallahassee, Fla.—March 11
It's been more than a year since Hannah Sue Burnett and Harbour Pilot cantered down the center line together, but they came out with a bang at the Red Hills International Horse Trials, scoring a 40.4 to lead the CIC***.
Phillip Dutton and four-star veteran Fernhill Fugitive are second with a 42.4, while Jennie Brannigan and Catalina, who held the lead for much of the afternoon, are third on 44.4.
Harbour Pilot, or "William," injured a tendon on cross-country at the 2014 Land Rover Burghley Horse Trials CCI**** (England), and Burnett gave him a full year to heal since he "had nothing to prove on cross-country.
"I'm really, really happy with him," she said. "It's so funny to be at a big event on him again after a whole year off. Burghley was so exciting and then so disappointing when we didn't get to jog up, so having him back in action and having him compete so well is just really cool. He's definitely happy to be here. He's excited. He's grown up a lot in a year of having some time off.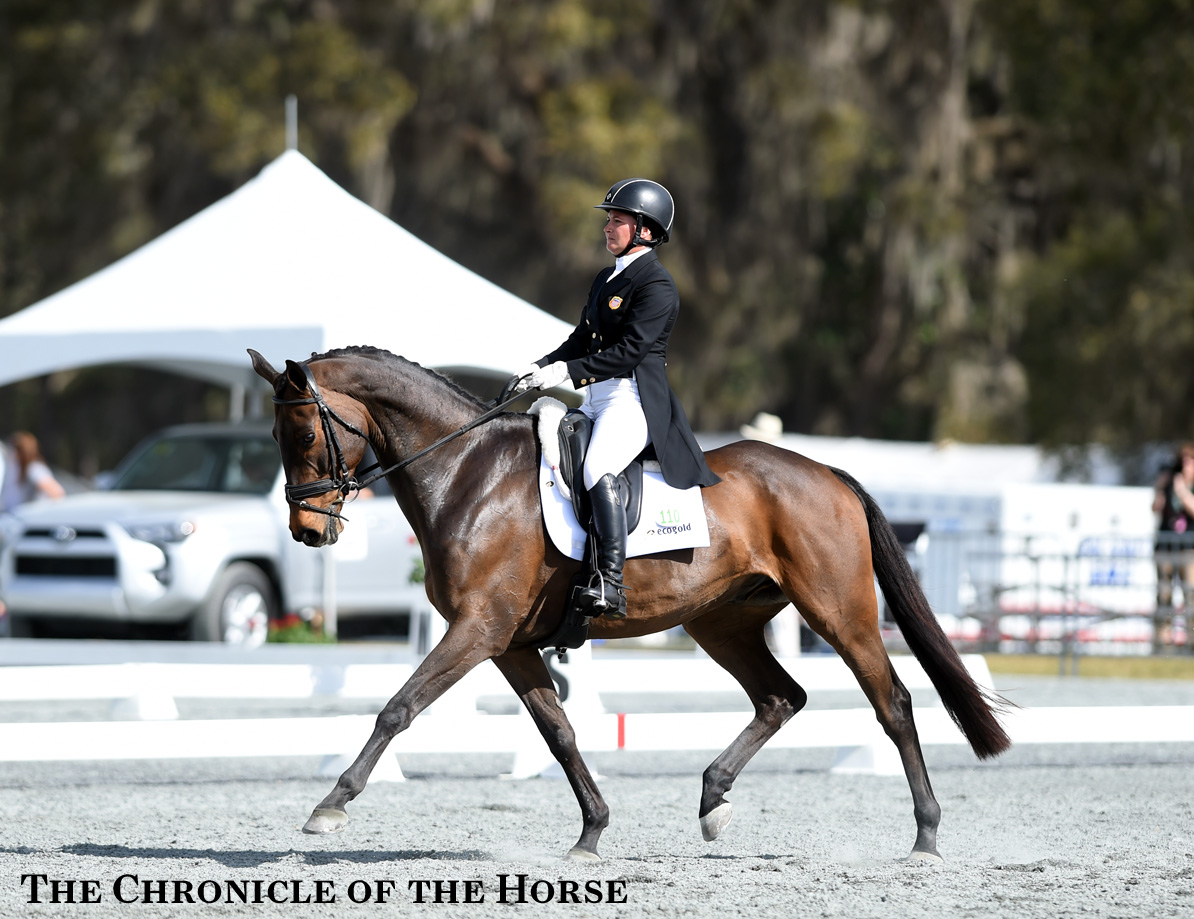 Hannah Sue Burnett and Harbour Pilot. Photo by Lindsay Berreth.
"Then all of a sudden he'll be like, 'Ahh!' Really excited," she continued with a laugh. "The warm-ups are really funny. I just laugh at him because he knows his job, and we have such a good partnership. I go into the first warm-up, and he gets really excited. Then he gets to work. Then I go in the second warm-up, and he gets really excited, and he goes back to work, then I go in the ring, and he's just such a businessman. He just knows what to do."
Three-star riders will show jump tomorrow morning, then head out on to new course designer Michael Etherington-Smith's track.
Burnett said she's excited to tackle the course and has confidence in Jacqueline Mars' 13-year-old Irish Sport Horse gelding (Crusing—Shannon).
"I'm really happy to be riding such a campaigner at this level. He's really good, but at the same time, he hasn't been at this level for awhile, so I need to be on my game," she said. "There's definitely enough to do. I really like how it builds. I think it's really nice in the beginning. Somebody walked it with a meter though, and the time is insanely tight, but it always is. I don't think I've ever made the time at Red Hills, even on some fast horses.
"I'm not going to take my time, but I'm going to ride as well as I can and give it a good go," she continued. "They're doing a great job with the footing. It's been pretty hard with the lack of rain lately, so they're digging it up and cutting into it, and I think they're going to water it tonight, so we're really thankful for that."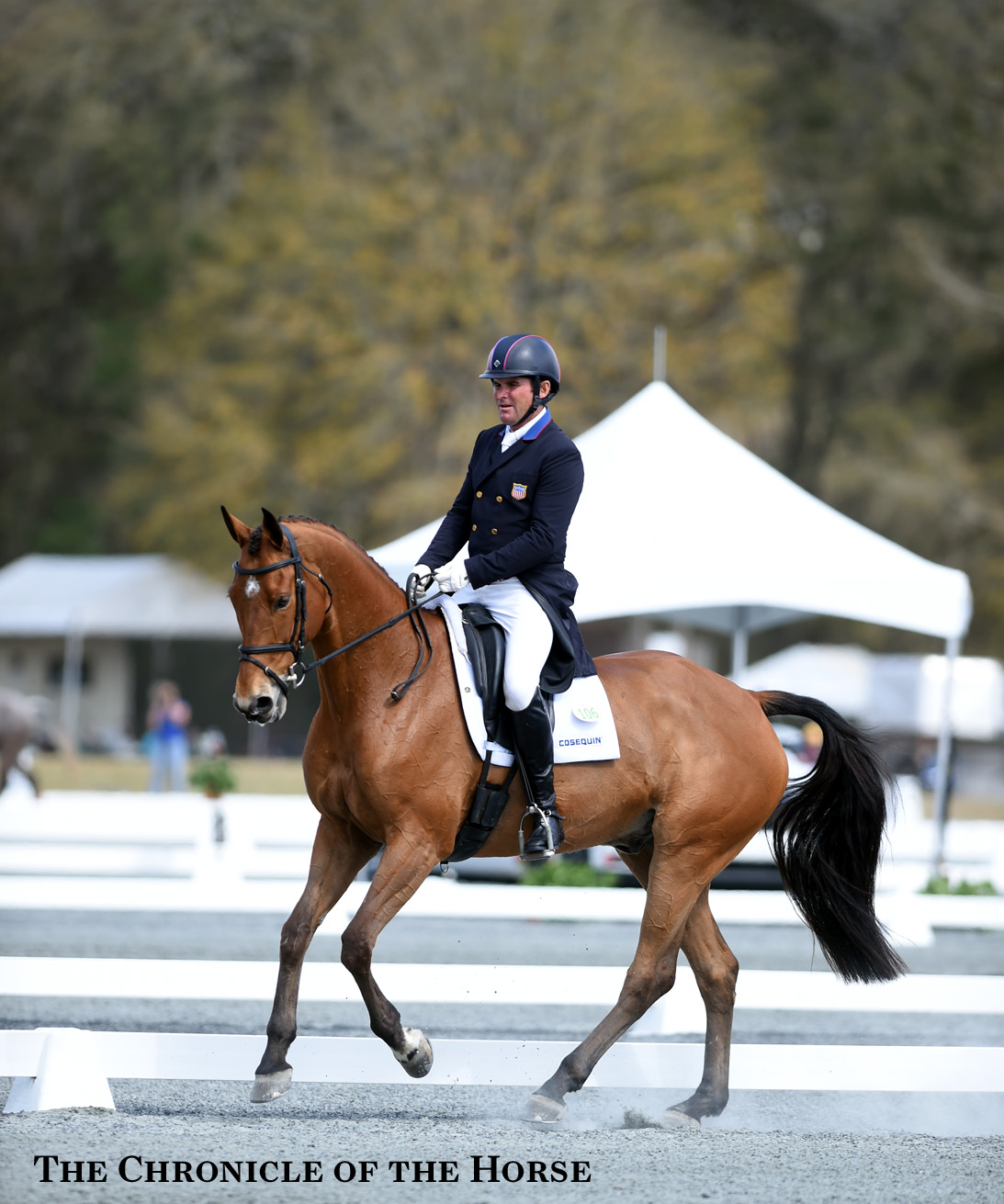 Phillip Dutton and Fernhill Fugitive. Photo by Lindsay Berreth.
Dutton felt that some dressage boot camp with Silva Martin paid off for "Jack," an 11-year-old Irish Sport Horse gelding (Lux—Barnadown Ramiro, Ramiro B) owned by Tom Tierney and Ann Jones.
"That was about the best he's gone," he said. "He's getting better and better. Timing his warm-up is pretty crucial, because you do too much, and he drops behind my leg and you don't do enough, and he's not quite through enough. I got that pretty right. Silva Martin's had him for a couple of weeks. She's done a good job with him. I think that's the reason Boyd does so well, actually!"
Brannigan admitted she was surprised to be sitting in the press conference on Candice Kircher's 13-year-old Oldenburg mare (Cabaret—Mon Petit Noir, Matcho X).
Kircher and Catalina won the CIC* at Red Hills in 2011, but then Kircher decided to start a family and the mare didn't compete much. Brannigan got the ride last year, but admitted there's still work to do on the flat.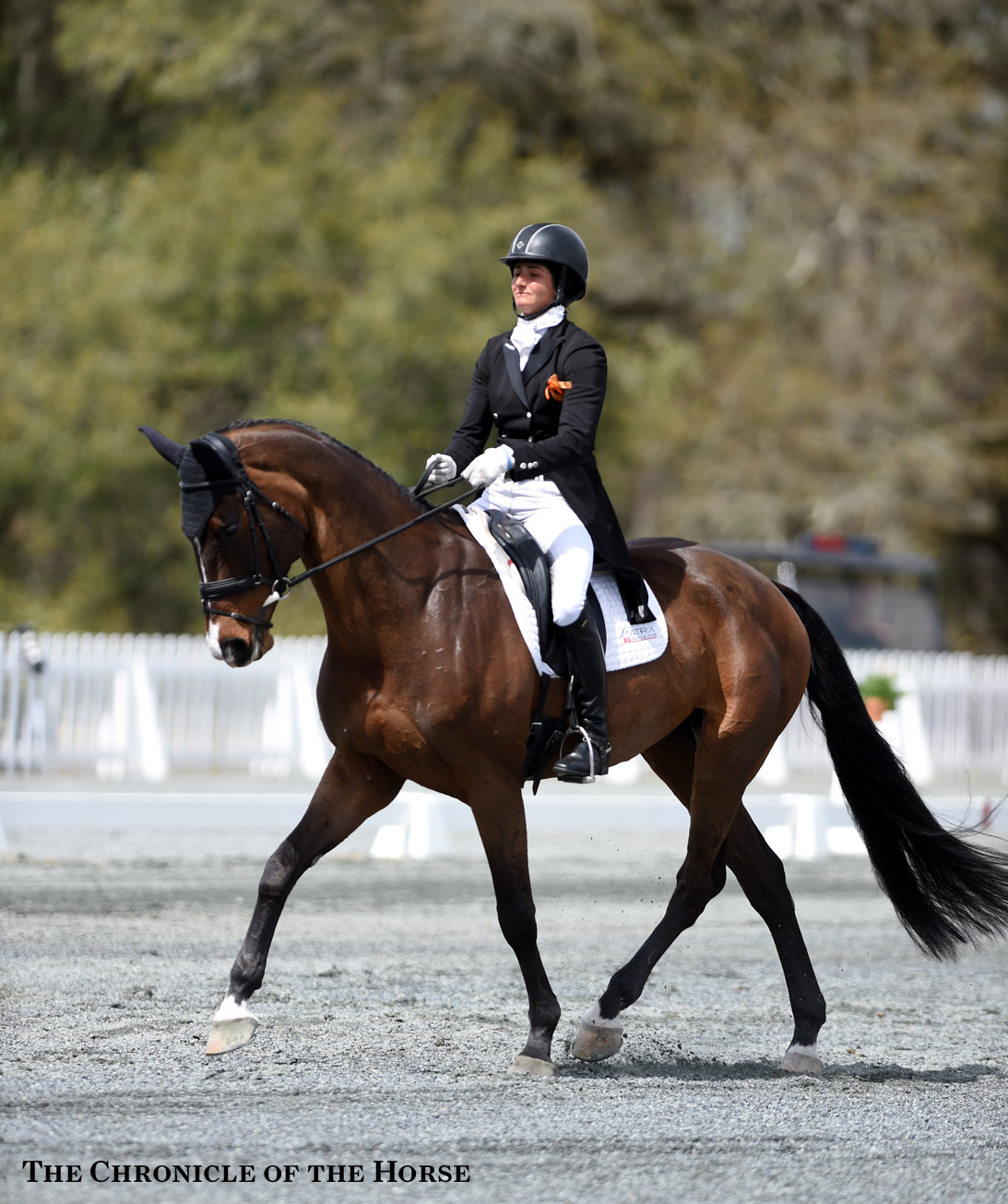 Jennie Brannigan and Cataline. Photo by Lindsay Berreth.
"I wasn't exactly expecting to be sitting here, but I think within the company to have such a green horse stepping up is really exciting," she said. "My whole outlook going to the ring, I just relaxed. I just put her into a rubber snaffle. I feel like she's a lot steadier in the contact. She's a beautiful horse, but she is genuinely very green at the movements. I felt she was a lot steadier. She's got a great mind, so that's lovely, but the changes and everything are all in the last six months, so it's all new and fresh. But I couldn't have been happier with her."
Brannigan was thrilled the Kircher, who's pregnant with her second child, made the trip from Texas in an RV with her family to watch.
"It's really special to have everyone here. It's definitely been a fun weekend," she said.
Tidbits
– Clayton Fredericks currently holds the top two spots in the CIC**. FE Bowman is first with a 41.4, while FE Money Made is right behind with a 44.4.
"It's been quite nice, with all my other commitments, not having to rush to produce a horse and get him up the grades to do something serious. I'm taking my time with them and producing them slowly, and I think that helps," said Fredericks, who's the coach of the Canadian eventing team.
– Liz-Halliday Sharp and Fernhill By Night lead the advanced division on 26.6. Phillip Dutton and new four-star ride Indian Mill are second on 31.9.
– Boyd Martin and Santos currently lead the CIC* on a 41.6.
– Many riders wore orange ribbons in support of CIC** rider Natalia Neneman, who lost her father to mutiple sclerosis recently.
Full results came be found here.
See more stories from Red Hills here.