Reddick, Fla.—Nov. 27
Hannah Sue Burnett admitted her favorite phase is show jumping, so she was full of confidence heading into today's final phase at the Ocala Jockey Club International CCI** with Cooley Dream.
A clear round over Richard Jeffery's course sealed the win for the pair, who led from start to finish. Jennie Brannigan and Cool As Ice remained in second place with a clear, while Boyd Martin and Santos stayed third with a clear.
"I've been riding with Silvio Mazzoni for a couple of years now. This last year I've been focusing on the show jumping. It's my favorite phase anyways, and I'm lucky enough to ride some really good jumpers. It's fun to go in and be confident," said Burnett. "I just have to keep that in check a bit so I don't get lackadaisical in the ring. But Cooley did that for me in the warm up. He was really over careful. I was a little bit worried I wasn't riding forward enough, but Silvio helped me with that. He went in and jumped a really good round."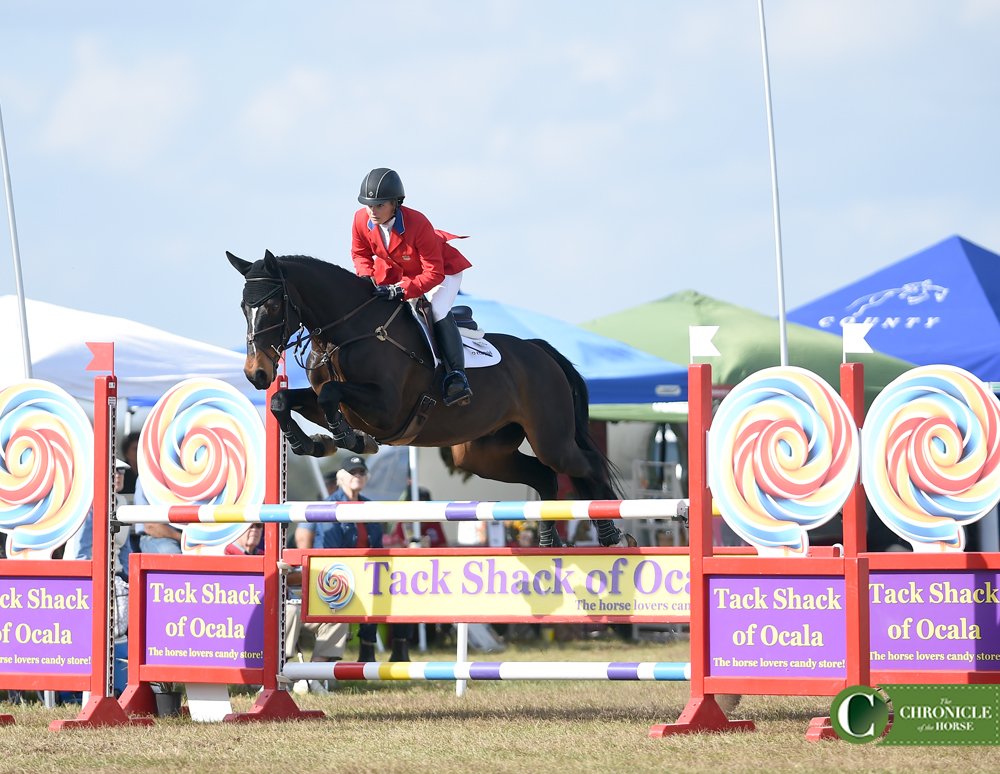 Hannah Sue Burnett and Cooley Dream. Photo by Lindsay Berreth.
Burnett dropped "Cooley" down a level this summer after they fell at the Rebecca Farm CCI*** (Mont.) on cross-country, so it's been a process building the gelding back up again.
A confident cross-country round yesterday showed Burnett that Cooley is ready to try the advanced level again in the spring.
"[The win] means a lot. Ms. [Jacqueline] Mars and Mary Ann Ghadban went in on this horse a year and a half ago for me, and it was a big ask. They really stepped up, and we've had a little bit of a roller coaster year, doing really well then having an issue, so it's really nice to step back and slowly move on and have a good plan and have coaches that really support me," she said. "To end the year like this, even if it's a lower level, having him confident, I feel like we can move up easily now. I know him really well. It's a good feeling."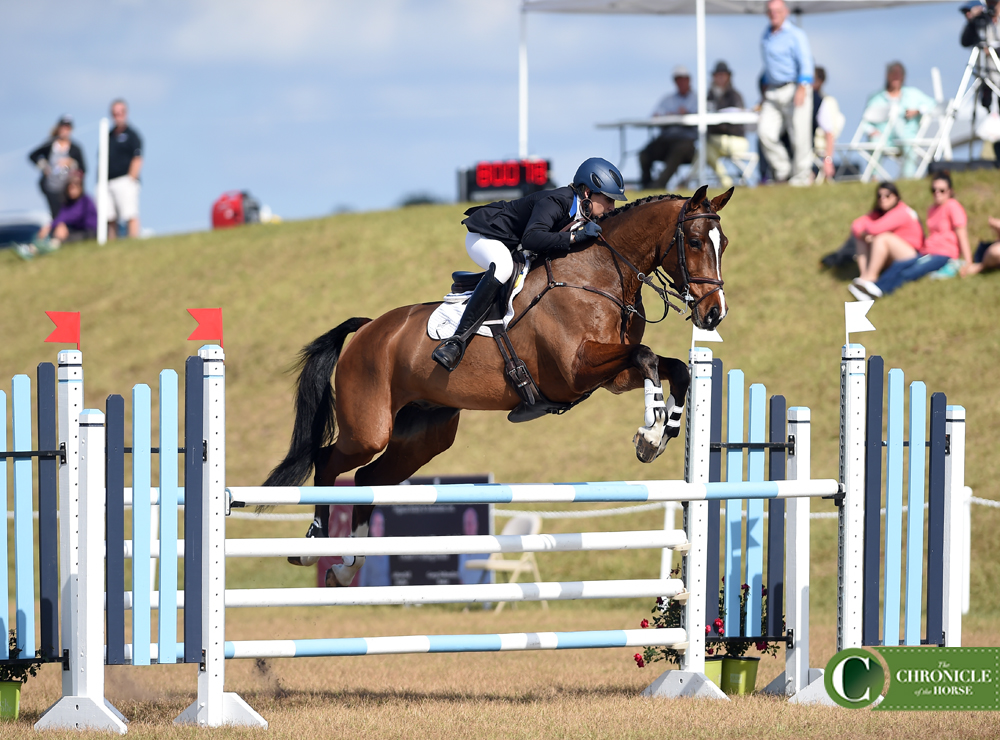 Liz Halliday-Sharp and Deniro Z. Photo by Lindsay Berreth.
Liz Halliday-Sharp pumped her fist in the air and pointed to Deniro Z as she crossed through the finish line in the CCI*. They had a rail in hand, and they used it, but they sealed the win over Leslie Law on Fernhill Divergent and Jonathan Holling and Sportsfield Two Doors Down.
"I didn't freak out, I just thought, 'Well let's not do that again!'" said Halliday-Sharp. "He is a great jumper, and he does try so hard. He's such a good boy, but he can have the odd rail. He has a very unique style of jumping, he's a big jumper. He's a horse that if you give him a little too much leg at the wrong time you can flatten him a bit, so I just wasn't completely straight for the Swedish [oxer], which was my fault, it wasn't his fault that we had the rail. I just tried to trust what I had and gave him the right sort of distance, deep and positive. I figured he'd probably look after me after that! He tried so hard all week. I couldn't be more happy with him."
The 8-year-old Dutch Warmblood gelding had been for sale early this year, but Halliday-Sharp is hoping she can put together a group of owners to keep him for herself.
"He tries really hard for me, and I love him, and he's my buddy. I've produced him from the very beginning of his career, so he's come a long way, and I'd like to see what's next," she said.
She was also in second place after cross-country with Elarona, but the mare looked sore in the final horse inspection this morning, and after being sent to the holding box, Halliday-Sharp withdrew her. She said Ela had been footsore, but otherwise checked out fine.
"She's an amazing mare, and I love her to bits. I know she would have done me proud today. It's a shame but it's part of the sport, and as long as we have her for another day that's the important thing," she said.
After a tough year where she took two bad falls, one in which she lost her top horse HHS Cooley and broke a bone in her neck, Halliday-Sharp was happy to have a win to close out the season.
"I'm a little creaky, but not too bad. It was really nice to have a win at the end of the year after what's happened. It's been such a tough year with a few trips to the hospital and losing Cooley. I think we can all now take a breath and look forward to 2017. It can only be better!" she said.
Click here for full results.
Curious about the new Ocala Jockey Club International? We're on site to bring you coverage of the CCI*, CCI** and CIC*** and lots of photos! Check out a full report in the Dec. 12 print edition of the Chronicle.
Curious about the new Ocala Jockey Club International? We're on site to bring you coverage of the CCI*, CCI** and CIC*** and lots of photos! Check out a full report in the Dec. 12 print edition of the Chronicle.