Wellington, Fla.—Dec. 2  
Kristen Vanderveen and Bull Run's Faustino De Tili dashed through the finish in the $216,000 Holiday & Horses Grand Prix CSI**** presented by Palm Beach County Sports Commission at the Palm Beach International Equestrian Center to take the win in the highlight class of the week.
Vanderveen and the 12-year-old Belgian Warmblood stallion (Berlin x Darco), owned by Bull Run Jumpers Five, LLC, navigated the fast track in 45.53 seconds to clinch victory.
"[Bull Run's Faustino De Tili] felt really happy this whole week," said Vanderveen. "I've had a great feeling with him and he did jump the qualifying class very well. This is really the first proper night class that I've done in Wellington with him, as he's jumped under the lights in Tryon and in other locations, so it was time to bring him out here.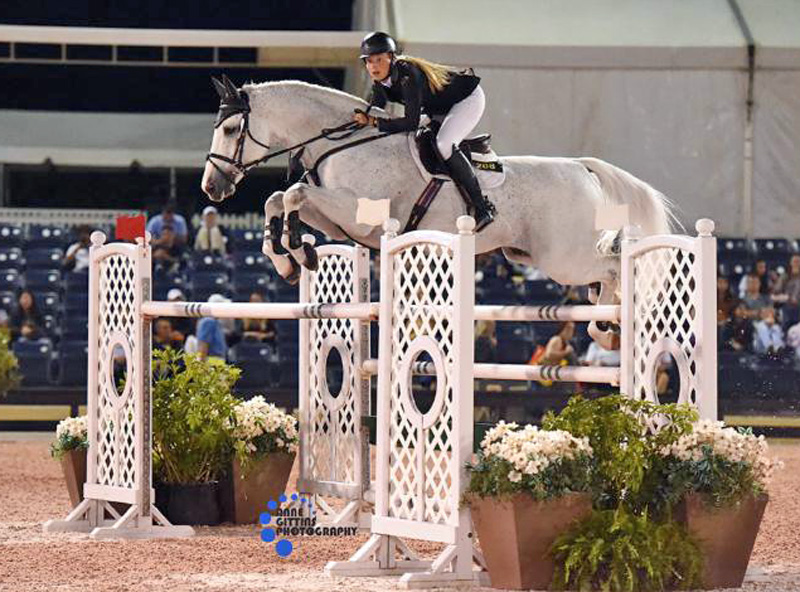 "This was kind of a test as to where we are going this season and to see if I want to use him as my main horse here at [the Winter Equestrian Festival (Fla.)]. I think that he proved that we are ready to go, so I was really pleased with him. Walking the course I thought that it was fair and a nice first way to ease into a night class. It obviously wasn't too easy, but not quite as big as it possibly could have been," she continued.
Get to know Bull Run's Faustino De Tili better—go Behind The Stall Door with him.
The class welcomed 43 entries under the lights in the International Ring at PBIEC and Guilherme Jorge designed the evening's course. The class was run in an FEI two-round format with the first round determining placing based on jumping faults and time. The second round then featured the top 11 horse-and-rider combinations in reverse order of penalties as they raced against the clock to determine final placings.
Trailing just behind Vanderveen was Margie Engle and Royce, a 13-year-old Oldenburg stallion owned by Gladewinds Partners, LLC, who earned a second-place finish for their time of 46.47 seconds. Third place was presented to Beat Mändli of Switzerland and the 9-year-old Dutch Warmblood mare Dsarie owned by Grant Road Partners, LLC, after crossing through the timers in 49.63 seconds.
Vanderveen and Bull Run's Faustino De Tili have had a stellar 2017 season, adding 10 FEI wins to their resume leading into the Holiday & Horses CSI and most recently collecting top finishes at Tryon International Equestrian Center (N.C.) and in Las Vegas. After their trip out west, the duo returned to Wellington to prepare for the approaching winter season.
Describing her mount, fondly known in the barn as "Frosty," Vanderveen elaborated on his standout personality and relaxed demeanor, saying, "He's just a laid-back guy. He's lovely to have in the barn. He's the most responsive horse to all human contact. He really surprises people because of how big and fast he is. Last season he was champion in the 1.45-meter speed classes the whole season and you look at him and think that there's no way, but he listens so well and he's so reactive. Whenever I ask for something he's on it right away."
See full results of the $216,000 Holiday & Horses Grand Prix.