The $204,000 Coca-Cola Grand Prix CSI**** for the Governor's Cup at Tryon International Equestrian Center ended in victory for Kristen VanderVeen aboard Bull Run's Faustino De Tili, navigating the short course in 36.57 seconds to capture the highlight class of the 90th Tryon Riding & Hunt Club Charity Horse Show Spring 6 competition. Aaron Vale (USA) took second aboard Finou 4, a 2006 Hanoverian gelding (Flashlight 16—Conchita, Concetto Famos) owned by Thinks Like A Horse and Donald Stewart, completing his jump-off round in 38.02 seconds, and blo blo Barrios rounded out the podium steering his own Elana 22, a 2009 Dutch Warmblood mare (Harley VDL—Zwetlana-Imoo, Almox Prints), to third place honors in 38.80 seconds.
Thirty-one entries tested the first-round track set by Ireland's Alan Wade, and nine horse-and-rider pairs returned for a shot at the podium. VanderVeen and the 2005 Belgian Warmblood stallion (Berlin—Bijou Van De Vijfheide, Udarco), owned by Bull Run Jumpers Six LLC, were sixth to go and put down a fast, clear run that could not be contested.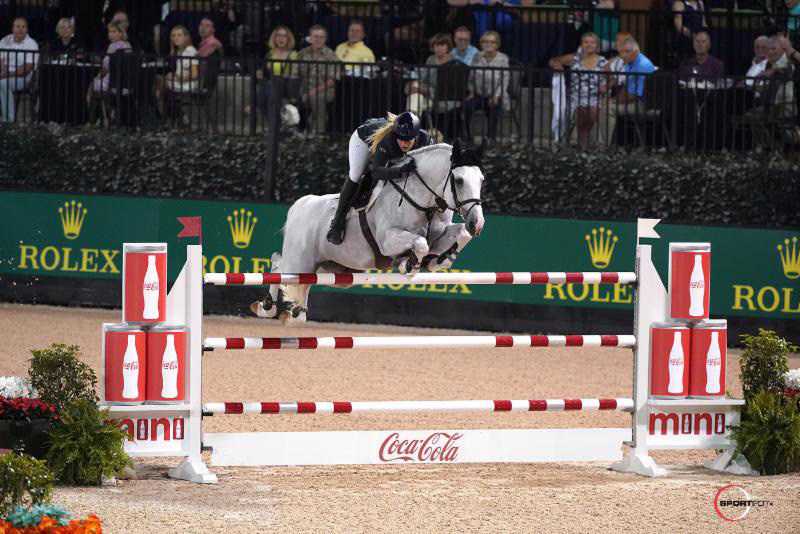 "I can feel it with him," she said. "He loves this sport so much, and he has a lot of personality. He had about a four-week break, and this is our third week back showing. Typically the first week he is a little fresh; the second week we work out the kinks, and by the third week he is really focused. He gave me a really good feeling."
Initially VanderVeen planned on riding a newer mount in the four-star competition, but when "Frosty" jumped so well earlier in the week, she altered her plan.
"It was actually never my plan to jump him tonight, either," said VanderVeen. "I have a new horse that I am really excited about, so I thought this class was where I really wanted to try and see where we were at together as a team. However, Frosty jumped so well on Thursday, I just couldn't not use him! He's my main man."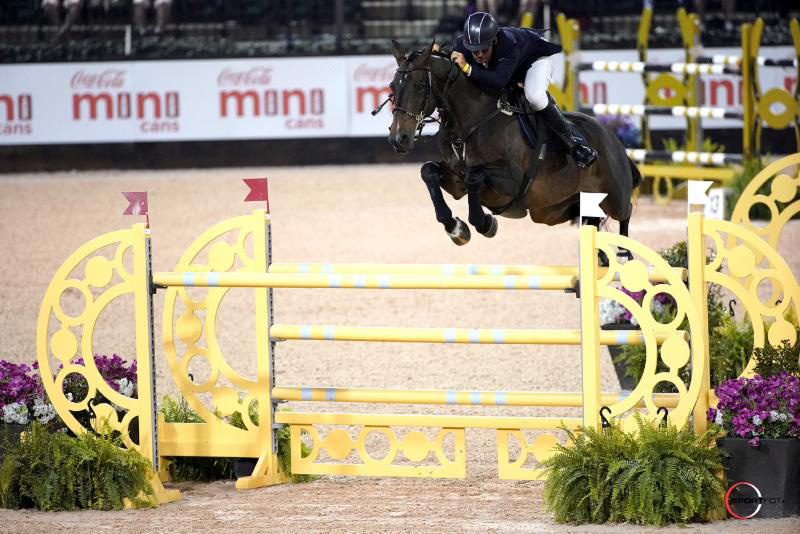 Although she went late in the short-course order of go, VanderVeen elected not to watch the riders before her. "My horse has such a huge stride," she said. "It is deceiving, which allows us to do things that other horses can't do. I had my plan pretty much set before any of them went. It is crazy how much ground he can cover.
"I had to really focus on not rushing him and just letting his stride help him out tonight without me trying to force the issue," she continued. "Sometimes I get a little too excited, and it's not necessary. Every time I start to mentally rush, I rush him, and I might have a fault. I have to focus on the fact that I have a super fast horse. He's got it covered, and I just have to keep my cool."
A frequent blue-ribbon recipient at Tryon, VanderVeen relayed that she's glad to be back winning big, and in a familiar place. "It is really exciting to win tonight," she said. "It sounds silly, but it feels like it has been a while since we have had a big win. We went and did [Longines] FEI World Cup Finals in Paris, and it was a great experience to be in Miami, New York and all of those big places. It was a lot of traveling and good placings and going from CSI***** to CSI*****, so it is nice to pull in a win back here at our venue. It feels like home."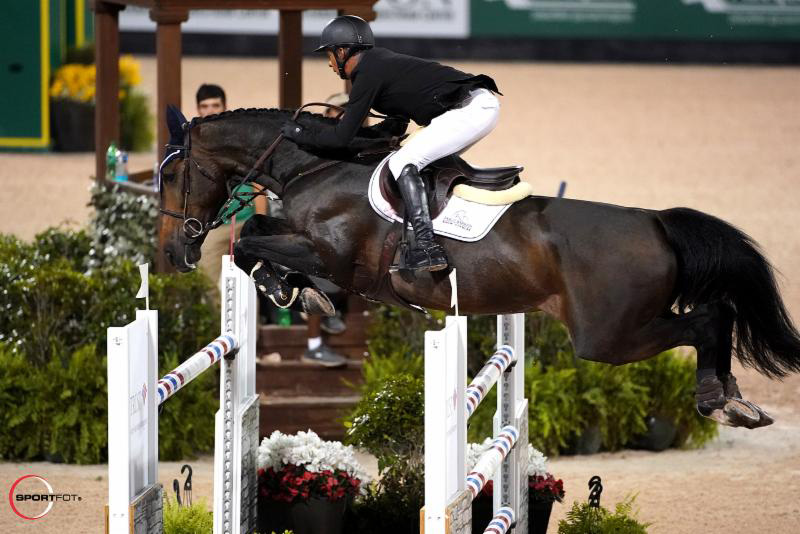 VanderVeen's groom Luis Salazar, who has taken care of Bull Run's Faustino de Tili for two years, was presented the Absorbine Groom's Award for his care and dedication to Bull Run's Faustino De Tili.