Many competitions and championships were canceled for 2020, but the U.S. Hunter Jumper Association board of directors and committee and task force members kept moving forward. When USHJA President Mary Babick delivered her "State Of The Association" address on Nov. 30, kicking off a 12-day online annual meeting, she explained their work had focused on diversifying the voices heard on the committee and board level and creating more offerings for members at all levels.
Though USHJA took a hit financially, the organization received a Payroll Protection Program loan that enabled them to keep all of their staff members while tightening their belt in other areas. Once competitions restarted, USHJA show fees stabilized the association's finances.
"Making sound financial decisions is one of the board's duties; that is a responsibility that we take seriously," said Babick.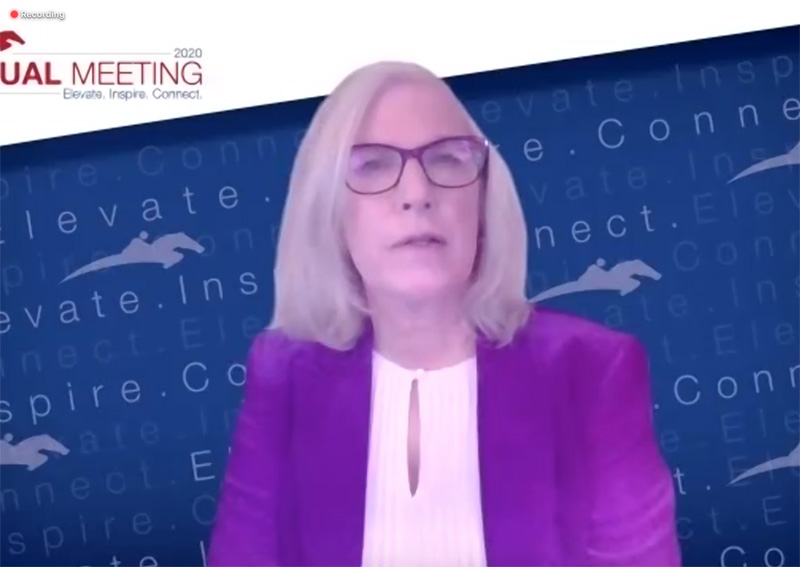 Babick, who was re-elected earlier this year, said a big challenge for the USHJA was to be diverse and inclusive. One of the ways they are working to address it is to continue with the board restructuring plan introduced last year. In 2020, four seats on the board and the vice presidency are up for election on Dec. 7. The four at-large director spots will be split between a competition manager, an amateur and two members with non-equestrian business experience. By 2023, the board will downsize from 23 members to 17, with a greater emphasis on having at-large directors with a variety of perspectives.
In addition, all the committees and task forces were re-seated this year, with the exception of the Zone committees, which will be re-seated in 2021. They welcomed 30 new members, many of whom came through committee interest forms or from recommendations from current volunteers.
"One of our most important jobs is to make sure there is a good pool of successors in the wings," said Babick. "We are creating and implementing a training leadership program for all levels. Other than board term limits, USHJA has never utilized chair limits, but term limits are important. An infusion of new blood must be balanced with the potential loss of institutional knowledge. This year was stressful, and I will note this was a place I could've done a better job."
The board also hammered out details for a strategic plan through 2025. It includes establishing an independent IT program, which will be spearheaded by Summer Stoffel's data company Equicore; implementation of a development department; an evaluation of the annual meeting, which may become a hybrid of in-person and online in the future; a review of the USHJA's 28 programs (excluding Zone-run programs); competition calendar management and licensing of USHJA properties; the creation of an Inquiry Committee; and sport growth opportunities.
Babick and USHJA board member Britt McCormick addressed the calendaring system. While the USEF controls the sport calendar as required by the Ted Stevens Act, USHJA plays a role by advocating for members and providing input in the mileage-rule-exemption requests.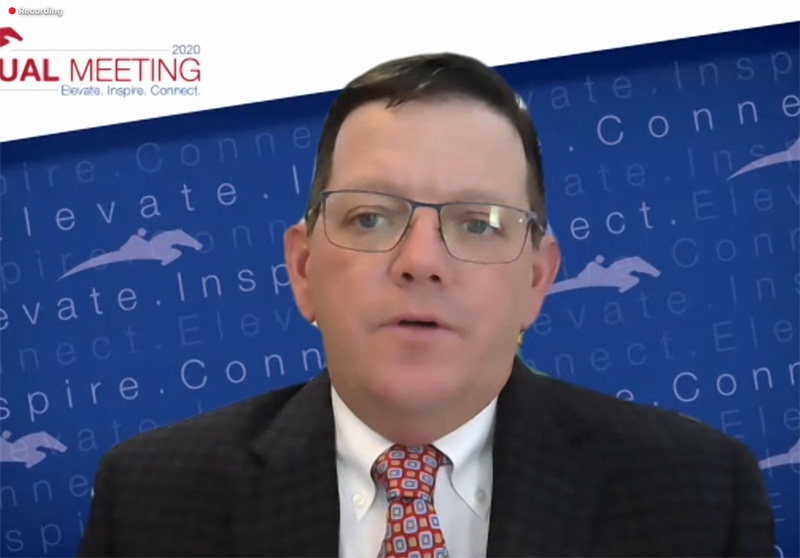 McCormick said the USHJA can control how it allocates its own championships and classes and needs to continue re-evaluating its own properties.
"We need to figure out a way to combine or bundle USHJA properties and make them more attractive," he said. "We're a trainer-driven industry. If we're going to get people to go, we have to make them attractive to competitors, trainers and show producers."
Other Points Of Note
• USHJA board member Joe Dotoli spoke about the Virginia Tech Helmet Lab, which aims to raise $450,000 to support equestrian helmet research. The USHJA has made a $100,000 commitment toward that goal.
Currently, helmets are ASTM approved but aren't rated more specifically according to which are safest. The Virginia Tech Helmet Lab evaluates various helmets in sports-specific settings and assigns a rating of between one and five stars to indicate how protective it is. Once they undertake testing equestrian helmets, this information will help consumers and will steer the design and manufacture of helmets.
• David Loman, head of the newly formed USHJA Diversity and Inclusion Advocacy Committee, spoke about that group's goal and mission. He suggested that part of the solution to sport growth and keeping equestrian in the Olympics lies in broadening the base of the pyramid and intentionally reaching out to others.
"We are working to create a place where we all belong," he said. "We were not created to change the world. We were created because the world has changed."
• The USHJA Instructor Credential Program received an overhaul. It begins with online education and quizzes covering everything from stable management and riding theory to concussion protocol and athlete wellness. After completing the online educational content, those seeking the credential participate in a two-day workshop where they practice and review, followed by an evaluation.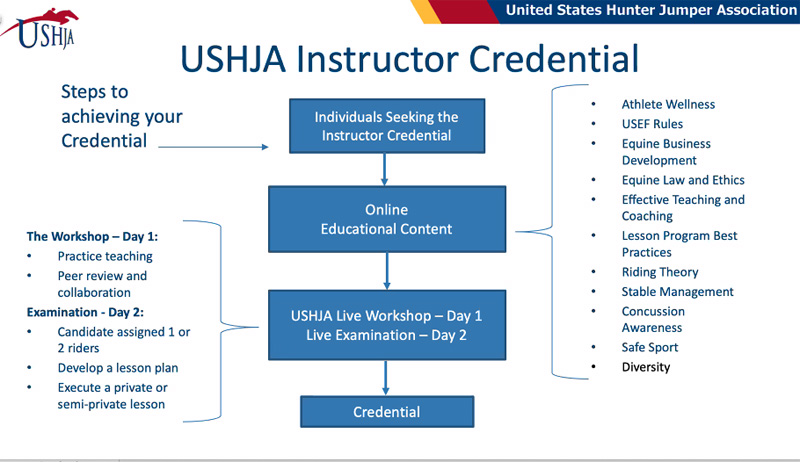 • The USHJA Outreach program also got a facelift with three categories available to show managers: 1) individual outreach classes existing within a competition that is not recognized; 2) a fully sanctioned schedule at an unrecognized competition; 3) a fully sanctioned schedule within a recognized show (which is the current option).
• Enrollment is now required for all international hunter derby horses, with 60% of enrollment fees offered back as prize money. Anyone who wants to participate but currently does not own a derby horse can purchase a slot at the current rate earlier in the year. There will also be six regional championships.
• The Green Incentive Program will expand regional championship offerings from four competitions to six.
• The national hunter derby program will also have six regional championships.
• Riders competing in the children's and adult amateur hunters, as well as Zone-recognized divisions held below 3' can compete in a hunter team challenge, which will run concurrently with their eligible division. The highest-placed teams will do another round the following day and will receive ribbons.
• The USHJA's first Young Jumper Championships are scheduled to take place Sept. 8-12, 2021, in Traverse City, Michigan.
• The USHJA National Championships will return to Las Vegas, Nov. 15-21, 2021. The competition will run in three rings and will include expanded offerings in the affiliate equitation and the child/adult jumpers held at .70-, .80- and .90-meters.
•The Feed Aid program was launched in May 2020, and it assisted 3,071 lesson horses across 200 facilities with the total amount of aid approved coming to $111,630.