With some broken ribs, most people would take a few days off work, relax and take it easy. Not Buck Davidson. Buck Davidson breaks a few ribs and spends the next day riding five horses around a three-star CIC—and winning the division!
Davidson suffered the injury on Aug. 22 in a fall from a two-star horse competing at the Richland Park Horse Trials, but he wasn't going to let that get in the way of piloting his longtime partner, Ballynoe Castle RM, to the top of the Adequan USEA Gold Cup CIC*** division.
"I broke some ribs in my fall yesterday so I was not on my 'A' game," said Davidson. "I'm not joking when I say I usually let [Ballynoe Castle RM] go at his own pace, but today I was just too sore to go that fast. For sure it was not as smooth as it could have been; once you pull on him he starts to pull on you. My goal was just to get balanced and try to survive today. I did the math and figured Jennie [Brannigan] would make the time, and figured that some others wouldn't, so it gave me a bit of a cushion. He is a champ. He looked after me. He was awesome, as all my horses were. I'm very proud of them."
This is the second time that Davidson and Carl and Cassandra Segal's 15-year-old Irish Sport Horse gelding, Ballynoe Castle RM, have won the CIC*** at Richland Park, having previously being named champions in 2011.
There were not optimal conditions today for Davidson and his five CIC*** rides as the times were moved up due to the impending weather, and he had to ride every 18 minutes.
A double clear round bumped Jennie Brannigan and Nina and Tim Gardner's Cambalda up from fifth to second, finishing just a little over 1 point behind Davidson.
"It is a great event," said Brannigan. "I have been joking around for ages that I have always wanted to win this event, and I have been second a lot. I have been second to Buck before in a tie at this event so I am laughing. Buck is a great guy and we have gone head-to-head a few times on these horses. This was his weekend to win."
Brannigan didn't go home without a blue ribbon, though. She topped the CIC** division on Catalina.
Emily Beshear and Shame on the Moon adding 5.2 time penalties to their overnight score to drop from the tie for second to third in the CIC*** standings.
Wire-to-Wire Win For Kim Severson
It's a good thing the CIC*** times were moved up as the skies literally opened up as the last advanced riders were on course, and the brunt of the storms occurred during this division's original times.
Kim Severson didn't let the schedule change or weather rattle her, although a mistake with the posted optimum time proved to be quite confusing. As she crossed the finish line in Cooley Cross Border's first advanced start, Severson thought for sure she had added a ton of time penalties to her score. However, the posted optimum time was incorrect, and she actually finished only 1 second over optimum to win the class wire-to-wire.
"He was great; I had questions just like everyone else," said Severson of the Cross Syndicate's 8-year-old Irish Sport Horse gelding (Diamond Roller x Whos Diaz). "I knew that he could jump the jumps; it's just a matter of whether he was going to put it all together. He was terrific—out of the sunken road he was especially good, and he was great everywhere. No complaints, he is such a nice horse."
Cooley Cross Border is quite a large horse and not the same type of ride that Severson is used to, but they have worked hard to figure it out over the years. "He is very different for me, and I often times think that I don't ride him very well," continued Severson. "He has a big step, and he is harder for me to ride, but he is such a lovely horse and he is genuine and we know each other very well."
Holly Payne Caravella finished two horses in the top-five of the Advanced, Santino in second and Never Outfoxed in fifth. Matthew Brown and Super Socks BCF rounded out the top three, having moved up from sixth after dressage.
See full Richland Park Horse Trials results…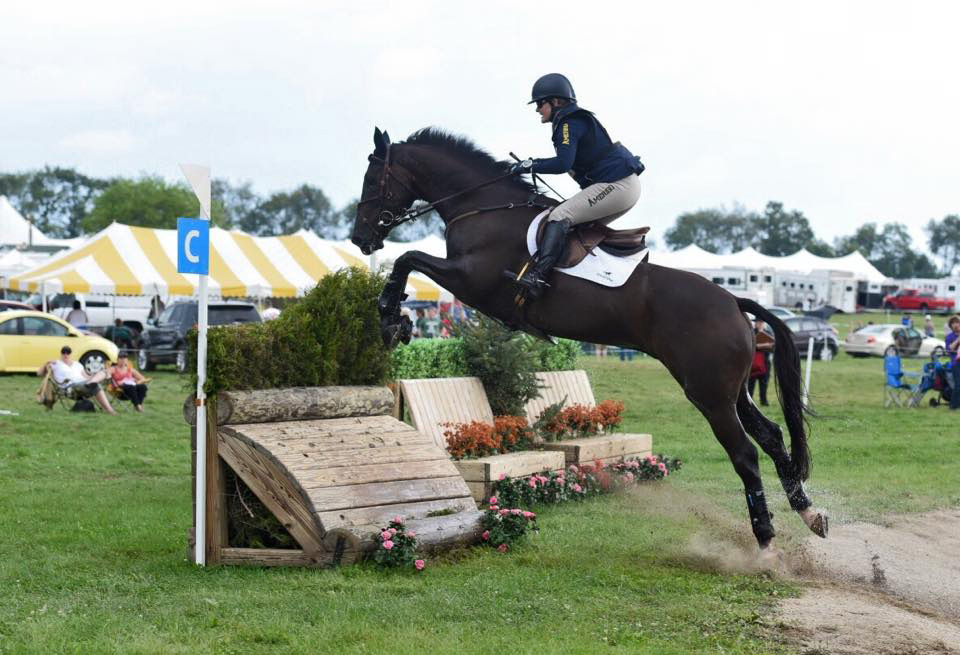 Kim Severson on Cooley Cross Border on their way to the top of the advanced division at the Richland Park Horse Trials. Photo by Leslie Mintz/USEA