Chip Miller brings the best out of the quirky timber talent.
Even when not at his racing best, jockey Chip Miller gets the job done. His win in the $100,000 Virginia Gold Cup with Arcadia Stable's Bubble Economy, May 3 at Great Meadow in The Plains, Va., was just proof that sometimes it is good to be the veteran.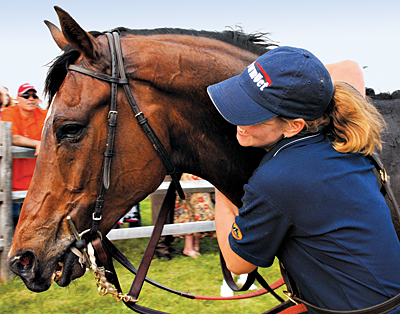 Miller accepted the ride from trainer Jack Fisher back in March. He had deftly piloted last year's winner, Irvin S. Naylor's Salmo, a horse no one thought would win, much less finish. However, Miller was expecting to have had more than two sanctioned races under his belt by the first Saturday in May.
And this was no minor timber meet. Now the most expensive timber race in the United States, many owners were hoping to get their names etched on the gold trophy. Some of the contenders included Kinross Farm's Miles Ahead (Chris Read), who had won this race in 2005 and 2006. Monte Bianco (Xavier Aizpuru) and Hot Springs (William Dowling) were just coming off good wins. Erin Go Bragh (Paddy Young ) had run well in My Lady's Manor (Md.) in April, and Straight Gin (Calvin McCormack) had won two big point-to-points this season.
As expected, frontrunner J. Alfred Prufrock (Conrad Somers) led from the start but was soon overtaken by Move West (Jody Petty), who did most of the 4 miles unchallenged. At Fence 18, Straight Gin chipped in and fell. Bubble Economy narrowly missed him. Both Straight Gin and McCormack were fine.
After Fence 19 (the water jump) it was game on, and Miller asked a little more of Bubble Economy. As they made the turn for home, he found he had plenty left in the tank.
The last fence was not pretty by any standards, and Bubble Economy, Miles Ahead, Monte Bianco, Hot Springs and Erin Go Bragh awkwardly spilled out into the stretch.
Hot Springs was the first to break away from the pack, then Monte Bianco. Miles Ahead made a sudden surge at the end, but Bubble Economy had found a fifth gear and drew away to win by 1⁄2 length over Miles Ahead. A gaining Hot Springs placed third a head back while Monte Bianco took fourth.
Miller gave all the credit to Bubble Economy, a horse he had not raced until that day.
"You don't ride as well when you don't ride very much," the 37-year-old Miller said. "That's the hardest part, not being racing fit. I am physically fit. I do yoga, I run and ride every day, but I was a little race rusty. When you become like I am, older, not riding first call, you ride second or third call for a lot of people."
The Pennsylvania native said it is much easier riding a timber horse cold in a race, than a young hurdle horse.
"Timber horses are smarter, and they are older," said Miller. "Nice timber horses like Bubble Economy are so much easier to ride. It's a higher level of communication, and they understand what you are trying
to say. Whereas younger horses, hurdle horses, may not really know what you are trying to say until you get there, and then it may be too late."
As bunched as they all were, Miller could not believe Bubble Economy stayed upright when Straight Gin fell.
"When my horse landed, he jumped Straight Gin in a bounce," Miller said. "I was in the air when the other horse fell. I just said 'oh no' and actually went to let go because I thought we were going down for sure. To jump another horse, at racing speed? It just gives you goose bumps."
Miller added about the last fence, "It was just true grit. He was absolutely all out right before the last. All you can do is try to keep him straight. We all made hash out of that last fence, but everyone recovered."
This is Bubble Economy's biggest win to date. The 9-year-old grandson of Northern Dancer was the 2004 National Steeplechase Association's Timber Horse of the Year. In 2007, after winning the Grand National (Md.) he was one of four horses Fisher brought to the Virginia Gold Cup and considered a favorite, but Bubble Economy and rider Diana Gillam came to grief at the last fence.


A bit of a quirky horse, Bubble Economy came back in the fall to run in the 2007 Pennsylvania Hunt Cup, but like a bad pony he ducked out of the first fence, pitching Gillam into the wing. Fisher put jockey Paddy Young up, and the pair won the last timber race of the year at the 2007 Colonial Cup (S.C.), but not before he dumped him on the way to the start.
This win gives Fisher his 10th win as a trainer at the Gold Cup.
"I would like to take him in both the Maryland Hunt Cup and the Gold Cup, but he is better suited for this race," Fisher said. "I chose Chip because he's quiet. I told him to watch that he does not quit on him at the last fence and to get a lead."
Certain Wins
Alnoff Stable's Be Certain gave jockey Padge Whelan another win for trainer Tom Voss in the $30,000 allowance hurdle. The pair avoided a spectacular unintentional dismount by Xavier Aizpuru when his horse, Gil Johnston's Swagger Stick, left his hindquarters at the water fence.
Be Certain raced neck and neck in the stretch with William Pape's Lead Us Not (James Slater), but Be Certain pulled away to win by a 1⁄4 length.
Voss was pleased with his win against such good company.
"He was always sort of knocking at the door," Voss said. "He's not as good as he could be, still is a little bit green with things and he was a little behind most of that group. He always was a pretty good jumper so he could get away with a little bit more. He did enough today."
Aizpuru fared better with Ann Stern's newest acquisition, Duke Of Earl, in the $20,000 starter allowance hurdle. Barely a horse, The Duke, as he is known around the farm, has the same markings as his more famous stablemate, Harold Via's Good Night Shirt.
His jockey said The Duke never gave up and won by a length over Fisher's other entry, Cohiba Stable's Mark The Shark (Dowling).
"The Duke is just the coolest little horse to ride," Aizpuru said. "He has the heart the size of Good Night Shirt. He's so little and was carrying 154 pounds today, and you can't help but feel bad for him. Mark The Shark nearly lost his rider at the second to last. That gave us an opportunity, and my horse took advantage of it."
One Door Opens
With the recent retirement of Kinross Farm's big stakes horse Sur Le Tete, Kinross trainer Neil Morris is looking for a new flag bearer, and he may have found it with Run The Light.
The 7-year-old chestnut son of 1994 Preakness (Md.) and Belmont (N.Y.) stakes winner Tabasco Cat made short work of the others in the stretch, winning by more than 4 lengths in the $25,000 maiden hurdle.
Kinross jockey Chris Read was pleased with his effort. "I looked around and was surprised that there were not more horses coming at him," Read said. "He's a young horse, still a little green at it, but he did well."
Morris first brought him to Great Meadow in the fall at the International Gold Cup to run on the flat, where he won the race easily. Morris said patience has been key with this big horse.
"We have taken the spring to make him into a hurdle horse," Morris said. "Like Chris said it was a nice surprise not to see so many horses around him, kind of like a Christmas surprise. Run The Light is cocky, and things have to be his idea."
Redemption
To say trainer Doug Fout, of Middleburg, Va., has had a bad couple of weeks would be an understatement. With his entry in Japan's Nakayama Grand Jump not panning out and a couple of big disqualifications, Fout has wondered just when the bad luck was going to end.
To make matters worse, his stable jockey Matt McCarron went down in a heap with Margaret White's Fernshaw in Run The Light's race and broke his collarbone, yet again. By the time the $25,000 steeplethon started, Fout could only wonder what next could go wrong.
Sometimes called the funny race, the steeplethon is made up of hurdles, ditches, banks, stonewalls, timber fences and has a large expanse of water horses have to gallop though. Hidden Key had won the race at Middleburg Spring Races (Va.) on April 19 with McCarron up, but the pair was disqualified for being off course.
Jockey Paddy Young had no intention of making the same mistake or losing this race on Alfred Griffin's Hidden Key and won it wire to wire in a thrilling stretch duel with Sportsmans Hall's Private Attack (William Santoro).
Fout was pleased with his new kind of race horse.
"In the past, he has not seemed to get the 3 miles," Fout said. "Paddy is the right rider for this course; he just smoked that bank jump."
Young was worried about the distance too, "At Middleburg it's all turns, but at Great Meadow you are flat out galloping. He's not a superstar over timber, but he's a fun little horse," he said.
Sarah L. Greenhalgh