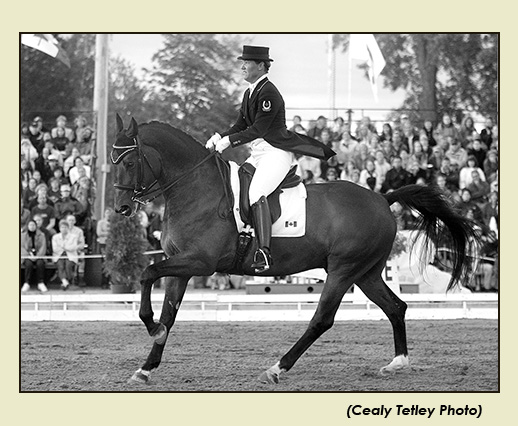 Jacqueline Brooks, Mount Albert, Ont., continued a winning streak at the CDI-W*** Blainville that started in Ottawa two weeks earlier, where she swept the small tour and the Grand Prix. At Blainville, June 27-30 in Blainville, Que., she won the Grand Prix, Prix St. Georges and Intermediaire I freestyle with Gran Gesto and Balmoral, respectively.
After Brooks competed in the Rolex FEI World Cup Final in Las Vegas with Gran Gesto, a 12-year-old Oldenburg gelding owned by Brinc Ltd. and Anne Welch, she was busy trying to qualify for the Pan American Games. Even though she didn't make the team, she said she learned from the experience.
"The more you can show, the better you get," she reasoned. "You can practice all you want at home, but it's like becoming a golf expert on the driving range. You have to get out and play the game."
The Pan Am selection trials were especially taxing, since they involved five days of showing. "But Balmoral learned that he can do five days, and at Ottawa he really understood his job in the ring," she said. "We are training the Grand Prix a bit, and he is stronger and has better balance now. He also has better collection and engagement, and because he is shorter coupled and more compact than Gran Gesto he teaches me a different feeling. They have both been doing clean tests for a long time, but now they are doing correct tests and the extra marks pay off."
Neil Ishoy, Binbrook, Ont., and Lone Star won the Intermediaire I, topping a field of 20 horses. Ishoy imported Lone Star, an 8-year-old, Hanoverian gelding sired by the Thor-oughbred stallion Laurie's Crusador, 21⁄2 years ago. In their first year competing internationally, Ishoy and Lone Star have attracted a lot of attention. At Blainville they earned a final score of 72.20 percent with all five international judges giving scores over 70.00 percent.
"If you give this horse confidence he stays with you and tries all the time," said Ishoy. "In the I-1 I just asked a little more of him; I started conservatively but pushed more, and he rose to the occasion. The hard thing is when they try so hard, you can't ask for too much too fast."
Ishoy, 47, whose wife, Cindy, was a member of the Canadian dressage team that earned the bronze medal at the 1988 Olympic Games, represented Canada at the 1980 Alternate Olympics and the 1982 World Championships in eventing. Together, the couple operates a dressage training and sales business, Ishoy Enterprises, near Hamilton, Ont.
Daphne Haagmans, of Barrie, Ont., finished second (68.10%) to Neil Ishoy in the Inter-mediaire I riding Nimos, her 12-year-old, Dutch Warmblood gelding.
Brooks finally saw her winning streak come to an end as she and Balmoral, an 8-year-old, Canadian-bred gelding purchased for her three years ago by Anne and John Welch, Nick and Jean Vimos, and Brinc Ltd., placed third (66.85%).
Belinda Trussell, of Stouffville, Ont., earned the same score as Brooks but lower collective marks left her in fourth place with Grand Marnier, a 10-year-old, Hanoverian gelding owned by her husband, Mark Trussell.
Tom Noone of the United States made his trip north worthwhile by claiming fifth and sixth places in the Intermediaire I. With Just For Fun 13, Noone earned 65.80 percent, while Incognito, a colorful pinto Dutch Warmblood gelding, scored 65.65 percent for sixth position.
Holzer Shines In Freestyle
Ashley Holzer, New York, N.Y., placed third in the Grand Prix when Pop Art decided that he was not in the mood to piaffe, but on Saturday night the 10-year-old, Dutch Warmblood gelding danced to victory in the "Musical Freestyle Extravaganza" that closed out the competition. More than 2,500 people—tickets sold out for the 10th year in a row—crammed into the bleachers and the VIP tents. VIP ticket holders enjoyed an eight-course French meal as they watched the evening's entertainment.
A Toronto native, Holzer was the first Grand Prix competitor into the ring and set a standard that none of the other five riders could match. With world-class piaffe and passage, Holzer and Pop Art were a picture of quality and harmony. The panel of five international judges rewarded them with a score of 77.20 percent.
"Blainville is my favorite show," said Holzer, whose long list of achievements includes a team bronze medal for Canada from the 1988 Seoul Olympics. "It is great that they build a show just like you would find in Europe. You can bring your family and friends, and they are treated to a real night of entertainment. I think that it is just as good—no, better than Devon [Pa.]—and I would encourage the Americans to compete here. Just look at how many people, horse people and locals, are here to watch, at 11 p.m. in the cold! This is a real horse show."
Brooks gave Holzer a run for her money with an extremely well-ridden freestyle to music from the feature film, Alexander, that earned high artistic marks. Her score of 75.30 percent put her solidly in second riding
Gran Gesto.
Nova Scotia's Cheryl Meisner, 25, rose to the occasion riding Paginini, a 10-year-old, Dutch Warmblood stallion owned by Lobster Point Farms. Having spent the winter training with Bert Rutten and competing in Europe, Meisner and Paginini were animated and active and had interesting choreography to earn a score of 68.70 percent.
While Brooks settled for second in the Grand Prix freestyle, she was the clear winner in the Intermediaire freestyle, during which she and Balmoral had the crowd on its feet at the end of an exciting performance to music from Pirates Of The Caribbean. Brooks' ride was brave and daring to earn a score of 76.00 percent.
"I'm thrilled," said Brooks. "When a horse tries that hard for you it's amazing. The crowd made it better, and Balmoral was very comfortable in the arena. Horses learn what it's all about, and once they turn that corner you are just the supporting cast. He was really, really 'on'—we came through the gate and we were here!"
Trussell, who is showing Grand Marnier at the Intermediaire level for the first time this year, placed second with a score of 71.35 percent.
Wilson Tops Young Riders
Leah Wilson, 20, Orangeville, Ont., claimed both the team and individual FEI Young Rider tests riding her 13-year-old, Russian Warmblood gelding Dostoevsky. Wilson also placed second in the team test riding Westside Lady, owned by Sue Platz. Wilson hopes to compete Westside Lady at the North American Junior and Young Riders Championship to be held in Lexington, Va., in August.
"I made the team the past three years; twice I went to the championship and my horse didn't pass the jog and last year I had to withdraw just before the competition," said Wilson, a third-year psychology student at Wilfrid Laurier University (Ont.). "The third time was not a charm so maybe the fourth will be!"
Wilson also competed at Ottawa the week before and said, "Two CDIs back to back is a lot for them. I was very happy with her."
Looking forward to the NAJYRC, Wilson said, "Just getting in the ring is my goal; I have no expectations. Of course, I'd like to do well and for 'Sadie' to have a really good test. She can pull off some really good scores. This is my last year as a Young Rider. I want to compete nationally and internationally someday, and I think the championships are a good experience."
The Young Rider freestyle was hotly contested as Blainville was the final opportunity for competitors to qualify for the NAJYRC. Brittany Fraser, of New Glasgow, N.S., edged ahead with a final score of 66.91 percent. Riding to music compiled by Canadian freestyle designer Karen Robinson of Applause Dressage, Fraser claimed victory aboard Furio, her 11-year-old, Danish Warmblood gelding.
In close second was Cecile von Martels, of Ridgetown, Ont., who rode Downtown to 66.58 percent while Julie Watchorn, of Schomberg, Ont., riding Quintesse performed to Amadeus to take third (66.33%).
Jade Deter, of Kemptville, Ont., went undefeated in the FEI Junior division open to riders aged 14-18. On Friday, she won for the third day in a row, earning a score of 71.00 percent for her freestyle performance with Mastermind, her 10-year-old, Westphalian gelding.

Amber Heintzberger