The 2020 Washington International Horse Show concluded with a victory for 14-year-old McKayla Brombach in the WIHS Pony Equitation Finals on Oct. 25 at the Tryon International Equestrian Center.
Brombach, who hails from Wimberley, Texas, only had one goal after making her way to the WIHS Pony Equitation Finals this year—have a good experience with her pony California Dreamin', owned by Millennium Farm, Inc. She never expected she would walk away the winner in her first appearance at WIHS.
At the conclusion of the two-phase final, which included an over fences round and flat test, Brombach and California Dreamin' were left standing next to Alexa Lignelli of New York City, riding Agatha Lignelli's Chiccobello. Alexa finished as the reserve, while Ava Hartman of Marietta, Georgia, was third riding her own Sugarbrook West Point.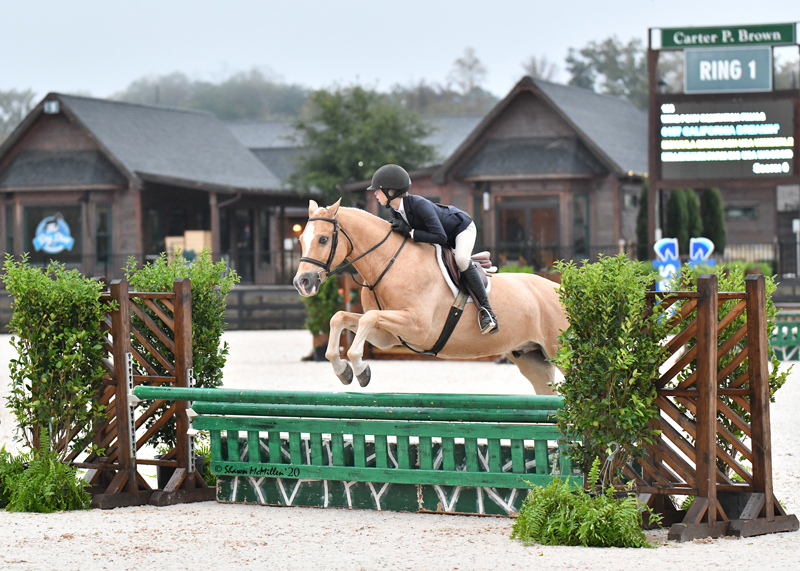 "It was overwhelming, and the first time I think I have done well at this kind of final," said Brombach, who is a ninth-grader doing online school at Connections Academy, which allows her to focus on her competing while balancing school work. "This was a big deal for me. I couldn't believe it was happening; it felt like a dream!"
California Dreamin', an 11-year-old palomino German Sporthorse gelding came to her family's farm as a sale horse. McKayla trains with her mother, Colleen Brombach, at their own Silver Fox Farms. McKayla started riding "Cal" just over a year ago and has quickly fallen for the pony's charm.
"At first, it was a little rough because he had his quirks," she said. "Sometimes things don't go as planned, but he always makes me happy. He kisses me on the face and makes me feel all better about anything."
After a successful winter season in Florida, the pony's owners decided to keep him with McKayla for the duration of 2020. "We had a great show at [the Winter Equestrian Festival (Florida)], and we kept getting better and better," said McKayla. "He is very special to me, and I don't think I will ever forget him."
While McKayla is just starting high school, she is already looking ahead to college. Following in the footsteps of her older sister, Brooke Brombach, she hopes to one day attend Texas A&M University to compete on its equestrian team.
Rounding out the top five in the WIHS Pony Equitation Finals, Ava Berman of New Freedom, Pennslyvania, took fourth riding her own Valentino, while Olivia Sweetnam of Wellington, Florida, placed fifth with Sweet Oak Farm's On Your Mark. Sweetnam was also presented with the Gochman Style of Riding Award from WIHS President Victoria Lowell at the conclusion of the class.
WIHS Equitation Finals
1.  McKayla Brombach/California Dreamin' (Wimberley, Texas)
2. Alexa Lignelli/Chiccobello (New York, New York)
3. Ava Hartman/Sugarbrook West Point (Marietta, Georgia)
4. Ava Berman/Valentino (New Freedom, Pennslyvania)
5. Olivia Sweetnam/On Your Mark (Wellington, Florida)
6. Hayley Hewitt/Enough Said (New Canaan, Connecticut)
7. Addy Wingate/Foot Steps (McLean, Virginia)
8. Grace Rabb/Carnival (Fort Mill, South Carolina)
9. Kaylin Schulthorpe/Quicksilver Electric Slide (Freehold, New Jersey)
10. Ava Messer/Why Not (Vestavia, Alabama)