Upper Marlboro, Md.—Oct. 30
Vivian Golden couldn't have had a better weekend at the Washington International Horse Show. She swept the large pony hunter division aboard Brixton and Royalist after great rounds, and Brixton won the grand pony hunter title as well. The ponies' owner, Betsee Parker, also retired the division trophy, as her For The Laughter won that trophy twice in previous years.
Olivia Sweetnam scored a 91 in the large pony handy hunter class aboard Prince Charming, and Brixton was next in the ring. Golden kept her cool to score a 93 and the win. She clinched the championship with a win in the stake class.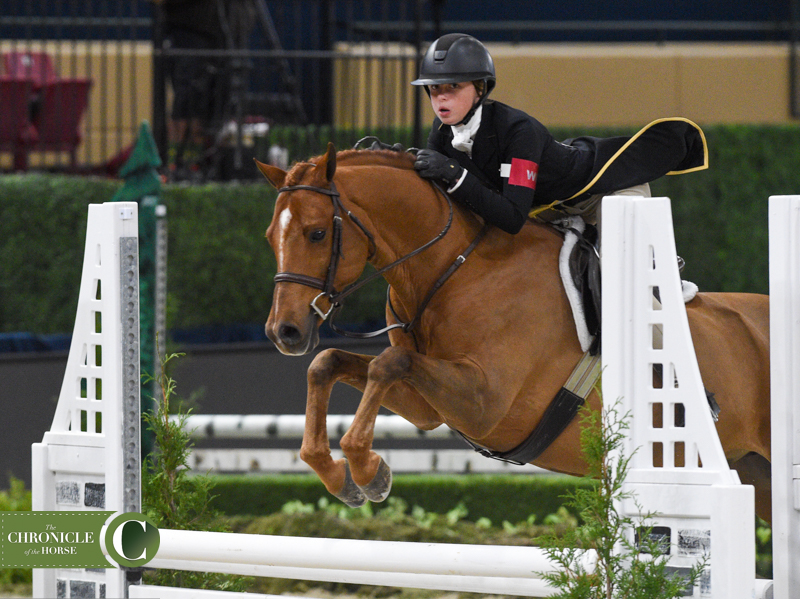 "I like it when people get a big, high score because I know I can go in and beat them," said Golden, 13. "I know I can ride just as well.
"Brixton was amazing. He was very light and looking at the jumps," said Golden. "He wasn't too quiet and wasn't too fast. He was just so nice to ride today."
Golden also rode Brixton to fourth in the Washington International Pony Equitation Final.
"He's very sweet and loves to lick everybody," she said. "He has a very funny personality. He'll go in the ring and put his ears up to look at everything. He thinks he's the best. I've been riding him since January. I love to ride soft and leave them alone, and he likes that too, so we're a good match."
Brixton lives with trainer Scott Stewart at his Rivers Edge Farm in Flemington, New Jersey, and Golden occasionally travels from her home in Wyomissing, Pennsylvania, to ride there. But mostly she meets up with Stewart and the ponies at shows.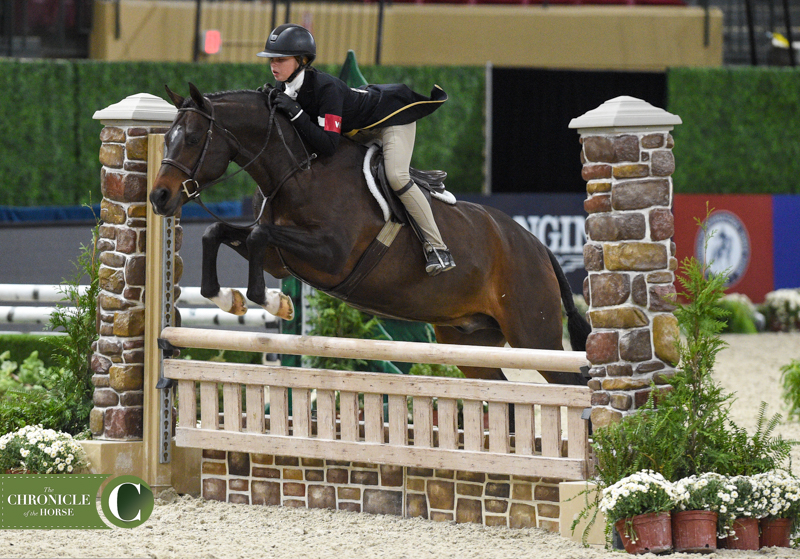 While Brixton is a championship veteran, Royalist is a newer mount for Golden, so she was especially impressed to have him finish as a runner-up to his barnmate.
"He is green—this is his first year," she said. "We came here no expectations, just hoping to have a nice round. At Capital Challenge [Maryland] he was amazing, at Harrisburg [Pennsylvania] he was amazing, and here he was great."
In It For The Cupcakes
Ava Barnes had one goal coming to the Washington International: Go home with some of the Georgetown Cupcakes that are awarded to division champions. While she didn't finish with a tricolor in the hunter divisions, she got her treat when she topped the Washington International Pony Equitation Final.
Barnes tacked up her own Prestige for the final, riding him to a score of 89 right behind J.J. Torano, who scored a 90. The two swapped places in the flat phase.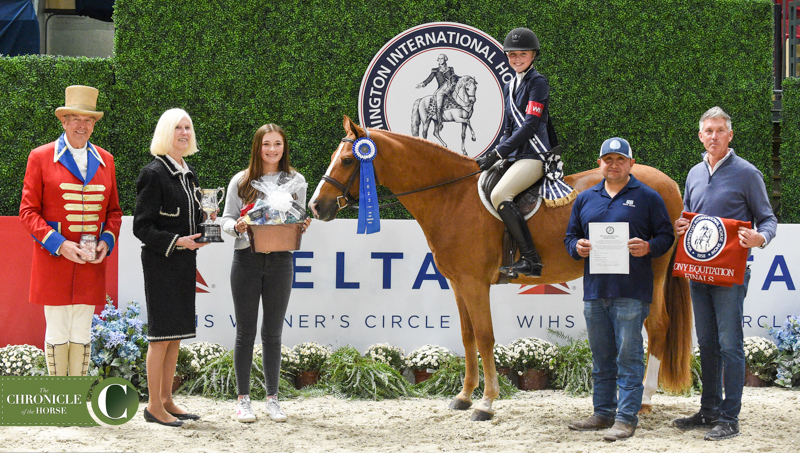 "The flat phases are my favorite parts of horse shows. I feel really confident going into them," said the 13-year-old.
This marks Barnes' second time in the WIHS equitation, having finished fourth here last year.
"He's very comfortable to ride, and he's really sweet," said Barnes. "When I walked in, I was a little bit nervous because I wanted to do well. I was really nervous going to the last jump because I knew I had a good round. I just didn't want to pop chip, or have a swap, or hit a rail or anything."
And when she left the ring she knew he did a good job, because her trainer David Belford gave her a high-five.
Barnes came to Maryland from Liberty Township, Ohio, about 45 minutes from Belford at New Hope Farm, and she makes it to the barn four or five days a week.
"At home we work a lot on the flat and do some jumping, plus some gymnastics with the equitation horses," she said. "We don't work on one specific thing in lessons, we just work on everything."
Dream Big Makes It Happen
Last year Reagan Jarrett didn't have the best horse show at the Washington International. Her pony Dream Big perked up a bit at the cooler weather in Tryon, North Carolina, where the show was held last year, and showed off her freshness. But this year she turned it around, winning the conformation hunter class and picking up two thirds over fences today to claim the division championship over Baby Blue and Elle Boyd.
"At [the Pennsylvania National] the first day wasn't the best day and then I had a really good first trip the second day," said Jarrett, 11. "Here I was just hoping that I was consistent."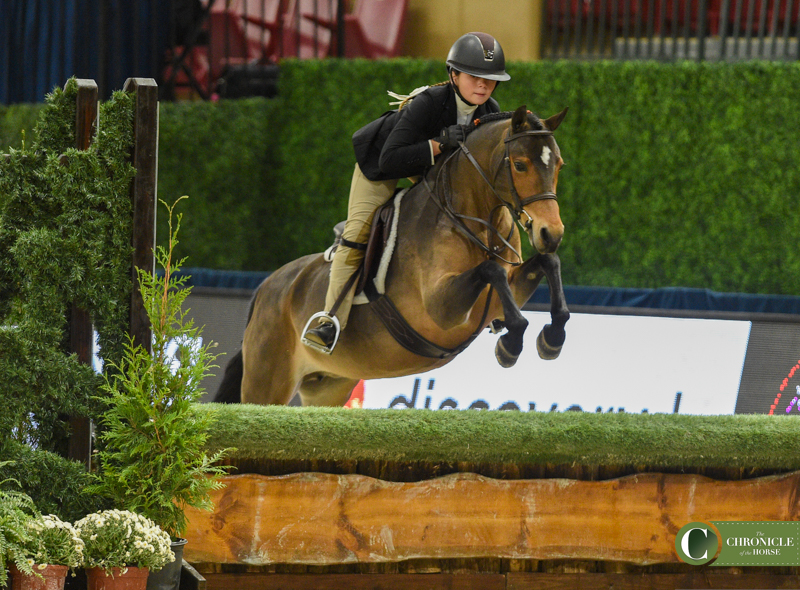 She tied her all-time high score on "Andi"—88—to take the championship ribbon back to Center Valley, Pennsylvania. There she works with Ashley Hartman with Andi and a few other green ponies.
"I like lessoning with her and training with her because if there's something wrong we'll have a whole lesson where we work on that thing," she said.
"With Andi, a lot of the times since I'm the only one that rides her, so sometimes she gets used things that I do, little things that are not good that she learns to [take advantage of], she continued. "We have to work on those. A lot of times we work on using more outside rein."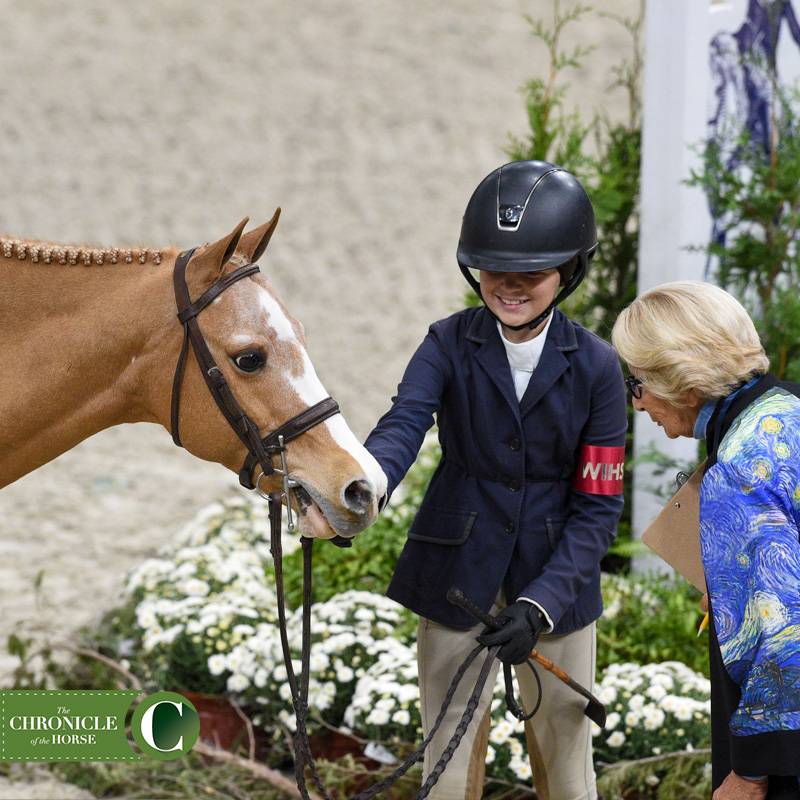 One of Jarrett's favorite things about Andi is her personality.
"In the barn if she hears a crinkle or a little bit of a treat she will basically attack you for a treat," she said. "She is very excited in the barn to see everybody passing by and everybody saying hi to her."
A Clean Indoor Sweep
It's hard enough to win a championship at one of the shows on the fall indoor circuit, but Paris Charm managed to win the medium pony hunter title at all three of the shows where ponies are held: Capital Challenge, the Pennsylvania National and Washington International.
She and Torano won the conformation hunter class and the under saddle to take the title back to Wellington, Florida.  Collin Sweetnam claimed the reserve title with On Your Mark.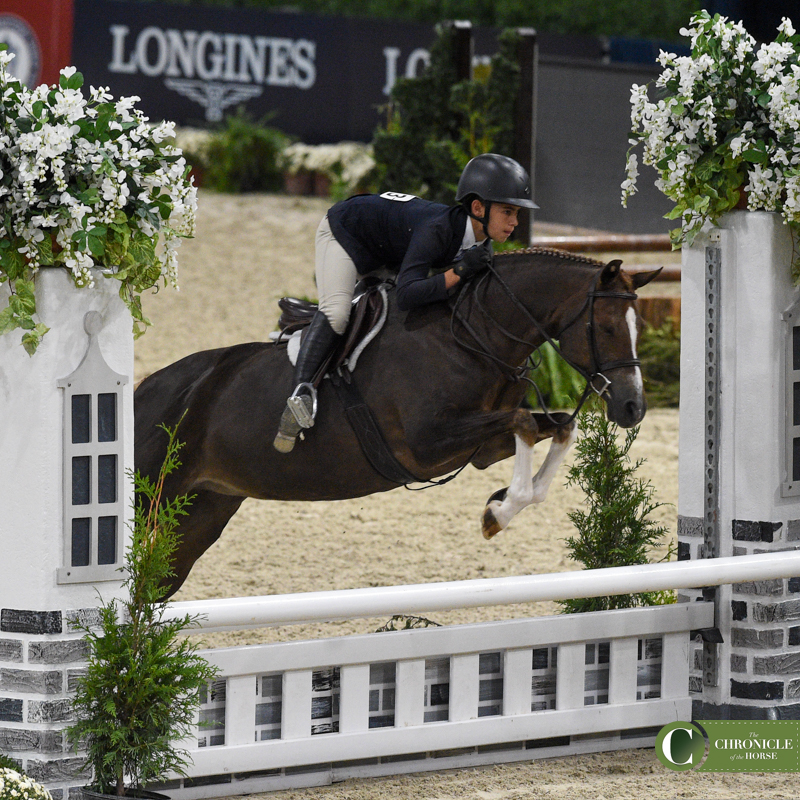 Torano described "Paris" as a little quirky on the ground, especially to mount.
"The first day [we rode her] me and my mom both fell off of her," said Torano. "Then my mom from there on spent time with her. The first couple days she spent 45 minutes [to get on], then it went to 40, 30, finally it got to like 10, five minutes. Then now it's just step on the ladder and get on, it's easy."
Torano, 12, trains with his father, Jimmy , out of JET Show Stables. The Toranos co-own Paris Charm with Megan D'Amico.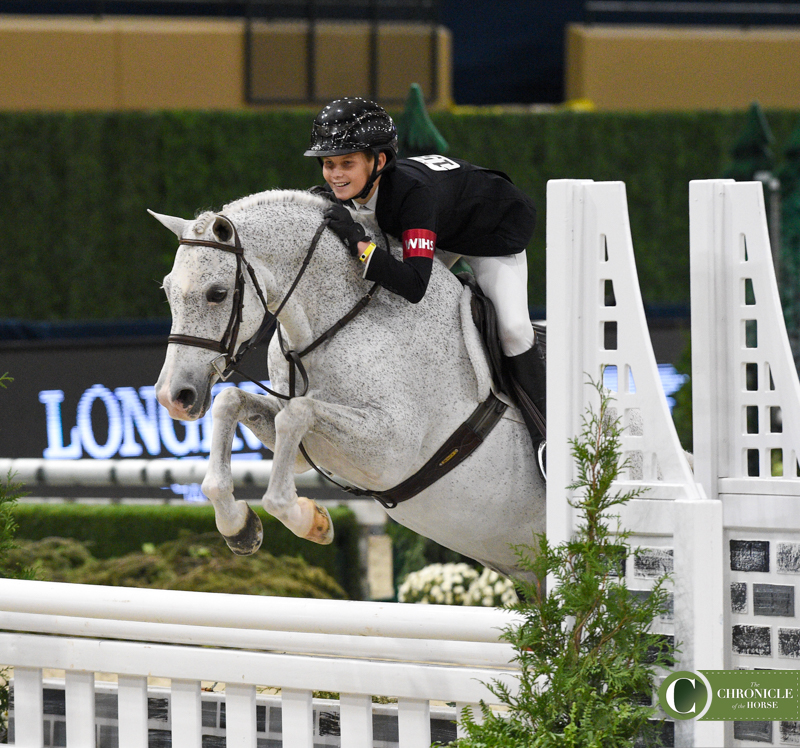 "J.J. has got a really good relationship with her," said Jimmy. "They've done great, she was champion at all three indoor shows so obviously a great match. And he really knows how to deal with her, she's come along really well and a really solid citizen in the ring.
"She's very consistent; she's won a lot," he continued. "She's leading the country without even trying. She'll be horse of the year. To be champion at all three indoors is a huge deal. Nobody else did in any division."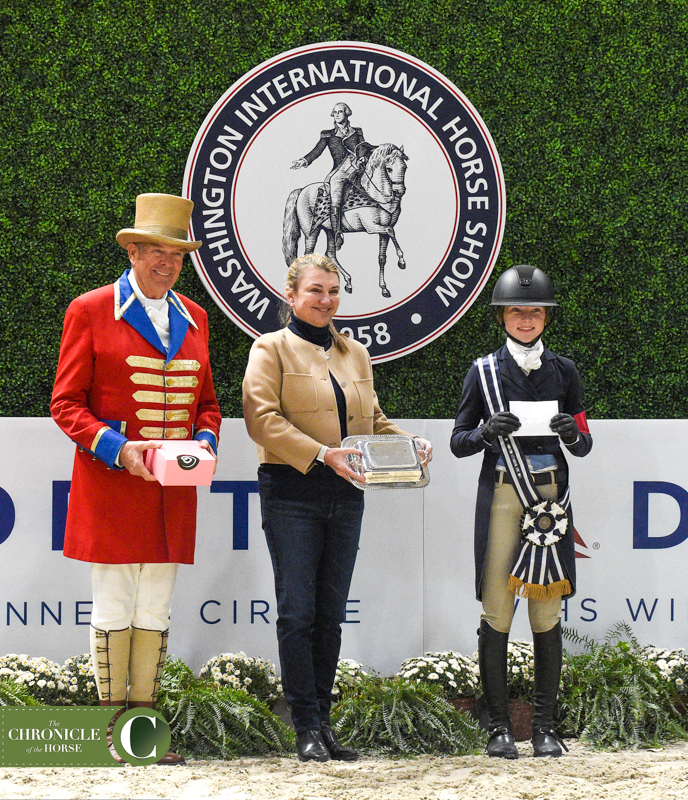 Find full results here. Want more Washington International? Check out all the Chronicle's coverage here. You can see more news and analysis in the Nov. 21 issue of the magazine.