She's been out of action since 2006, but Debbie McDonald has a plan to get her mare to the Olympics.
The Olympic contenders on hand at the Cornerstone Event Management Festival Of The Horse CDI-W included a pair not seen in the show ring for a long time—Debbie McDonald and Brentina.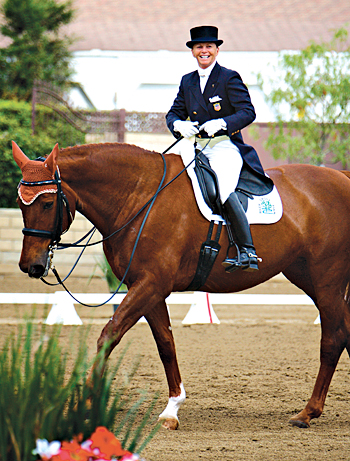 Brentina has essentially been out of competition since the 2006 World Equestrian Games, where she was withdrawn before the Grand Prix Special. Soon after the WEG, the mare was diagnosed with a strained tendon. She was back in work last year, and McDonald took her to Europe for training in the fall only to have her suffer a soft tissue injury during her transport to Europe. That injury sidelined her again for months.
Held at the Los Angeles Equestrian Center in Burbank, Calif., March 27-30, the Festival Of The Horse served as the first CDI outing for the highly popular Brentina. The 17-year-old, Hanoverian mare by Brentano II, owned by Peggy and Parry Thomas of Hailey, Idaho, earned scores above 70, leading
McDonald to feel rather confident that she and Brentina have a good shot at the Olympic team.
"It was just really great to feel that she was even better today than yesterday. Again, at the end of the ride today, she was still all fired up. And I know she's still not at 100 percent. So, there is still much to come back. I really feel that if the two of us can stay healthy, then there's a good chance we'll make it to the trials," McDonald said. "At 17, you only have so many rides left, and each one means so much. I'm thankful for every one I get."
There were no signs of the mare's former injuries at Burbank. Brentina and McDonald finished second in Friday's CDI Grand Prix (70.54%), not far behind Steffen Peters and the 10-year-old, Dutch Warmblood gelding Ravel (70.87%). They came back the next day to win the CDI Grand Prix Special with a 72.88 percent.
McDonald was thrilled with breaking the 70 percent mark in both tests considering that Brentina is still not at her peak.
But Brentina had no lack of energy in her tests. At times she appeared a bit over enthusiastic, and McDonald admitted there were moments when the mare was a bit hard to contain. But McDonald wouldn't want her any other way.
"It's so amazing to feel that she's still so willing and so excited to go down that centerline. She was full of energy," she said.
Some of the perceived energy, however, was tension, which McDonald attributed to the lack of practice with the tests and some of the movements in recent months. Those are issues, however, that McDonald is certain will be resolved in these next couple of months leading up to the Olympic Selection Trials.
Ravel And Montango Win For Peters
While McDonald was basking in the joy of having Brentina back in the show ring, Peters was enjoying multiple CDI wins.
In addition to their CDI Grand Prix win, Peters and Ravel also took blue in the CDI Grand Prix freestyle. The pair earned a 76.45 percent using the same freestyle that Peters had used for his previous international partner, Floriano.
A Quick School
Steffen Peters also competed at Grand Prix with Prince, an 11-year-old, Dutch Warmblood gelding by Hemmingway and owned by DG Bar Ranch. But the pair got off to a bad start in Friday's CDI Grand Prix, leading Peters to withdraw in the middle of his test.
"He got stuck in the piaffe in the beginning, which was a little bit of a surprise because that's one of his strongest things. I trusted him a bit, and I certainly didn't expect it to happen again in the second piaffe. But he's a young Grand Prix horse, and we learn from it and move on," Peters said.
Peters went right from the show ring to the warm-up ring.
"It was very important to go right back into the warm-up and school that particular movement, because once they learn to quit in the piaffe in the middle of the test, that's a huge problem," Peters said. "With younger Grand Prix horses it's not uncommon that they do the first few tests well, and then they figure out very quickly that they can be a little bit more tricky in the show ring. And I want to try to eliminate that."
That decision paid off because the next day Peters placed Prince in an open Grand Prix Special class and scored a 68.46 percent, and Prince even scored two 9s for his piaffe work.
Floriano, now being ridden by Stephen Browning II, son of the gelding's owners Laurelyn and Stephen Browning, was scheduled to compete at the Burbank CDI but withdrew prior to the competition.
Peters said the freestyle was originally designed for Grandeur and was modified for Floriano. It worked for Ravel because, he said, "he and Floriano have similar movement." When it comes time for the Olympic Selection Trials in June, however, Peters will have a new freestyle for Ravel. While he won't divulge
much information on it, he did say that the music will be what he grew up with in the 1980s.
Peters said he's making the freestyle change because new is always more exciting. "And, if we want to place higher, the choreography must become a bit more difficult, and I believe the music could be a touch more exciting. When the new one is done, we will analyze it carefully to make sure it is better," he said.
Peters is clearly keeping track of where riders stand going into the Olympics. He noted that Ravel has an average of about 71 percent. But he's not confident of a spot on the team.
"I'm always realistic with my horses," he said. "All I can predict is that I'll be in my best physical shape and Ravel will be the same. This is his first season at Grand Prix, but he's a solid horse. He's proven himself at three different shows and three different environments, showing that he can handle this pressure."
Peters also collected blue with Montango in the CDI Prix St. Georges (71.08%) and in the CDI Intermediaire I (69.25%).
Montango, owned by James and Mary Keenan, is a 14-year-old, Dutch Warmblood gelding by Contango. Although there were a few mistakes in the zig-zag half-passes and his first change was not clean, Peters was happy with the rest of Montango's Intermediaire I test.
Although he believes the horse has the talent for Grand Prix, Peters said the piaffe will need some work this fall. "The piaffe still creates a lot of tension," he said.
Rising Stars
The Festival Of The Horse hosted qualifying classes for the Markel/USEF young horse competition for 4-, 5- and 6-year-old horses.
Reid Plans To Take Her Time The Canadian pair of Leslie Reid and Orion earned scores at the Burbank CDI that definitely put them in contention for a spot on the Canadian Olympic dressage team. They placed second in the CDI Grand Prix freestyle (70.90%) and took third in the CDI Grand Prix (67.66%).

Despite the pair's good showing, Reid does not have the Olympics high on her list of goals.

"I haven't made the Olympics as a big aim because he's green, really green. So, it's hard to say it's my goal. If he chooses to be confirmed enough and consistent enough through all of these CDIs and we get a spot, then great. But, we'll see," Reid said.
"To take a green horse to the Olympics is a lot of stress," she added. "You just don't know them that well to know how they'll react. And there's just something about the pressure of those big Games that is way different than your biggest horse show, and the horses know that."

Reid said the 2010 World Equestrian Games in Kentucky is more realistic because by then Orion, a 12-year-old Dutch Warmblood gelding (Jazz—Havanna) owned by Patricia Hatch, will be more confirmed at Grand Prix.
The top 4-year-old was Zalona DG, a Dutch Warmblood mare by Olympic Ferro out of Jagermaester and owned by Sandy Harper. With rider Willy Arts, Zalona scored 7.72.
Speaking for the panel of judges, Joan Macartney said Zalona DG was "a lovely young horse, a very elegant horse with an uphill tendency, especially in the trot work." Judges were clearly impressed with the mare's training and particularly with the walk.
"We loved the clear rhythm, the ground covering and the activity of the walk," Macartney said. "We're clearly impressed with this horse. There's lots of potential for much higher marks."
The 5-year-old winner was Chevalier, ridden by Susan Halasz, with a score of 8.64. Chevalier is a Holsteiner stallion sired by Con Air and owned by the Chevalier Group. Halasz has only been working with the horse, who was purchased in Germany, since January.
"He's very beautiful and talented and incredibly good-natured. I'm not surprised that he won today because I think he's really wonderful," Halasz said. "This is really only his second time in the 5-year-old class. He's got an incredible work ethic, and he's just a really cool guy with a great heart."
Hit Parade SFS, winner in the 6-year-old competition, is a Rheinlander stallion by Show Star out of Esprina. Hit Parade scored 8.48 with rider Sandra Burns-Gardner, who co-owns the horse with her sisters, Jeanne Burns and Kathy Schack. They purchased the horse from a friend in the Netherlands, Norbert Geiling.
"He has a really good character and a fantastic work ethic. And, of course, he has beautiful gaits," said Burns-Gardner.
Hit Parade finished fourth in last year's national 5-year-old competition. "He's just a pleasure to ride every day," said Burns-Gardner, who works with Guenter Seidel.
Lynndee Kemmet