Calgary, Alberta—Sept. 13
The Spruce Meadows Masters Tournament concluded with a momentous day of show jumping as Great Britain's Scott Brash jumped to victory in the $1.5 Million CP International riding superstar mount Hello Sanctos. With the win, Brash became the first rider to conquer the Rolex Grand Slam of Show Jumping.
The CP International was the third and final leg in the Rolex Grand Slam of Show Jumping. Prior to his arrival at Spruce Meadows, Brash had won two consecutive legs of the challenge with victories at the CHI Geneva in December followed by a second victory at the Aachen CHIO (Germany) at the end of May.
By topping the final grand prix event at Spruce Meadows, Brash took home the competition's winning prize of $500,000 Canadian (about $377,000). He was then awarded an additional bonus of €1 million (about $1.13 million) for winning all three events in the Rolex Grand Slam of Show Jumping.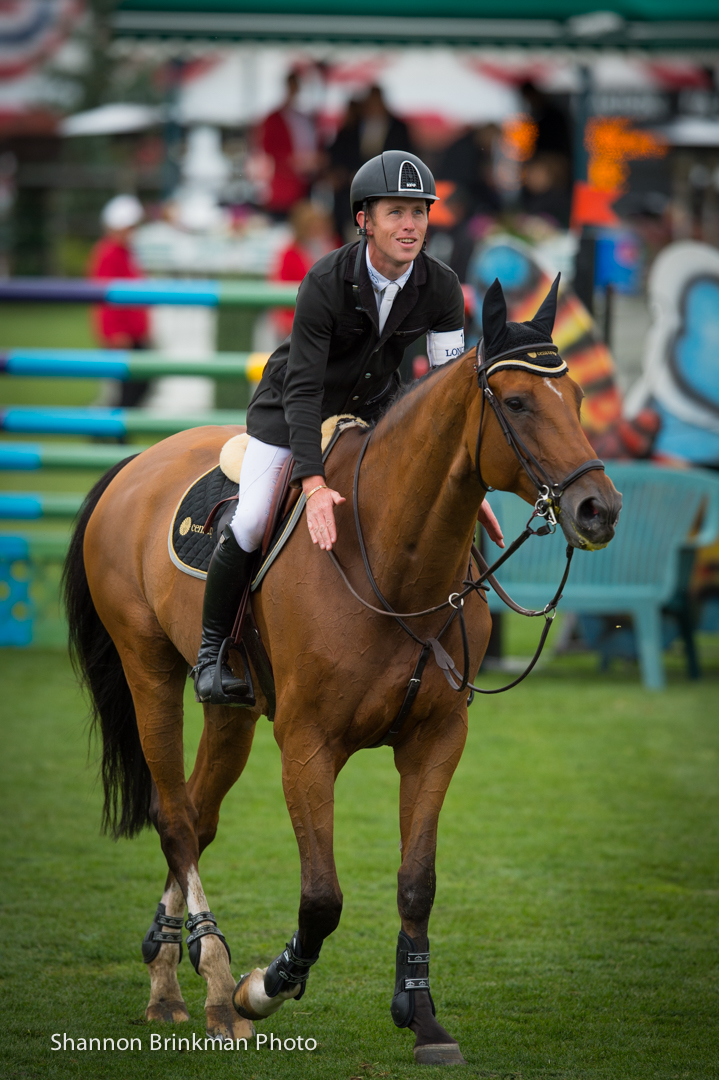 Scott Brash couldn't quite believe that he and Hello Sanctos had really won the Rolex Grand Slam. Photo by Shannon Brinkman.
"To win the Rolex Grand Slam is every rider's dream. I did not actually think it could be done," Brash acknowledged. "This means everything to me."
Belgium's Pieter Devos and Dylano placed second, and Brazil's Pedro Veniss and Quabri de L Isle finished third.
Brash, 29, gave credit to Hello Sanctos, the 13-year-old Belgian Sport Horse gelding (Quasimodo vd Molendreef—Nasia van het Gravenhof, Nabab de Reve) who helped make his biggest dreams come true.
"When you target something for so long, and your whole team has put so much work and hard effort in, to actually come and achieve that dream and have it all pay off is just a wonderful feeling," Brash said. "I do not think words can describe how I feel. I am ecstatic, and I don't think it has really sunk in just yet.
"Sanctos is a horse of a lifetime," he added. "I thought he was a little fresh in the first round and was not absolutely perfect, but the second round he was just unbelievable. He tried his heart out today. He is a privilege to work with and ride."
Thirty-nine entries started in Round 1, and the top 12 returned for Round 2 in reverse order of penalties. The 12 that returned included 10 clear rounds and two entries that entered carrying 1 time fault.
Three of those who returned on clear rounds were U.S. riders. Beezie Madden and Abigail Wexner's Cortes 'C' dropped two rails to place seventh. McLain Ward and HH Azur, owned by Double H Farm and Francois Mathy, had a great round until the rail fell at the final fence and 1 time fault was added. They finished fifth overall. Richard Spooner completed a fantastic 4-fault trip to eventually place fourth aboard Show Jumping Syndication Intl.'s Cristallo.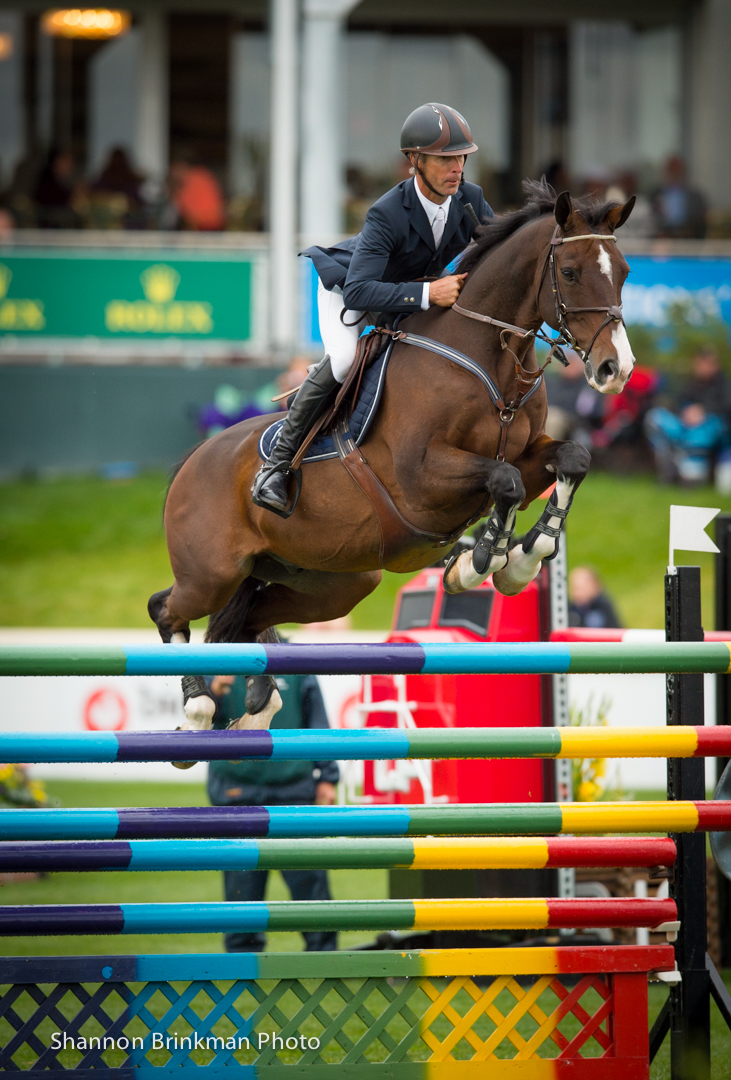 Richard Spooner was the best-placed U.S. rider in the CP International aboard Cristallo in fourth place. Photo by Shannon Brinkman.
Veniss put in a clear trip over fences but had 1 fault on the clock for his eventual third-placed finish.
"I am so happy. This was my first time to Spruce Meadows," Veniss said. "It was a dream for me to come to Spruce Meadows. We just won the Nations' Cup yesterday, and now third in the grand prix, so I am a very happy man today."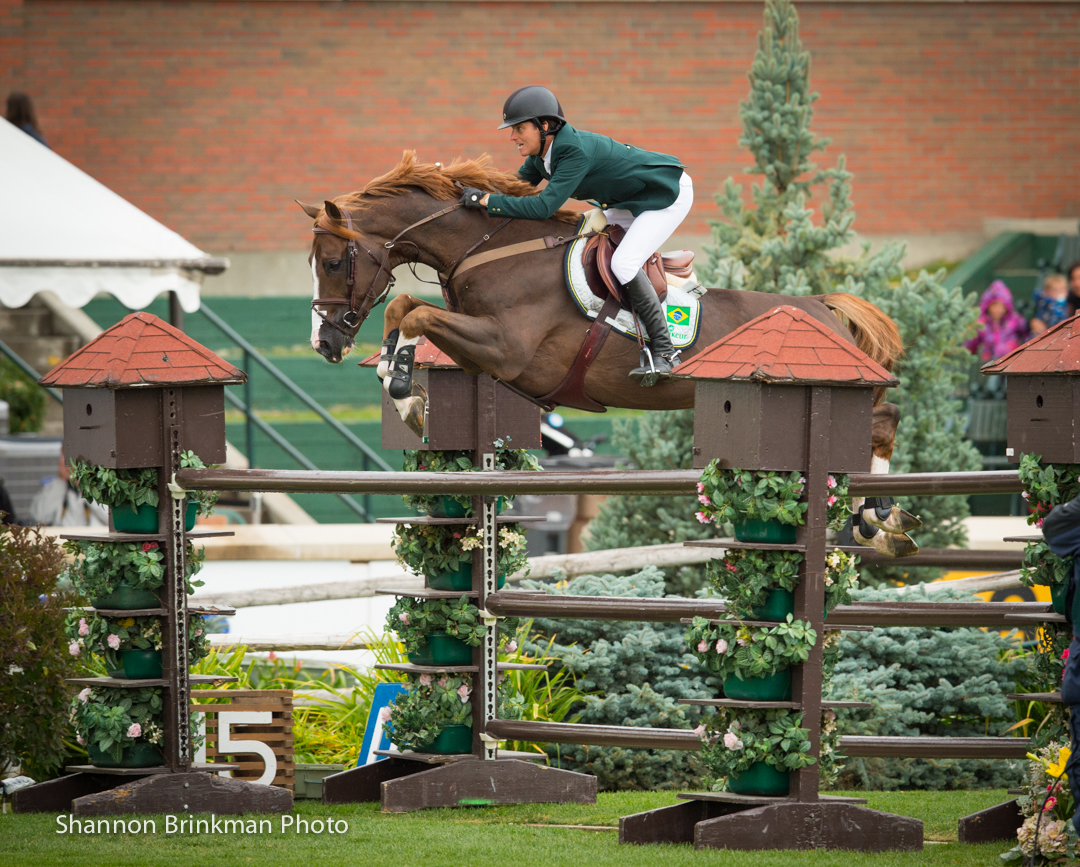 Brazil's Pedro Veniss made his first trip to Spruce Meadows a memorable one betwen riding on the winning Nations Cup team and placing third in the CP International aboard Quabri de L Isle. Photo by Shannon Brinkman.
Devos was another rider to complete the second round clean with 1 time fault, which, when combined with his first round time, placed him second. He'd won the competition in 2013 aboard Candy and was very happy with his result this year riding Dylano.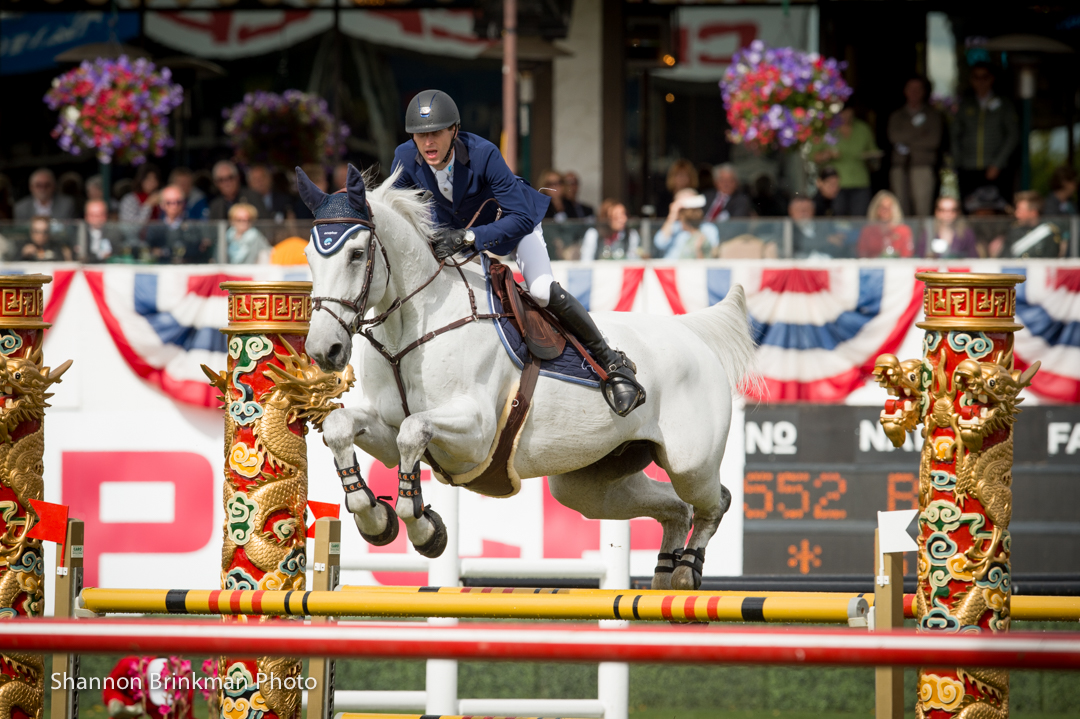 Belgium's Peter Devos and Dylano added just 1 time fault to their score to finish second in the CP International. Photo by Shannon Brinkman.
"I am just behind Scott, so it is not a shame I think," Devos said. "I came out of the ring with 1 time fault and a few people told me that I might have to jump-off with Pedro, who also had 1 time fault. Really inside, I knew that it would not come to a jump-off for us because Scott still had to go. I am very delighted to be here again and to be second. I won one time, but I am really happy with my second place now. I am happy with my horse; he did a really good job today."
Last to go, Brash had a lot at stake as he rode into the ring aboard Lord and Lady Harris and Lady P Kirkham's Hello Sanctos. The world's No. 1 rider kept his cool and guided his talented mount to a beautiful clear round as the crowd exploded in applause. With the only double-clear round, Brash not only secured the win, but also became the first rider to ever take the Rolex Grand Slam of Show Jumping.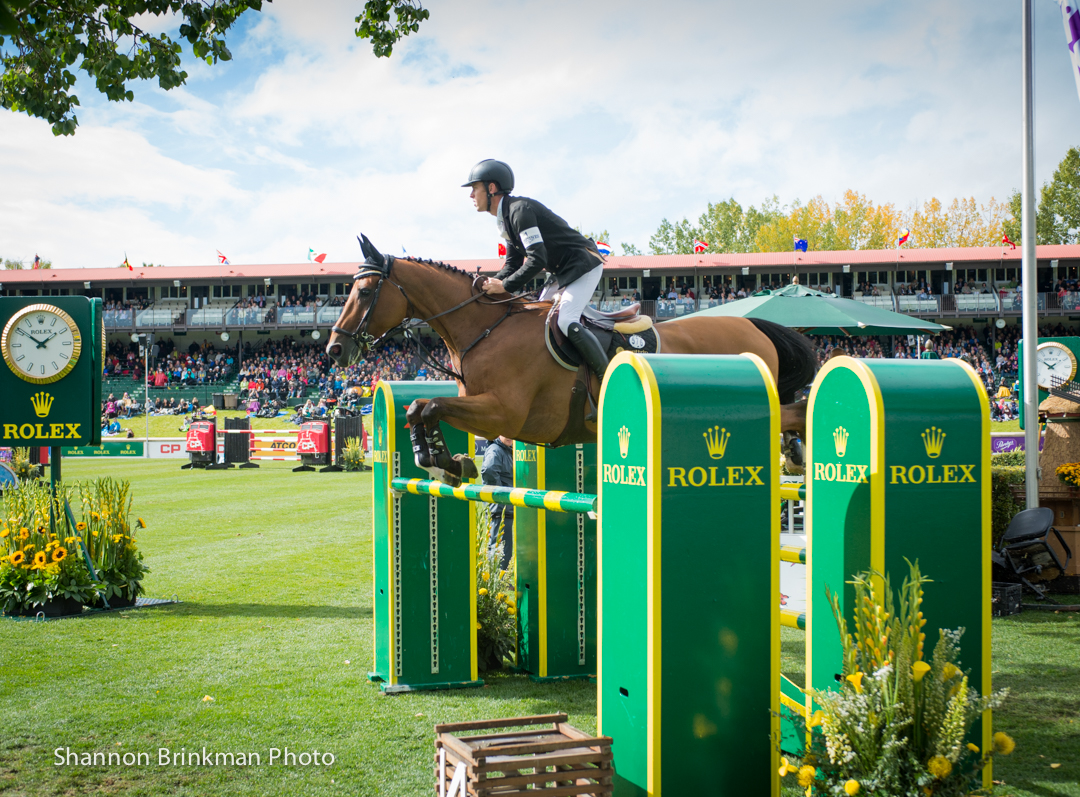 Scott Brash and Hello Sanctos were the only pair to jump double clear in the CP International to win the Rolex Grand Slam of Show Jumping. Photo by Shannon Brinkman.
"I was just very focused on the course," Brash said. "I was here early this morning to walk. I must say, I think Leopoldo has done an absolutely fantastic job. It is easy for me to say that because I am sitting here as the winner. I think Spruce Meadows has a reputation of being a tough course, but I think that is really good. I think that is what makes it so unique. They always try to just get one double clear, and for a course builder that is very difficult, but Leopoldo seems to deliver that year after year. My horse feels like he could do another round. He felt really, really good."
Devos also praised Palacios, stating, "It was two tough rounds, but the same with my horse that he came out after the second round, and he felt like he could go again. I think that is very important. We know it is very tough here. It is a tradition; it is unique, and it has to be like that, but the welfare of the horses is always important, and it was very good today."
The challenging course of the CP International was the last in three very different competitions that Brash won in succession. When asked how he and Sanctos were able to jump so well in such different venues, Brash smiled, "That is a question for Sanctos really! He is an incredible horse. He has the mind of a human. To be able to win in a delicate ring like Geneva, then a big tough course like Aachen and then such a unique venue like Spruce Meadows—to do that on different horses is hard—but for the same horse to win all three is just incredible. You could go 20 or 30 years at least, and it could probably never be done again. I think Sanctos deserves every bit of credit he is going to get for this. I think with age, he has gotten more comfortable with different rings, and he has turned into a horse that can jump anywhere and do anything."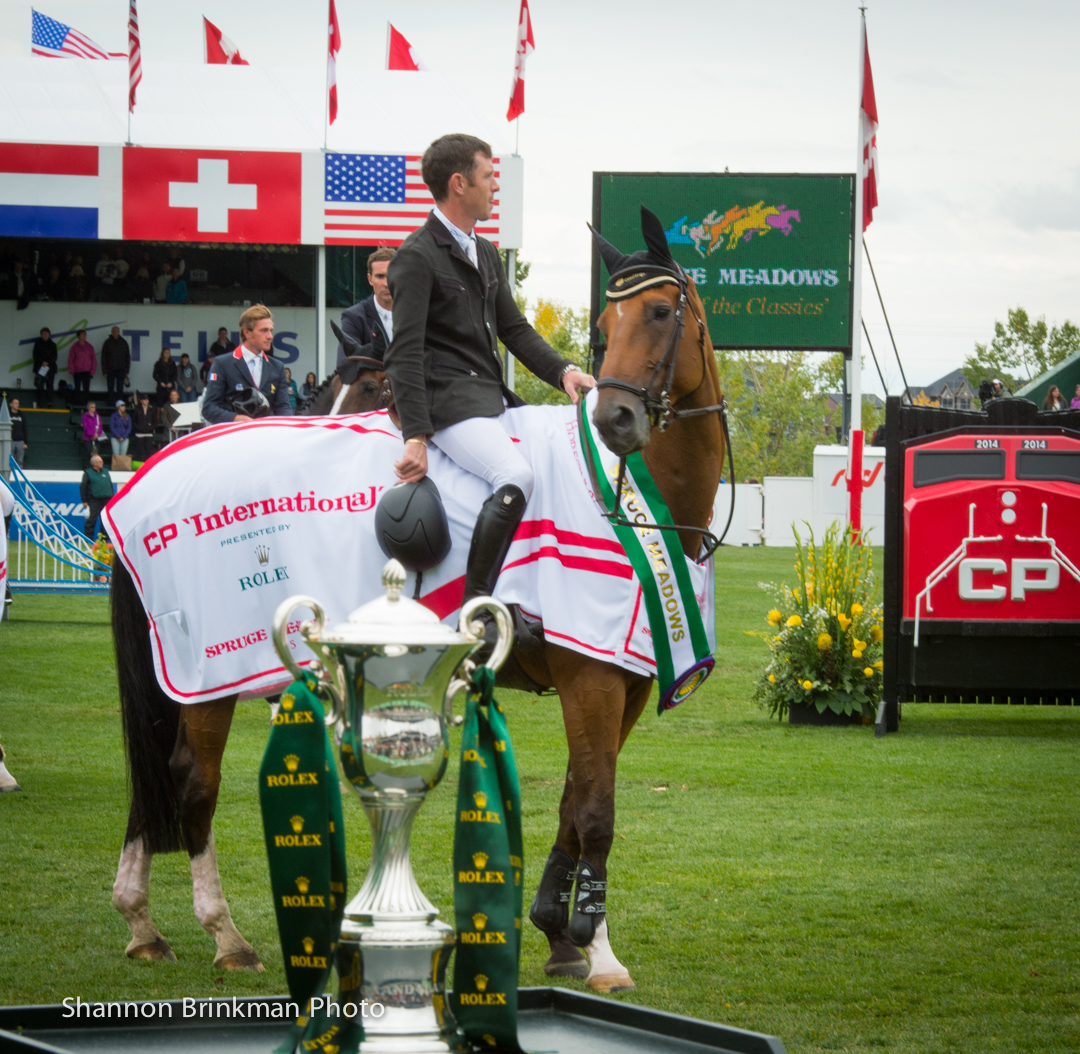 Scott Brash gave all the credit to Hello Sanctos for their win in the Rolex Grand Slam of Show Jumping. Photo by Shannon Brinkman.
Not one to rest on his laurels, Brash already has next year's Grand Slam in mind, along with aiming for the 2016 Olympic Games in Rio.
"I will try and do both," he said with a laugh. "It is an incredible title to have to aim for, but the percentage chance of being able to win the three biggest grand prix in the world consecutively is very, very hard. We were told it was impossible. We will try again, but it is going to be very difficult. We will start again in Geneva. They are the best shows in the world, so every rider in the world wants to be at these three shows. Rio is in our plans too. We saved Sanctos a lot this year. I must say, he feels better than ever and we have high hopes for next year."
For full results, please visit www.sprucemeadows.com.