This California-based amateur looks forward to the future with her longtime partner.
Beginning the year with a second-placed finish at the February Galway Downs Horse Trials (Calif.), Julie Ann Boyer didn't want to settle for the red ribbon again at the Twin Rivers Three-Day Event, April 17-20, in Paso Robles, Calif.
Boyer's win in the CCI**, on her mare Rumor Hazit, was met with a feeling of accomplishment and relief.
"After second in the CIC, I just felt like we could do it this time. I thought to myself, "You're as good as the warmbloods out there,' " Boyer said of her 9-year-old Thoroughbred.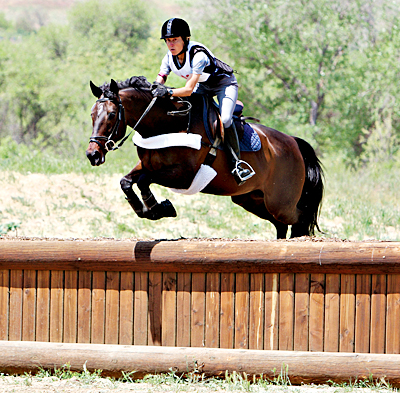 Purchased sight unseen from a horse dealer as a 3-year-old, Rumor Hazit was a contender for Boyer, Agua Dulce, Calif., from the start. "She showed a lot of talent with the jumping. She's got a good gallop, and she's very bold. She rarely taps a fence on cross-country," Boyer said.
A group effort from trainers Hawley Bennett, Robin Fisher and Jil Walton (who now resides in Montana) helped Boyer bring her mare along in dressage, which she admitted as a weakness for the pair.
"We weren't so great to begin with, but it's been a steady process," she said. "This past weekend she went in there and gave a lovely test."
The Friday course walk, led by designer Derek di Grazia, helped Boyer know what to expect but also provided some worry as well.
"I tried to follow all his hints and suggestions in regards to speed and what to keep your horse focused on,"
she said. "But there were a lot of corner combinations, and you really had to slow up to get a correct line or else you'd go past it."
She was also held in the middle of her course when Kristi Nunnink fell at the 13th. "The officials told us it would be five minutes, but then it turned into a half-hour," she said. "I had Max [McManamy] behind me. Luckily, we both got to take a little fence and go on from where we stopped."
Boyer continued, "We're such as close-knit community out here in California, so we were all worried about Kristi. We really support each other. And the officials were fantastic, keeping us calm and telling us what we'd be able to do."
Standing second after the dressage, Boyer pulled ahead after cross-country and kept her position. Though di Grazia's advice helped Boyer tackle the cross-country course, the final fence gave her cause for concern. Boyer's mare, notorious for disliking mission walls, nearly stopped at the same type of element the previous year. Though unhappy to complete the task, Rumor Hazit didn't let her owner down.
"I felt like I had a shot at a good round, but I was still worried about the last one. It had a low ceiling, and I'm sure she jumped it ugly that day, pinning her ears and ducking," Boyer said with a laugh.
Going into the show jumping phase on Sunday, Boyer said she felt prepared to secure her win after walking the course with Fisher. "She doesn't like to touch anything, and I knew if I didn't mess up I'd have a nice round," she said of her penalty-free performance.
Boyer finished in the top spot, ahead of Tiana Coudray on Ringwood Magister and David Koss with Candy.
Boyer was also pleased with her 4-year-old Fair Decorum. Boyer placed fifth in the 4-year-old young event horse division and sixth in the senior novice amateur division. "She did her novice, she went clean and with only a few penalties on cross-country. She did really well," she said.
Boyer, who works at night as a police officer in Los Angeles, appreciates the time she has for her horses.

"I'm an amateur, and I have to trailer a long way for lessons, so it really has been great to have help from so many people," said Boyer, who credited Fisher for improving her dressage skills. "She's made an incredible difference through our lessons, and it really helped that she warmed me up before my test this weekend."
Boyer hopes to qualify for a three-star in the future, but she realizes her job responsibilities could potentially cause setbacks. As a patrol officer, Boyer has suffered multiple injuries in the line of duty, though she brushes them aside as only "delays."
"Getting here was kind of tough, because I've missed shows here or there. I broke my elbow once, and then followed that breaking my back with a suspect," she said.
Boyer wasn't the only competitor overcoming dressage struggles; Cindy Marvin and My Sedona have also been down a long path to victory in the advanced division. "It's taken us some time to get here, but she really has improved," she said.
Like Boyer, Marvin also purchased her horse sight unseen from a racetrack in Arizona seven years ago. Bringing along the now 10-year-old mare hasn't been easy for Marvin, Kalispell, Mont.
"What can I say? She's a chestnut mare. She's a little pistol," Marvin quipped.
The amateur contested the intermediate division last year but knew her horse had enough scope to move up. "She's incredible in the jumping phases. It's just the dressage where she struggles," she said. "The moving up to advanced came with flying lead changes, which can make her canter get dicey."
In sixth after dressage, Marvin knew she was going to have to turn in solid efforts to climb to the top of the seven-horse starting field. Di Grazia's course suited Marvin's mare, though.
"It was a beautiful course. Four years ago she had one run-out, but now she's turned into quite the jumper," she said.
They finished without jumping penalties and accrued 6.8 time penalties to move into the lead after most riders had difficulty on the cross-country course. Marvin held her position through the show jumping phase and finished ahead of Martha McDowell and Gaelic Marriage.
"I've always known she was athletic since I first purchased her, but this past weekend she was just incredible," she said.
Marvin enjoys bringing along young horses, much like she did with My Sedona. "I've got multiple young ones. Horses are what I do," she said. "I really like finding them and turning them into competitive horses, and I had one this past weekend doing the novice as well."
Riding with Walton, who works out of Rebecca Farm in Kalispell, Marvin is aiming for a three-star next year. "If I would've had a qualifying dressage score this year we could've done it, but I'll have to wait a little longer," she said. "In our Northwest area, there aren't too many two-stars. But I'll go on to do one at Rebecca Farms later in the year."
Beth Johnson