With a little help from her friends, she rides to her second victory in the featured hunter class on the CN Winter Equestrian Festival circuit.
Even though Liza Towell Boyd and Fiyero wore the winning cooler and championship sash during the victory gallop of the $42,800 AHJF Hunter Spectacular of Palm Beach, there were really two winners on the evening of Feb. 23.
In a tremendous show of sportsmanship, earlier in the day Kirsten Coe, who had shown Fiyero last summer and fall, found his favorite bridle in a tack trunk and had given it to Boyd so she'd have a better shot to win the class.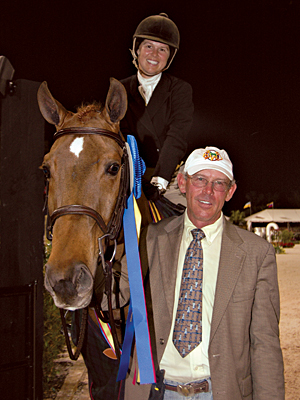 And, ironically, Coe followed Boyd and Fiyero around the International Arena at the Palm Beach International Equestrian Center in Wellington, Fla., that evening during the lap of honor as she placed second aboard Genuine, just .26 points behind.
The two young professionals, Boyd, 28, Camden, S.C., and Coe, 27, New York, N.Y., have been close friends since they competed against one another during their junior years.
"We all get competitive in this sport," said Boyd. "Kirsten used to ride him, and about an hour before the class this magic bridle shows up for the horse. It was very nice."
Coe was gracious in her second-placed finish and was thrilled that she and Boyd could rise to the top of a
competitive field that included many established veterans in the hunter/jumper world.
"It's funny, everyone was giving me a hard time about giving the bridle to Liza," said Coe. "But in the back of my mind was my mom telling me, 'You young professionals have to stick together!' "
Slightly older professional Tim Gougen, the defending champion, placed third aboard the regular working hunter Angelo. In one of the closest finishes ever, the top three ribbon winners were within 2 points of one another.
A Pro Sweep
In actuality, all of the professionals stuck together. Unlike in past years when the juniors and amateurs vied for top honors, this year the top eight to return for the second round were all pros.
On a balmy moonlit evening, this year's 12th annual AHJF hunter classic attracted a field of 29 who qualified through earning championships or reserve championships in the 3'6″ and higher divisions at the Feb. 20-24 WCHR Spectacular, the sixth week of the 12-week CN Winter Equestrian Festival circuit. In addition, Coe, the winner of the 2007 WCHR Pro Challenge at the Capital Challenge (Md.), qualified as did the WCHR National Amateur Champion, Krista Weisman.
This year's atmosphere was decidedly more serene, as the noisy portable lights that had been used in past years were replaced with permanent stadium lighting. The new all-weather footing also provided a brighter background for the fences, and in general the horses jumped more confidently with fewer spookiness issues.
Tidbits
Junior rider Samantha Schaefer traveled from HITS Ocala (Fla.) just for the WCHR Spectacular and made the trip worthwhile with the WCHR Leading Hunter Rider title and the WCHR Overall and Junior High-Score awards with a 93 aboard Perfectionist in the large junior, 15 and under, division. Schaefer, 14, Westminster, Md., also earned the division championship with Scott Stewart's Perfectionist and the reserve championship with Keli Colby's Lazy Sunday.
Sandy Ferrell, 40, Bernville, Pa., earned the WCHR High-Score Professional award with a 91 aboard Stacey Arani's Bolero in the first year green division.
Clara Lindner, 22, took time out of her busy senior schedule at Vanderbilt University (Tenn.) to earn the WCHR High-Score award for amateur-owners with a score of 89 with Hush. She was also the top-placed amateur in the AHJF Hunter Classic Spectacular (in ninth place) and earned the amateur- owner, 18-35, division championship with In The Black and the reserve championship with Hush.
Hush earned the Mark R. Gregory Memorial Trophy for Excellence as the best conditioned and turned out horse in the first round of the AHJF Hunter Classic Spectacular. Groom Salvador Martinez accompanied Hush to center ring for the awards.
Laura King-Kaplan's Bellingham Bay, ridden by Emma Lipman, 17, Bedford, N.Y., earned the grand junior hunter championship and the Lyrick Trophy. "This was really exciting," said Lipman. "It's my first time having a hunter to show WCHR week. He's really an amazing horse. I've never ridden a horse who can jump like he can."
Spy Coast Farm LLC's Lismacbryan Junior, a 12-year-old Dutch Warmblood, transitioned from the grand prix ring to the regular working hunter division for the first time and earned the show championship with Irish rider Shane Sweetnam.
Alise Oken, 16, Charlotte, N.C., purchased Cortie Wetherill's Take Away this week and made their debut a winning one with top calls in the large junior, 15 and under, division for the reserve championship and a spot on the starting list for the WCHR Hunter Classic Spectacular.
The courses, designed by Patrick Rodes (who also judged), received rave reviews. Although the arena used now isn't as expansive as the former grass field, the ample space still allowed for a galloping course. The first round featured 12 fences with several options, including the first fence that riders could jump straight or angled. The second, 10-fence course included a few places where riders could take tighter turns or gallop to single oxers.
"The courses were wonderful," said Coe. "They were quite appropriate. There were choices to go inside, and [you could] choose which lead to start with. They were great courses for a class like this."
The 21 3'6″ horses went first, followed by four competing at the 3'9″ height and four jumping 4′. After the first round, Boyd led the way with Fiyero, who qualified out of the regular conformation division with the reserve championship.
Boyd's flowing and bold ride aboard Molly Gardner's chestnut earned an average of 89.75 from the six judges, including Rodes, Kip Rosenthal, Randy and Pam Mullins, Kim Ablon Whitney and Steve Wall.
Boyd and her father, trainer Jack Towell and brother Hardin, had picked out Fiyero, 12, a Brandenburg, for Gardner last fall at the Pennsylvania National. "I've always loved the horse," said Boyd. "He's got the best brain; nothing fazes him. He's very quiet and a kind-hearted horse. He always tries, and I feel very lucky to be able to ride him."
Fiyero made his first appearance in the AHJF Hunter Classic Spectacular in 2006 as a first year green horse with professional Pamela Polk, placing fourth.
After the first round, Gougen and Katie Dinan LLC's Angelo, a gleaming black, stood just fractions behind Boyd and Fiyero in second place. Unfortunately, Gougen couldn't repeat his victory with Safari. In the first round, the 6-year-old bay swapped leads on his way to the sixth fence, adjacent to the in-gate, and Gougen chose to circle and regroup.
Coe and the flashy Genuine, a second year horse, stood third after the first round (88.66) with only a rub at the last oxer marring an otherwise stellar round.
It's Anybody's Class
With the top eight horses scoring within 2.75 points of one another, this year's second round became a nail-biter, with the class truly up for grabs.
The three qualified 3'6″ horses jumped first, with Morgan Thomas and Concetto setting the pace. Thomas and the 11-year-old Oldenburg improved upon their first-round score of 87 with an 87.33 and a total of 174.33.
Thomas, Plymouth, Minn., has been riding First Partners' dark brown gelding since last year after he was imported from Europe. They earned the first year green, section A, championship with impressive performances earlier in the week in the International Arena. But this was Concetto's first appearance under the lights.
"I wasn't quite sure what he would do in this ring, but he went beautifully. I am totally thrilled with him," said Thomas.
Castlewalk and Scott Stewart took the field next, however, a missed lead change early on course left them
with a two-round average of 164.99 and seventh place. The elegant, 7-year-old Castlewalk, owned by Richard Prant, qualified for the classic with the reserve championship in a section of the first year green division.
Sandy Ferrell and Bolero, stars of the first year green division on this year's WEF circuit, seemed on their way to a 90-plus score in the second round until a mistake at the final fence, the AHJF Planter Fence decorated with two impressive trees. Ferrell left a gap galloping down to the imposing oxer, and the gray put on the brakes, throwing Ferrell over the fence. She landed hard, but after a moment she waved toward the in-gate and got to her feet.
With the fences raised to 3'9″, Boyd returned on her second mount, Sarah Ward's 8-year-old Isaac. The attractive bay jumped strongly and confidently, scoring an 87 in both rounds for a 174 total, good enough for fifth place.
Tracy Scheriff's Lavari and Havens Schatt gave it a shot in the second round, but the 12-year-old Holsteiner wasn't quite as bright as he was in the first round and scored an 86 for a two-round total of 173.5, eventually placing sixth.
Coe returned for the second round confident in Laura King-Kaplan's Genuine, an 8-year-old Oldenburg (Landcapitol—Pandora). She picked up a strong gallop from the start and kept the same pace throughout, with Genuine jumping boldly. The appreciative crowd gave them a strong ovation after their performance, and with scores of 91, 88.5 and 90 for an 89.83 average they took over the lead.
"He was fantastic," she said of her Heritage Farm-trained mount. "He is such a dream to ride. He's a wonderful, wonderful horse."
Then there were two. The fences were raised to 4', and everyone wondered if anyone could catch Coe aboard Genuine, the 2007 U.S. Equestrian Federation grand green hunter champion.
Gougen, Wellington, Fla., had tasted victory in the AHJF Classic for the first time last year, and he knew it would take an exceptional ride to retain his title. He and Angelo picked up a strong canter to the first fence, but they couldn't overcome a hard rub there and settled for scores of 85, 87 and 91 for a two-round total of 176.74.
"He's a small horse, 15.21⁄2 hands, so having that gallop is right up his alley. After he hit the first fence, I stepped on the gas a little bit," Gougen explained.
Boyd is also no stranger to victory in the AHJF Hunter Classic. In fact, as a junior she won the inaugural class in 1997 aboard her Monday Morning. And one of her trademarks then was truly galloping on course, and she chose to execute this option again aboard Fiyero when she took an inside cut and urged him to extend his stride on the way to the single oxer at fence 4.
Their boldness and flowing trip was rewarded with scores of 90, 85 and 92 for the overall win with 178.75.
She said her victory now, 11 years later, was much different. "This time I feel that I won," said Boyd. "I'm a better horsewoman now. When I was a kid, I went in and won and then ran off with my friends. It means a lot more to me now, and I understand the hard work, the time and the appreciation of the owners. It means a lot."
Boyd also credited her family for their support, including her mother Lisa, who watched from the stands, and younger brother Hardin, who dressed for the occasion in a sport coat and stood by her side the entire class.
"Through this whole week he's been my backbone. We all know my dad can be a bit competitive," said Boyd with a smile. "And I couldn't have done it without Hardin. He prepared Fiyero for me. It was my turn, though. When he was riding [Caped Crusader], I prepared him, so he paid me back. He's a great brother."
---
Hickstead Returns To Top Form
Just four months after he was sidelined due to colic surgery, Hickstead returned to the grand prix ring. And he let his presence be known as he carried Eric Lamaze to victory in a four-horse jump-off at the Palm Beach International Equestrian Center.
And it wasn't even close.
The pair flew to the blue ribbon by more than 6 seconds over second-placed Nicole Shahinian Simpson aboard Vicomte D.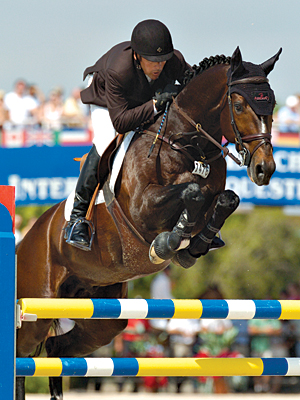 For Lamaze, the $75,000 Palm Beach Equine Clinic/Adequan CSI*** Grand Prix, Feb. 24, in Wellington, Fla., offered welcome relief after months of patient rehab and anxious waiting as the 12-year-old, Dutch Warmblood (by Hamlet) recovered.
"He feels really good and is full of energy," said Lamaze of the stallion owned by Ashland Stables and Torrey Pines. "He's back."
Lamaze was still basking in the glory of winning the world's richest grand prix last September, the $950,435 CN International in his home country of Canada, when he received a phone call that completely changed his winter plans.
"I was in Europe, and the groom called to say that he wasn't right," said Lamaze of Hickstead. "He was just a few days from shipping over for some indoor shows in Europe."
Immediately Hickstead was taken to the veterinary clinic. At first it was thought to be a mild case of colic, but when the horse's heart rate shot up just 15 minutes later, the veterinarians suggested surgery.
"The small intestine was trapped under the large intestine. When they sedated him for the surgery, everything relaxed and fell back into place, so that was good," said Lamaze. "Maybe if it was another horse you would have waited longer [to see what would happen] before you operated. But we didn't take any chances, and I'm glad."
Lamaze slowly brought Hickstead back. They contested two 1.40-meter classes during the fourth week of
the CN Winter Equestrian Festival, where Lamaze quipped, "He didn't jump particularly well in his first class back with two rails down."
But this week Hickstead didn't touch a toe to a rail. He and Lamaze faced 51 starters in the richest grand prix of the WEF season thus far. And after the many poles hit the ground over the Olaf Petersen Jr.-designed course, just three others joined them in the jump-off.
The first-round course proved difficult throughout. But the first line on course, at fences 5 and 6, took a major toll as riders had a choice of doing five or six strides from a wide oxer to the delicate Animal Planet vertical. For many, their choice didn't work.
But if riders managed to jump clear through the line and the following, difficult triple combination at 7ABC, they weren't finished yet. The final line of a triple bar to a double combination to an oxer often provided for a heartbreaking conclusion.
"This was a good grand prix for him," said Lamaze. "It was very difficult, but the size was nice. He didn't feel like he overextended himself."
The shortened jump-off featured a number of places to gallop, but mistakes at the fences were costly as Darren Dlin with Catwalk (4/47.67) and Marilyn Little riding Unika (33/72.09) found out.
Lamaze and Hickstead set the pace no one could catch with a clear in 47.30 seconds.
After a quick and smooth start, Hickstead stepped up a gear heading home. "It was a nice jump-off for him," said Lamaze. "He's very good at galloping fast to fences, especially big oxers at the end of the course. You can really put him anywhere you want. Your last spot doesn't overly matter; the faster you run the cleverer he is about the poles. And I know him so well that I just let him open up."
Even though Lamaze considered his time vulnerable, Simpson didn't agree. Aboard a relatively new mount owned by Jane F. Clark and with a crash a few weeks earlier still visible in the rearview mirror, Simpson chose to ride for the red ribbon with a clear round in 53.59 seconds.
"I knew I wouldn't beat Eric. He says it was beatable, but only for certain ones," said Simpson laughing. "It was pretty right on. I don't know Vicomte well enough, and he's still a little green in his turns. I didn't want to take any major chances or risks leading up to the [Olympic selection] trials in the next two weeks."
Simpson, 33, Wellington, Fla., began her partnership with the 10-year-old gray Vicomte D last November.
"I started riding Jane's horses while Molly [Ashe-Cawley] was having her baby, and she's back now," said Simpson. "Week by week she'll be showing the others, but this horse will stay with me through the trials."
Simpson noted that this performance has given her added confidence after the crash on Feb. 3. "He came back from that fine," she said. "But it was a freak thing. I can't really explain it, so I just let it go. So it was nice to have some consistency."
For Lamaze, 39, the performance puts him one step closer to Olympic selection for Canada, and he believes he has the horse who can take him all the way to the top.
"I think Hickstead is a step above as far as the quality of horse we have in our country at the moment," he said. "You know, you've seen a lot of great Canadian superstars, Mario and Aramis, Ian and Big Ben, so whenever we have one of them it seems to lift the spirits of the others. And right now I just seem to be fortunate enough to have such a horse. So making the team is my focus.
My focus is to be there and to have the very best week of my life in Hong Kong."
Tricia Booker