Wellington, Fla.—April 1
There aren't an awful lot of hunter derbies that Liza Boyd hasn't won. The derby specialist and three-time USHJA International Hunter Derby Championship winner has topped dozens of classes, but there's been one missing from her résumé: the $50,000 USHJA International Hunter Derby at the Winter Equestrian Festival.
Today she changed all that, riding S&L Just A Cobbler to the top of today's handy round and the overall title. Friday's winners, Mindful and Jennifer Hannan, moved up from seventh to finish second, and Samantha Schaefer piloted her sister Madeline Schaefer's In The Know to overall third.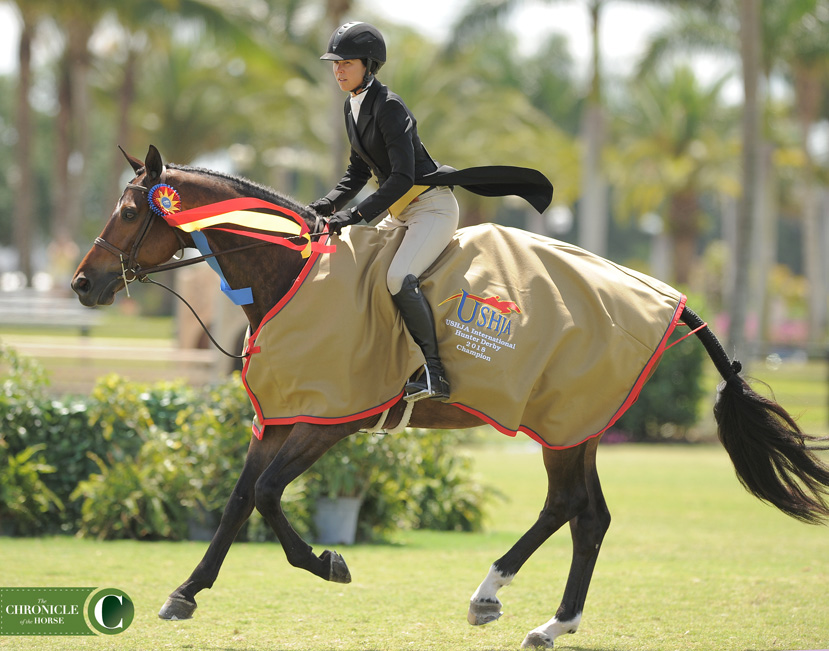 But the big winner wasn't Liza, or even "Cobbler's" owners, the Edelman family.
"I don't talk about this publicly a lot, but I actually have epilepsy which is managed through medication," said Boyd. "I was thinking driving here this morning that I'm tired and it's hard on you, showing 12 weeks in a row. So I thought, 'If I win? Let's give the money to the Epilepsy Foundation.' So when I called Sam [Edelman] when he was winning I said, 'Well I have good news and bad news. Good news is I'm winning; bad news is you might have to give all the money to the Epilepsy Foundation.' " And he said, 'Whatever you want; that's great.' "
"Cantering to the last jump I was thinking, 'You're going really well! You could really give all this money to epilepsy! Don't mess up now!' "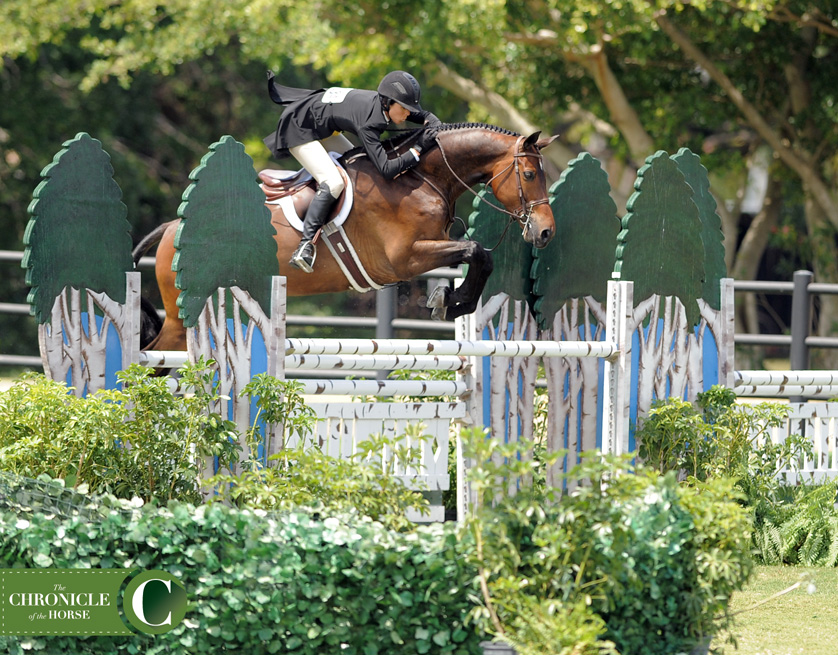 Kenneth Krome designed today's course, which, like yesterday's classic round, was held on the grass field of the stadium at the Palm Beach International Equestrian Center. The course didn't use any of the natural obstacles built into the derby field, but did incorporate the natural landscaping into the track. None of the 25 horses in today's handy round had big problems with the track, which included an in-and-out and a trot fence over straw bales.
Check out lots more awesome photos from today's competition.
For most of the competitors today marked their third day on the field, with a $15,000 USHJA International Hunter Derby run in hunt-and-go format on Friday, and yesterday's classic round. 
"I really appreciated the hunt-and-go to get out and get on the grass to get used to it," said Boyd, who trains out her family's Finally Farm in Camden, S.C. "Today I noticed they were rewarding galloping. There weren't a lot of places to go inside and be too handy, so I tried to gallop and make sure the jumps held him off.
"This horse is very different than Brunello, more like a horse I rode as a junior, Monday Morning," she continued. "He's a Thoroughbred-type, and if he starts pulling you let go, and he slows down. He's a different ride, and he reminds me of my childhood. He just keeps getting better and better."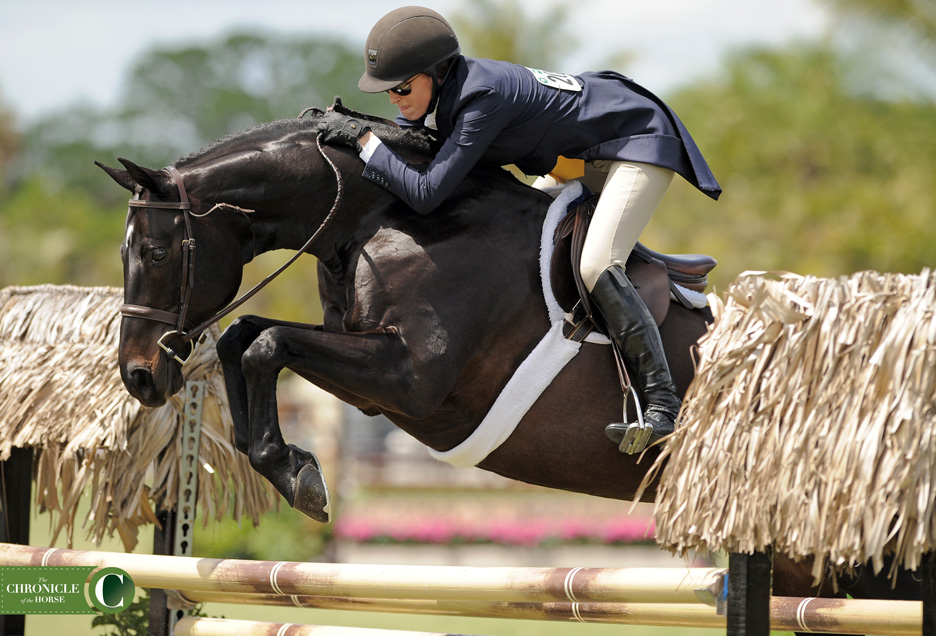 Hannan was thrilled to finish as the runner-up on Mindful, owned by Kensel LLC.
"Mindful felt amazing, not tired, just ready to go," she said. "He jumped better today than yesterday, and he handled the course well. He loves galloping. It's much easier for us to do a handy than a straightforward course."
Schaefer spent the season at HITS Ocala and came down to Wellington for the class.
"I didn't do the Friday class; I didn't even know it was a thing," she said. "I just thought, 'Oh well. I guess I missed the warm up. We had a derby last week in Ocala; that was my welcome [class]."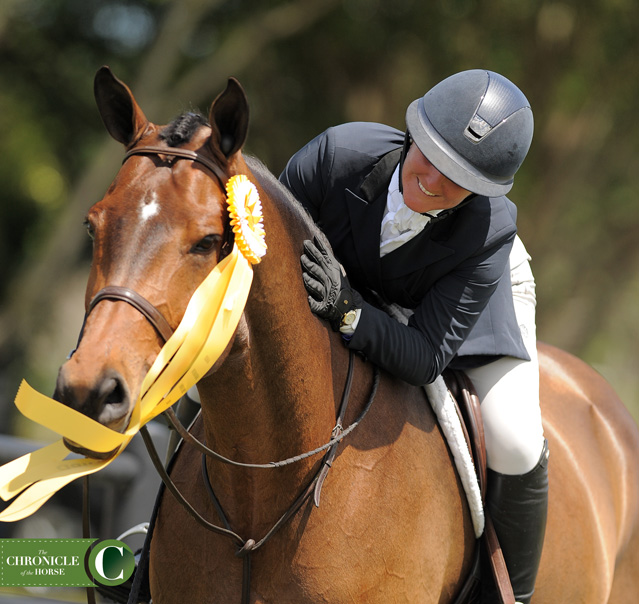 All three riders have their sites set on the August championship, especially Hannan who's never had a derby horse who could go. This class she had three horses in the class, all of whom qualified for the handy. (Corice Z finished 11th, and Olympic Fire was 16th.)
"I remember you saying last year that you really wanted a derby horse," said Boyd.
"I know! Now I do. It's amazing," said Hannan.
Full results are available here. Catch up on all the news from the final week of the Winter Equestrian Festival, and make sure you're following the Chronicle on social media to keep up with all the sport horse news.
We're on Facebook, Instagram and Twitter at @chronofhorse.