Lexington, Ky.—Nov. 13
Catherine Bowman has come a long way this year since her first show with Felix where she had to ride through the young horse's theatrics.
But the gelding's come around this season, and he and Bowman led the victory gallop in the adult amateur training level championship (73.10%) this afternoon at the U.S Dressage Finals.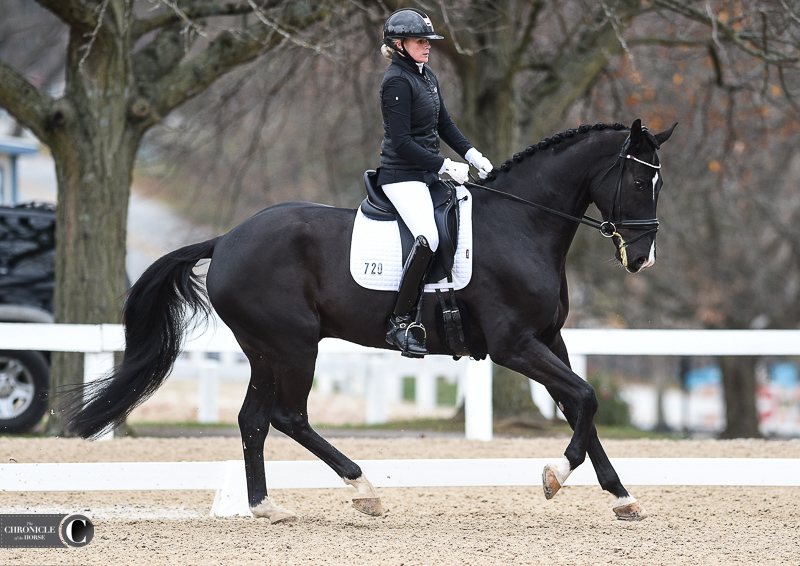 "I got kicked out of my first horse show with him because it was like a rodeo, but now we're here and it wasn't a rodeo!" she said. "I'm very proud of him, and I think the future's bright."
The High Springs, Florida, native was struggling in the extreme cold in the outdoor ring this morning, and Felix was definitely feeling it.
"It was good," she said. "I went in and took my coat and vest off and couldn't feel my fingers, and as soon as I turned down centerline I felt my fingers, like, 'OK, let's go. Let's ride.' He was a little froggy but I was trying to use that energy to keep riding him forward and still being obedient."
Bowman, 28, has ridden Quarter Horses most of her life, and now trains with Shelley Van Den Neste and Hannah Lisec.
"I had a Quarter Horse pony that was always super heavy on the forehand, and I took dressage lessons nine times out of 10 to get the pony off the forehand and up, and I learned the shoulder-in and leg yields, and it helped so much," she said. "It translates. When she would give me a really nice leg yield or shoulder-in, it almost brought a tear to my eye that she tried versus just going around and having a clean jumping round. I went the full opposite with a German-bred horse!"
She bought Felix, a 7-year-old Westphalian (Fashion Maker—Finess) as a 4-year-old.
"I love him. He's a good boy. He really tries for me," she said. "It's different because the last horses I was riding were Quarter Horses, so going from Quarter Horses to a kind of hot, German-bred horse is really a jump, but learning how to ride that forward energy more and still being obedient and going up through the levels. You have to start somewhere, so we're at training level."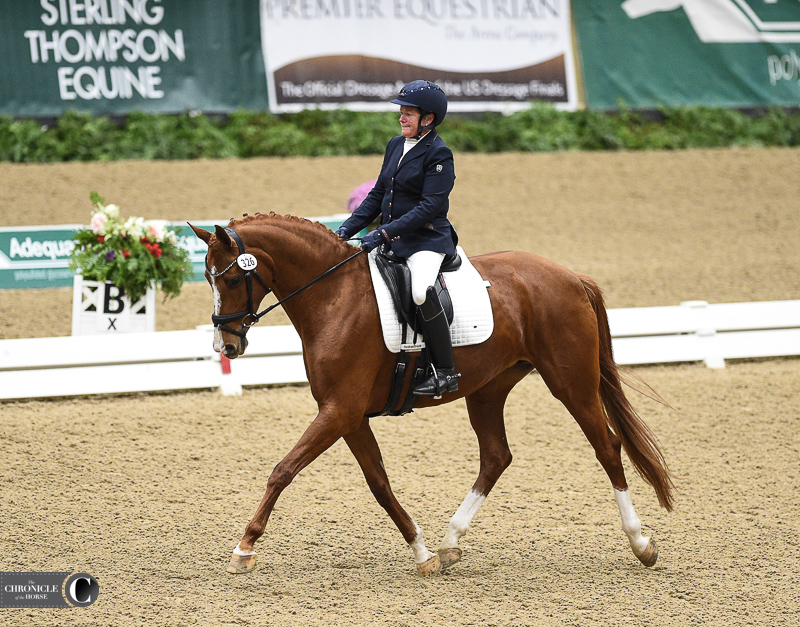 It's been 27 years since Laurie Saldana-Rich rode dressage, but this year she got back in the white box with a special chestnut mare.
Saldana-Rich hadn't competed above first level in the past, and spent more than two decades raising Thoroughbred-Quarter Horses.
Now she's confidently competing at third level, and took home the adult amateur third level frestyle championship (70.24%) with Straight Horse De Milla.
"She's a perfect little mare. Like a little Ferrari," she said. "I rode yesterday outside, so this was way better [in the Alltech Arena]. I just had to get over my nerves of going in there, but it went OK. Of course, it could be better, so now I have something to go home and work on, but it was so much better than my earlier rides, so it was a good way to end. I'd never even thought I'd come to Finals, so to get a first place, I would have never dreamed. I can't even explain it. I'd hoped I'd just show and do OK and not make a fool out of myself."
Saldana-Rich, 55, Pittsboro, Indiana, found "Stella," an 8-year-old Danish Warmblood mare (De Niro—Straight Horse Zackonik) with help from George Williams through Helgstrand Dressage.
"She is as sweet as they come," she said. "My husband loves her, and he's not a horse person, and he can do everything with her. Everybody can. She is truly the perfect little redheaded mare. She just sucks you in, and you go. I know when it's right because I don't have to do much. She just takes me. That's a great feeling."
COTH's Coverage I Results I Live Stream I Schedule
2022 U.S. Dressage Finals - Sunday
Lindsay Berreth / Nov 13, 2022 5:48 pm