Traverse City, Mich.—July 30
To turn inside or not to turn inside?
That was the question on everyone's mind in the handy round of the $25,000 USHJA International Hunter Derby at the Great Lakes Equestrian Festival in Traverse City.
Kelley Farmer wasn't sure. She sat atop Kodachrome and asked Larry Glefke, "Yes or no?"
"No," he said firmly when referencing the risky inside turn after the second fence on course that would require horse and rider to take a sharp right turn to canter on a near straight line, bending around the gazebo in the center of the ring and angling out to a high option fence at the end of the ring, inviting a horse to swap of his lead. Then he changed his mind after watching Peter Pletcher navigate the turn successfully on his mount Quirino. "Yes, you have to."
But Courtney Calcagnini and Fleur de Lis Farms' Bowie didn't have to. The experienced duo went around from fences two to three in the handy and still came away with the win in the class, posting a final score of 394.5 for the two rounds of competition. Farmer and Kodachrome, who did take the inside turn, won the handy round but settled for second over all (390.5). Pletcher and Quirino finished third (380.5).
"My horse is special, and he takes care of me, and he's perfect. It definitely was all the horse today!" said Calcagnini, who runs CSC Farm in Argyle, Tex., with Scott Lenkart. "I am not as slick as these guys (Farmer and Pletcher), and I just knew I had to gallop around [from fences two to three] and keep going. I just wanted to be really smooth around there and carry a little bit more pace."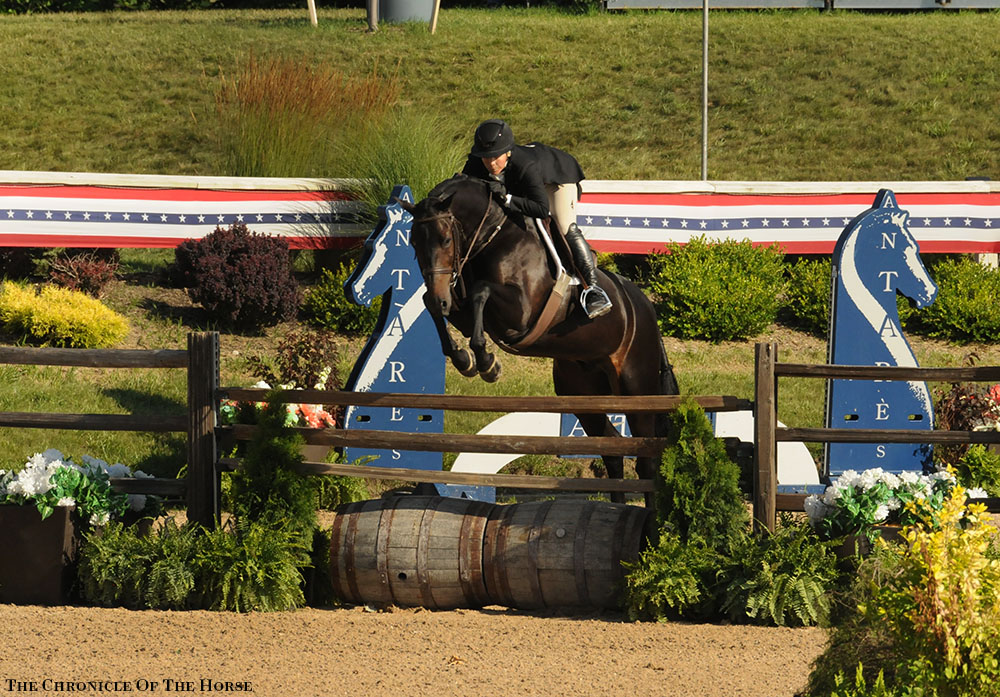 Courtney Calcagnini and Bowie
Course designer Tom Hern created a formidable track for the 28 derby competitors that lined up Friday afternoon at the grand prix arena at the Flintfields Horse Park. The high options on course were large, the natural obstacles spooky and the lines long and loose. Only the top finishers opted for all the high options, and many different tracks were taken. It was a seemingly ideal prep for the competitors planning to travel to the USHJA International Hunter Derby Championships in Lexington (Ky.) in just two weeks.
"I thought the course today was more challenging than a lot of the classes that we've had," Pletcher said. "I think, before derby finals, it was a great class to be able to compete in. In the second round, there were some definite, hard option inside turns. But that horse will give it his all and try, so I thought I'd put a little pressure on and do all the inside turns, and he was good. He gave it his all, and that's all you can ask for from him."
But it was not an ideal day for Farmer. The perennial derby rider was surely a favorite heading into the class, but she had uncharacteristic retirements on course with two top mounts, Baltimore and It's Me. She still led after the first round, however, with the reliable 9-year-old Point Being, but that mount ultimately finished 10th after having mistakes over the handy track.
"That's why you bring a lot," she said. "It just wasn't the right day."
Kodachrome ended up as Farmer's best performer. She just started riding the 8-year-old this summer after the gelding's former rider and Farmer's close friend Russell Frey tragically passed away from a heart attack in May at 56 years old. Frey and Kodachrome won the $50,000 USHJA International Hunter Derby in March at the Winter Equestrian Festival in Wellington (Fla.). Farmer and the chestnut contested their first derby together at Chagrin Valley (Ohio), where they finished 7th overall earlier in the month.
"Kodachrome was amazing tonight," Farmer said. "This is only my second class with him. He was Russell's horse, and he was fantastic. I couldn't say enough about him.
"This was a really emotional decision for all of us after Russell passed," continued Farmer, who began to get choked up as she spoke. "[Owner Nina Moore], myself and Larry all discussed as to what Russell would have wanted the horse to do and what that horse was supposed to do. Russell believed in that horse, and we all knew it was a really good horse. Everyone took the appropriate time, and then Nina chose him to go back to the ring, and we did Chagrin, and this is our second week back."
Calcagnini plans to give the 10-year-old Bowie, who also picked up derby wins this year at the Lone Star Round Up (Tex.) in May and at Country Heir (Ky.) in June, time off from showing until derby finals.
"I thought this course was a great prep for derby finals," she said. "He's going to get a lot of rest. I never jump him in between horse shows at all; I just ride him around for a little bit of fitness. He's pretty simple. We just keep him happy, and that's it."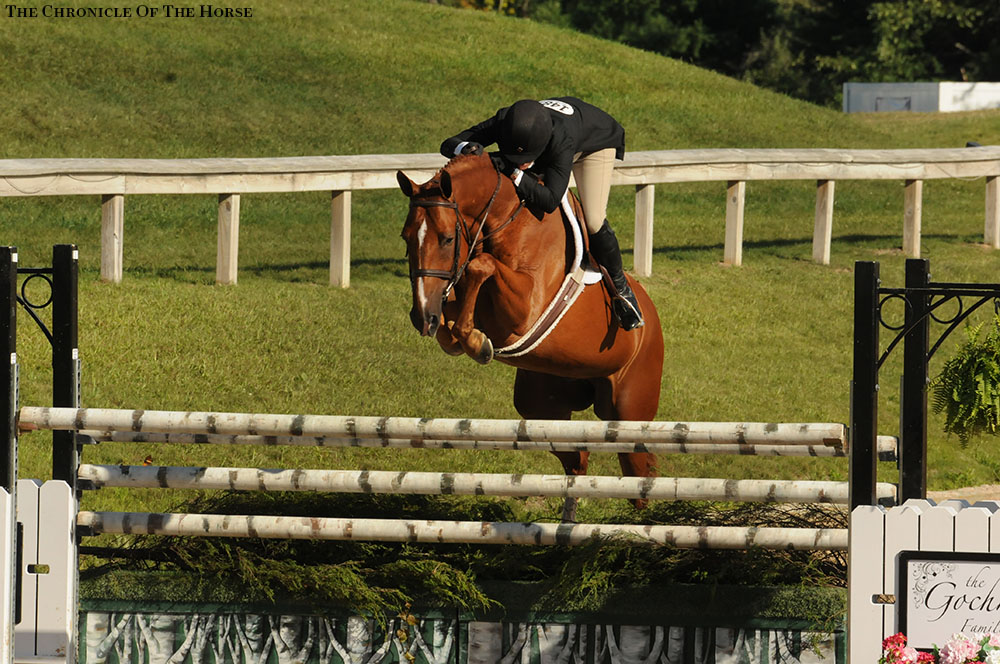 Kelley Farmer and Kodachrome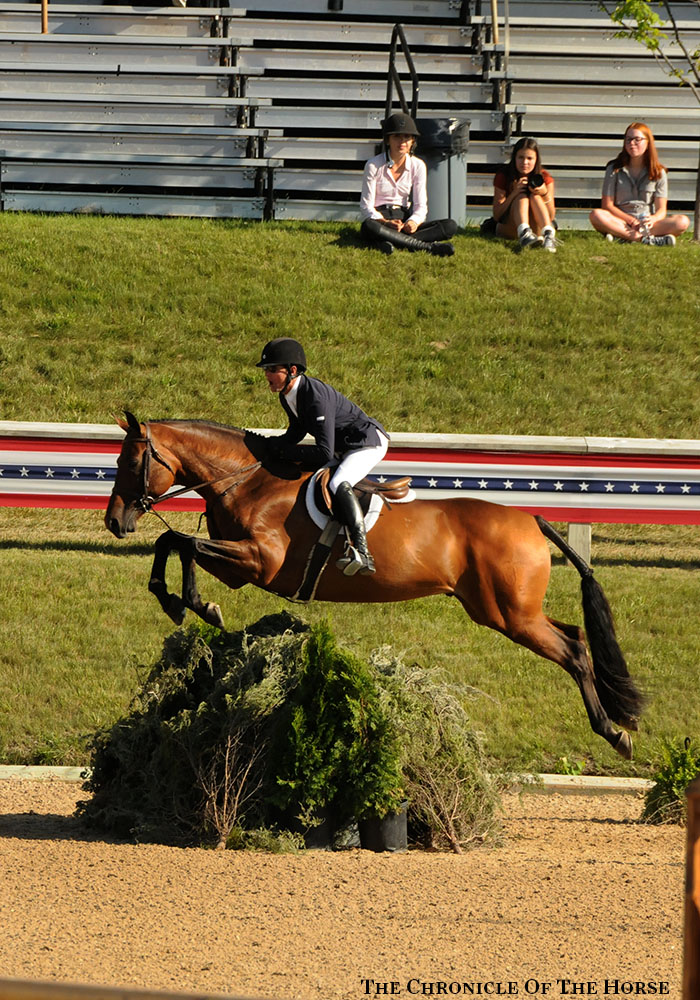 Peter Pletcher and Quirino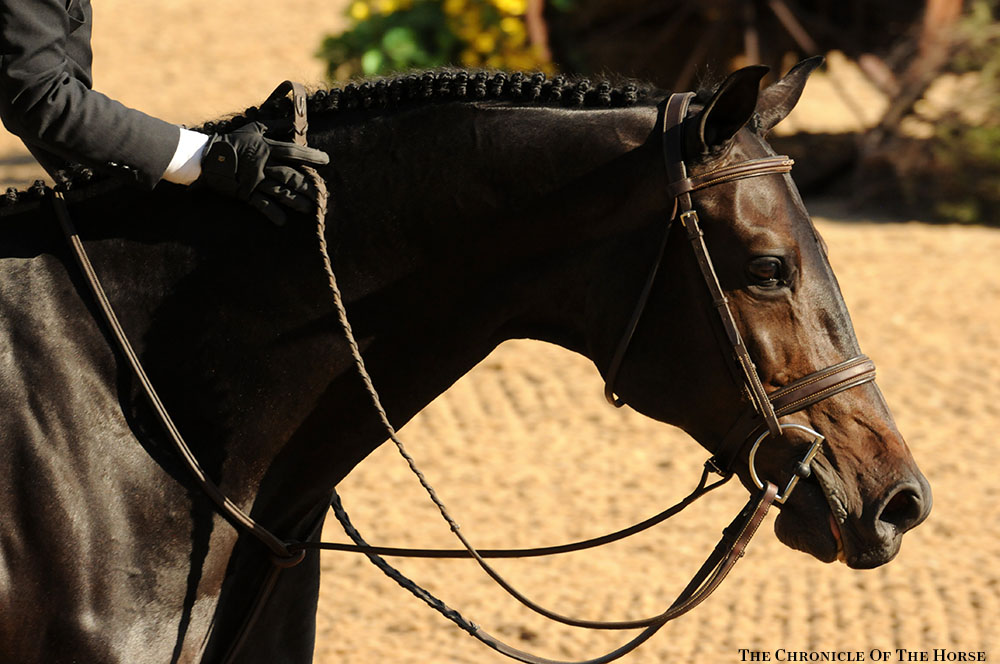 Bowie
Be sure to follow along with all the Chronicle's coverage of the Great Lakes Equestrian Festival, including Friday's $25,000 Welcome Stake and Sunday's $50,000 Grand Prix of Michigan, at www.coth.com. For more on the $25,000 USHJA International Hunter Derby, check out the August 15 issue of the magazine.