Del Mar, Calif.—July 25  
After two days and three phases, Hunter Siebel and Laura Wasserman's Boss were crowned overall grand champions of the USEF Junior Hunter National Championship—West.
Earning second in the classic round and first in both the under saddle and the handy, the pair rose to the top with a grand total of 262.6 points.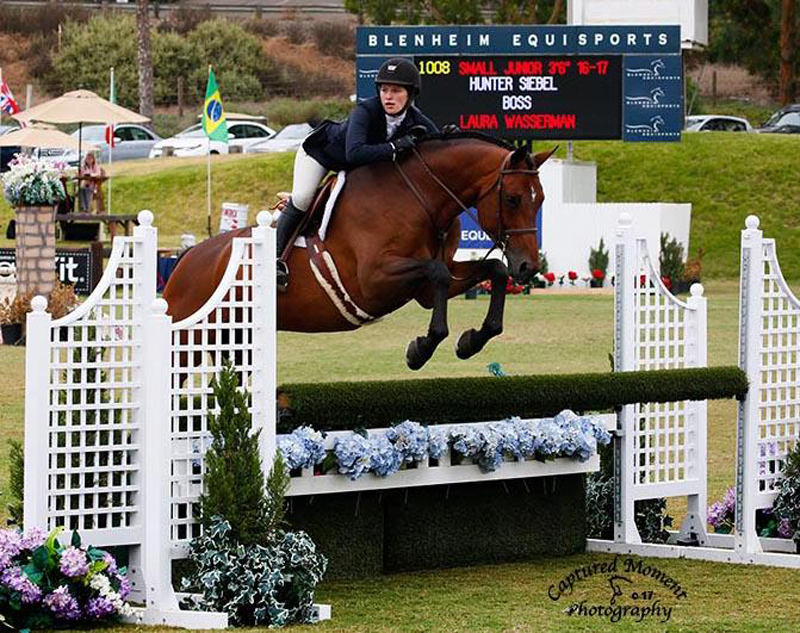 After winning the large junior hunter, 15 and under division, Augusta Iwasaki and Lyn Pederson's Small Affair emerged as overall reserve grand champions with a total of 256.4 points from the three phases.
With Kim Dorfman, Gary Duffy, and Robin Swinderman Mitchell as the judging panel, Siebel and Boss established themselves as a competitive duo with scores of 83, 84, and 85 in the classic round on the first day. The beautiful bay gelding shined in the under saddle, where he earned an 87, a 90, and a 92. With 90s across the board from the handy round, the pair stole the show.
"When it's show time, he's always ready to go and he makes it happen every time," Siebel said of Boss, whom she's been riding since the beginning of the year. "It's been getting better and better as I've been getting to know him, and this show was amazing for us. I love to take my time, so the classic round course was made for me! Boss made it happen in the hack and we got some really great scores, which helped carry me through to this championship."
The handy round, designed by Scott Starnes of Bend, Ore., featured a short approach right out of the in-gate, followed by a series of flowing turns and rollbacks, a two-stride of hay bale fences, and a trot fence on the bank. Riders were able to show off their handiness while maintaining a forward pace.
A number of competitors from the four 3'6″ sections entered the handy round with incredibly close scores, but Siebel and Boss's unbeatable performance gave them the edge they needed to rise above in the numbers. Siebel trains with Archie Cox, and will be attending Stanford University (Calif.) in the fall. She took home the Monarch International/U.S. Equestrian Perpetual Trophy for her overall win. Also champion of the small junior hunter, 16-17, division, she received the River Edge Farm Perpetual Trophy, donated by River Edge Farm.
Earning scores of 83, 86, and 87 in the handy round, Iwasaki and Small Affair secured the overall reserve grand championship. Their two 84s and an 87 from the classic round, combined with their 85, 87, and 88 from the under saddle, placed them atop the field of the large junior hunter, 15 and under, and behind Siebel overall by just a few points. For winning their large junior hunter, 15 and under division, they earned the Escort Me In Perpetual Trophy, donated by Shalanno Farms.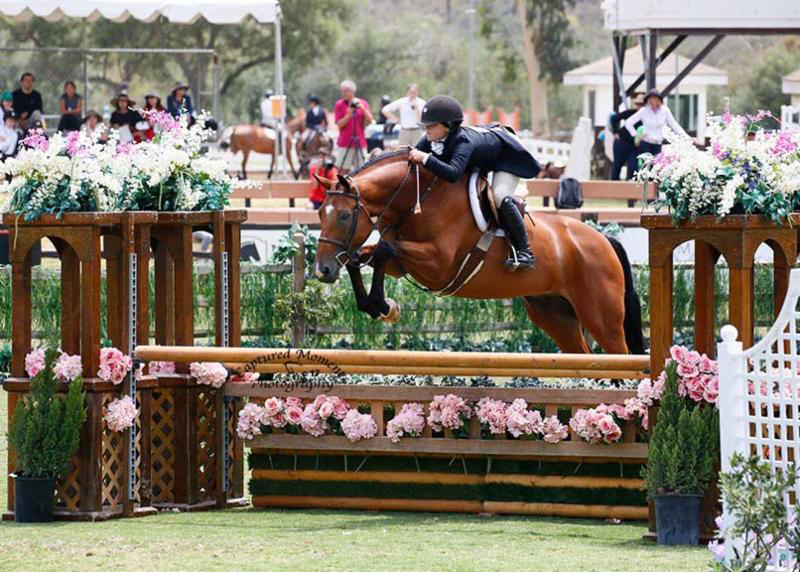 Fresh off a win in the USHJA Hunterdon Cup Equitation Classic—West on Monday, Iwasaki put on her hunter hat to pilot her sensitive yet talented mount. "I tried to stay calm and just give him the best ride that I could. He was really good this year," she said.
Hailey Link And Maldini Take 3'3″ Junior Grand Championship
Scoring 82, 84, and 79 in the classic round, 86, 85, and 80 in the under saddle, and 73.5, 80, and 82 in the handy round, Hailey Link rode Maldini, owned by Star Lane Farms, LLC, to the top of the class. They emerged as the overall grand 3'3″ junior hunter champions with 242.4 points.
"I haven't had him for that long; this is probably my fifth show with him," Link explained of the beautiful chestnut. "Honestly, this week was just about trying to get to know him and it went way beyond my expectations, so I'm really happy and feel really blessed."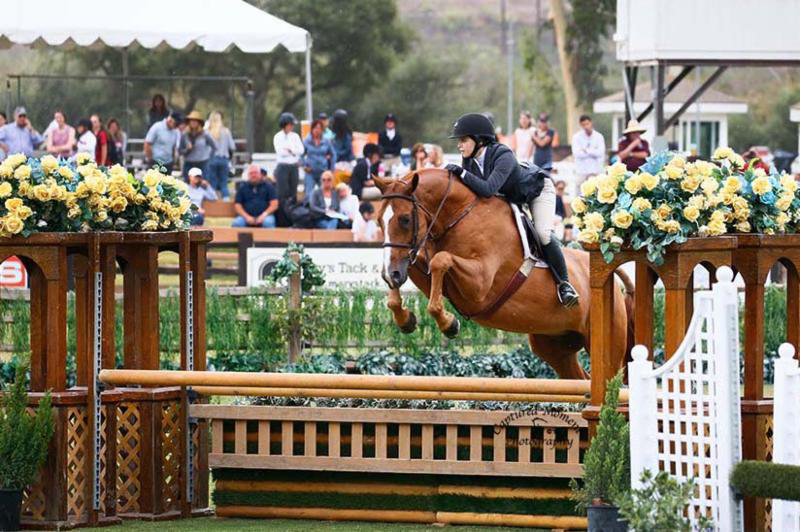 Link trains with Jim Hagman, Javi Abad, and Lexi Shaw of Elvenstar. Another Elvenstar rider, Olivia Welsh, rode her horse Maple Bay to the overall reserve grand 3'3″ junior hunter championship with a total of 240.8 points.
Welsh described how the championship experience went beyond awards. "I think it's a really lucky thing to not only have teammates and friends that you ride with, but to actually have them be barn mates as well. We support each other at home and at shows, and I think the highlight for me is not just having great horses and then being successful, but seeing my friends be successful, too," she said.
More Champions Crowned
With the over-fences rounds counting for 40 percent each and the under saddle counting for 20 percent, champions emerged from each of the six sections.
Sorbet, Grace Tuton's ride owned by Nicodemus Farms, was deemed the Best Mare upon the conclusion of the competition. For the special recognition, Tuton accepted the Small Collection Perpetual Trophy, donated by Elizabeth Reilly. Tuton rode Sorbet to the reserve championship to Boss in the small junior hunter, 16-17 section with a total score of 250.8 points.
Emily Williams rode her own horse Beach Boy to the championship in the small junior hunter, 15 and under, section, finishing with a total of 238.4 points. For this victory they took home the Huntover Farm Perpetual Trophy, donated by Huntover Farm. The reserve championship went to Kaitlyn Lovingfoss and Emma Farber's Triumph for their 229.2 points.
It was Katherine Dash and Whish, LLC's Everglow who edged out the competition in the large junior hunter, 16-17, division, earning the Magic Word Perpetual Trophy, donated by Karen Kay. Winning all three phases with consistent scores ranging up to 90, and a final total of 255.2, the duo was just 1.2 points from the overall reserve champion's score of 256.4. Abigail Albrecht and Nancy Littlejohn's Maggie May earned 238.6 overall points to take home the reserve championship in the section.
After winning both over-fences rounds, the championship title in the large junior hunter, 15 and under, section and the Escort Me Perpetual Trophy went to overall reserve grand champion duo Iwasaki and Small Affair. Brooke Brombach and Erin Moe's Classico claimed the reserve championship in the large junior hunter, 15 and under, section with a total of 247.8 points.
In the 3'3″ small junior hunter section, it was Skylar Wireman and her own horse Captivated who came out on top with 238.4 points. The reserve champions in that division were Stella Wasserman and Laura Wasserman's Fine Design with 235.6 points.
See full results of the USEF Junior Hunter National Championships–West.